Behind the story: Getting that photo of 'Santa James'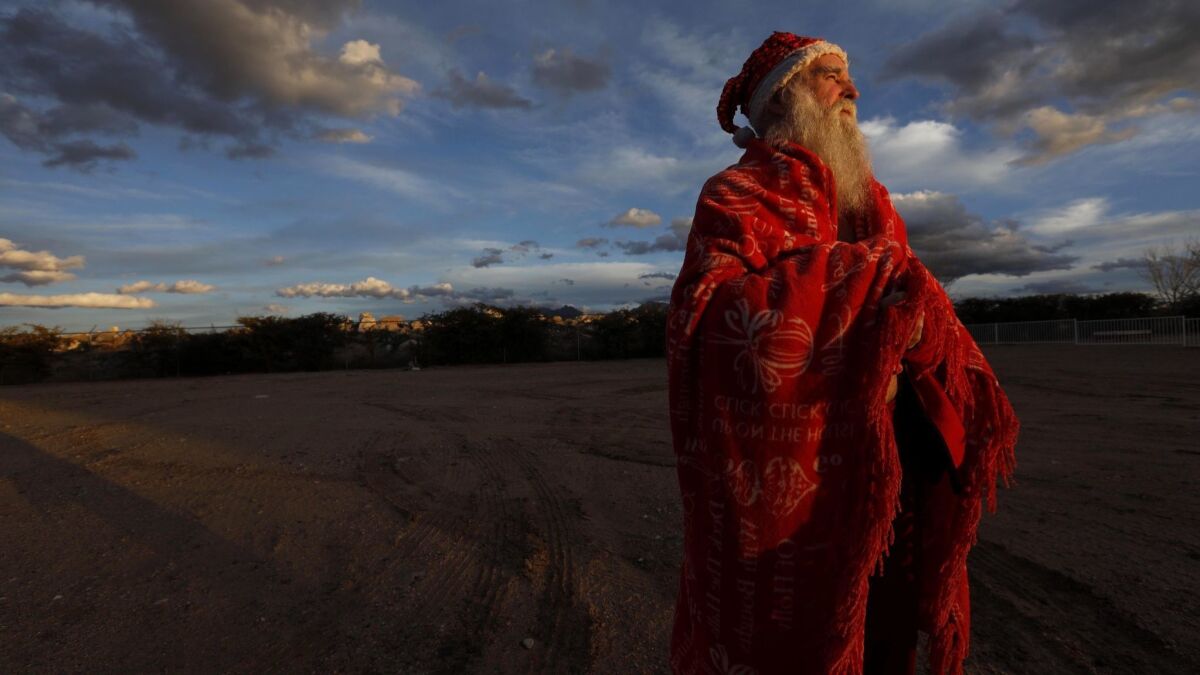 The best part of working as a photojournalist is the diversity of experience and the unusual characters we meet along the way. My most recent encounter with such a person was with James Zyla of Kingman, Ariz. — a guy most folks in town call Santa James.
When you see him you understand why. Santa James has a long white beard and dresses like Santa Claus, or at least in the red hat, all year long. He lived on the streets for years, and writer John M. Glionna and I went to Kingman to report on how the town has embraced this eccentric character.
Photographing a man who dresses like Santa sounds like an easy task — a simple study in contrasts. But to get to the core of an individual, a photographer has to spend time looking for the revealing moments and the life they define.
I first focused my attention on the community that rushed to embrace this odd and charming man in red who went from one friendly encounter to another. The warm handshakes and hugs came as consistently as his banter. Instead of sharing the cliche "Ho, ho, ho," Santa James regaled his subjects with a story of his time as a Hollywood extra, recite a clever poem or explain why Keith Emerson was such a musical giant. He's a talented musician and never goes anywhere without his keyboard.
MORE: A homeless man wandered in one day, and this Arizona town adopted him »
I kept looking into the corners of his life, seeking to capture his true essence and the textures of his daily routine, making impromptu portraits of James during his afternoon conversations, as he stood alone under a lamppost at dusk, or as he sat on his hotel room bed caressed by red light, the only color that settles easily on dulled eyes.
I was still searching for that one image that would go beyond the outfit we associate with Christmas when a strange thing happened. It was my third day accompanying him as he wandered the streets of Old Town Kingman. All of a sudden I realized I was so caught up in our conversation that I had forgotten how odd the situation was.
It was the passing stare of a stranger that reminded me I was walking with a guy dressed as Santa. The question in the back of my mind returned, "Have I made the image that defines this man?"
My answer came as we arrived back at his hotel. The sun was about to set and spears of amber light were slicing the desert landscape. I asked Santa James whether he would be up for one last portrait. He nodded his approval.
I lowered myself to capitalize on the deep blue sky as he stepped out of the shadows into a single shaft of light.
There was no mistaking this Santa for the one who resides in a polar landscape. He stood like a finished sculpture — formidable, proud and stoic. This was the definitive Santa James on the eastern edge of the Mojave Desert.
As clouds hung overhead, he looked toward the fading sun and the hope of clear horizons.
---
Must-read stories from the L.A. Times
Get the day's top news with our Today's Headlines newsletter, sent every weekday morning.
You may occasionally receive promotional content from the Los Angeles Times.