Under Construction: Adrian Joffe and Rei Kawakubo Bring Their Edgy Fashion Vision to Los Angeles
Those who wistfully recollect New York City's Meatpacking District in the 1990s can turn now to Los Angeles' Arts District for that sense of urban industrial decay blossoming into something exciting. That sensibility has led Adrian Joffe and Rei Kawakubo to bring the fashion emporium Dover Street Market to a former meat warehouse on Imperial and Sixth Streets.
When Dover Street Market opens in October, space that formerly housed a 2,500-square-foot freezer will offer an edge-pushing array of its parent company Comme des Garçons' labels, high-fashion mega-brands such as Gucci, fashion darlings such as Simone Rocha and little-known emerging designers of apparel, jewelry and eclectic goodies that it has brought to Dover Street outposts in London, New York, Tokyo, Beijing and Singapore.
Dover Street Market's retail recipe is sometimes described as "beautiful chaos"—a concept created by Kawakubo. "It's in our DNA to surprise," says Joffe, the company's chief executive. Kawakubo, his wife and business partner, is the cult-status designer of Comme des Garçons, whose provocative Paris runway shows, exploring shapes and themes that are rarely encountered in fashion, sometimes bring devotees to tears—and the uninitiated to utter confusion.
The store's arrival in Los Angeles is also an arrival for Los Angeles, which until recently has suffered the repute of a second-level fashion city most devoted to denim and surfwear. The Los Angeles store (actually the marriage of three buildings and two parking lots—and yes, there will be parking!) will carry distinctly fashion-forward women's and men's looks, such as runway collections of Paris' Jacquemus, London's Craig Green and New York's The Row. This is the kind of place where one will find fashion students' graduate collections mixed in with Junya Watanabe, Prada and the latest from Adidas.
The store will include the Dover Street fixture Rose Bakery, whose daily-changing menu for meals and light bites is overseen by Joffe's sister Rose Carrarini and her husband, Jean Charles, founders of the like-named eateries in Paris and other Dover Street locations. The cafe, which will spill out into an outdoor area behind the store, is intended to be a destination on its own in a neighborhood whose food options are still developing.
The Los Angeles store is moving into the neighborhood as it's transforming with rising rents and trendy eateries. The area today is a nascent mass of construction cranes, half-erected luxury lofts and cinder-block warehouses, already marked by art galleries and notable restaurants.
Joffe began looking for spots in Los Angeles several years ago but says plans were delayed by opening a Singapore store and a brief consideration of Miami as an alternative location. In his L.A. search, he looked at the downtown landmark Bradbury Building, but the area didn't set off the fashion sparks that the Arts District did. When a friend bought 608 Imperial Street and offered a lease, Joffe and Kawakubo traveled to L.A. for a look. "We went to a restaurant around the corner," Joffe says (the eatery was Factory Kitchen). "Everything about it just felt right."
Every Dover Street Market is designed by Kawakubo and incorporates a feature that pierces the space architecturally and, she feels, spiritually. In New York's multilevel Lexington Avenue location, the piercing is accomplished vertically with an elevator. In Los Angeles, it will be an oval pathway running along the floor that dead-ends into one of the walls of the three conjoined buildings—due to earthquake construction rules that prevented the construction of a doorway. The pathway will continue on the other side of the wall. "It's primordial for Rei," says Joffe, who married Kawakubo in 1992 after studying in Japan. He retains a respect for mysticism. "When you're on the other side, you'll feel the oval."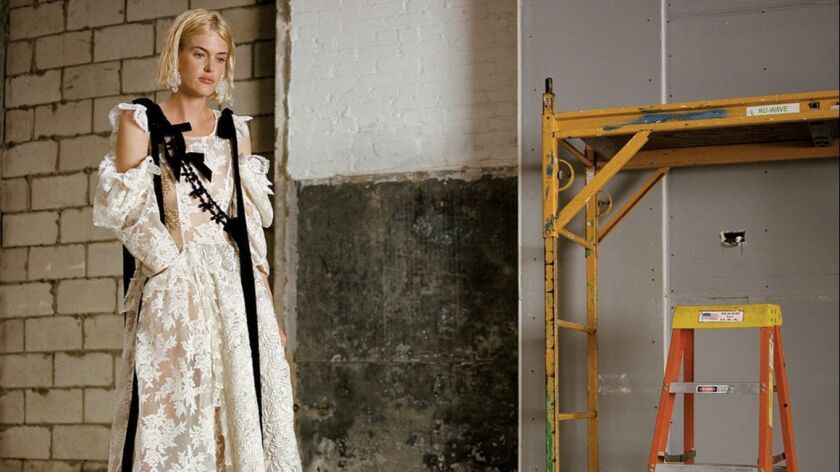 The endeavor is not without pioneering's qualms. Dover Street's New York staff, who have long catered to a healthy list of Angelenos, are worried they'll lose their L.A. clients. Even Joffe asks himself if residents of Santa Monica and Beverly Hills will leave their enclaves for a district that is teeming with art collectors and youthful urbanites but few parking valets. To get the word out, he is considering billboards, which to him feel so very L.A. and are "not as expensive as I feared."
At the 2017 Met Ball—which honored Kawakubo with Art of the In Between, an exhibit on her work at Comme des Garçons—Joffe and Kawakubo were seated with Caroline Kennedy, who connected them with her L.A.-resident daughter, the actress Rose Schlossberg. Joffe enlisted Schlossberg as "my Christiane Amanpour for Los Angeles," he says.
Gamely, she appears in a video, observing as cleaners prepare the space for the new tenant. The cleaners were hired by Schlossberg to "get the juju up to speed" using stones, incense, drums and a gong, she says, one eyebrow cocked. It's one of those moments, familiar to fans of Comme des Garçons and Dover Street Market, where the viewer must decide between prayer or laughter.
---