Just One Eye: L.A.'s edgiest fashion boutique is an ultra-chic mashup
It's hard to imagine a less likely place to find a pair of $1,375 hot-pink velvet Alberta Ferretti mules, trimmed in citron-green mink, than down a side street from the La Brea Avenue Target store. In an Art Deco building that once served as Howard Hughes's Los Angeles headquarters, in the flat sprawl of central Los Angeles, it can be puzzling even to locate the Romaine Street entrance of the store called Just One Eye. There is no storefront stocked with enticing fashions, no signage visible from the street and no obvious front door.
Yet through a sparsely furnished antechamber and down a long hallway lies one of Los Angeles's most innovative and deluxe fashion emporiums—one that draws attention from well-informed international fashion insiders with a daring blend of stylish apparel, jewelry, art and found objects. "I have been visiting the store many times," says the shoe designer Christian Louboutin. "I trust them—they have a very good point of view in fashion, they look for things that are special and different."
In a world where being truly fashionable requires acquiring the unobtainable, Just One Eye offers a key to the vault. Inside, some antique tables and large artworks—including a dominating Takashi Murakami painting and a Marilyn Minter piece—are not for sale. They are the window dressing, signaling that the experience here in women's and men's wear will be elevated well beyond the norm. That includes a selection of Prada ready-to-wear that offers more challenging runway looks than can be found in most Prada stores. When Damien Hirst made a $55,000 crocodile backpack in collaboration with The Row several years ago, Just One Eye bought a dozen—and sold all 12.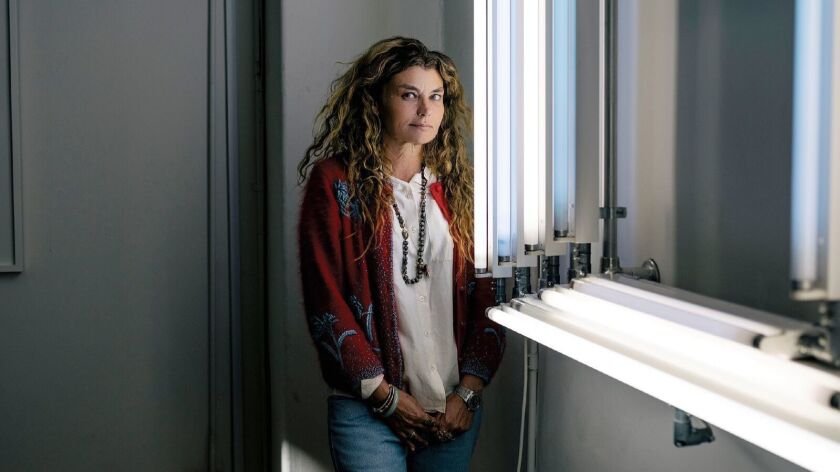 The face of Just One Eye is its co-founder, Paola Russo, who works from a small office on the second floor of the building overlooking the sprawling roof of an attached warehouse. Russo, formerly artistic director at Los Angeles's famous Maxfield boutique, ignores barriers between art, performance and fashion. The roof outside her office sometimes serves as a stage or ballroom. The store once dressed dancers like special-ops forces, placed a live orchestra on the roof and dropped actors from a helicopter by ropes to introduce Just One Eye's $12,500 "survival kit"—a camouflaged kit containing supplies such as a satellite phone, food and shelter to care for two people and an optional pet in an emergency. Russo has a silent partner in co-founder Victoria Niarchos, nee Guinness, whose taste is a valued asset. (When Louboutin says he trusts "them," he is referring to Russo and Niarchos.)
The store's location so far off the beaten track is a mixed blessing. Since its founding almost seven years ago, Just One Eye has remained under the radar for many Angelinos who are more accustomed to shopping and lunching in Beverly Hills. Convincing luxury brands to sell to them in the beginning was slow and difficult, despite Russo's fashion-industry gravitas. "We didn't have foot traffic, and nobody really wanted to sell to us," she recalls. "We were new, we were in this weird place that nobody knew."
Russo aims to provide an antidote to overhyped fashion overload with a collection of high-end couture and little-known labels such as Beau Souci, which Russo launched with Parisian designer Aurélie Larrousse. "I don't want stuff that's too overexposed," she says. Another of Russo's discoveries is Sanford Panitch, president of Columbia Pictures. When Russo learned that Panitch's hobby was designing men's suits with quirky foreshortened proportions, she invited him to sell a capsule collection at the store and threw a cocktail party studded with Hollywood heavyweights.
"As soon as I knew of Just One Eye, I remember appreciating the idea of this person who views her space as art gallery as much as clothing boutique," says Panitch. "Being out of the way—and whether she even gets a customer—seems to utterly not concern her, and of course this makes her legit fab in this city, where everyone chases fad and fame and has their fifteen minutes. I don't think I would have ever have ultimately launched my clothing anywhere publicly, and probably would have just stayed secretly dressing select industry friends. But Paola's support and her space made me feel it was consistent with my own art, which was also not created for any commercial mission."
The store's name is one of its intriguing mysteries. "It's so stupid," says Russo. It originated from an inane conversation about an obscure film. While planning the store, Russo was driving and describing a film in which Angelina Jolie wears an eye patch (2004's forgettable Sky Captain and the World of Tomorrow). Russo couldn't remember the word for "eye patch," so she said, "She's got just one eye." Voila.
Just One Eye occupies offices on Romaine Street that were once owned by Howard Hughes.
(David Walter Banks)
A mix of fashion, jewelry, art and accessories comingle in the main showroom.
(David Walter Banks)
A chrome floor lamp by Christopher Kreiling, a circular art-work by Gary Lang and a table by Massimilano Beltrame in the main showroom.
(David Walter Banks)
The Puiforcat room features modern silver pieces.
(David Walter Banks)
Colorful clothing from Sabyasachi.
(David Walter Banks)
Goddess pendants by Quore.
(David Walter Banks)
A small-scale sculpture by Allison Read Smith.
(David Walter Banks)
Every month or so Just One Eye hosts an event that may range from a designer appearance (Paco Rabanne's Julien Dossena, for instance) to a party with food trucks. With System Magazine—a hard-to-obtain fashion-insider publication—she hosted a capsule collection by fashion label Creatures of the Wind last May. Designers Shane Gabier and Christopher Peters re-engineered vintage T-shirts and turned fur coats inside out, removing the lining to reveal added embroideries of marijuana leaves and foliage. "It's all one-of-a-kind," Peters says happily.
Last fall Russo invited Louboutin to sell a capsule collection of shoes and apparel designed in collaboration with the Indian couturier Sabyasachi Mukherjee. Some of the shoes could only be sold in three sizes because they were made with limited quantities of archival silk sari fabrics, and the apparel pieces were rare delicacies of embroidery and fine fabrication. To highlight the event, Russo hired dancers and a choreographer and produced a full-out Bollywood dance performance. It was performed before a packed audience that spilled around the block. "Designing a dance performance to tell this story was unlike any other collaboration I have ever done," says Louboutin.
Just One Eye's warren of rooms where 25 employees work still feels haunted by Howard Hughes. Hughes's former office is now a second-floor conference room. Another former office serves as a photo studio for the store's website. Using a side entrance as the main entry—with a doorman to guide confused newcomers—former offices on the first floor serve as ancillary boutiques. There is a room for the custom footwear of Francesco Russo (no relation to Paola), who formerly designed footwear for Christian Dior under Raf Simons, and Sergio Rossi. Nearby, a room is devoted to Emile Puiforcat, an Hermès-owned brand of contemporary silverwork.
The neighborhood is showing signs of blossoming around the store. New York art dealer Jeffrey Deitch, former executive director of L.A.'s Museum of Contemporary Art, is building a gallery around the corner near where Russo is planning a small expansion to open a flower store. Galleries have been opening in the area, and condos are replacing the warehouses and soup kitchen that were Just One Eye's former neighbors.
"The good thing about this area is that it isn't Beverly Hills, but it isn't not downtown, either," says Russo. "It has potential."
Just One Eye
7000 Romaine St.
888.563.6858
---