Former NBC colleague of Matt Lauer accuses him of rape in new Ronan Farrow book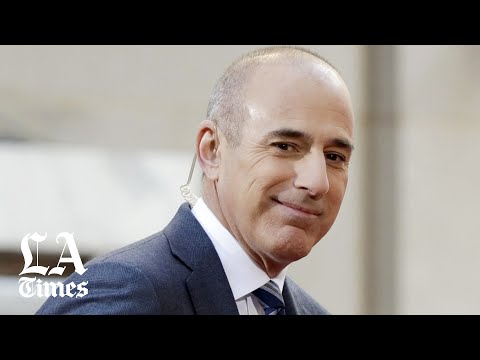 It has been nearly two years since Matt Lauer was fired from NBC's "Today" show for inappropriate sexual conduct, but the event is still sending tremors through the network.
The upcoming book "Catch and Kill: Lies, Spies, and a Conspiracy to Protect Predators" by investigative journalist Ronan Farrow says Lauer allegedly raped the female colleague whose complaint led to his downfall, according to a report in Variety.
Brooke Nevils told Farrow that Lauer forced her to have anal sex in a hotel room in Sochi, Russia, while the "Today" team was covering the 2014 Winter Olympics, the book says.
Journalist Ronan Farrow discusses "Catch and Kill" and #MeToo revelations on Oct. 22 with the L.A. Times Book Club.
Nevils, who was interviewed by Farrow and agreed to reveal her identity, worked as an assistant to Meredith Vieira, Lauer's co-anchor at the Olympics.
Nevils told Farrow she was drinking heavily the night of the incident. She had gone to Lauer's room twice — once to retrieve an Olympics press credential that he had taken as a joke and a second time at his invitation.
Farrow wrote that "she had no reason to suspect Lauer would be anything but friendly based on prior experience."
Nevils alleged that once she was in Lauer's hotel room, he pushed her against a door and kissed her before pushing her onto the bed and asking her if she liked anal sex. She declined several times, but he "just did it," according to the book. She said she wept into a pillow during the incident.
"It was non-consensual in the sense that I was too drunk to consent," Nevils said in the book. "It was non-consensual in that I said, multiple times, that I didn't want to have anal sex."
Nevils told Farrow she had more sexual encounters with Lauer after the incident. She said she was fearful that he had control over her career. Farrow wrote that sources close to Lauer said Nevils sometimes initiated their meetings.
Nevils told Vieira about the Sochi incident in 2017. Vieira told her to report it to NBC's human resources department with a lawyer. Lauer was terminated the day after Nevils and her attorney met with NBC.
In a report Wednesday on "Today," the network said in a statement: "Matt Lauer's conduct was appalling, horrific and reprehensible as we said at the time. That's why he was fired within 24 hours of us first learning of the complaint. Our hearts break for our colleague."
Lauer's attorney provided an open letter from his client to Variety, calling allegations that the encounter was an assault "categorically false." He described having "an extramarital affair" with Nevils in 2014 and reiterated that their relationship was consensual.
"It's outrageous," Lauer said in the letter. "So, after not speaking out to protect my children, it is now with their full support that I say 'enough.' "
"The story Brooke tells is filled with false details intended only to create the impression that this was an abusive encounter," Lauer wrote in the open letter. "Nothing could be further from the truth." Nevils, he said, was "a fully enthusiastic and willing partner" that night and "seemed to know exactly what she wanted to do."
Lauer has previously denied that any of the sexual relationships he had with women who worked with him were non-consensual.
Nevils' allegations in the book stunned Lauer's former "Today" colleagues, who reported on them on Wednesday's program.
"This is shocking and appalling, and I honestly don't even know what to say about it," co-anchor Savannah Guthrie said. "I think I speak for all of us when I say we're disturbed to our core."
The book reveals that Nevils received a seven-figure payout from NBC when she left the network. NBC also reached a financial settlement with another woman who had a complaint against Lauer, who spoke to Farrow but did not want to be identified.
In a memo obtained by the Los Angeles Times, NBC News Chairman Andy Lack said the payments to Nevils and the other woman were made after Lauer was fired and did not have non-disclosure agreements attached.
Lack also said that NBC News used the term "sexual misconduct" to describe the reason for Lauer's firing to "mirror the public words at that time" of the attorney representing Nevils.
The memo also criticizes Farrow's book, which claims NBC News slow-walked his investigation to his reporting on alleged sexual harassment, assault, rape and abuse of power by movie mogul Harvey Weinstein during his long career.
Farrow shared a Pulitzer Prize with New York Times reporters Jodi Kantor and Megan Twohey for his reporting on the Weinstein scandal, which ran in the New Yorker in October 2017. Farrow took his reporting to the New Yorker out of frustration that NBC News did not believe his story was ready to air.
"Farrow's account has become neither more accurate, nor more respectful of the dedicated colleagues he worked with here at NBC News," Lack wrote. "He uses a variety of tactics to paint a fundamentally untrue picture."
NBC News executives have maintained that they supported Farrow's reporting on the Weinstein scandal but would not budge from their position that he needed a victim or witness to the mogul's alleged behavior to be identified on camera for the story to air.
NBC News executives have said said none of the seven victims whom Farrow named in his meticulously reported New Yorker piece — Asia Argento, Mira Sorvino, Rosanna Arquette, Lucia Evans, Emma de Caunes, Jessica Barth and Sophie Dix — was willing to speak on the record or be identified on camera to discuss the allegations.
A representative for Farrow said "the claims by NBC's senior management about Ronan Farrow's reporting are simply not true, as his book will methodically demonstrate. In fact, relevant sections of the book confirm not only how many women were on the record, but also how much proof Ronan had gathered."
Among the allegations in the book, which was given in advance to the Hollywood Reporter for a cover story on Farrow out Wednesday, are Weinstein's efforts to use information the movie mogul had about Lauer's behavior as leverage to shut down the investigation.
According to Farrow, Weinstein met with Dylan Howard, chief content officer of American Media Inc. — publisher of the National Enquirer — in September 2017 to go over material gathered by the supermarket tabloid about Lauer's behavior.
"Weinstein made it known to the network that he was aware of Lauer's behavior and capable of revealing it," Farrow writes.
NBC News executives have said they had no knowledge of Weinstein using information on Lauer to shut down Farrow's investigation, which has circulated as a rumor since Lauer was fired.
Farrow had already taken his reporting to the New Yorker by the time the meeting between Weinstein and Howard is said to have taken place, NBC executives said.
Inside the business of entertainment
The Wide Shot brings you news, analysis and insights on everything from streaming wars to production — and what it all means for the future.
You may occasionally receive promotional content from the Los Angeles Times.