That first 'M3GAN' trailer had fans howling. Now the movie is scaring up rave reviews
Blumhouse's latest horror flick, "M3GAN," just started its theatrical run, but the film about a murderous AI doll has already made a killer first impression.
Months after the official trailer went viral for the titular character's sassy hip-swinging and acrobatics, "M3GAN" has returned to the spotlight with love from fans and critics.
"just got out of #M3GAN! no offense, let's just say this is what Child's play (2019) wishes it was," horror movie fan @malaymango tweeted Wednesday after an early screening of the film.
The delightfully bonkers 'M3GAN,' from James Wan and Akela Cooper — the minds behind 'Malignant' — is sure to become your newest horror movie obsession.
"This 'doll' is just better than Chucky 100%," another fan wrote.
Like "Child's Play," "M3GAN" follows a lifelike doll that is designed to be a child's best friend. But unlike dungarees-wearing menace Chucky, M3GAN — short for "Model 3 Generative Android" — relies on artificial intelligence to play with and protect orphan Cady (Violet McGraw), niece of roboticist Gemma (Allison Williams).
Of course, fabulous, gory chaos ensues when M3GAN takes matters into her own hands.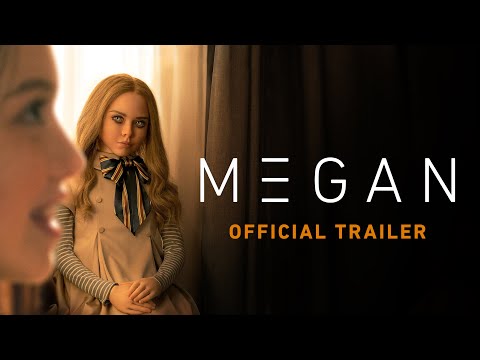 One of the first theatrical releases of 2023, "M3GAN" has already scored favorable reactions with a handful of critics, including Kate Walsh, who dubbed the film "delightfully bonkers" for The Times.
Indie Wire praised "M3GAN" for "nimbly blending camp and social satire and actual terror" and critic Courtney Howard tweeted the film is a "godd— RIOT" that's "built for repeat viewings."
Putting a little more swing in the movie's robotic hips is its Rotten Tomatoes score. With 127 reviews as of midday Friday, "M3GAN" boasts an impressive 94% critics' score — as it should, according to some fans.
With 'Malignant,' 'M3GAN' and 'The Nun 2,' writer Akela Cooper is the 'merciless' new voice of studio horror — and the genre is better for it.
"#M3GAN having the most acclaimed score of the year feels so right to me idk," @modytalkmovies tweeted.
Even Jason Blum — the Blumhouse chief executive who dressed as M3GAN for both Halloween and the film's premiere in December — is basking in the movie's Rotten Tomatoes glory.
"When reviews are good the rotten tomatoes score is VERY IMPORTANT," he tweeted Wednesday. "When reviews are bad critics don't matter. :)"
Directed by Gerard Johnstone and written by Akela Cooper, "M3GAN" seemingly lives up to the hype that's been stoked by internet-savvy marketing campaigns and cryptic appearances at events including the latest Chargers-Rams game at SoFi Stadium.
M3GAN has had her fair share of time in the social media spotlight, but fans say her impact — or her "maximal slayage" — is just beginning.
"If M3GAN doesn't become a new horror icon, something is wrong with society," a fan tweeted.
See what else fans had to say about "M3GAN," which hit theaters Friday.
Get the Indie Focus newsletter, Mark Olsen's weekly guide to the world of cinema.
You may occasionally receive promotional content from the Los Angeles Times.