Three years have passed since some of us last set foot in Park City, Utah, where the Sundance Film Festival has been on COVID-mandated hiatus — at least as an in-person event — since January 2020. Not that the festival has exactly hibernated in the meantime: In 2021 and 2022, digital screenings and panel discussions helped sustain this annual event and its movie-hungry audiences. One of those pandemic-impacted editions even produced the first Sundance-premiered title ("CODA") to win the Oscar for best picture.
Even so, what a bummer. Anyone who's ever trudged through the snow from screening to screening — or slipped on black ice mid-transit — knows that there is no experiential substitute, virtual or otherwise, for a festival as physically immersive and meteorologically unforgiving as this one. And so it's a thrill to return to Sundance this year, masks and vitamin C tablets at the ready. Will it be a good, bad or average festival? Time will tell. The overall quality of the movies at Sundance, as at any festival, can vary from year to year, but any movie projected on a big screen stands a better chance of being a more indelible, more affecting and more lasting experience.
The six movies I'm recommending below are among just a small number of features I was able to see ahead. I'm looking forward to seeing (and thinking and writing about) much more in the days to come, but these already persist in my memory — and, if you seek them out in Park City or beyond, I hope they will also persist in yours.
'All Dirt Roads Taste of Salt'
I'm already looking forward to another viewing of Raven Jackson's exquisitely tactile first feature, which unspools as an accretion of multigenerational moments from the life of a Black woman in Mississippi. These moments are arranged in a mosaic whose intricate, time-shuffling construction reveals itself piece by piece, though there's a case for simply letting it wash over you, like a piece of poetry or music, and allowing past, present and future to merge into a kind of eternal now. (U.S. dramatic competition)
'Aum: The Cult at the End of the World'
Dramas and documentaries about dangerous cults are something of a staple at Sundance, which has premiered movies as different as "Martha Marcy May Marlene," "Going Clear: Scientology and the Prison of Belief" and "Prophet's Prey." The latest nonfiction entry in this vein, from debuting directors Ben Braun and Chiaki Yanagimoto, chillingly recounts the activities of Aum Shinrikyo, the group behind the deadly 1995 sarin nerve-gas attacks in Tokyo. That tragedy would never have happened had Aum and its leader, Shoko Asahara, not gained such an insidious psychological foothold in Japanese society, though as the movie disturbingly argues, the cult mindset knows no cultural or geographical boundaries. (U.S. documentary competition)
'The Eternal Memory'
Chilean filmmaker Maite Alberdi charmed audiences at Sundance 2020 with "The Mole Agent," her sly, seriocomic documentary about suspicious goings-on at a Santiago nursing home. She returns to the festival three years later with another moving and intimate portrait of caretaking in action, this one told from the perspective of the veteran journalist Augusto Góngora and his wife, Paulina, as they navigate his battle with Alzheimer's disease. (World cinema documentary competition)
The Wide Shot is going to Sundance!
We're sending daily dispatches from Park City throughout the festival's first weekend. Sign up here for all things Sundance, plus a regular diet of news, analysis and insights on the business of Hollywood, from streaming wars to production.
You may occasionally receive promotional content from the Los Angeles Times.
'Mami Wata'
If you saw last year's spine-tingling Sundance prizewinner "Nanny," you might recall the figure of an African water spirit called Mami Wata. The Nigerian writer-director C.J. "Fiery" Obasi pulls off his own striking interpretation of that mythology in this drama, set in a coastal village that comes under threat from within and also from without. Shot in high-contrast black-and-white and replete with action and intrigue, it looks and sounds like no other movie you're likely to see at Sundance this year. (World cinema dramatic competition)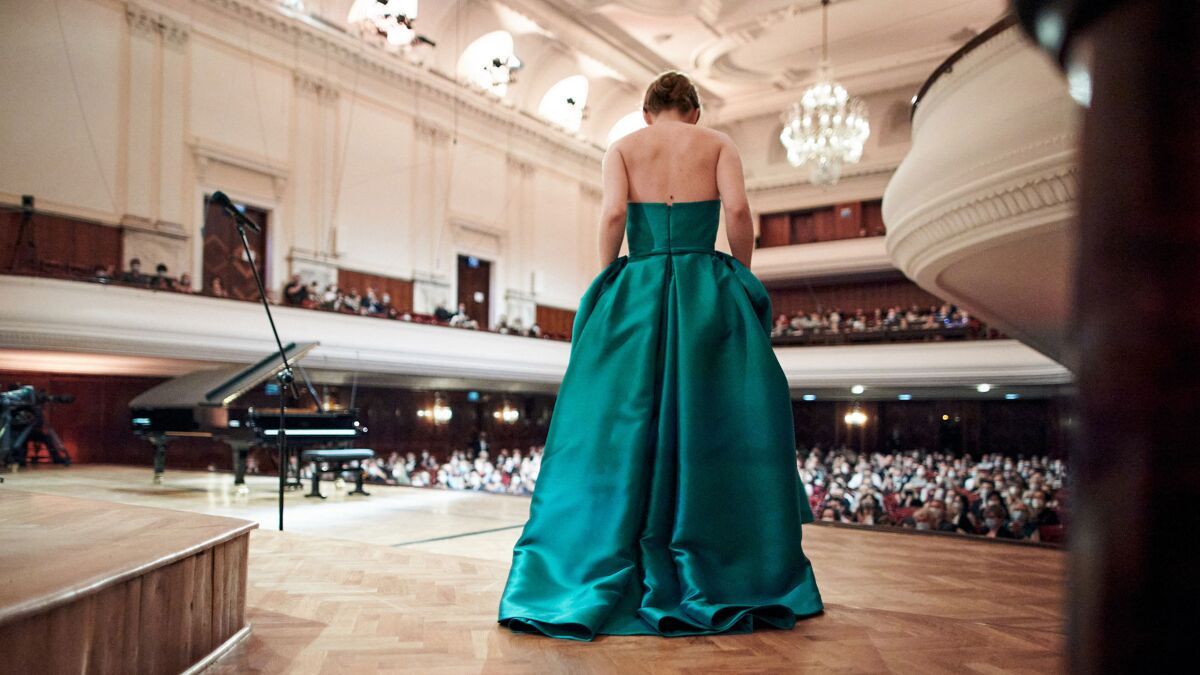 'Pianoforte'
This former classical piano student was neither talented nor dedicated enough to come within spitting distance of the International Chopin Piano Competition, a prestigious once-every-five-years event that attracts etude enthusiasts and nocturne naturals from all over the world. Still, for anyone who's ever attempted to master a musical instrument, Jakub Piątek's tense and touching documentary — which follows a handful of prodigiously gifted young contenders as they advance (or not) in the 2021 competition — will surely bring some of your sweaty-palmed memories flooding back. (World cinema documentary competition)
'A Thousand and One'
The story of a woman and her son trying to survive and stay together in mid-1990s New York, where every day is a struggle against poverty, prejudice and encroaching gentrification, might sound like a minefield of hard-scrabble coming-of-age clichés. But A.V. Rockwell's absorbing debut feature has more than its share of surprises; it also has a fine principal cast led by Teyana Taylor as a mother who, for all her frustration and fury, has the strength to keep her eyes on a prize no one else can see. (U.S. dramatic competition)
Watch L.A. Times Today at 7 p.m. on Spectrum News 1 on Channel 1 or live stream on the Spectrum News App. Palos Verdes Peninsula and Orange County viewers can watch on Cox Systems on channel 99.
---