Jeremy Lin doc '38 at the Garden' moves Linsanity beyond basketball
Jeremy Lin did not want to make a nostalgia piece.
The former NBA player, whose sudden ascendance to superstardom was dubbed Linsanity, is humble about that time during the 2011-12 season. An Asian American kid born in Torrance who played college ball at Harvard, Lin is quiet, hard-working and not the kind of player, or person, who draws attention to himself.
A movie? About himself and that time? It wasn't something that Lin looked forward to revisiting. He had moved on from that period with the New York Knicks, later joining the Houston Rockets and Los Angeles Lakers, winning a championship with the Toronto Raptors and playing in China. Linsanity was behind him. But the persistent filmmakers behind the Oscar-shortlisted documentary "38 at the Garden" — including director Frank Chi and producers Travon Free and Samir Hernandez — eventually were able to persuade Lin to participate in the film and illustrate how impactful he was, unknowingly, to the Asian American community.
Now streaming on HBO Max, "38 at the Garden" chronicles that special season, culminating exactly 11 years ago at a Feb. 10, 2012, game against the Lakers when Lin scored a remarkable 38 points. New York City was already in a frenzy about this unheralded Knicks player, and when Kobe Bryant stepped on the court at Madison Square Garden, it was total pandemonium. The Los Angeles Times caught up with Lin to talk about the film, how his career impacted the Asian American community and the Linsanity of it all.
Why didn't you initially want to participate in making this movie?
I was trying to turn it down without taking the call. Luckily, I did take the call because the CEO of our company that handles all my off-the-court stuff, she was adamant about me at least listening to their pitch. After listening to their pitch, the one thing we all agreed on was that this is going to be much bigger than just, you know, the stats, the game, the sport of basketball. This is going to be about humanity. This is going to be about what's going on right now post-pandemic with the [anti-]Asian violence that we've been seeing, about minorities and people who are fearing for their lives in this critical moment in history.
Ronny Chieng, Hasan Minhaj and former teammate Iman Shumpert. There are some characters in here. What was your reaction to seeing the film for the first time?
The first time I watched, it was the first screening at Tribeca Film Festival. And I was blown away. First off, I did not realize how funny it was going to be with the comedians, with the journalists and with my teammates because I went through Linsanity, but I went through Linsanity from my perspective. I was not reading everything that was being said out there. To see it from everyone else's lens was really impactful. I didn't realize it would be that funny. But No. 2, by the end of the movie, there's a high percentage of people who watch this film and end up in tears. A lot of people are really emotional and a lot of people are thinking about themselves or thinking about society, but they're definitely not thinking about basketball. They're definitely not thinking about 38 points at MSG. They're thinking about something much bigger than that. And that's what I was blown away with, how they were able to tie it all together.
In the movie, we heard that you were just trying to secure a spot and get playing time. So you really had no clue how it was translating outside the locker room?
I had to do a lot of PR, and no matter how much I would try to hide, there would still be some stuff that I would be aware of. It was just like, "This guy, he's a great basketball player, but check it out, he's Asian!" And it kind of eventually felt the same reading it from these big publications and these big TV stations. But to hear from the actual fan perspective, to hear from people who went through it, from people who were minorities who went through it and experienced it, that brought a whole different element of color that I wasn't aware of. And that's why I think the film forced me and challenged me to have a much wider perspective.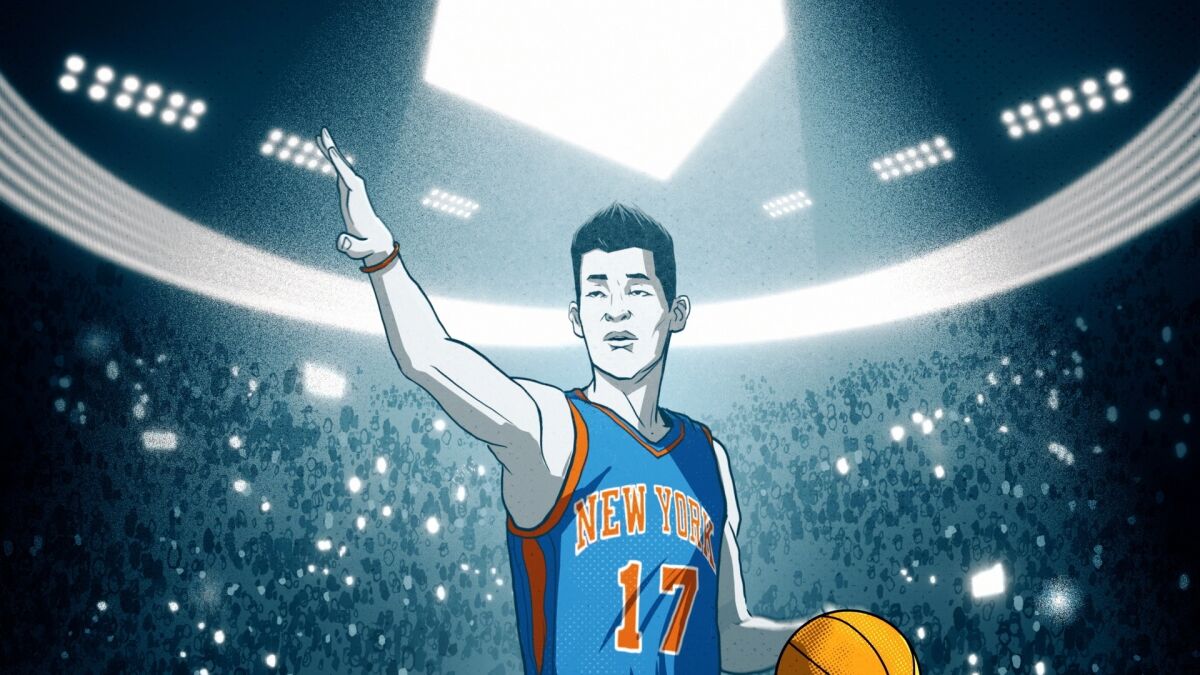 It was interesting to see how the film analyzed basketball moves you made on the court, like the wave off, and how it displayed courage for an Asian man to take control in that situation. What did you think about the deeper meanings in terms of the Asian community?
I think that moment, and there's other moments in there that people talk about, but the biggest one is the wave off. And I think that I was not conscious of it in the moment with 12 seconds left on the clock. I wasn't thinking all these things. I wasn't thinking, like, waving them off and what that might mean to the next generation. I was trying to win the game and I was so in the moment. But it wasn't until after hearing how Hasan [Minhaj] was able to break it down, I was like, "You know what? That is true." I really unapologetically took up my space and elevated myself to do something that I knew I was supposed to do and knew I had the capabilities of doing. And as great as that moment was, there were many times, even after that moment, when I reverted and I did not wave people off. And I think that is the immigrant experience. That is the minority experience. It is not a one-time decision to wave somebody off and do what you know you're capable of. It is a daily decision. Some days you'll get it right, some days you won't.
But in that moment, I was able to get it right.
The days of Lin-sanity must seem like an eternity ago for NBA free agent Jeremy Lin.
Is there a moment you can think of where you didn't wave someone off?
Yeah, for sure. Even after that Linsanity stretch, there were times. Going to Houston when Houston really wanted to elevate me, put me on all the billboards, be in all the commercials, and they wanted to just make me the guy. And I was shying away from it because I'm not a spotlight type of guy and I want to be just like everybody else and all my other teammates. I don't want to be just like a megastar who is untouchable. And that's fine in some aspects of it, but in other aspects, it kind of carried over onto the court and I deferred too much. I accepted blame for things that weren't even my fault. I continued to hold myself small and to kind of take a smaller role while other people who were more aggressive and assertive were able to eventually take on a bigger role.
How do you feel Linsanity and the film can help others moving forward?
Now 10 years removed and having seen "38 at the Garden," my relationship with Linsanity is definitely trending up. It is not something that I try to run away from, but it is something as a badge of honor that I'm very proud of. And I think that the one thing that I really want to do now is kind of what "38" is doing. ... I want to tell this story in ways that encourage the next generation of people. There's a few amazing things when people watch it, especially at the screenings, and they give a lot of feedback and they come and talk to us. There's one person who was like, "Oh, I watched the movie, and then the next day I asked for a promotion and then three months later I got it." And there's other people who talk about different things that they need to do, obstacles that they need to overcome or ways that they need to not hold themselves small.
In the documentary, we see an amazing clip that is absolutely heartbreaking. And it's the one clip that I remember the most from the entire film. It's when we see this extremely young Asian girl who is just so [scared] and she's like, "I don't want people to see my skin color." That is me sometimes to this day. I mean, when people look at me sideways if I'm wearing a mask or I'm walking to a grocery store or even when people ask me what I've been up to. I'm like, "Oh, I have been playing in China." And all of a sudden they look at me a certain way because of the political tensions when I've been playing basketball in China for the last four seasons before COVID started. This story can continue to kind of be a vehicle for the change that we're hoping to see.
If you ever meet Jeremy Lin, don't bring up the "L" word. He doesn't like it.
I'm sure L.A. Times readers will ask how you felt about your time in Los Angeles.
I mean, the Lakers year was difficult. It was really difficult in the sense of we had high expectations. We had Kobe [Bryant] come back from injury. We had Steve Nash, and obviously I was really excited about going there before he even started. Nash was out, then Kobe a few games, then he was out, and it ended up being a really disastrous season — one that all of us were not proud of or satisfied with. But things didn't click and things didn't work. It wasn't because of effort. It would be times I'd be texting with Kobe at, like, 3, 4 in the morning because I couldn't fall asleep. I'd be watching film, and I'd shoot him a text about something game-related and then he'd text me right back and I'm like, "Oh, my goodness, aren't you sleeping?" He's like, "I can't sleep." We were trying, but we just weren't able to get any good momentum the way we wanted to.
Get our L.A. Goes Out newsletter, with the week's best events, to help you explore and experience our city.
You may occasionally receive promotional content from the Los Angeles Times.