Jeremy Lin takes sane approach to his opportunity with the Lakers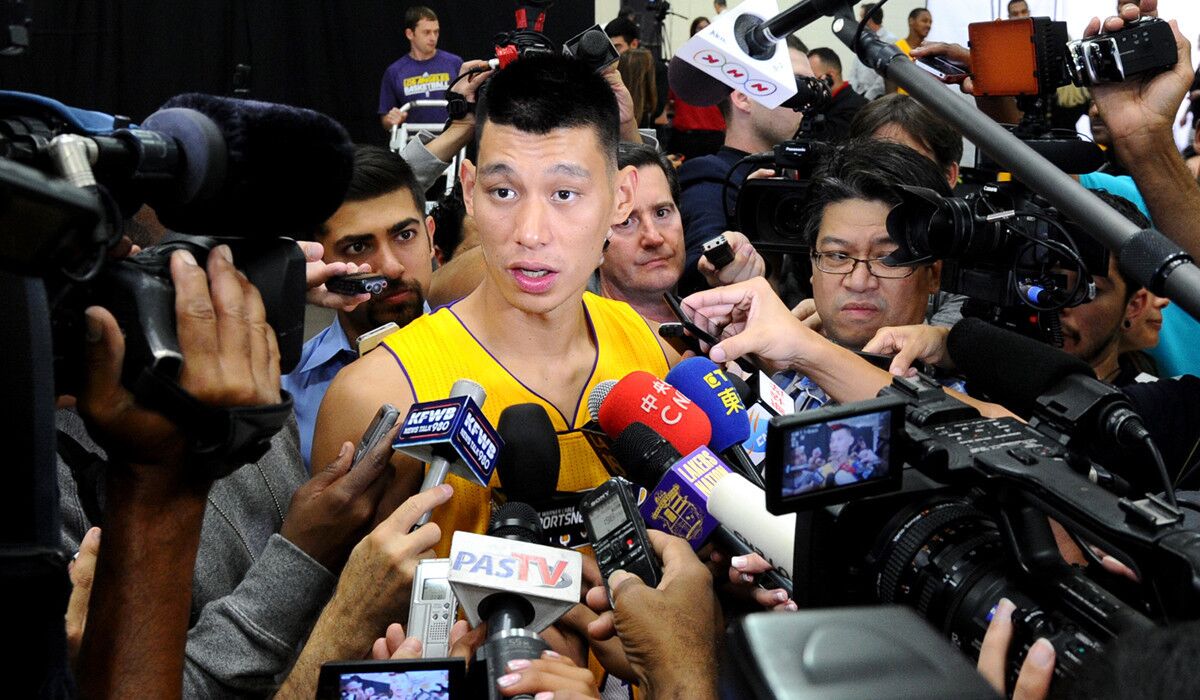 If you ever meet Jeremy Lin, don't bring up the "L" word.
He doesn't like it. Definitely tries to create distance from it.
That wild run in New York might as well have happened three decades, not three seasons, ago.
The Lakers guard now considers himself more Linteresting than Linsanity, in case you missed his online spoof of the debonair man in the popular beer commercial.
He'd rather be known as a hard worker than a flash-in-the-Big-Apple-pan who once had 38 points and seven assists against the Lakers in a frenzied, unbelievably overjoyed Madison Square Garden.
Lin was never arrogant — too much time in the Development League and too many appearances on the waiver wire took care of that — but the trek from Knicks star to Houston Rockets afterthought to a troubled Lakers team has reminded him of the importance of … let's call it humility.
"Pretty much everything I expected or anticipated or hoped for didn't happen," Lin said.
The same could be said for the position he's hoping to assume for the Lakers, a black hole for years.
They haven't had a game-changing point guard since Derek Fisher, a turnstile that included Ramon Sessions, Steve Blake, and, of course, Steve Nash.
Lin will happily be a salve while looking for some personal salvation as well.
His savior status with the Knicks didn't quite work out as expected when he left them as a free agent for more money in Houston. That didn't end well either when he lost his starting job in year two to relative unknown Patrick Beverley.
All-Star shooting guard James Harden liked to play with the ball in his hands, leaving Lin as a spot-up shooter. Not his strength. Moving Lin to the second unit allowed him to assume his more natural point-guard role.
Also, quite simply, Houston liked Beverley's defense better than Lin's.
So the Rockets sent Lin to the Lakers in July as a salary dump, pure and simple. They were furiously trying to clear cap room to sign Chris Bosh and had to throw in their lottery-protected first-round pick next year to get the Lakers to bite on Lin's $14.9-million salary this season.
A few days earlier, the Rockets added temporary insanity to insult in their attempt to woo free agent Carmelo Anthony, posting digitally enhanced images of him in a Houston jersey outside their arena. Anthony wore No. 7 in the images. That was Lin's number.
"It was a time for me to go through some bumps and some hurdles and learn how to grow," Lin said in retrospect. "When I first got there, I was supposed to be the guy and they were supposed to kind of hand the torch to me. And I ended up getting traded away basically for nothing. Actually, they had to give up a draft pick to convince someone else to take me. Pretty much given away for nothing. Definitely not how I envisioned it."
Lin, 26, is not bitter. He knows of the galaxy of opportunity at point guard and frankly hopes Lakers fans see him as a technically sound player, someone who has become a more polished defender since his New York days. And can play off the ball better. And improved his left-hand dexterity. And his three-point shot.
With Nash ailing almost daily from recurring back problems, Lin has practically been handed a starting spot next to Kobe Bryant. He will have to recover from two sprained ankles but should be ready by the Oct. 28 season opener, if not sooner.
He has some advice from one of the best at his position, someone who played with him at Golden State.
"Just be himself," Stephen Curry said. "When I was with him in the Bay, he showed the potential. We didn't really know he was going to explode like he did in New York but I knew he was an NBA player. It was a matter of time. Obviously the whole 'Linsanity' thing happened and it's probably a lot to handle.
"I think he's gotten better as a player just looking from afar and seeing where his game's at now. I know it's going to be a great opportunity for him to play significant minutes and have a good impact with the team, with Steve not knowing how much he's going to be able to play this entire season. Jeremy's going to be a huge part of what they do."
But what about that whole New York thing?
"You can't control if that's what people remember when they see him play," Curry said. "He's just got to keep his head down, put the tunnel vision onto what's happening right now. That will be something he'll remember for a long time down the road but right now he wants to separate himself from that because he's still young in his career and that's not what he wants to define his NBA career by."
Lakers fans are ready to embrace him, whether at restaurants, gas stations or retail stores.
"They're very thankful. I can't tell you how many people have told me they'll be there on opening night," Lin said. "They all talk about that game when I was in New York playing against L.A. That gets brought up a bunch."
Then he waits for the follow-up question. It was kind of fun back then, wasn't it?
"That was my favorite game of my career," he says, his eyes flickering briefly. But only briefly.
Henry to get treatment
Lakers guard/forward Xavier Henry has struggled to recover from a December knee injury that sidelined him for much of last season.
The team said Henry will travel to New York City to get a second opinion on his right knee. He will then journey to Dusseldorf, Germany, to receive Regenokine treatment.
In the Regenokine procedure, blood is removed from the affected area of a patient's body and spun in a centrifuge. A serum is then created and injected back into the targeted area to combat inflammation.
Times correspondent Eric Pincus contributed to this report.
All things Lakers, all the time.
Get all the Lakers news you need in Dan Woike's weekly newsletter.
You may occasionally receive promotional content from the Los Angeles Times.