Review: Andrea Riseborough and campy 'Please Baby Please' deconstruct gender and the 1950s
'Please Baby Please'
Aimed squarely at fans of John Waters and Pedro Almodóvar, the arty oddity "Please Baby Please" is the kind of cinematic fetish object that should entice anyone who shares director Amanda Kramer's particular fascinations. Set in a 1950s New York where even the hipsters have hang-ups about sex and gender, the movie is in some ways an exaggerated spoof of mid-20th century pop culture — and, in more profound ways, an explication of how greaser fashion, jazz clubs, beatnik poetry and complicated hairdos once gave repressed Americans a vent for their unspoken desires.
The film has minimal sets and almost no plot. Kramer and her co-writer, Noel David Taylor, focus on re-creating the overall vibe of '50s movies, album covers and pulp novels, with the help of some snappily slangy dialogue and fiercely committed performances up and down the cast. At the center are Andrea Riseborough and Harry Melling, playing Suzie and Arthur, a boho married couple who witness a brutal attack by a street gang in the opening scene and get so excited that they start rethinking what they have always understood about violence and manhood.
"Please Baby Please" mostly consists of Suzie or Arthur interacting with other hep folks, testing out their new thoughts about sexuality and machismo either through charged conversations or physical encounters. (Demi Moore has a memorable cameo as a glamorous neighbor who doesn't want to be a "wifey.") At times the film feels like a series of art installations or even avant-garde dance routines, abstracting and stylizing human passion until it looks like something out of "West Side Story." The picture is an especially great fit for the versatile Riseborough, who contorts her face and voice into something cartoonishly broad and fascinatingly fluid, as though proving with her physical presence alone how gender can be a construct.
'Please Baby Please.' Not rated. 1 hour, 35 minutes. Available on Mubi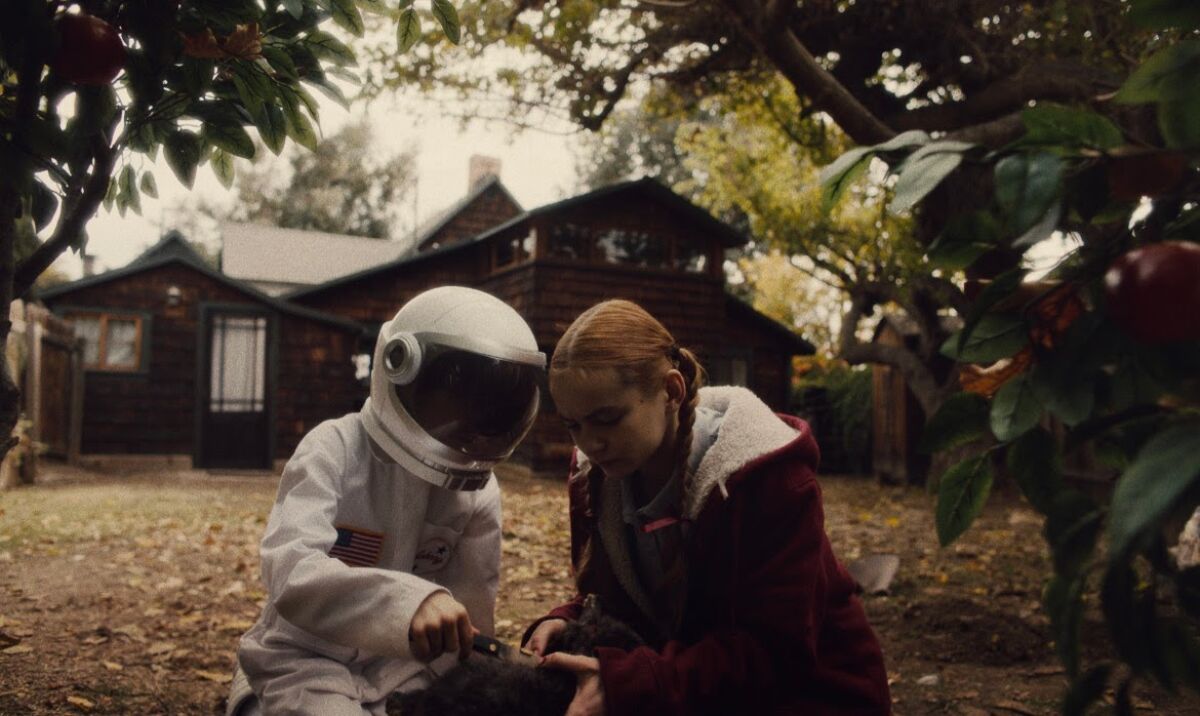 'Spoonful of Sugar'
The psychodrama "Spoonful of Sugar" is a semipsychedelic spin on classic children's stories. It's about a nanny whose magic touch recalls Mary Poppins, even though she's dressed like Little Red Riding Hood and she gets through the day with the aid of mind-altering drugs (like Alice in Wonderland). Directed by Mercedes Bryce Morgan from a Leah Saint Marie screenplay, the film gets too mired in shock for shock's sake in its final half-hour; but for a good stretch it's a wild and unpredictable ride.
Morgan Saylor plays Millicent, an orphan trying to compensate for a terrible childhood by giving love to a kid in need: Johnny (Danilo Crovetti), the sickly and emotionally distant son of successful author Rebecca (Kat Foster) and her hunky husband, Jacob (Myko Olivier). Rebecca and Jacob have their own issues — they seem to use a lot of the free time that Millicent affords them to have kinky sex — but their problems don't measure up to their nanny's, who is micro-dosing LSD and hallucinating all kinds of squirmy things.
There's not quite enough plot in "Spoonful of Sugar" to fill its running time, though the performances are so lively and director Morgan's imagery so vivid that the picture is never dull. The film works best when it makes the least sense. The thriller elements — involving who this Millicent really is and what she might be capable of — are the stuff of Lifetime movies. But the nightmares the filmmakers conjure are remarkable, poking at some uncomfortable truths about the balance of power between parents, their offspring and the caretakers they let into their homes.
'Spoonful of Sugar.' Not rated. 1 hour, 34 minutes. Available on Shudder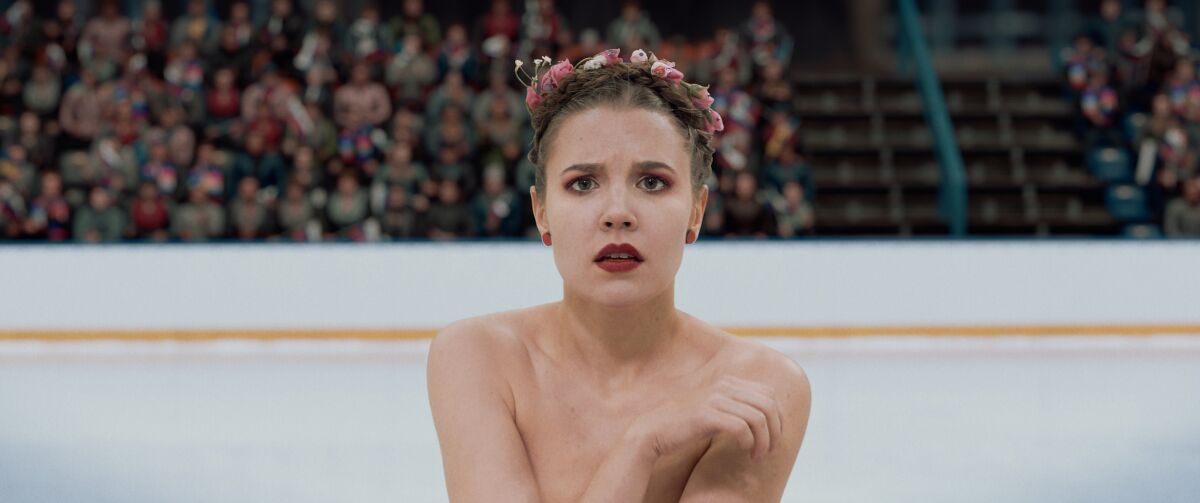 'Free Skate'
Timely in multiple ways, the sports drama "Free Skate" was written by and stars Veera W. Vilo as an Olympic-level figure skater who escapes from the abusive rigors of a Russian program to start over in her late mother's native Finland. While living with her grandmother (Leena Uotila), the skater — who is never given a name in the film — tries to restart her career, working with coaches who respect her input, give her more breaks and encourage her to skate with joy, not fear. But she can't wholly embrace her new freedom until she faces what happened to her in Russia.
Vilo based "Free Skate" in part on her own experiences as a champion gymnast — both what she witnessed firsthand and what she heard about from others — and she and director Roope Olenius definitely lean into the sordid and the sensational when it comes to international women's sports. They cover the body-shaming and the mental cruelty, as well as the sexual exploitation. The drama gets overheated at times — especially in the third act — and the filmmakers apparently lacked the money or the cast to make the skating sequences look like part of a real world-class competition. Still, the film is visually sharp and quietly absorbing, and Olenius and Vilo sensitively capture the isolation and self-doubt that can make an athlete's life so lonely.
'Free Skate.' In Finnish, Russian and English with subtitles. Not rated. 1 hour, 59 minutes. Available on VOD
'Transfusion'
The Australian crime drama "Transfusion" is 25% slam-bang genre film and 75% melancholy character sketch — a balance tilted too far to the latter. Sam Worthington gives a strong performance as Ryan Logan, a special forces operative who returns home after getting wounded, shortly before his wife, Justine (Phoebe Tonkin), dies in a car crash. Ryan's story resumes years later, as his anger and PTSD make it hard for him to keep a job, and as his teenage son, Billy (Edward Friday Carmody), is increasingly getting into trouble. Ryan tries to make some much-needed money working for a crooked old comrade (played by Matt Nable, who also wrote and directed), but his woes go from bad to worse. This plot is pretty straightforward, but Nable overcomplicates it with a narrative structure that jumps around in time to no great effect. The movie's handful of action sequences are good, but they're too sparsely deployed and overwhelmed by lots of slow-paced scenes of characters stewing in self-pity.
'Transfusion.' R, for violence, language throughout, teen drinking and drug use. 1 hour, 46 minutes. Available on VOD; also playing theatrically, Laemmle Glendale
'Wolf Garden'
Writer-director Wayne David aims for a different kind of werewolf movie with his debut feature, "Wolf Garden," but while the attempt is admirable — and some of the atmospheric effects are good — on the whole the picture feels too over-thought. David plays William, an anxious man hiding out at a remote country house where he frequently pauses to reflect on a happier time with his girlfriend, Chantelle (Sian Altman). In between taking time each day to feed a snarling beast in a nearby shed, William has philosophical conversations about his cursed life with a mysterious visitor (Grant Masters) and receives anxious phone calls from friends and family members warning him that his troubles have made the national news. The film waits too long to explain what's happening with William — long after most audience members will have figured it out. Despite some nice mood-setting, too much of "Wolf Garden" is spent talking around the story rather than just telling it.
'Wolf Garden.' Not rated. 1 hour, 29 minutes. Available on VOD
'The Creeping'
Writer-director Jamie Hooper's debut feature, "The Creeping," is hampered a bit by following the modern supernatural thriller trend toward tying every jump-scare and creep-out to some profound personal trauma. Despite that, the film works quite well, thanks to Hooper's command of retro horror style. Riann Steele plays Anna, who returns to her family's spooky house to help take care of her senile grandmother Lucy (Jane Lowe) and to try to get some answers about strange experiences she had there as a kid. When a ghost begins tormenting her, Anna realizes she'll need to dig up some old family secrets to get some peace. It's not hard to stay one step ahead of Anna's investigations, but that's OK, because this movie isn't really defined by its twists. It's more about the trappings, which Hooper and his crew deliver with panache: the dark shadows, the rich colors and the beams of light bringing an eerie glow to the misty air.
'The Creeping.' Not rated. 1 hour, 34 minutes. Available on VOD
Also streaming
"Split at the Root" scrutinizes the American immigration system's Trump-era policy of family separation by telling the story of how a Guatemalan mother's plight inspired a network of angry moms to take action — not just for this one woman, but for as many as they could reach. Director Linda Goldstein Knowlton balances the hopeful example of these activists with the grim reality facing the families they helped, who remained in danger of arrest and deportation. Available on Netflix
Available now on DVD and Blu-ray
"The Texas Chain Saw Massacre" is one of the most terrifying and influential 1970s horror movies, bringing a subtle artfulness to the tawdry story of shaggy hippies crossing paths with a family of cannibals. The new 4K UHD edition includes four commentary tracks and hours of behind-the-scenes material, covering the origins of this project and explaining why, even now, this splatter film with a shocking title is so beloved. Dark Sky
Get our L.A. Goes Out newsletter, with the week's best events, to help you explore and experience our city.
You may occasionally receive promotional content from the Los Angeles Times.