Review: The new intergalactic musical 'Come Get Maggie' is light-years from being ready
Few things are as difficult to pull off as giving birth to a new musical. But launching a rocket to Pluto might be easier than creating a new musical about space aliens.
For confirmation, take a gander at "Come Get Maggie," a jejune musical by Diane Frolov and Susan Justin that is receiving its world premiere courtesy of Rogue Machine at the Matrix Theatre.
This is the first time that Rogue Machine, which has established its reputation through unconventionally gritty dramas, has produced a musical. The inexperience, I'm afraid, shows.
A winking satire about a brilliant young woman in the 1950s whose dream of building a rocket ship for space exploration is derailed by a rigid patriarchal culture and its war machine, "Come Get Maggie" is light-years from being ready. The show, directed by Michael Pressman, tries to evoke the campy look and spirit of '50s sci-fi movies, but the musical just seems out of time, belonging neither to the era in which it's set nor the cultural moment in which it's performed.
Frolov's lampooning book has a warmed-over quality. It's not simply that the targets — dictatorially conformist parents, a milquetoast yet nevertheless controlling husband, grotesquely sexist colleagues and a bullying surrogate mother-in-law — are cartoonishly drawn. It's the obviousness of the caricatures and the staleness of the theatrical presentation.
The creators pretend as though "Avenue Q" and "The Book of Mormon," two musicals that raised the bar for zany social skewering, never happened. The authors also seem oblivious to the possibilities of psychological depth that a show like "Fun Home," spun from a graphic novel, revealed were not incompatible with broad comic strokes.
But perhaps the model that "Come Get Maggie" would wish to emulate is "Little Shop of Horrors," the sci-fi musical comedy about a carnivorous plant that makes a Faustian deal with the flower-shop nerd who becomes its murderous accomplice.
That show, which premiered in 1982, harks back nostalgically to the Motown sound and doo-wop of the early 1960s. But Alan Menken's music has a timeless appeal that accelerates the camp daring of Howard Ashman's book and lyrics.
Justin's music for "Come Get Maggie," by contrast, seems like an afterthought — a pastiche of styles so generic it might as well have been programmed by artificial intelligence. Music director Michelle Do seems to be typing out the score on keyboard, the sound seemingly piped in from a derelict stereo to accompany the flatfooted march of Frolov's rambling lyrics.
Comparisons are odious, but they are helpful in taking the measure of a show that seems to have dropped in from outer space. The plot of "Come Get Maggie" isn't inhibited in the least, but the outrageousness translates to clumsiness in a production that is overmatched in both resources and imagination.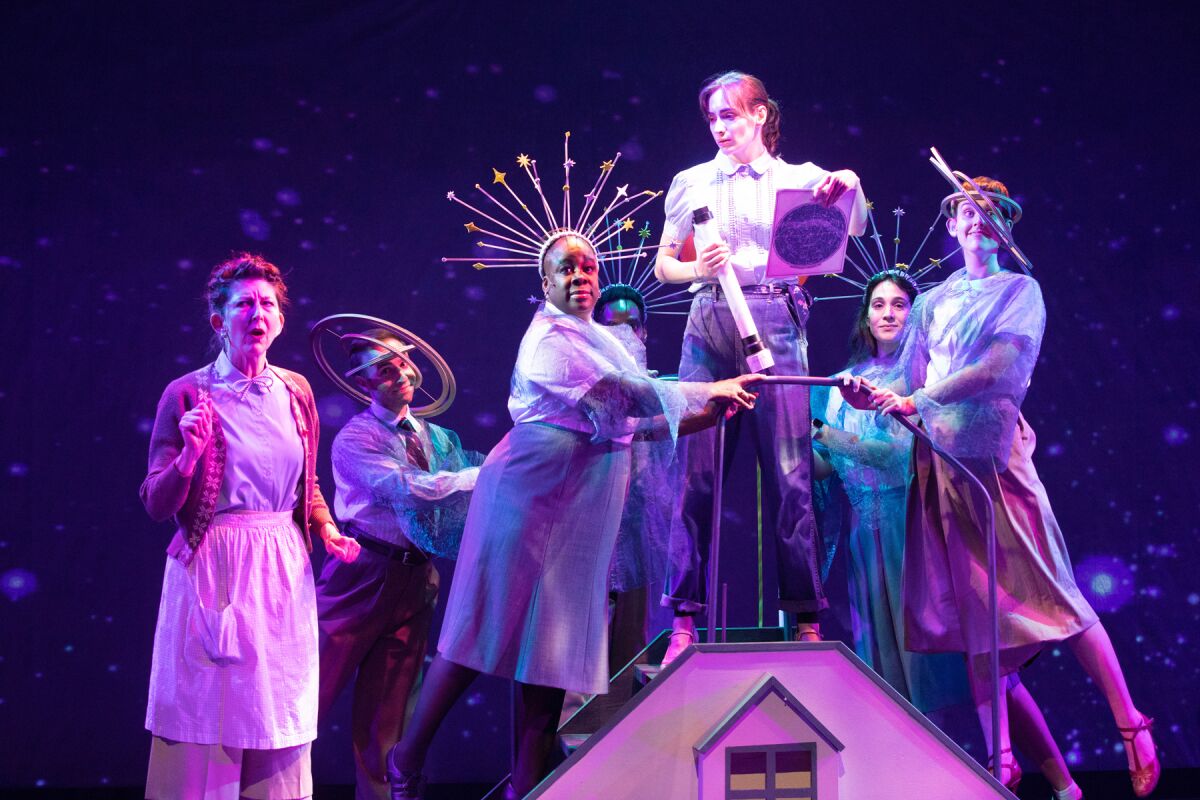 Ironically, the space aliens, ludicrous as they may be, are less insulting to the intelligence of the audience than the cockamamie developments on planet Earth. Recapping would be an exercise in madness, but the musical traces the life of Maggie (Melanie Neilan) as she makes her meteoric rise in science (guess who accidentally invents the H-bomb), descends into housewife misery, finds delight in alien abduction and later tries to make contact from her laundry room with the gallant space creature (Dennis Renard) who loves her for her magnificent brain.
I'm leaving out myriad details that are belabored in extraneous musical numbers. The show sets out to prove — drum roll, please — that difference is no barrier to true affinity. But the sentimental handwriting is on the wall with the opening number, which begins with the words "Starlight, star bright," and rapidly goes downhill from there.
The Geffen Playhouse presents Lee Edward Colston II's epic family drama, about the secrets and unresolved traumas of a Black family in Philadelphia.
As Maggie, Neilan has sphinx-like charm and a gaze that suggests shrewd interior calculations. She deserves a better musical, as does Renard as her astonished interplanetary inamorato.
Philip Casnoff, in the role of a cross-dressing detective, brings a touch of gruff originality to a show that sorely needs it. His character keeps jokingly making premature entrances, one of several of the production's self-referential gags. But if the musical ever gets a rewrite, I'd suggest bringing the gumshoe on as soon as possible. "Come Get Maggie" needs all the help it can get.
'Come Get Maggie'
Where: Rogue Machine at Matrix Theatre, 7657 Melrose Ave., L.A.

When: 8 p.m. Fridays, Saturdays, Mondays, 3 p.m. Sundays. Ends March 26

Tickets: $60

Contact: (855) 585-5185 or roguemachinetheatre.org

Running time: 2 hours, 10 minutes, including intermission
Get our L.A. Goes Out newsletter, with the week's best events, to help you explore and experience our city.
You may occasionally receive promotional content from the Los Angeles Times.