How a comedian and a chef turned Armenian-Mexican food into a funny, viral pairing
Using late-night munchies to crossbreed cultures is a long-held tradition of the L.A. food scene. Add in comedy, a rekindled friendship between a Mexican Armenian comic and an Armenian chef to the mix, and suddenly you have a tasty new menu of multicultural creations.
Like most good things, it started with a burrito. Correction: a "Lahmarito"
Imagine a piece of lavash — a Middle Eastern flatbread akin to a tortilla — the size of a pillowcase. Add a couple fistfuls of shredded cheese as a first layer underneath crispy rounds of Lahmajune — think small Armenian pizzas topped with minced meat and minced vegetables. Add fresh pico de gallo, serrano peppers, carne asada, Mexican rice, a dried spiced meat called basturma, creamy hummus and spicy salsa. The whole concoction is wrapped tightly, grilled golden brown on both sides and sliced in half to reveal the layers of bliss inside.
When they first stepped back and admired their creation while filming an Instagram video for their followers, comedian Jack Assadourian Jr. and chef Ara Zada knew they had something special on their hands before they even took a bite. And not just because of the millions of views from followers salivating over their food while laughing at their cartoonish, knife-flipping, food-prepping techniques. Their belly-busting "Arm-Mex" cuisine also showcased a pairing that's as L.A. as anything you could put on your plate.
"People immediately hit our DMs asking where we could order the food," Assadourian said. "Ara does this for a living, he's a chef, I'm a comedian, so to put those two elements together is a fun experience."
Each video features Assadourian and Zada tag-teaming the creation of one of their new Armenian-Mexican dishes as they rattle off ingredients and one-liners in fast-cut-style instructional videos (there's usually more laughter than instructions). Part of the reason the food ideas work is because the cultures pair together as well as the flavors.
"Mexicans and Armenians are very similar when it comes to culture, the family bonds are very much the same … I have a bunch of Mexican friends, and they all have the same family values," Zada said. "So the food is different in spices, but culturally we're the same."
For Assadourian, this fusion has been with him his entire life. Born to a Mexican mother and Armenian father — the owners of the Haha Comedy Club in North Hollywood since 1988 — his parents opened the club decades ago after it started as a Mexican restaurant.
As a half-Mexican, half-Armenian comedian, Assadourian has carved out his own niche in comedy, producing shows that cater to both sides of his heritage. The recent food videos with Zada presented a chance to finally bring the two sides together.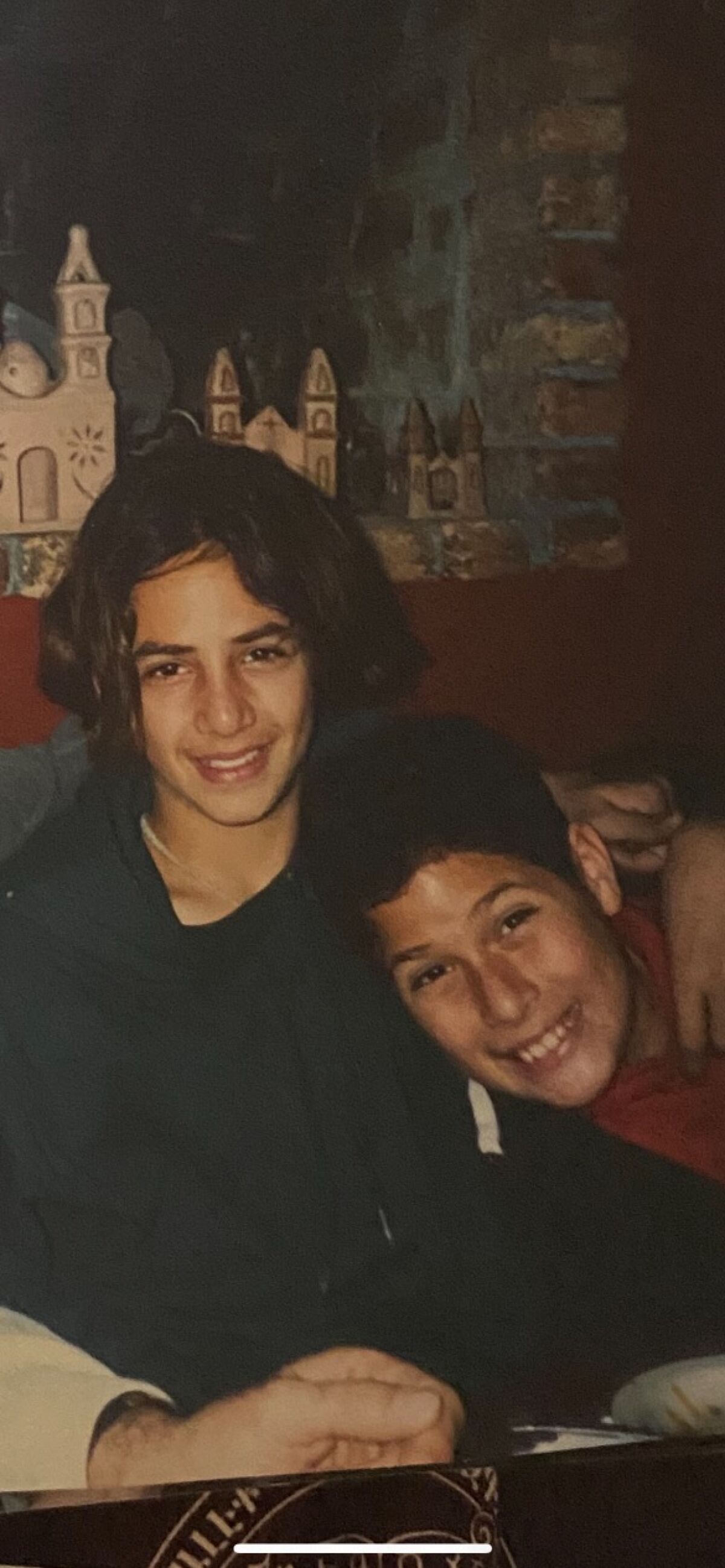 Assadourian and Zada grew up as childhood friends, running amok and singing karaoke inside the club during off-hours while their parents met and socialized. They remained close up until their early teens when Zada's father died. Gradually, they lost touch and went their separate ways. Jack went on to become a comedian, while Zada became a chef. Earlier this year, the two reconnected randomly when Zada's fiancée (now wife) decided to take him out to see a comedy show to get him out of the house. It was during a rough time for Zada, who had just overcome kidney cancer.
The night he revisited the Haha, his fiancée hadn't told him where they were going; but when they pulled up to the club, Zada immediately recognized it and they went inside looking for Assadourian, who was away on tour at the time. After finding out Assadourian had become a touring comedian, Zada direct-messaged him on Instagram. Like any good friendship, the two of them picked up where they left off —with jokes.
"I was like, 'He has a ton of followers and probably won't even answer my message right away,'" Zada said.
"Do you remember me?" Zada typed.
Assadoruian quickly replied, "F— man, I thought you died!"
While catching up on the last 25 years or so, the friends realized some striking similarities in their stories — both had married, divorced and remarried, and now had blended families. The two started constantly hanging out again.
"We even started singing karaoke together again like nothing ever happened," Assadourian said.
While Assadourian went into the family business, Zada became a chef focused on exploring Armenian cuisine, even co-authoring a book on it called "Lavash" in 2019. The book established him as an authority on the flavors of Armenia, which are hard to master given that food preparation varies depending on where a particular group of Armenians migrated to following the Armenian genocide.
"In 1914-1915 there was a genocide and millions of Armenians were killed by Turks, and a bunch of people got to flee. So they fled and then they basically went to different regions and assimilated with them," Zada said. "Some people changed their names — my family changed their last name when they fled to Egypt — so they adapted to the region and cooked their Armenian cuisine with that region's influence and flair."
Armenian food in the U.S. never really came into prominence the way other cuisines did, or in some cases the food got even more homogenized and changed its identity. "One thing you'll always notice is that there's no Armenian restaurants, they're always 'Greek,'" Assadourian pointed out.
One reason the videos fusing Armenian and Mexican food have taken off is how both cultures have a knack for absorbing flavors, especially in L.A. The harmony comes together in simple ways in the dishes they create on camera.
"Armenians from our region here in L.A. have a Mexican influence, and that's a good influence," Zada said. "If this was 200 years ago, our Armenian Elote dish would just be Armenian food. I mean, we've absorbed what the flavors are around."
This week, the pair will be taste-testing their menu in real life, bringing their first monthly pop-up restaurant experience to the Haha on March 11 from 3-6 p.m, followed by a comedy show at 8 p.m. featuring Armenian and Mexican comedians. The menu, based on their most popular videos, will include Armenian Elote, Sujuk Fries and the Lahmarito. The pop-up inside the Haha will also be paired with an "Arm-Mex" comedy show featuring a mix of Armenian and Mexican comics. For Assadourian and Zada, using the popularity of their funny TikTok videos to bring cultures together to laugh and enjoy food is a recipe for real-life impact.
"I got a DM from someone who said, 'My kids are half Armenian, half Mexican and you're a pioneer,'" Assadourian said. "You're our leader!"
"The feedback of Armenian food and Mexican food together has been ridiculous," Zada adds. "Everybody wants to taste it and everybody wants a piece."

Get our L.A. Goes Out newsletter, with the week's best events, to help you explore and experience our city.
You may occasionally receive promotional content from the Los Angeles Times.