Review: Dancer Simone Forti's moving survey show at MOCA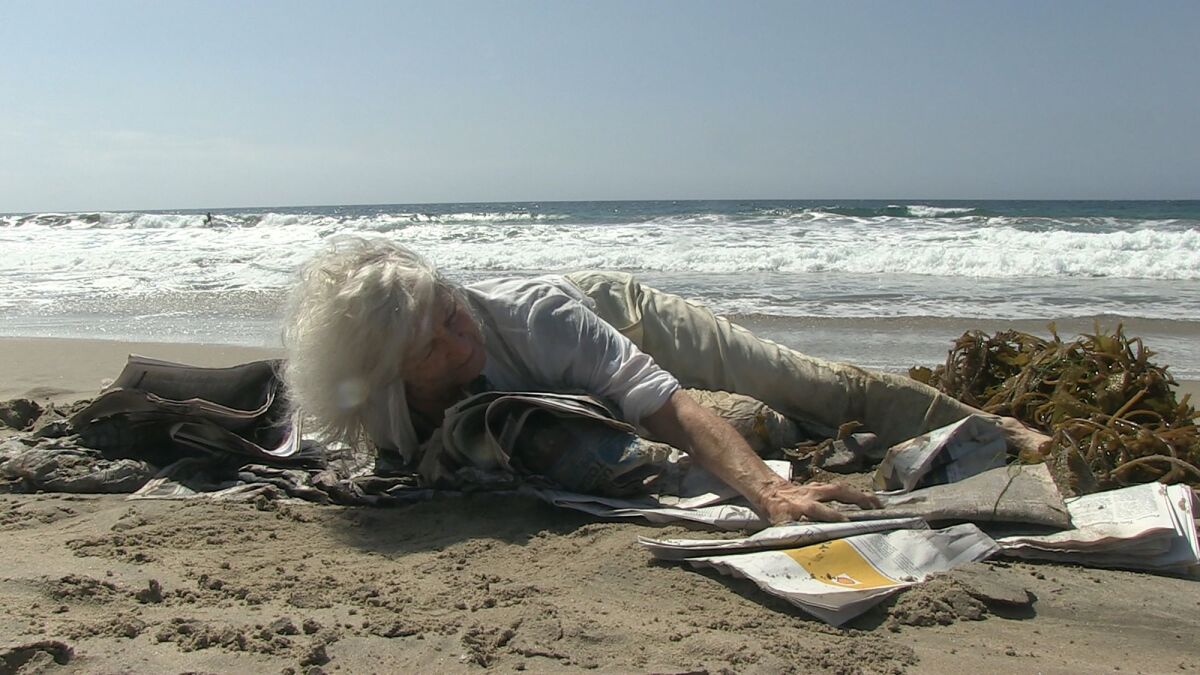 Simone Forti is a dancer. In the early 1960s, she began to make waves in the dance field by incorporating movements that weren't part of a traditional dance vocabulary. Walking, crouching, climbing, reaching, crawling — call them vernacular bodily actions.
It would take a dance critic or historian to know fully how that development was received, but I would guess that Forti's easy embrace in the '60s art world suggests that there were bumps in traveling the established dance road. She had first been a painter in San Francisco, then began to explore dance. Avant-garde art everywhere was expanding to include Happenings and performances, as well as objects. Many friends were artists (she was then married to sculptor Robert Morris), while the art world was becoming a welcoming place for a lot of cross-disciplinary activities. Think of Forti as an artist whose medium became movement.
The concise exhibition of her work currently at the Museum of Contemporary Art does a good job of clarifying what that means. (The curators are MOCA's Rebecca Lowery and Alex Sloane, as well as Forti's assistant, Jason Underhill.) To perhaps oversimplify, it means underscoring the context in which art exists.
As a dancer knows, one defining context is simply gravity. The show's first room includes platforms for her 1960-61 "Dance Constructions." One is a row of ropes suspended from near the gallery ceiling; another is a wooden slant-board with knotted ropes attached. Dancers suspend themselves to hang in space or, on the slant board, use the ropes to steady themselves while shifting their weight off the usual horizontal plane. Italicizing gravity in performance, a viewer begins to feel it anew.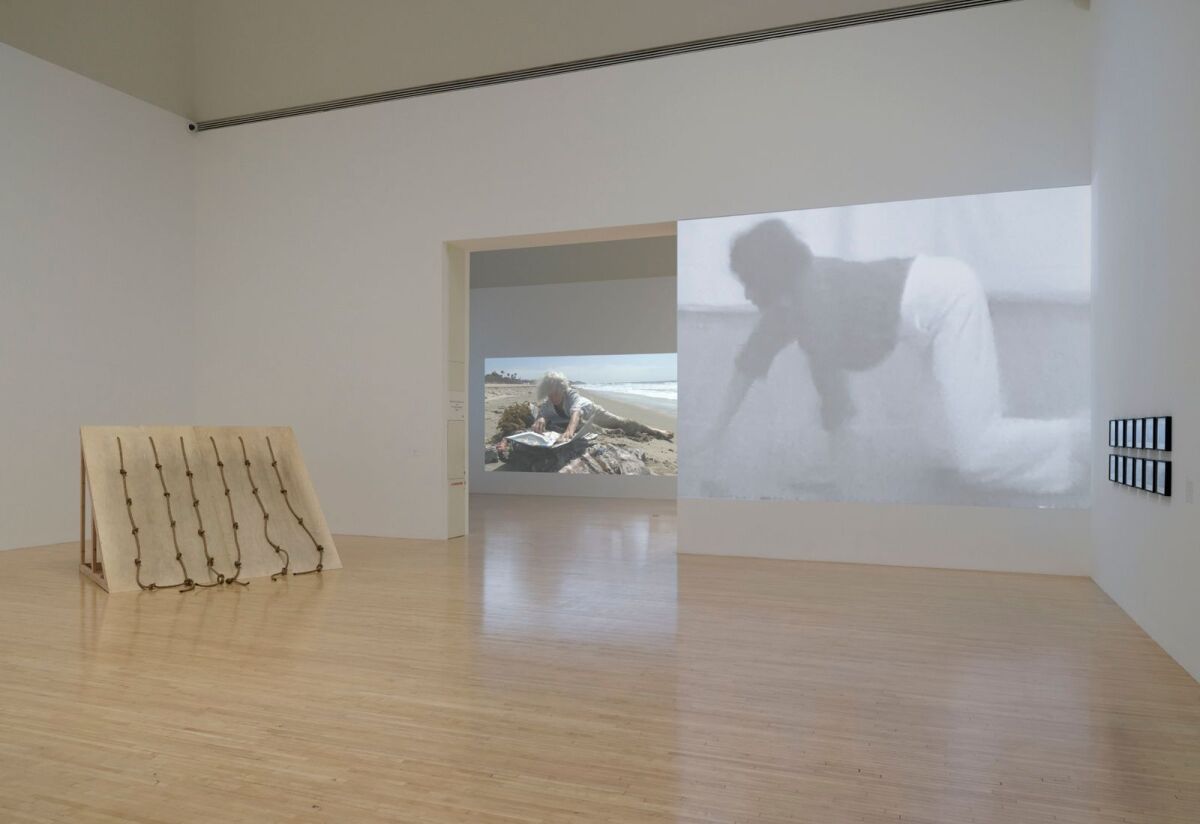 On the day I visited, no dances were performed. (The MOCA website has a schedule of performances, which are held on Thursdays and weekends.) Still, the context of other works fills in gaps.
One of the most compelling is installed nearby. "Three Grizzlies" is a short video of a 1974 film shot by Forti's friend Elaine Hartnett, at New York City's Central Park Zoo. The caged animals, removed from the complex environment of their natural habitat, periodically pace, rock, even pirouette — formalized movements that emerge as necessary antidotes to boredom and confinement.
In other words, they dance. Watching a 300- or 400-pound bear execute a light-footed cousin to a tour jeté snaps your head around. Forti's vernacular movements are reframed.
An unexpectedly mesmerizing work is "Zuma News, LA," a 12-minute and 36-second video projection of a 2013 seaside performance in Malibu. It's based in personal history, but it speaks to our present too.
Forti was born in Florence, Italy, in 1935. The Italian Jewish community was among the oldest in Europe. Mussolini's Fascist regime passed its first antisemitic legislation in 1938 — grim, life or death news that, upon reading the reports, motivated her father to act. The family left the country, eventually landing in Los Angeles.
In the video, Forti clutches a big, unwieldy bundle of newspapers as she wades from the lapping waves onto the beach, as if an immigrant arriving at a new shore gripping meager but essential belongings. The movement also echoes with the story of ancient life crawling onto land from the sea, ready to adapt. The wind and the weight pull at the clump of newspapers, which Forti struggles to hold close, and she labors in the shifting sand as the tide washes in.
Simone Forti and her collaborators weave seeming disconnection into affirming wholeness.
The soggier she and the newspapers become, the more difficult it is to hold it all together. But she doesn't stop. She keeps drawing near all that communicated information about the world. The video begins by seeming absurd, but it ends up being moving — an image of everyday survival.
Another context her work exposes is a relationship to other art and artists. Forti's career has been marked by collaboration. The list of multidisciplinary artists with whom she has worked, directly or indirectly, is long — Anna Halprin, Robert Dunn, Robert Whitman (her second husband), Peter Van Riper (her third), Charlemagne Palestine, Yvonne Rainer and many more. Holographer Lloyd Cross was a catalyst for her hologram sculptures.
Bits of holographic cinema, projected on small, curved sheets of glass set atop pedestals, show figures in motion. In one, the artist gets down on hands and knees, almost as if cleaning the floor to prepare the space. Step too close, and the ghostly mirage vanishes. Step back, and it reappears. A viewer becomes conscious of locating his own body in space, which is fundamental for a dancer.
The action on the small screen comes into view by walking in a slightly curved path that follows the curve of the glass. Even the audience, suddenly aware of enacting an unexpected pas de deux with an apparition, collaborates in creating consciousness of vernacular bodily actions. The spiritual connections Forti coaxes forth are perhaps her art's ultimate achievement.
'Simone Forti'
Where: Museum of Contemporary Art, 250 S. Grand Ave.
When: Tuesdays, Wednesdays and Fridays 11 am-5 pm, Thursdays 11 am - 8 pm, Saturdays and Sundays 11 am-6 pm. Closed Mondays. Through April 2.
Info: (213) 626-6222, www.moca.org
Get our L.A. Goes Out newsletter, with the week's best events, to help you explore and experience our city.
You may occasionally receive promotional content from the Los Angeles Times.