Jodie Comer, choked up by N.Y. air quality, rallied for evening performance of 'Prima Facie'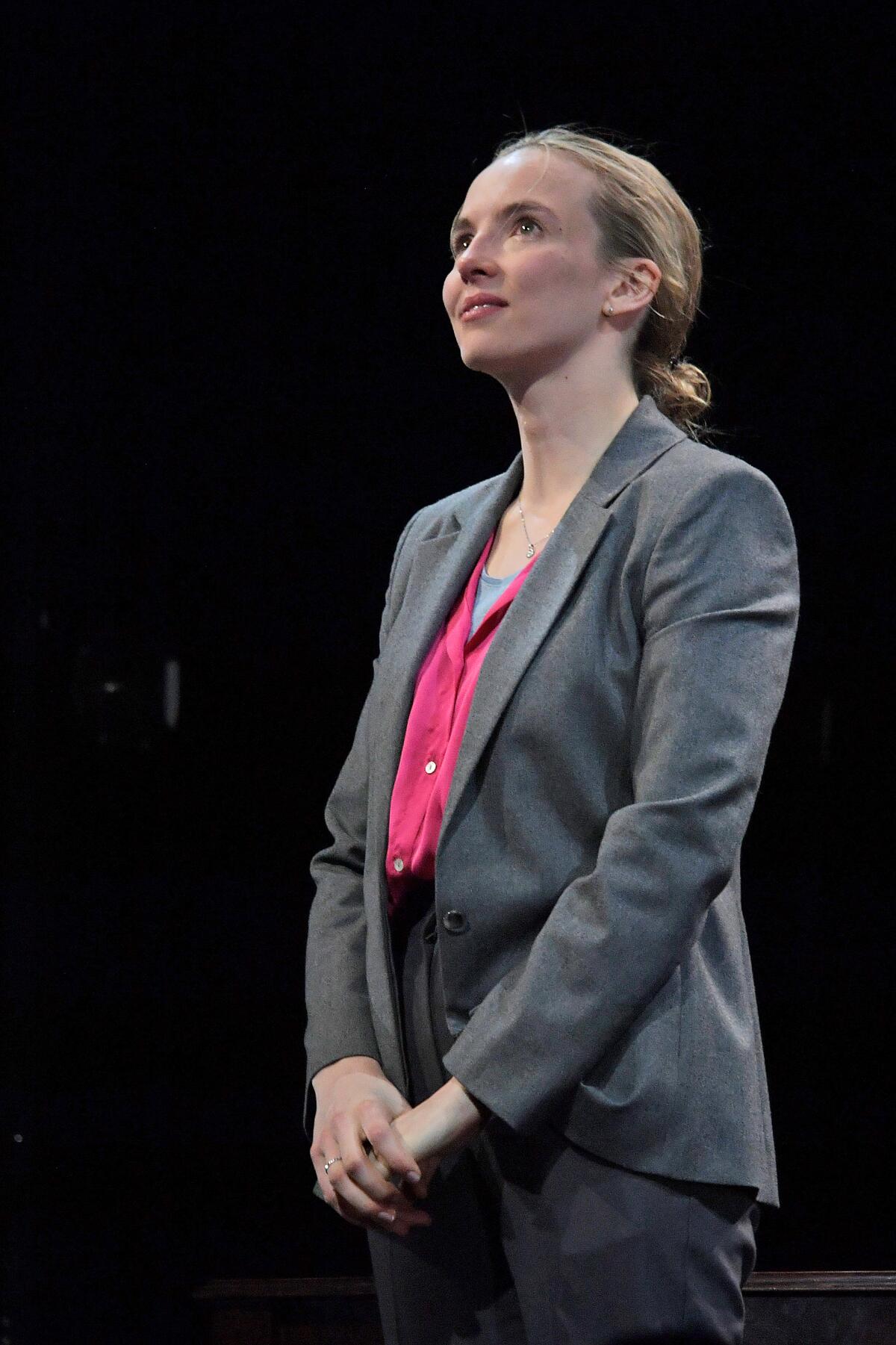 Jodie Comer returned for a Wednesday evening performance of the Broadway show "Prima Facie" after exiting an earlier show due to poor air quality in New York City.
About 10 minutes into a matinee performance of the one-woman, 140-minute play, the show came to a halt as Comer said she was having a hard time breathing, "Prima Facie" said in a statement. Smoke blown from Canada's wildfires has blanketed New York and much of the East Coast. An understudy, Dani Arlington, filled in for the English actress and started the performance from the top, completing the matinee show.
Audience members at the John Golden Theatre reported hearing Comer say, "I can't breathe in this air," before walking off stage, according to the Guardian.
By later that Wednesday evening, for the second show of the day, Comer was well enough to return to the stage and perform as scheduled, a spokesperson for the play told The Times. There were performances scheduled Friday and into the weekend.
In Suzie Miller's 'Prima Facie,' Jodie Comer brings to Broadway her acclaimed West End performance as a successful criminal defense barrister who experiences the other side of the legal system after being raped.
Written by Suzie Miller, the play premiered in Australia in 2019 before making its West End debut in London in 2022 with Comer starring. It arrived on Broadway in April. The play follows Tessa, a criminal defense barrister in England whose views of the law change after she is raped by a colleague. Miller, herself, was a former criminal defense attorney in Australia.
The Times' theater critic, Charles McNulty, credited Comer with having "unflagging energy and grit" in her performance. She "conveys the ambition and tactical shrewdness of a young lawyer who is determined not to let her gender or working-class background hold her back in a field dominated by private-school types with posh accents and patriarchal attitudes," he wrote.
The play has since garnered five Laurence Olivier Award nominations, winning for best new play and best actress for Comer's performance. It also earned four Tony Award nominations, with Comer picking up a win for lead actress. The Tonys will take place in New York on Sunday with Oscar-winner Ariana DeBose hosting.
The cult hit starring Sandra Oh and Jodie Comer ultimately was about women saving themselves … albeit with a body count.
Comer is best known for her Emmy-winning role in the BBC America show "Killing Eve," starring opposite Sandra Oh. She has also starred in recent big-budget films including Ridley Scott's "The Last Duel," the Ryan Reynolds-led action comedy "Free Guy," and "Star Wars: The Rise of Skywalker." Along with her acclaimed performance in "Prima Facie," Comer's on-screen celebrity has helped the play become an international hit, drawing packed, sold-out houses throughout its spring run on Broadway.
During Wednesday's interrupted performance, roughly seven audience members left the theater when it was announced Arlington, the understudy, would continue the show, according to Jenna Bush Hager, who was at the matinee performance and recalled the incident on "Today."
"She absolutely killed it," Hager said of Arlington's performance. "We were crying, weeping. ... She got this huge standing ovation"
"It is a very intense show, so the character's crying," Hager continued, "but you can tell, I think, that some of those tears were also, 'I got up there and, even in the worst conditions, I gave it my all, and I killed it.'"
Get our L.A. Goes Out newsletter, with the week's best events, to help you explore and experience our city.
You may occasionally receive promotional content from the Los Angeles Times.