There is something quite comforting about British television, particularly in times of crisis; all that snooty stoicism — "Good heavens, Jeremy, it's only [murder, world war, cholera outbreak, beheading], pull yourself together, man" — takes on a very different tone when you find yourself in the middle of a pandemic. Which is why I compiled a list of my 35 favorite British shows back in 2020, when we were all stuck at home baking banana bread and taking our temperatures every time we coughed.
Things are a bit better now — vaccinations appear to be doing their jobs, even against the ongoing list of variants — but still worrisome, and as there are still very few anxieties that an hour or so of British television won't help alleviate if not dispel, I am adding five more to the original list.
It would still be impertinent, and frankly impossible, to put together a "best of" list, but somewhere among these shows may be one that will help you Keep Calm and Carry On.
For the record:
12:13 p.m. April 3, 2020An earlier version of this story listed "George Gently" as being on BritBox; it is on Acorn TV.
Sci-fi/fantasy
"Doctor Who" (HBO Max)
The chronicles of a regularly regenerating Time Lord as he/she travels through time and space in a TARDIS (Time And Relative Dimensions In Space) disguised as a blue police box is possibly the most innovative, creative and enduring television show ever made. Whether you go all the way back to the 1960s original, with its eight incarnations of the Doctor, or start with the 2005 reboot, which is up to its fifth lead and about to announce its sixth, you will fall for at least one of these fast-talking, endlessly clever champions of Earth, past, present and future.
"Being Human" (Vudu)
A vampire (Aidan Turner), a werewolf (Russell Tovey) and a ghost (Lenore Cricklow) share a Bristol flat, and many adventures, in this wonderful mash-up of pathos, horror and coming-of-age comedy (and Tovey as a werewolf ... well, it's just as wonderful as you would imagine). At least as long as it lasts — Turner and Cricklow were brought in after the pilot episode, and Turner and Tovey left after the third season — this supernatural trinity cannot be beat.
"Torchwood" (HBO Max)
A spin-off of "Doctor Who" follows Captain Jack Harkness (John Barrowman) and his team at the Cardiff-based Torchwood Institute as they investigate alien activity on earth. A little more adult and procedural-based than "Doctor Who" but still very fun, "Torchwood" is also where I first encountered the great Eve Myles, and for that I will always be grateful.
Mysteries, secular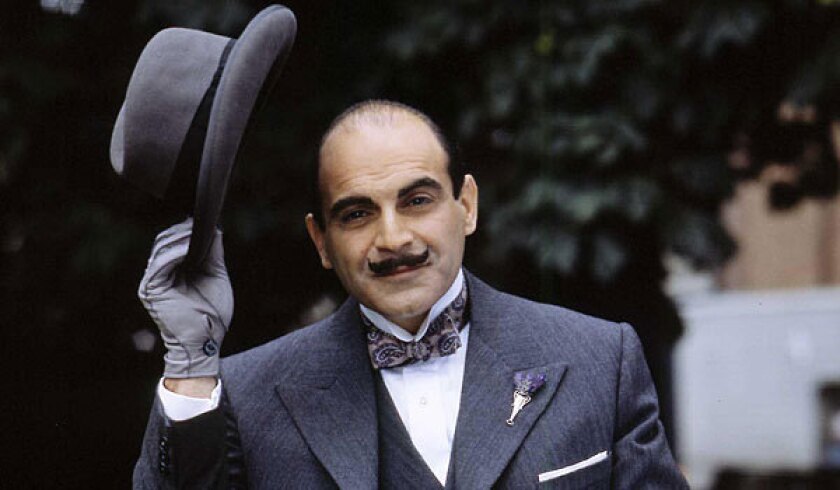 "Agatha Christie's Poirot" (BritBox)
Many have played the iconic I-am-not-French-I-am-Belgian detective (including, most recently, a surprisingly good Kenneth Branagh), but no one beats David Suchet, who has done it for 25 years and 70 episodes.
"Agatha Christie's Marple" (Acorn TV, Hulu)
Many have also played the iconic denizen of St. Mary's Mead, Jane Marple, but I think Geraldine McEwan best captures the trademark combination of flutter and canniness that made Miss Marple such a revolutionary and enduring character.
"Sherlock" (Netflix)
Obvious. Writers Steven Moffatt and Mark Gatiss, stars Benedict Cumberbatch and Martin Freeman and a supporting cast that shines even by BBC standards all conspired to bring the Great Detective into the modern world. I watch the entire series every year. Sad, but true.
"Prime Suspect" (BritBox)
Equally obvious. Jane Tennison introduced the now-legendary Helen Mirren to those Americans who did not remember her from "Excalibur," and proved that women could head police departments and police procedurals. Holds up to this day for reasons laudable and lamentable.
"Happy Valley" (Netflix)
West Yorkshire police sergeant Catherine Cawood (Sarah Lancashire) is perhaps Jane Tennison's most recent and glorious descendant, only she is also a working granny, plagued by the death of her daughter. There is a reason "Happy Valley" is consistently on critics' lists — it's by Sally Wainwright which means it's great.
"Scott & Bailey"
(Hulu) This is one of my go-to recommendations for anyone looking for something to watch. Also written by Wainwright, it follows the professional and personal exploits of two Manchester police detectives. But mostly it's the story of the very complicated friendship between Janet Scott (Lesley Sharpe) and Rachel Bailey (Suranne Jones.)
"Foyle's War" (Acorn TV)
A simply perfect television series, made even more currently compelling by its WWII setting. While the war disrupts daily life, daily life, and death, continues, with Detective Chief Superintendent Christopher Foyle (Michael Kitchen) keeping things safe for democracy on the home front. If you like mysteries, period pieces or just amazing acting and writing, I cannot recommend this show highly enough.
"Agatha Raisin" (Acorn TV)
Funny, sweet, candy-colored and contemporary, this fish-out-of-water tale follows Agatha (Ashley Jensen) as she transforms from London publicity agent to small-town sleuth.
"Wire in the Blood" (Acorn TV)
You will find Robson Green all over British streaming, including in "Grantchester" (see below) and several travel/reality shows. But as Tony Hill, police detective and serial killer expert, he helped set the template for the wounded sleuth whose own foibles make him great.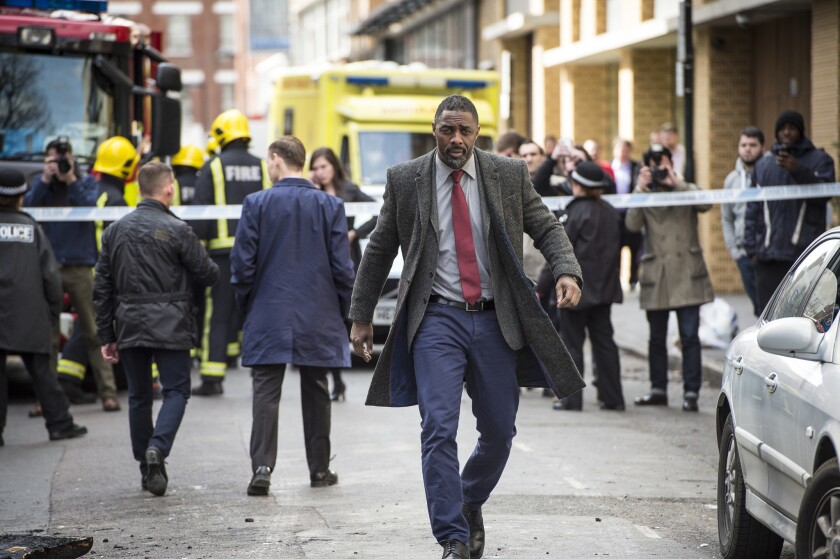 "Luther" (Amazon)
Idris Elba, who contracted COVID-19 but remains asymptomatic, is DCI John Luther, the man with the coat and a mission. Oh, and a very strange relationship with a murderer named Alice (Ruth Wilson). Things got a bit weird in Season 5 but it's tough to beat "Luther" even on a bad day.
"Cracker" (BritBox)
Robbie Coltrane (best known now as Hagrid in the "Harry Potter" film franchise) plays a politically incorrect and delightfully cranky forensic psychologist turned crime solver.
"George Gently" (Acorn TV)
Not only a terrific police drama, starring Martin Shaw as the title character, "George Gently" also offers a look at 1960s northeast England, and while it is not always pretty, it's always pretty thought-provoking.
"Law and Order: U.K." (Amazon)
"Law and Order" with better accents, crazy wig-hats and, thank the Lord, Freema Agyeman.
"Unforgotten" (Masterpiece)
I will watch anything that stars Nicola Walker, especially a murder mystery series in which she and her partner, played by Sanjeev Bhaskar, solve cold cases in the most mesmerizing and emotionally charged way.
From "Vanderpump Rules" and "Real Housewives" to "Love Is Blind" on Netflix, our guide to the reality TV to stream in quarantine has something for everyone.
Mysteries, sacred
"Grantchester" (Masterpiece)
After serving in WWII, dreamy young vicar Sidney Chambers (James Norton) comes to a dreamy old country town seeking solace. He finds, you guessed it, murder. Teaming up with a tough-minded, "You're not a copper, Padre" police detective (Robson Green, see above), Chambers realizes peace is something you make, not find.
"Cadfael" (BritBox)
Derek Jacobi as the titular 12th century monk, apothecary and crime solver is the reason I subscribed to BritBox, and he does not disappoint. Based on the voluminous series by Ellis Peters, "Cadfael" is as humane as it is historical. And, of course, Derek Jacobi.
"Father Brown" (BritBox)
This series, based on the stories by G.K. Chesterton, comes in two versions — classic (made in the 1970s, starring Kenneth More) and contemporary (begun in 2013 and starring Mark Williams, who also played Mr. Weasley in the "Harry Potter" films). The first is, like the stories, set in the Edwardian era, the second in the 1950s. Both revolve around a Catholic priest who, familiar as he is with the nature of temptation and sin, uses his clerical skills to unmask criminals. As an added bonus, the current series is shot in the Cotswolds.
Drama, pioneering women
"Call the Midwife" (Netflix)
No show on television will make you laugh, cry and appreciate the notion of national healthcare more than this lovely drama about midwives in the East End following WWII. Miranda Hart appears in several seasons as the very essence of "tickety-boo" British backbone, and the Christmas episodes are especially good.
"The Crown" (Netflix)
As obvious as "Sherlock" and "Prime Suspect" but, you know, it must be said. As we pray for the recovery of Prince Charles and all those diagnosed with COVID-19, "The Crown" offers, among many other things, a unique take on isolation — even when you are stuck in a palace, life can be quite difficult.
"The Bletchley Circle" (Amazon)
Four women who worked together cracking codes at Bletchley Park reunite to commiserate about a woman's life in post-WWII England — oh yeah, and find a killer. Spy craft and feminism. What better combination?
"Bramwell" (BritBox)
Jemma Redgrave stars as a female doctor shocking everyone in the Victorian East End and reminding viewers, especially female viewers, that while the imperfections of our healthcare system are currently very much in evidence, things are certainly better than they once were.
"Collateral" (Netflix)
In "Fargo," Frances McDormand set a pretty high bar for myth-busting about working while pregnant, but it's safe to say that Carey Mulligan clears it easily in "Collateral" — her British detective is also a former competitive pole vaulter, after all. This is a miniseries, grim and tense and hitting all sorts of political and social notes but mainly showcasing Mulligan's powerhouse talent.
Drama, general
"Years and Years" (HBO Go/Now)
Deeply disturbing and human in the very best way, Russell T. Davies' contemplation of a British family moving slowly into a political apocalypse is a great reminder that the pandemic is not the only destructive force around.
"Ballykissangel" (BritBox)
An English priest takes over the pulpit in a small Irish town and all manner of lovely drama ensues. I first encountered "Ballykissangel" while visiting Ireland and for years watched it on the VHS tapes my parents somehow found. It is completely addictive and not just because of the glorious gorse-edged countryside or the appearance of all manner of future stars, including Lena Headey, Colin Farrell, James Nesbitt and David Harewood (which can make for a fun drinking game but only if you own an actual pint glass).
"Cranford" (BritBox)
Judi Dench and Eileen Atkins play sisters and honestly, I shouldn't have to say anything more. But I will. It's the 1840s and they live in a northwest English town so small and idyllic that one story line involves great consternation over the coming of the railroad. Progress is a big theme, both socially and personally, as is class, but it's the cast, and the clothes, that make this such a splendid diversion. "'Cranford,' take me away."
"Pride and Prejudice" (BritBox)
After all the fuss over Colin Firth's Mr. Darcy in his translucent shirt, including the Bridget Jones book and film franchise and, if you can believe it, a statue installed in a London lake, you would fear that this version of Jane Austen's classic would collapse under its own pop cultural weight. But it doesn't. Firth is terrific, Jennifer Ehle (currently aiding the isolation cause by reading "Pride and Prejudice" on Instagram) as Elizabeth Bennet is terrific, they're all terrific, whether you've seen it three times before or you're just coming to it now.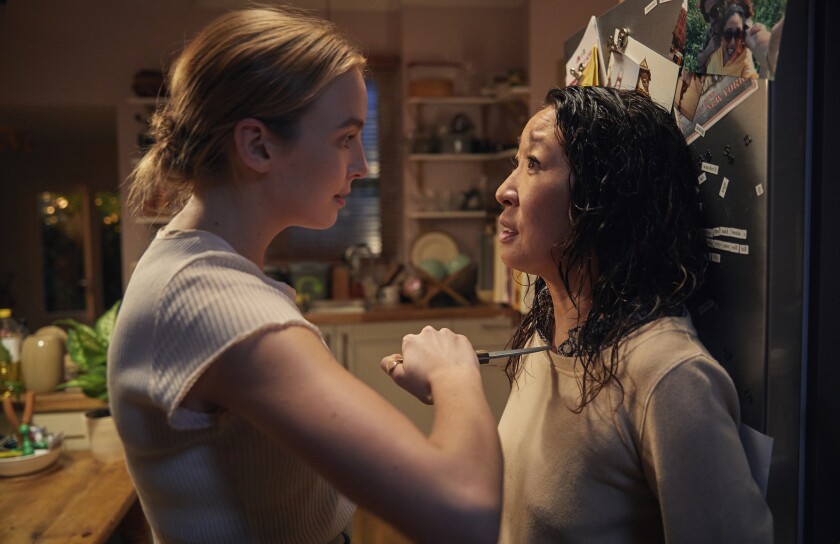 "Killing Eve" (Hulu)
If you somehow missed Sandra Oh as British intelligence officer Eve Plastri and her love/hate relationship with ruthless assassin Villanelle (Jodie Comer), now's the chance to close the gaping wound in your cultural psyche.
The "Up" Series (BritBox)
Now is also your chance to catch up on Michael Apted's epic, groundbreaking series of documentaries, chronicling the lives of 14 Brits every seven years for the past 56 years — the latest, "63 Up," debuted in theaters late last year.
"Broken" (BritBox)
Sean Bean as a Catholic priest in northwest England. "Haunting" and "heartbreaking" does not even begin to cover it. (OK, OK, I've got a thing for shows about priests, and for the record, it started way before "Fleabag.")
Comedy
"Doc Martin" (Acorn TV)
When fancy London surgeon Dr. Martin Ellingham (Martin Clunes) suddenly grows faint at the sight of blood, he takes himself to the Cornish town of Portwenn. There he becomes the GP, and hilarity, pathos and personal growth ensue.
"As Time Goes By" (BritBox)
There is no such thing as too much Judi Dench, an actor capable of transforming from a mischievous pixie to an icy queen in the blink of an eye. Which she does, more than occasionally, in the late-'90s sitcom that made her a household name in even the non-theatergoing parts of Britain. (She was starring in "As Time Goes By" when she was drafted to play M in the James Bond franchise and won her Oscar for "Shakespeare in Love.") The story of young sweethearts separated by war and chance, only to reunite in their autumn years, it's proof of just how good a traditional sitcom can be.
"Absolutely Fabulous" (BritBox)
Jennifer Saunders and Joanna Lumley are just as hilarious as remembered in the story of two very broken women careening through midlife in a cloud of Champagne fumes and "sweetie darlings." (See also "300 Years of French and Saunders," also on BritBox.)
"Miranda" (Hulu)
If you, like me, couldn't get enough of Miranda Hart in "Call the Midwife" (see above), you will be thrilled to know she has her very own show. It's a single-girl sitcom, heavy on the slapstick and stereotypes, but it's impossible not to love Hart, who bumbles with the very best.
"Gavin & Stacey" (BritBox)
The show that introduced Americans to James Corden, and then spawned an unfortunate American remake, follows the all-too-real relationship of the titular couple, played by Mathew Horne and Joanna Page, and their best friends, played by Corden and Ruth Jones, who both wrote the show as well. Sweet and funny, it deals with everyday life and love in often-skincrawlingly recognizable ways.
"Crashing" (Netflix)
I know I should put Amazon's awards magnet "Fleabag" on this list but it is difficult for me to imagine that anyone who has gotten this far on a list of British television hasn't seen "Fleabag" in its entirety, at least once, already. And so I am including this other, earlier series by and starring Phoebe Waller-Bridge, about a group of young people who are living, legally, in a disused hospital as they figure out their lives. It lasted only one season but it's great fun, and in Waller-Bridge's character Lulu there are hints of the "Fleabag" to come.
"The Vicar of Dibley" (BritBox)
Dawn French plays the first female vicar in an Oxfordshire village — I am also, as you see, a big fan of village shows, perhaps because there are really no villages in America — in the early 1990s when such a thing was a big deal for everyone. There is, alas, a super irritating laugh track and a lot of jokes revolving around 1990s British references that frankly aren't worth Googling if you don't get them, so just let them go. But there is far more general and gently pointed humor, a marvelous supporting cast and, well, Dawn French. Who is a freaking comedy genius. (See also "300 Years of French and Saunders." Seriously. See it. I've mentioned it twice now.)
"QI" (BritBox)
Years ago I wrote about discovering this smart, wacky and consistently hilarious show in which various comedians are quizzed by host Stephen Fry in broken bits on YouTube. Several readers then sent me links to whole, though bootlegged, episodes, which was the only way Americans could see it because, as permanent guest Alan Davies informed me at the time, the copyright for all the images used was a bloody nightmare. But now, through the miracle of streaming, seven seasons of "QI," which stands for "quite interesting," are available. The show, which began in 2003, named each season by a letter of the alphabet — on BritBox you can see seasons J-P and also Q. Fry left the show after season M, and was replaced by Sandi Toksvig. There are many guests and it's all quite confusing but great fun, and you can still find bits of earlier seasons on YouTube.
---