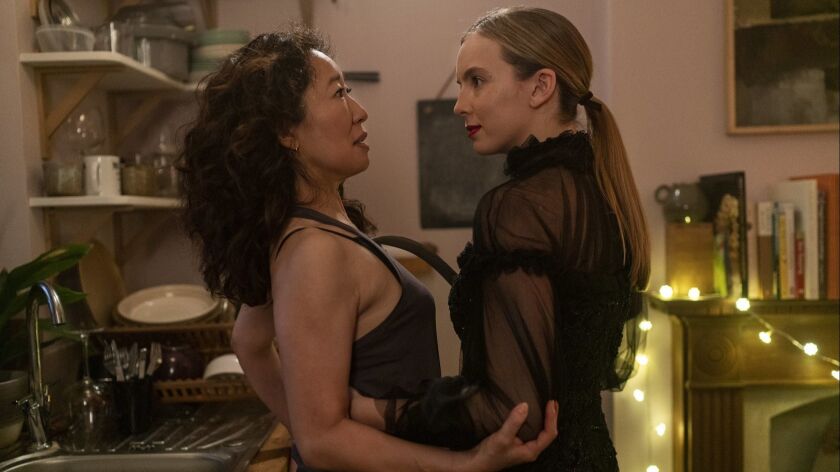 Taking a break after her nearly 10-year, Emmy-nominated run on "Grey's Anatomy," Sandra Oh was in no particular hurry to take on a new project just for the sake of having a gig. But then she received British writer-producer-actress Phoebe Waller-Bridge's darkly funny "Killing Eve" script about perpetually anxious MI6 agent Eve Polastri and her growing obsession with sociopathic Russian assassin Villanelle.
"From reading the pilot and knowing Phoebe's work from [TV series] 'Fleabag,' I felt like I really got this woman," Oh says. "When we met in person, gosh, Phoebe's very charismatic, witty and warm. So I was like: 'Yeah, I'll leave my life here and jump over the pond and be with you for six months. I'll try that out."
Once Oh committed to playing the title character, she needed to connect just as strongly with the actress who would portray the ingeniously violent object of Eve's fascination. Enter British actress Jodie Comer, who flew to Los Angeles to audition for Villanelle.
FULL COVERAGE: Get the latest on awards season from The Envelope »
"We were in some crappy room in the Valley," Oh recalls, speaking from her home in L.A. "We put a bunch of computers on boxes facing Jodie and Skyped to London, where Phoebe watched with the producer and director. We did this very long scene where we meet for the first time in Eve's kitchen, and it got to where 'I'm not going to blink are you going to blink? Oh, you're not gonna blink, then I'm not going to blink!' Both Jodie and I were figuring out, 'Is this the right match?' because you really want to find a good dance partner."
The cat-and-mouse dance between excitable Eve and eccentric Villanelle galvanized viewers, earning Oh a Golden Globe lead actress trophy when "Killing Eve" debuted last year on BBC America. Season 1 culminated in Paris, where Eve slipped into bed with Villanelle, purred "I've never done this before," then stabbed her in the gut. The new season, also showing on AMC, picks up 30 seconds later with Eve fleeing the scene in a state of high hysteria.
"We shot in Paris, mid-July and I had to wear a turtleneck sweater and a parka and wool pants" to pick up the winter time frame, Oh says, laughing. "It was so hot I had ice packs all over me. You recognize what's going on around you — 'I'm dying of heat so badly I might pass out' — but the interior life! Playing Eve is a tremendous challenge because her world is extremely intricate, but slipping back into it is never that far away from me."
True to Eve's quirks, she calms herself down post-assault by binge-eating an enormous bag of candy at the train station. Oh says, "Having someone stuff something continuously in their mouth — that's just going to be funny, but I played it completely straight because Eve's desperately trying to ground herself, which makes it even funnier." Comedic moments, Oh observes, are a "huge part of the entire show and not only for Eve's character. You also see the wit and the comedy and the naughtiness expressed through Villanelle."
READ MORE: 'Killing Eve's' Jodie Comer on her bewitching killer Villanelle — and Bruce Springsteen »
As Season 2 progresses, Eve enlists Villanelle to extract information from an uncooperative assassin who's been strapped to a chair inside a shipping container. Does Oh's character start mirroring the amorality of the very woman she was tasked with capturing? "Eve does start to inhabit certain aspects of herself that Villanelle brings out in her, but not in any copying way," Oh notes. "For the majority of Season 2, she's in a state of panic so she's kind of mushing all this fear and horror into her work. That pushes Eve into certain areas where she begins to abuse her power."
Nudging Eve toward the ethically gray zone is her coolly cryptic MI6 superior Carolyn Martens, played by Fiona Shaw. "Having Eve be this American Everywoman in the middle of all these quintessentially British people shows how ludicrous and formal the stiff upper lip British can be," Shaw says from her London home. "For me, it's great fun to play the seam of English-ness you find in so many well-educated, powerful, often anonymous people. I've met them, these bosses of institutions. They are very well-educated but very hard to know. They're absolutely opaque."
In "Killing Eve," Shaw exudes that chilly upper-class authority, in contrast to her own temperament. "I'm quite a chatty person whereas Carolyn is absolutely not that," Shaw says. "I really have to still myself down to the much slower tick-tock of her heart."
As the series heads into a third season, Shaw expects the character arcs to keep twisting and turning. "Compared to the usual writing where you're either the judge or the jury or the detective or the baddie, I remember asking myself when I first read 'Killing Eve': 'Are these people really wicked? Or do they just appear wicked?' I've found that ambiguity to be utterly enchanting."
---