With the end of any year comes time to reflect, rest, mark the passage of time — and, for those of us who cover television, a rare respite from the constant onslaught that is "Peak TV." The release of new streaming titles has slowed. Broadcast series are on hiatus. Holiday programming reigns.
That means the span between Christmas Eve and New Year's Day is the perfect time to get caught up on the acclaimed TV shows you might have missed in the last 12 months. And The Times TV team has a recommendation for every taste, from idiosyncratic comedies to a key entry in the "Star Wars" canon (not the one you think).
Los Angeles Times television critic Lorraine Ali chooses the best TV shows of 2020.
'Better Things'
"Better Things," which would have won several Emmys by now were it made by a man, contains a higher ratio of astounding sequences to total running time than perhaps any other series on television: In creator-writer-director-star-all-around savant Pamela Adlon's capable hands, a chaotic morning, a faux funeral, a modern dance and a musical number alike become flights of artistic fancy far beyond the bounds of the half-hour family comedy. The series' fourth season, which premiered in March, continues in that vein, committing ever more deeply to its animating spirit — gratitude — and culminating in a highly concentrated, hyperbolic love letter to my former hometown, New Orleans, that counts as my favorite TV episode of the year. (Available on: FX, Hulu)
—Matt Brennan

'City So Real'
From filmmaker Steven James ("Hoop Dreams," "America to Me"), this five-episode docuseries is an illuminating and prescient portrait of his home city, Chicago, as its people grapple with the 2019 mayoral race with the city in crisis. After the project's pre-pandemic festival run, James went back to chronicle how the city is coping as the events of this year — the unrest following the murder of George Floyd and the COVID-19 pandemic — came into focus. (Available on: Hulu) —Yvonne Villarreal
'Homeland'
I continue to be haunted by how "Homeland" concluded after eight seasons. Unless you're psychic, it was impossible to predict where the series, starring Claire Danes as bipolar CIA operative Carrie Mathison, wound up — which made its ending so perfect. Though the series stumbled after its Emmy-winning first season, it eventually regained its footing and included so many nerve-racking twists and turns along the way it became hard to keep track. Danes was totally committed in the role, and her scenes with Mandy Patinkin, who played her superior Saul Berenson, were electric. All in all, a masterful series and worth the time to catch up on. (Available on: Showtime) —Greg Braxton
'How to With John Wilson'
"How to With John Wilson" is a late-breaking contender for my favorite show of the year. In this unpredictable, empathetic and strangely heartbreaking docucomedy, filmmaker John Wilson combines video shot on the streets of New York City (and elsewhere) with deadpan voice-over to create darkly humorous, surprisingly poignant video essays about subjects such as talking to strangers, improving your memory and scaffolding. Wilson is a gifted people-watcher with a knack for capturing the eccentric characters and everyday drama of urban life, from a couple fighting on the street to Kyle MacLachlan — yes, the actor — fumbling with his Metrocard. With just six half-hour episodes that can be viewed in any order, there's no reason not to catch up. (But save the moving "How to Make Risotto," filmed as the COVID-19 pandemic hit New York City in March, for last.)
—Meredith Blake
Los Angeles Times television critic Robert Lloyd chooses the best TV shows of 2020.
'The Midnight Gospel'
Of all the shows you are less likely to have seen in 2020, this animated collaboration between "Adventure Time" creator Pendleton Ward and comedian Duncan Trussell, is among the least likeliest. Between them, working in a kind of counterpoint and taking interviews from Trussell's "The Duncan Trussell Family Hour" podcast as its basic soundtrack-text, they have produced what might be called a violent meditation on the messiness of life and a deep, brave dive into the bottomless questions of the cosmos, as multiple worlds break down and transfigure. Many questions and open-ended answers. (Available on: Netflix)
—Robert Lloyd
'Paranormal'
A mummy, desert ghouls and a child ghost all populate this clever, darkly comic horror anthology, Netflix's first Egyptian series and one of the first series of its kind to come out of the Middle East. Set in late-1960s Cairo, the six episodes follow hematology professor Refaat Ismail (Ahmed Amin), a chain-smoking cynic who believes only in what science can prove. He does, however, believe he's the unluckiest man on Earth, partly because he's haunted by a parade of otherworldly entities. "Paranormal's" tales are largely based in regional lore, lending a unique perspective to this Arabic-language series. But it's Refaat's hilariously dry narration and fatalistic internal monologue that bring this creep show to life, no matter what language you speak. (Available on: Netflix)
—Lorraine Ali
'P-Valley'
This year was objectively rough. Treat yourself to the stellar storytelling of Starz's "P-Valley," Katori Hall's hourlong drama set inside a fictional Mississippi strip club called the Pynk. Its eight episodes not only showcase the athleticism and artistry of performers at Black Southern strip clubs but also introduce these characters as fascinating, funny women who are a delight to spend a day getting to know — and ultimately root for. In a time when we can't exactly be partying with friends at clubs, you'll finish the finale feeling like you've just come home from a great night out. (Available on: Starz)
—Ashley Lee
'Star Wars: The Clone Wars'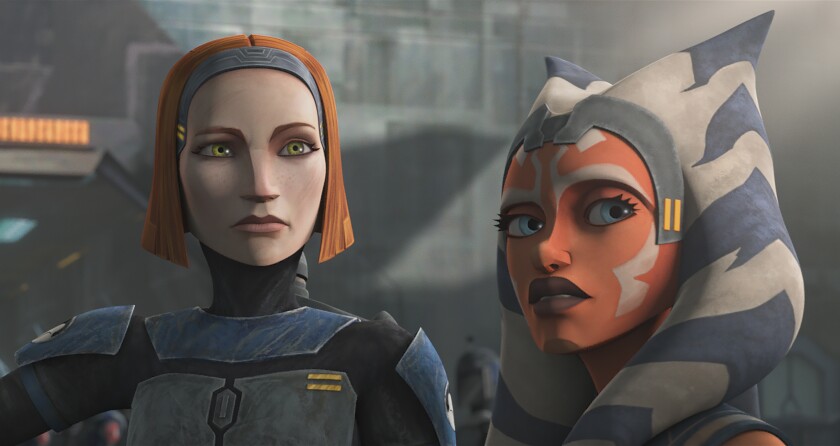 Some of the best "Star Wars" storytelling has happened on TV — and I don't (just) mean "The Mandalorian." Set between the events of "Star Wars: Episode II — Attack of the Clones" and "Star Wars: Episode III — Revenge of the Sith," the animated "Star Wars: The Clone Wars" follows familiar characters such as Anakin Skywalker and Obi-Wan Kenobi during the war that led to the rise of the Empire, expanding the universe we know from the movies. The series also introduced plenty of new characters, such as Ahsoka Tano, a young Jedi padawan apprenticed to Anakin who grew into one of the most fascinating Force users in all "Star Wars" canon. With the announcement of the upcoming live-action "Ahsoka" series, it's the perfect time to check out how her journey began. (Available on: Disney+)
—Tracy Brown
---