Even in a pandemic year, when Hollywood was forced to take it slow, there were more great new television series than will fit into this traditionally tight year-end space, into whose 10 slots I have already stuffed 12 shows. Except for a coronavirus line inserted into the closing seconds of, all places, a "Saved by the Bell" reboot and the last act of a documentary about Chicago politics, the pandemic itself is not portrayed in any of these choices yet it is somehow felt in all of them, from a sense of difference, or of absence, whenever someone shakes hands or hugs or hangs out in a bar or — what I find especially triggering — goes in somewhere for coffee. Do you miss me, cafes?
As ever, I do not like the definitive word "best" when it comes to such list-making, though I will swear on a stack of TV Guides to the high quality of these shows. It's more than a matter of comparing apples and oranges — television is also grapes and carrots and cheese and potatoes. These are just to my taste. Some were pleasurable in unexpected ways; others fulfilled expectations with skill and, if I can get a little mushy here, heart. What they do share is a sense of possibility and characters out to better themselves and/or to change the world; these are the cords that link "City So Real" to "The Great" and "Betty" to "The Queen's Gambit." (There is also, I note, a wealth of self-actualizing women among them.) And most are funny, even when they aren't strictly speaking comedies.
In no particular order, they are:
Los Angeles Times television critic Lorraine Ali chooses the best TV shows of 2020.
"Betty" (HBO)
Crystal Moselle's casually gorgeous paean to female friendship, freedom and self-discovery — too rich and real to be called a comedy or a drama — centers on a crew of girl skaters (most of them able nonactors) claiming their share of New York City pavement. The plot is worked just enough to stay eventful, but the series lives largely in the immediate moment, outside the narrative, in that quality of being young when there is no future and everything lasts forever. (Full review.)

"The Midnight Gospel" (Netflix)
"Adventure Time" creator Pendleton Ward surrealistically, psychedelically animates around interviews from collaborator Duncan Trussell's mystically minded "Duncan Trussell Family Hour" podcast, framing them, to consonant or contrasting effect, as virtual interplanetary travel. (Are you with me?) The overarching theme is spiritual balance in a universe where everything dies, and its realization accordingly combines the dark and the light, the chaotic and the meditative, the dreadful and the funny, the sort of familiar and the most definitely weird. And it is always something to look at. (Full review.)
Movie theaters closed. Broadway went dark. Concert venues fell silent.
"Ted Lasso" (Apple TV+)
Jason Sudeikis' sports comedy, in which he plays a preternaturally cheerful, second-tier college football coach improbably imported to manage a struggling southwest London soccer team, is old-fashioned and fresh, sweet and bittersweet — Frank Capra with contemporary bite, wherein a good-hearted eccentric reforms the cynics and converts the doubters. That it often goes just where you might imagine is not a fault, given that it's also just where you need it to go; like its main character, it is not shy about making you feel things. Witty and moving, with some excellent slapstick mixed in. (Full review.)

"Earth to Ned" (Disney+)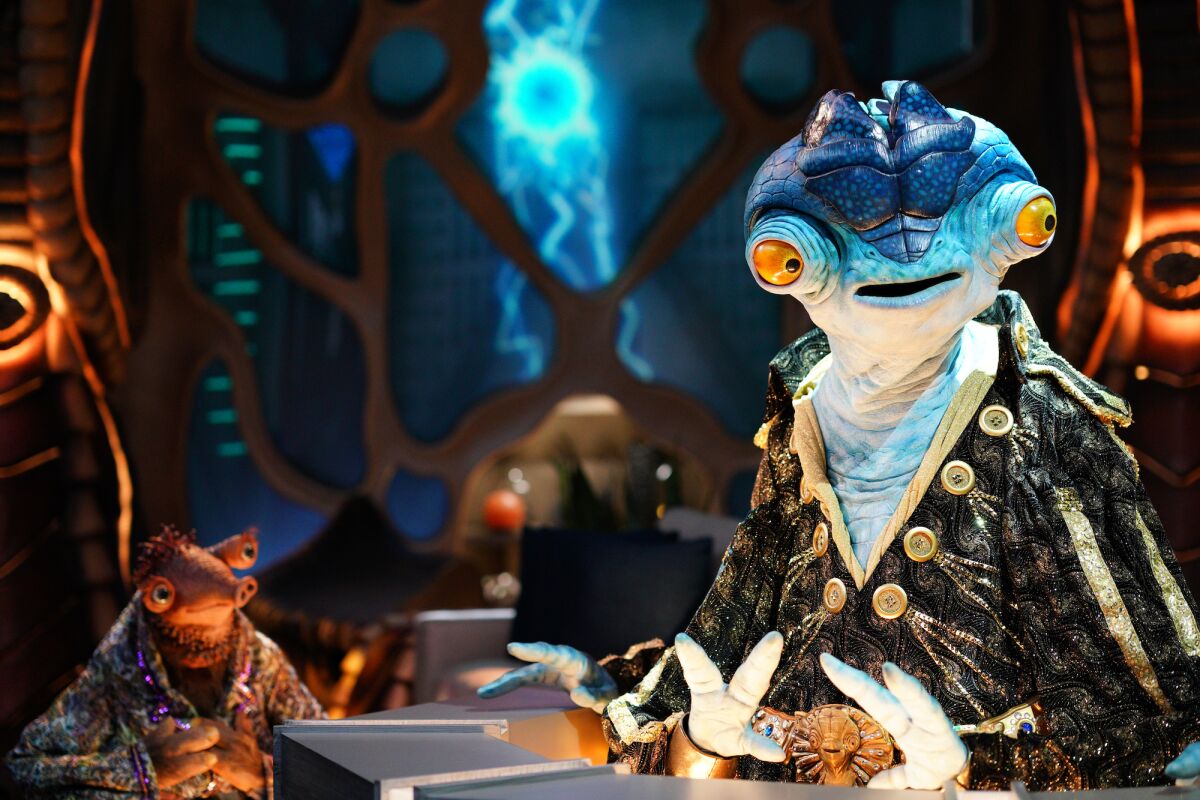 Henson Co. hands are behind — and inside — this semi-improvised puppet show in which four-armed alien Ned, sent to conquer Earth, is instead conquered by it, in an emotional sense — he loves our art, culture, comedy and mayonnaise. Rather than invading, he hosts a talk show, featuring human celebrity guests (Kristen Schaal, Reggie Watts and Rachel Bloom among them). The humor is dry, the rhythms are loose and the mood is friendly, with a touch of acid. (Full review.)

"The Great" (Hulu) / "Belgravia" (Epix)
Period pieces about women, changing societies and women changing society. In the grandly hectic "The Great," a marvelous Elle Fanning plays 18th century Russian empress Catherine, taking her from wide-eyed ingenue to baby revolutionary. A dark, profane, sometimes violent but not heartless comedy, billed as "an occasionally true story," it has only a cursory interest in historical details but finds room for jokes about Freud, Chernobyl and the Moscow Mule. (Full review.) Set at the dawn of the Victorian Age, Julian Fellowes' busy dramedy "Belgravia" opposes romantic and practical entanglements, individual striving versus social restriction, with twin leads Tamsin Grieg (new money) and Harriet Walter (old) recalling the double team of Penelope Wilton and Maggie Smith in Fellowes' "Downton Abbey." (Full review.)

"Briarpatch" (USA)
Rosario Dawson is a congressional investigator returning home to a Texas border town after the death of her police detective sister and meeting old friends, flames and foes in this unpretentious twist on the genre, a class-conscious mystery long on character and quirk. (There are zoo animals roaming the streets.) Kim Dickens plays the police chief, Alan Cumming is a bad guy. Inverting the usual arrangement, where a seemingly peaceful community sits atop a slough of criminality, forces for good are at work here beneath the corruption. (Full review.)

"Saved by the Bell" (Peacock)
Certainly, I did not expect this revival cum reboot cum metafictional deconstruction cum celebratory mockery of a late 20th century Saturday morning teen sitcom to be a highlight of 2020 television, but most everything about it works splendidly, even for someone with minimal knowledge of the original. Returning players build plausibly on their younger selves, while a talented new cast delivers perfectly timed performances, at once self-aware and sincere. (Full review.)

"City So Real" (National Geographic/Hulu)
A colorful, often comic, largely inspiring and remarkably intimate portrait of public life in a city where politics is a "blood sport," Steve James' 5½-hour documentary on the 2018-19 Chicago mayoral race and associated topics (police violence, gentrification) ranges from the South Side to the North Side, among the richer and poorer, the better and worse, the white barbershop and the black barbershop. (Full review.)

"The Queen's Gambit" (Netflix)
Of all the shows on this list, this — a feminist sports movie period piece — is the one you are most likely to have seen, if my social media feeds are anything to go by. Scott Frank's unusually faithful adaptation of Walter Tevis' novel is about more than chess (addiction and identity are in the mix), but not the least of its strengths is that it is also very much about chess. Anya Taylor-Joy, a star from now on, and Isla Johnston (a star in waiting — she's still a kid), play the gifted heroine, older and younger. (Full review.)

"Gentefied" (Netflix) / "Close Enough" (HBO Max)
Los Angeles is the very specific setting for these two extended-family comedies, with extras. A semitopical small-town (within a big town) tale loosely set around a struggling Boyle Heights taqueria, the sweet, shaggy "Gentefied" concerns generations and gentrification — "Imagine owning in Echo Park, like, five years ago, that's what Boyle Heights is," says one character, more ominously than he intends — old and new tastes and the special annoyances kin afflict upon one another. (Full review.) The animated "Close Enough," from "Regular Show" creator J.G. Quintel, set a little to the west, name-checks Echo Park/Silver Lake locations like the Brite Spot coffee shop and scary-steep Baxter Street. A domestic comedy about the slide into undeniable adulthood, it is seasoned with sci-fi (vasectomy robots, giant magic snails), like a cartoon (and better) "Black Mirror." (Full review.)
---