Thanks in part to streaming services, we're no longer confined to a bunch of reruns during the summer, and this year is no different, with several new series and new seasons set to air. However, TV audiences will also have to bid adieu to some beloved shows, not long after seeing a string of series — "Succession," "Barry" and "Ted Lasso" — air their final episodes.
If the writers' strike does in fact go on through the summer, viewers might not notice much of a disruption in what they can watch, for now anyway, because of the glut of shows produced beforehand. We're hoping that at least the current roster of shows we're looking forward to watching — especially as the temperatures rise — stay on schedule.
'High Desert' (Apple TV+, May 17)
A brilliant Patricia Arquette dives headfirst into a comedy thriller as Peggy, a somewhat recovering drug addict and convicted felon attempting in a determined if scattershot way to improve her life in a California desert town. As an optimistic hot mess, misunderstood and too well understood, the actress gets an unusual wealth of attitudes to play, from wildly comic to subtly heartbreaking, anchoring this antic series with naturalism. The series stars Rupert Friend as an anchorman-turned-guru, Brad Garrett as the down-at-his-heels private eye into whose flailing business Peggy inserts herself, Bernadette Peters as her mother (and her mother's doppelganger) and a goofball Matt Dillon as her ex-con ex-husband. — Robert Lloyd
Arquette talks about the Apple TV+ comedy series in which she plays a former addict and cancan dancer who decides to become a private investigator.
'Rainn Wilson and the Geography of Bliss' (Peacock, May 18)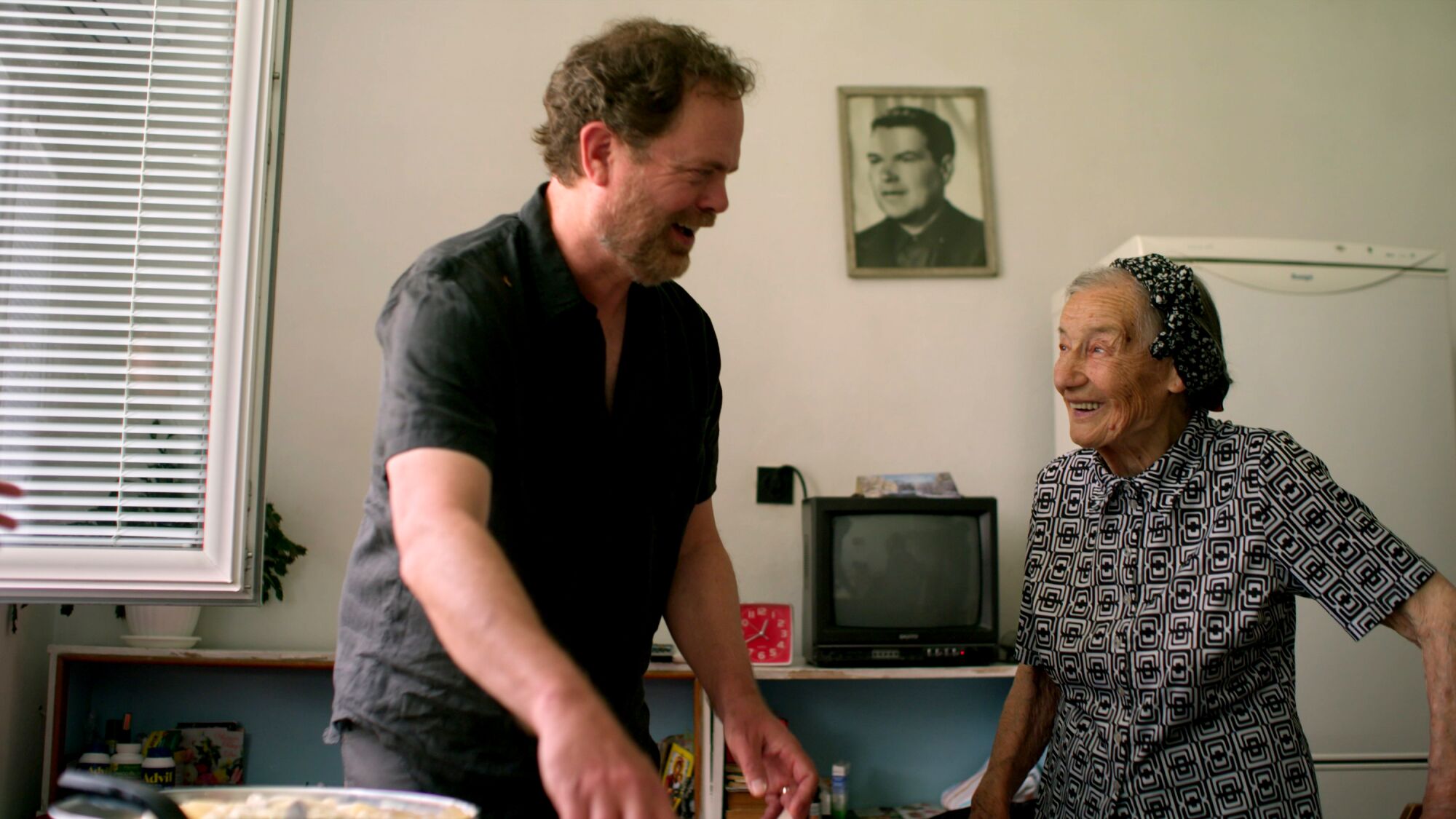 Rainn Wilson ("The Office") travels the globe on a quest to learn the secret of happiness in "Rainn Wilson and the Geography of Bliss," a five-episode series premiering May 18 on Peacock. If you imagine Wilson in the classic comic trope as the weary hiker who has scaled a mountain to reach the remote grotto of some mysterious guru where he seeks enlightenment, you wouldn't be far off. The series, inspired by Eric Weiner's bestseller "The Geography of Bliss: One Grump's Search for the Happiest Places in the World," opens in Iceland, which is high on the list of the happiest places on Earth (for contrast, the second episode visits Bulgaria, which is near the bottom of that list). While most (but not all) of Wilson's antics and jokes work, the series really hits home when Wilson opens up about his own depression and anxiety disorder and meets with Icelandic teens who discuss their troubles. — Ed Stockly
'XO, Kitty' (Netflix, May 18)
Get ready for another obsessive summer of romance, courtesy of bestselling author Jenny Han, who's set to return to streaming with the second season of her highly addictive Prime Video series "The Summer I Turned Pretty" on July 14. But first, we'll get "XO, Kitty," the series spinoff from Han's other smash-hit romance franchise, "To All the Boys." This time it's self-anointed romance expert Kitty (Anna Cathcart) whose time it is to shine when the youngest Song-Covey sister impulsively transfers to a Seoul boarding school for her junior year, anchoring a K-drama-inspired ensemble of inclusive new characters all navigating first loves, family dramas, friendship and young adulthood. Cathcart carries Kitty's journey of self-discovery with unsinkable charm, making for a breezy binge-worthy watch that feels as comforting as snuggling up with your fave YA novel. — Jen Yamato
'The Secrets of Hillsong' (FX, May 19)
"The Secrets of Hillsong" is a docuseries about the megachurch of charismatic young pastor Carl Lentz — known for preaching the word of God while donning deep plunging v-neck shirts and skinny jeans — whose flock included celebrities like Justin Bieber. When he was fired in late 2020 for supposed "moral failures," it triggered a wave of revelations about other alleged misconduct within the church. This four-part investigation features the first interview with Lentz since his ouster from Hillsong, and details a pattern of troubling behavior that goes well beyond the hipster preacher. —Meredith Blake
'Platonic' (Apple TV+, May 24)
If you are a fan of Seth Rogen and Rose Byrne in the "Neighbors" movies, "Platonic" is going to be right up your alley. The pair are teaming up again, this time as best friends who reconnect after a falling out. Sylvia (Byrne) is a former lawyer and stay-at-home mother of three, who reaches out to Will (Rogen) after she learns he recently divorced. Their lives couldn't be at more different stages, but despite that, they find that their friendship and banter still comes easily. It's a look at midlife — which millennials are beginning to enter, believe it or not, so it's likely to resonate for that cohort. It's also set in Los Angeles, and you'll see plenty of recognizable neighborhoods and issues — gentrification, overpriced homes and abandoned scooters, anyone? — Maira Garcia
'The Idol' (HBO, June 4)
On occasion, a film or TV series comes down the pike that piques my interest not for the story depicted onscreen, but for the story behind it. And boy, does "The Idol" fit the bill. The series, set to premiere at the Cannes Film Festival this month, has reportedly been plagued by problems: the departure of original director Amy Seimetz; rewrites and reshoots led by co-creator and controversial "Euphoria" auteur Sam Levinson; and allegations in Rolling Stone that the project devolved into a "s— show" and rape fantasy. And lurid curiosity about the backstage drama will have to sustain us. At this point, it's not even clear what the series — featuring Lily-Rose Depp as a pop star and co-creator the Weeknd as her culty new ... guru? love interest? tormentor? all of the above? — will be, except talked about, that is. —Matt Brennan
'Never Have I Ever' (Netflix, June 8)
It's senior year at Sherman Oaks High School and sadly, it means our time with Devi Vishwakumar (Maitreyi Ramakrishnan) and her best friends, Eleanor (Ramona Young) and Fabiola (Lee Rodriguez), is coming to a close. Netflix announced last year that the fourth season of the coming-of-age comedy would be its last. As an elder millennial, a show about Gen Z has never made me feel older. But as someone who, like Devi, was an ambitious nerd whose dating life was nominal in high school, I connected with the character. It would have been such a confidence boost to see a show like this growing up, especially with a lead actor of color like Ramakrishnan. Gen Z is so lucky. Plus, the show is wickedly funny. God, I am going to relish this last season of John McEnroe's narration. — Maira Garcia
'Star Trek: Strange New Worlds' (Paramount+, June 15)
The "Star Trek"-iest of all "Trek" spinoffs — both because it features characters from the original series, and characters previously seen only in its pilot, and for its emphasis on episodic adventures over a long arc — returns for a second season. (Still, the first season ended on a cliffhanger, with Rebecca Romijn's Number One under arrest.) With Anson Mount's Christopher Pike in the captain's chair, Ethan Peck as a perfect young Spock and Celia Rose Gooding as novel Uhura, getting character depth that "Star Trek," being a sort of "Route 66" in space, denied them. The new season pipes Paul Wesley aboard as James T. Kirk and adds Carol Kane as the new chief engineer — reason enough to watch — and promises a crossover episode with the animated "Star Trek: Lower Decks," a strange new world, indeed. — Robert Lloyd
'The Walking Dead: Dead City' (AMC, June 18)
AMC's "The Walking Dead: Dead City" is the franchise's latest effort to recapture the magic of the 11-season post-zombie-apocalyptic phenomenon "The Walking Dead" (or at least the magic of its first seven seasons). That's a tall order. In this spinoff, premiering June 18 on AMC and AMC+, two main characters from the original series — Maggie and Negan (Lauren Cohan and Jeffrey Dean Morgan) — form an unlikely pair of protagonists. Somehow, they made it through the last four seasons of "The Walking Dead" without killing each other and are now united on a quest to save Maggie's son, Hershel (the newly cast Logan Kim). Hershel has been kidnapped and spirited away to the Big Apple, or what's left of it, and it's up to the former nemeses to work together in a dangerous rescue. — Ed Stockly
'The Bear' (Hulu, June 22)
Whenever I open a can of tomatoes — which, to be clear, isn't often — it's never not disappointing to see there isn't a wad of Saran-wrapped cash there to greet me. But that hasn't dulled my anticipation for the return of "The Bear." Created by Christopher Storer, the show centers on Carmen "Carmy" Berzatto (Jeremy Allen White), a young elite chef who returns home and ditches his fine-dining pedigree to run his family's Chicago-based hole-in-the-wall sandwich shop, the Original Beef, after his older brother dies by suicide. He's joined by the shop's faithful and rough-around-edges kitchen staff — Sydney (Ayo Edebiri), Richie (Ebon Moss-Bachrach), Marcus (Lionel Boyce), Tina (Liza Colón-Zayas), Ebraheim (Edwin Lee Gibson), Sweeps (Corey Hendrix), Neil (Matty Matheson), Manny (Richard Esteras) and Angel (Jose M. Cervantes). (Abby Elliott stars as Carmy's sister, Natalie.) The first season cooked up a gripping rumination on grief and toxic workplaces in the food industry. It's rife with tension and pressure that makes you want to reach for the bottle of Tums while watching — in a good way. The season ended with Carmy deciding to close the Original Beef, setting him up for a new food venture in Season 2 that's sure to be chaotic. And with Bob Odenkirk, a master of comedic and poignant performances, recently added to the show's ranks, the new season sounds like it'll be more filling than an Italian beef sandwich. — Yvonne Villarreal
Jeremy Allen White stars as an elite chef who inherits his family's struggling Chicago beef sandwich shop in "The Bear," premiering Thursday on Hulu.
'I'm a Virgo' (Prime Video, June 23)
As a Virgo, I'd be remiss if I didn't champion Boots Riley's upcoming "I'm a Virgo" miniseries on Prime Video. But star signs have little to do with this charming coming-of-age story about a 13-foot-tall man (Jharrel Jerome) who, after living a life sheltered by his parents (Mike Epps and Carmen Ejogo), is eager to experience all the world has to offer. Set in Oakland, the surreal superhero send-up is a fitting follow-up to Riley's 2018 black comedy "Sorry to Bother You," and uses practical effects, forced perspective and stop-motion animation, in a departure from today's most popular genre offerings. — Sonaiya Kelley
'And Just Like That' (Max, June TBD)
Fans of "And Just Like That" have a lot of unanswered questions going into Season 2: Is Carrie really getting back together with Aidan Shaw, her jilted ex, or is the return of John Corbett a massive fake-out? Will Miranda and Che's relationship survive the move to California? And will Charlotte ever get a storyline anyone cares about? The slapdash first season of this "Sex and the City" reboot got dragged by the critics but also introduced the phrase "Che Diaz comedy concert" to the lexicon and featured one of the most memorable stationary-bike-related fatalities in pop culture history. I am giddily anticipating more of this glorious messiness in Season 2, which arrives on Max — the streaming service formerly known as HBO Max — in June. — Meredith Blake
'The Horror of Dolores Roach' (Prime Video, July 7)
What's really in that empanada you're eating? Amazon Prime's "The Horror of Dolores Roach" promises to have us all pondering that question when the Sweeney Todd-inspired comedy arrives midsummer. Adapted from a hit Gimlet podcast, this eight-part, half-hour series follows Roach (played by the formidable Justina Machado) just as she's released from prison after serving a 16-year sentence. She's broke and alone when she returns to her old Washington Heights, New York, neighborhood, only to find she's been priced out by gentrification. Dolores survives by running a massage business out of the basement of an old friend's dilapidated shop, Empanada Loca. But when she's pushed to the edge, she resorts to shocking extremes to survive. The series also stars Alejandro Hernandez, Kita Updike, K. Todd Freeman, as well as Cyndi Lauper, Marc Maron, Jean Yoon and Jeffery Self. Macabre master Blumhouse Television is involved in bringing this meaty urban legend to the screen. — Lorraine Ali
'Ahsoka' (Disney+, August TBD)
Ask me to name my favorite Jedi and I will always say Ahsoka Tano. (Don't bother pointing out that she technically isn't a Jedi — I know, and I'm not changing my answer.) Originally introduced in the animated "Star Wars: The Clone Wars" (2008), Ahsoka has grown from a spunky young padawan that kept her master Anakin Skywalker on his toes to a formidable and insightful warrior with a strong moral compass over the course of a couple animated series. After making her live-action debut in "The Mandalorian," Ahsoka (Rosario Dawson) is set to revisit some loose ends from her days on "Star Wars Rebels" and reunite with other beloved characters from that animated series — including Mandalorian explosives expert Sabine Wren (Natasha Liu Bordizzo) and Rebel Alliance general and ace pilot Hera Syndulla (Mary Elizabeth Winstead) — in "Ahsoka." I have been hoping to see the next chapter of their story for years. — Tracy Brown
A certain character from "Star Wars: The Clone Wars" has finally been referenced on "The Mandalorian." Here is her back story.
Get our L.A. Goes Out newsletter, with the week's best events, to help you explore and experience our city.
You may occasionally receive promotional content from the Los Angeles Times.