Rem Koolhaas' upcoming Wilshire Boulevard Temple expansion will balance openness with security
It would be cliché if it wasn't true. On a day hazy with smoke from the Woolsey fire, Pritzker Prize-winning Dutch architect and theorist Rem Koolhaas is grumbling about L.A. traffic. Specifically, the two hours it took to get across town on a Friday.
Sitting in the cushy lobby of the Fairmont Miramar Hotel in Santa Monica, Koolhaas is a cautionary futurist. He once called multimodal Los Angeles a prototype habitat for the future of all cities because of its flexibility, networks and mobility.
Yet today, ever-increasing levels of congestion in Los Angeles have him reassessing previous praise. "I'm wondering if the intensity of traffic changes the city," says Koolhaas. "It's very obvious that car traffic is about to change radically. I think almost every city in the near future will undergo a drastic change, simply in terms of its circulation."
As head of the international design firm Office of Metropolitan Architecture and professor at Harvard University's Graduate School of Design, the 74-year old architect has researched cities across the globe — New York, Lagos, Dubai, St. Petersburg, among others. For decades, he has held a coveted position within the field of architecture as public intellectual and cultural trailblazer, teaming up on projects with fashion designer Miuccia Prada, performance artist Marina Abramović and superstar curator Hans-Ulrich Obrist.
His works are often bold, like the firm's CCTV Headquarters, a double tower on the Beijing skyline, which is one of the "weird buildings" criticized by China's President Xi Jinping. And the Seattle Central Library — a set of light-filled public spaces wrapped in a fishnet façade — may be OMA's best-known building here on the West Coast.
Hanging heavy over his future view of our own coastal city, like smoke from the nearby fires, is the recent U.N. climate report warning of catastrophic impacts by 2040.
"We are facing together a critical moment, simply because we've delayed for such a long time all the measures that we know we will eventually have to take," he says. "The longer we delay everything, the more drastic those measures that could be imposed on us. I've very curious of what will be the outcome. It could be a wave of authoritarianism in the name of saving the world."
The architect was in Los Angeles for back-to-back events, including the groundbreaking Nov. 11 of OMA's first cultural project in the city, the Audrey Irmas Pavilion, an expansion of the Wilshire Boulevard Temple in Koreatown.
OMA won the competition for the pavilion in 2015 with a design by partner Shohei Shigematsu. Koolhaas collaborates with his partners, but also gives them a fair amount of freedom over the final form. The soft-spoken Shigematsu is head of the New York office and oversees many of OMA's U.S.-based projects, including a forthcoming mixed-use retail, office and residential complex in Santa Monica. The pavilion design team includes Los Angeles practices Gruen Associates, Studio-MLA, and Arup.
He was also in town for a book signing the day before to promote the encyclopedic "Elements of Architecture" (a 2,528-page tome designed by Irma Boom and published by Taschen that makes a world atlas look skinny). "Elements of Architecture" presents materials Koolhaas and team developed for the 2014 Venice Architecture Biennale. His introductory essay, however, is new. In it, he's critical of digital technofuturism, cautioning that the Enlightenment motto "liberté, égalité, fraternité" could be replaced by comfort, security and sustainability.
I think almost every city in the near future will undergo a drastic change, simply in terms of its circulation.
— Rem Koolhaas
"If you take the rhetoric emerging from Silicon Valley, start-ups and all the belief in algorithms, you might believe that we can deal with every problem and be free and independent," says Koolhaas. "But the measures and the methodologies suggested would only work if everyone behaves well."
He continues: "I became fascinated by this whole question of latent authoritarianism in the stream of inventions that get an enormous amount of attention. Take the thermostat, for instance. Eventually it would be very easy for the thermostat to tell you, 'You have to go to bed now, there's no energy.'"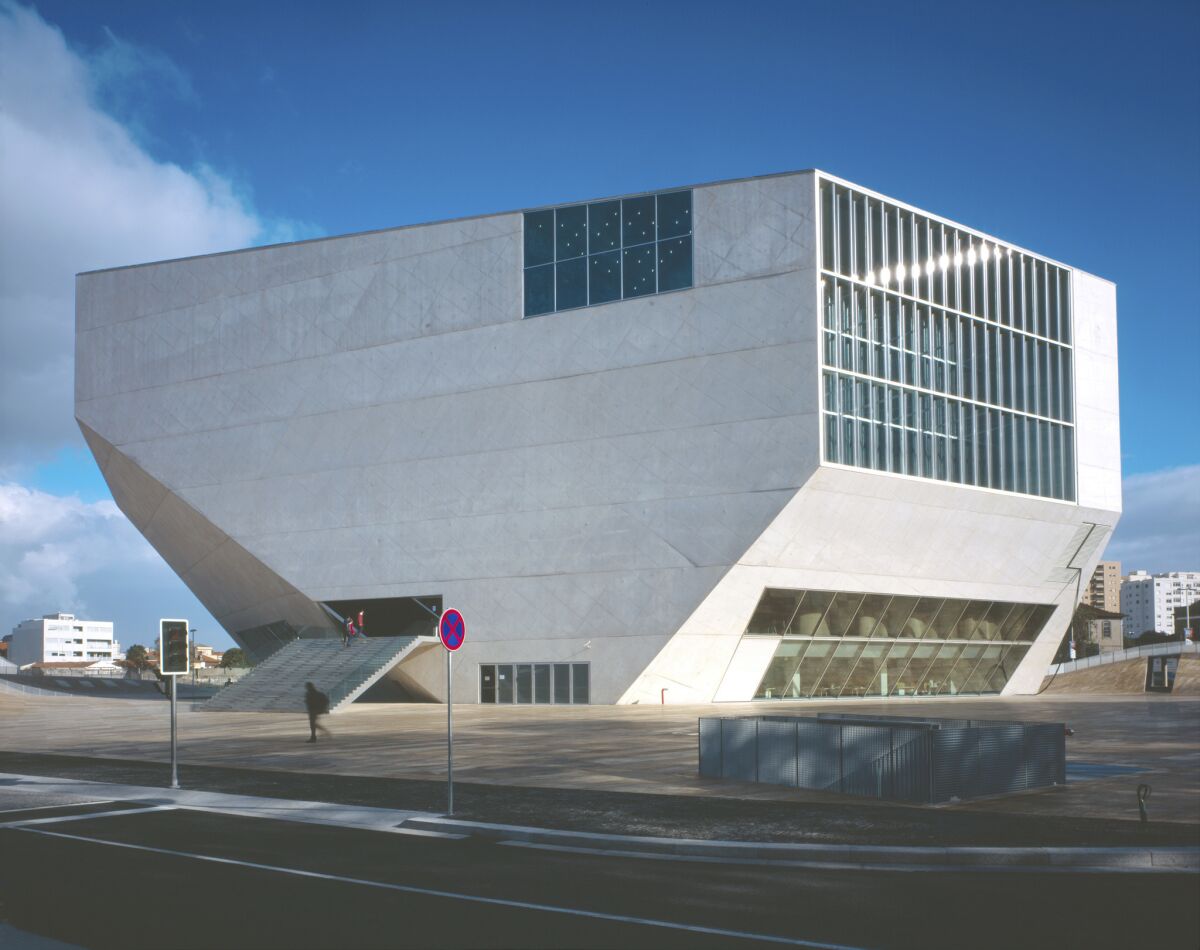 Koolhaas first encountered L.A. during an earlier energy crisis. In 1974, he lived here for six months while writing a screenplay — a Nixon-era critique of labor, culture and humanism — with Hollywood-based filmmaker and director Rene Daalder. Some four decades later, his son, Tomas Koolhaas, is a Los Angeles-based filmmaker.
The theme of creating a center in a centerless city runs through Koolhaas's built and unrealized projects in Southern California — the Prada store in Beverly Hills was conceived as an "epicenter" and OMA's competition-winning (but unbuilt) scheme for LACMA concentrates the museum's sprawling collection under a vast, transparent roof. The Audrey Irmas Pavilion is no exception. Designed to bring together communities, the multiuse space will serve L.A.'s oldest Jewish congregation and house a recently announced Annenberg Foundation initiative focusing on purposeful aging, which will be used by the greater public.
We knew that it couldn't be an entrance from the street, since that compromises security issues. So it is more of a ceremonial gesture.
— Shohei Shigematsu
Yet this desired accessibility comes at an unsettled time for the Jewish community. At the groundbreaking ceremony for the new building, visitors passed through metal detectors and security details with dogs patrolled the event. Speakers Rabbi Steve Leder and Mayor Eric Garcetti, a member of the congregation, each alluded to the difficult weeks after the mass shooting at the Tree of Life Synagogue in Pittsburgh.
Sitting on the corner of Wilshire and Harvard boulevards, the pavilion is OMA's first religious structure. Shigematsu's scheme is deferential to the Byzantine-Revival synagogue, careful not to nudge too close to the historic building and its magnificent dome. With a dramatically sloped façade punctuated with windows, the three-story building looks at once monolithic and porous. There are plans for outdoor terraces on the second floor and on the roof — to offer views of the Hollywood Hills. But in the current political climate, one very real challenge was balancing the need for security with the need for openness.
"The main event space on the ground floor is a large vaulted space that echoes the sanctuary space in the existing synagogue and has a large arched window facing Wilshire Boulevard," says Shigematsu. "But we knew that it couldn't be an entrance from the street, since that compromises security issues. So it is more of a ceremonial gesture and the real entrance actually faces the temple across an outdoor plaza."
Asked about what it means to build the pavilion in the wake of Pittsburgh and the rise of anti-Semitism in the U.S., Koolhaas takes a long pause before answering.
"The whole gesture of the building is openness, and the whole gesture of the building is access to the city and therefore, inevitably, access from the city," says Koolhaas. "I'm definitely of a generation that in similar situations would want to insist rather than abandon."
An architect famous for jet-setting, he's been called cynical for surfing the wave of global capital and writing about the generic "junkspace" of airports, hotels and shopping malls. But that pause seemed to reveal the contradictory nature of architecture in the face of shifting social, ecological and political conditions, not cynicism. Where and how can the field make a difference?
Currently, Koolhaas and AMO (his firm's in-house think-tank) are researching an exhibition to be mounted next fall in the rotunda of the Guggenheim Museum in New York City. Provisionally titled "Countryside: Future of the World," the ambitious project wrestles with what Koolhaas describes as "everything that's not city." It's a topic perfect for Los Angeles, a place where natural landscapes and urban sprawl dramatically collide.
"The countryside presents a radical change for architecture," explains Koolhaas. "In many of the structures we've researched, the human being is not the center of attention. I find that a fascinating situation. For the first time, other issues might be more important than how human beings feel or think."
Get our L.A. Goes Out newsletter, with the week's best events, to help you explore and experience our city.
You may occasionally receive promotional content from the Los Angeles Times.