2012 in review: Teamwork enlivens the theater world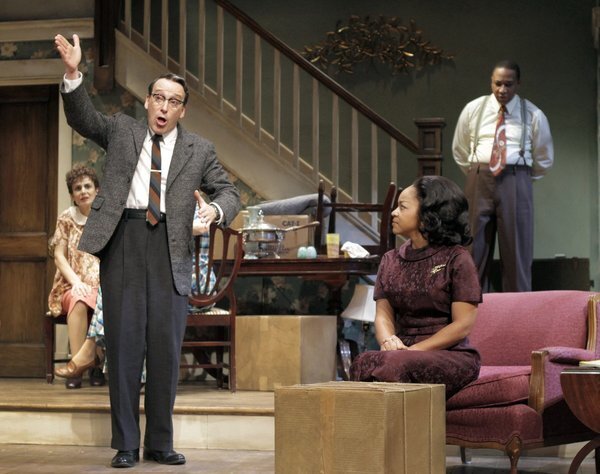 Bruce Norris constructed a provocative history of the house that the African American Younger family is heading to at the end of Lorraine Hansberry's "A Raisin in the Sun." An impeccable ensemble, under the direction of Pam MacKinnon, helped this Pulitzer Prize-winning drama capture the Tony Award for best play after the production went on to Broadway.
(Lawrence K. Ho / Los Angeles Times)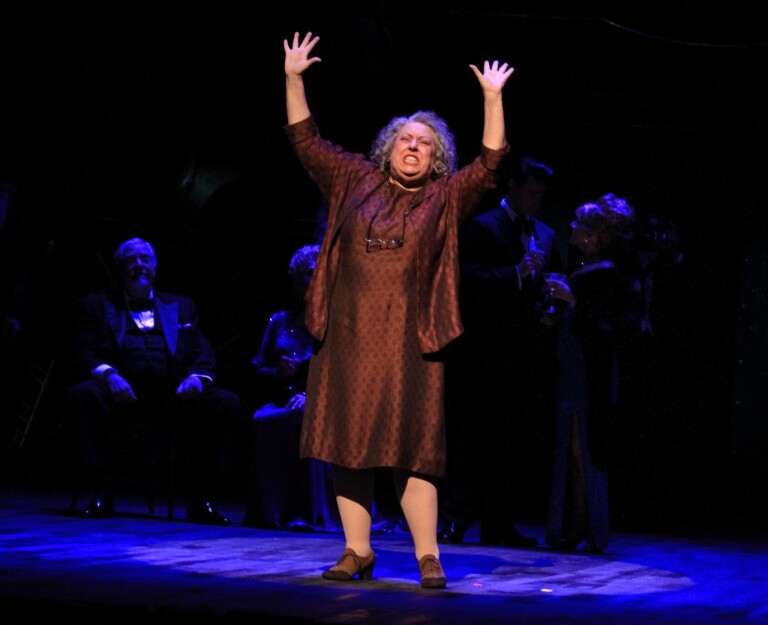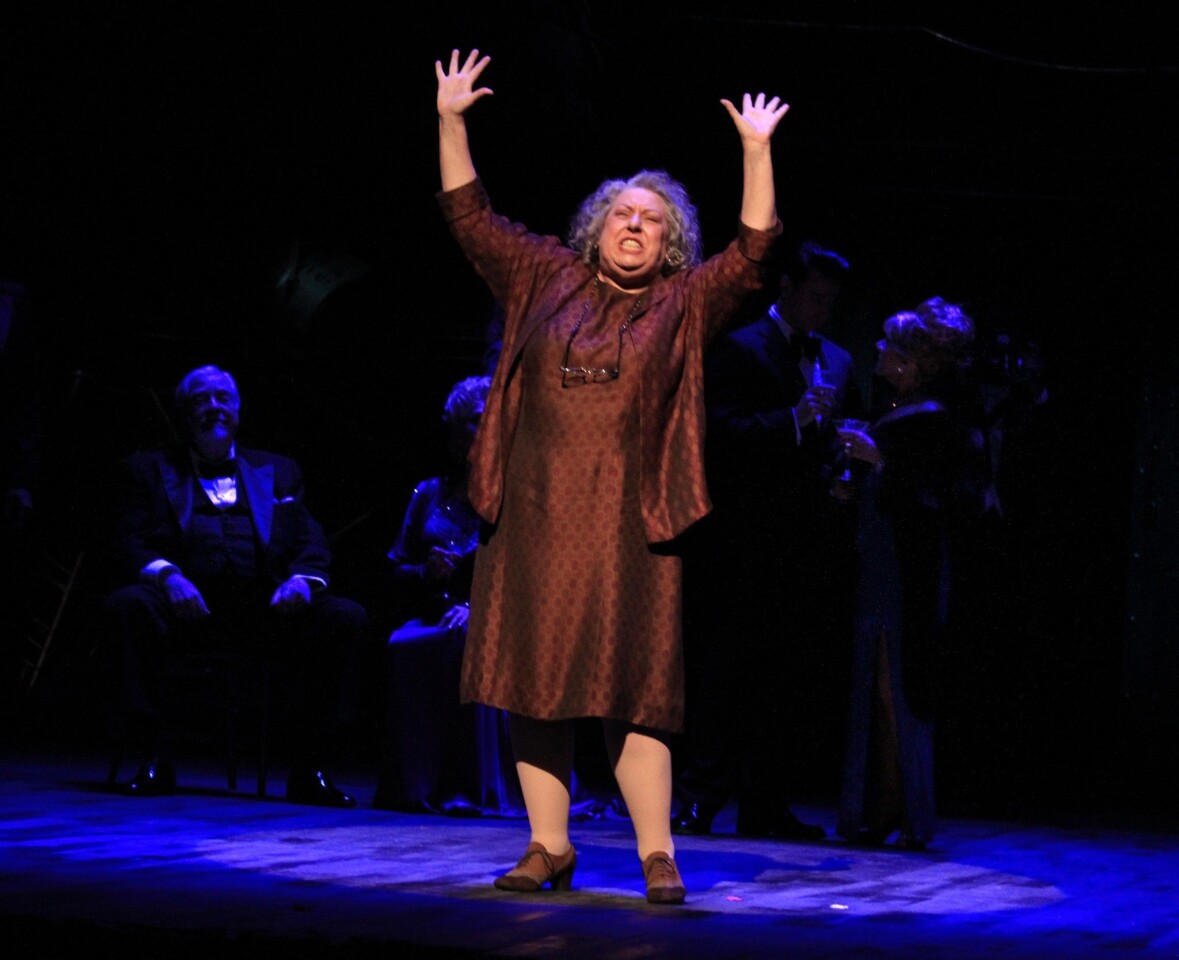 Sheer ecstasy for musical theater aficionados of a Sondheim bent. The side dishes alone (Elaine Paige singing "I'm Still Here," Jayne Houdyshell belting "Broadway Baby") are pièces de résistance by any showbiz standard.
(Glenn Koenig / Los Angeles Times)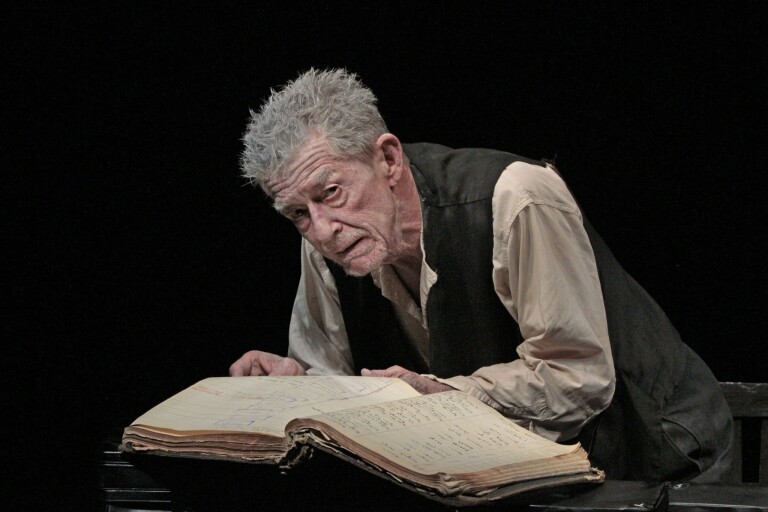 John Hurt's performance in this two-character piece (the aged Krapp and his recorded younger voice on tape) was a tour de force of Beckettian acting in which slapstick and poetry united to scale our common abyss.
(Anne Cusack / Los Angeles Times)
Could the theater artist of 2012 really be … Samuel Beckett?
Well, the 1969 Nobel Prize winner had stiff competition this year from Anton Chekhov, dead for more than a hundred years but more alive than ever onstage. Chekhov's early play "Ivanov" received a sensational Bart DeLorenzo production at the Odyssey Theatre in April, and I caught "Uncle Vanya" twice last summer in New York, once at Soho Rep with a cast of offbeat luminaries directed by Sam Gold and once at New York City Center in a Sydney Theatre Company production starring the preternaturally luminous Cate Blanchett.
Quarrel as you might with these Chekhov interpretations, I wouldn't have missed them for the world. They were life-infusing. And it wasn't just the consoling nature of Chekhov's gently unconsoling vision. It was aesthetic joy. DeLorenzo's staging, among its many pleasures, spectacularly showcased the depth and versatility of L.A.'s pool of auteur-friendly stage actors.
But the two most memorable productions of 2012 for me were the Center Theatre Group's Beckett offerings: "Waiting for Godot" at the Mark Taper Forum and "Krapp's Last Tape" at the Kirk Douglas Theatre. Success in both cases was achieved by a felicitous pairing of play and player.
LIST: Best in theater for 2012 | Charles McNulty
"Godot" mined the theatrical wisdom of its two expert interpreters, Alan Mandell and Barry McGovern. You'll have to wait a long time before encountering an Estragon and Vladimir as capable of balancing the clowning and philosophizing as these two. "Krapp's Last Tape," a touring production from Dublin's Gate Theatre, provided what seemed to me a definitive production of this solo work, thanks to the exquisite tragicomic sensitivity of John Hurt, an actor whose creased face is a poem about time every bit as expressive as Beckett's play.
Revivals held sway in 2012, but the best of these weren't nostalgically looking back — they were rooted in a theatrical present that felt utterly fresh. David Cromer's austere staging of "Our Town" at the Broad Stage with Helen Hunt refamiliarized audiences with a Thornton Wilder classic that is hardly as sentimental as amateur and student productions have led us to believe.
Mike Nichols' Broadway production of "Death of a Salesman" may have been uneven, but the climactic scene between Philip Seymour Hoffman's Willy and Andrew Garfield's searing Biff was without question the most emotional experience I had in the theater all year. This father-son combination found the anguished heart of Arthur Miller's everyman tragedy, opening the floodgates for a catharsis that was a little embarrassing to undergo in public but turned out to be just what the doctor ordered.
Best of 2012: Movies | TV | Pop music | Jazz | Video Games | Art | Theater | Dance | Classical music
Broadway's best revival this year, however, is the current Steppenwolf Theatre Company production of Edward Albee's "Who's Afraid of Virginia Woolf?" on Broadway starring Amy Morton as Martha and Tracy Letts as the most complete George I've seen. Letts' playwriting intelligence clearly guided his portrayal, and his work with Morton, under the direction of Pam MacKinnon, brought a stinging realism to roles that can be played for camp.
Of course there was new writing to celebrate. Tarell Alvin McCraney's "In the Red and Brown Water" at the Fountain Theatre gets my vote for production of the year. Bruce Norris' "Clybourne Park" filled the Mark Taper Forum with its querulous intelligence and prickly humor — bold moves given that the subject concerned racial attitudes. And I was happy to make the acquaintance of playwright Samuel D. Hunter, whose "The Whale" at New York's Playwrights Horizons and earlier work "A Bright New Boise" at Rogue Machine revealed a promising talent growing steadily more assured.
Yet it was the dramatic poets of yesterday that made the deepest impression. Their plays earned their glorious posterity by telling truths that never grow old in language that still has the power to startle.
---
Get our daily Entertainment newsletter
Get the day's top stories on Hollywood, film, television, music, arts, culture and more.
You may occasionally receive promotional content from the Los Angeles Times.