'Stoneface' a birthday gift for French Stewart
When "Newsies," adapted from the 1999 Disney film, opened last fall at New Jersey¿s Paper Mill Playhouse, word drifted back across the Hudson River that a star had been born. That assessment was seconded when the 27-year-old Texas-born actor was tapped to play Clyde Barrow in the ill-fated Broadway musical version of "Bonnie and Clyde." Once that show closed, Jordan was free to reprise his role of crusading newspaper boy Jack Kelly. With his velvety voice and classic good looks, Jordan — Constantine Maroulis' understudy in "Rock of Ages" — the Tony nominee for lead actor has sparked a persistent question: Is this guy the next Hugh Jackman?
(Mike Coppola / Getty Images)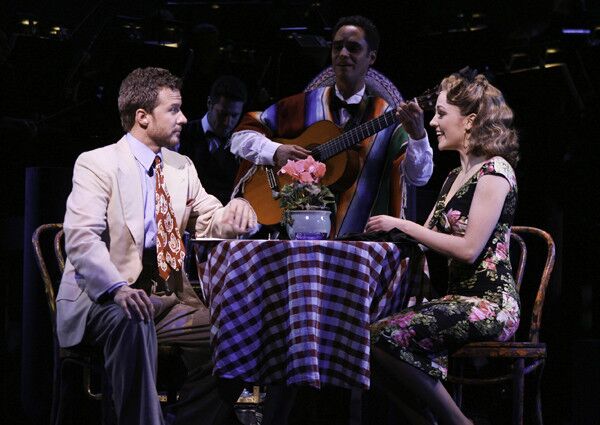 The actress long ago dispelled whatever skepticism greeted her Broadway debut in "Grease" — she won the role of Sandy Dumbrowski in a reality TV show, ¿Grease: You¿re the One That I Want.¿ In the five years since, she took over for Kelli O¿Hara in "South Pacific," played ingénue Hope Harcourt in "Anything Goes" and was Bonnie Parker in this season's short-lived musical "Bonnie and Clyde," for which she¿s been nominated as lead actress in a musical. Osnes, 26, is said to have helped shape her role in the musical, which first bowed in a 2009 production at the La Jolla Playhouse.
(Ari Mintz / AP)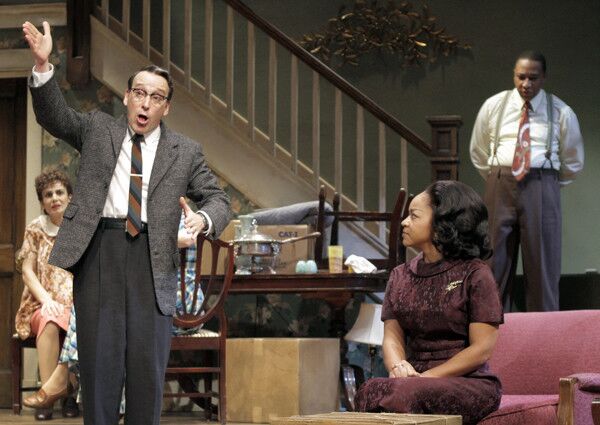 In "Clybourne Park," the drama inspired by Lorraine Hansberry's "A Raisin in the Sun," Shamos plays dual roles that he has described as "jackassy." In the first act, set in 1959, he is a community leader who discourages his white neighbors from selling their house to a black family. Fifty years later, he is half of a young couple moving into the now-blighted neighborhood and meeting with longtime residents. His character often says what others might think but would never say aloud. To Shamos' great credit, pegging either character as simply "racist" becomes complicated, and he was nominated for a featured actor Tony.
(Lawrence K. Ho / Los Angeles Times )
At a recent Broadway fundraising gala, Kazee shyly accepted compliments for his tender and poetic performance as the disillusioned Irish busker in "Once." Raised in a Kentucky trailer by blue-collar parents, the 36-year-old community college dropout is astonished to find himself a Broadway star. He shouldn¿t be. He's paid dues: a replacement Sir Lancelot in "Spamalot," playing opposite Audra McDonald in ¿110 in the Shade¿ and years in Los Angeles with then-girlfriend Megan Hilty looking for TV work. But nothing has fit Kazee so perfectly as "Guy," for which he is nominated as best lead actor.
(Jennifer S. Altman / For The Times )
If your boyfriend's birthday is coming up and you're low on cash, you can always write him a starring role in a play.
That's what Vanessa Claire Smith did for French Stewart in 2010, surprising him with a script about his idol, Buster Keaton.
Two years later, "Stoneface: The Rise and Fall and Rise of Buster Keaton" just opened to glowing reviews at Sacred Fools Theatre in Hollywood, and the newly minted Stewarts are coming up on their first wedding anniversary.
But because even happy endings have their hitches, a hot Sunday in June finds the couple cooling down in a bar around the corner from Sacred Fools, after a broken air conditioner made a matinee performance of "Stoneface" especially grueling.
"Next time, you're writing me a little Noel Coward-style tea party where I never get up," says French.
"My first play bought the theater that air conditioner," Vanessa says with a sigh.
That first play, in which she starred with her co-author, Jake Broder, was "Louis & Keely Live at the Sahara," the story of jazz greats Louis Prima and Keely Smith told through their music. After earning Sacred Fools the air conditioner in 2008, it moved on to the Geffen, where it ran for eight months.
French was performing in "Matthew Modine Saves the Alpacas," also at the Geffen. The casts socialized in the green room.
"He would flirt with me a little bit," recalls Vanessa. "I was kind of shy and he's obviously gregarious, and I wasn't sure if he was joking or actually flirting."
"Yeah, well, there's a 13-year age difference," puts in French (he's 48; she's 35). "So I felt like it was a fine line between, you know, fishing for a nice lady and being some pervy creep that nobody wants to see in the green room. So I'd flirt in a funny way."
But when Vanessa saw French's show, "my curiosity went to an instant crush, because I had no idea that he was that good. It blew my mind. That night on my way home, I was like, 'I'm just going to do this.' I called and said I'd be in a tiki bar near my apartment if he wanted to say hi."
"I didn't realize until then that my Prius could do a doughnut in the opposite direction," recalls French.
French, best known as Harry Solomon on "3rd Rock From the Sun" (1996-2001), had been working in the theater and taking pratfall-heavy roles in movies such as "Home Alone 4" and "Inspector Gadget 2" ever since — and feeling battered and unappreciated.
Vanessa agreed. "I didn't think people understood how good and how versatile he was. In my mind, he's like a Philip Seymour Hoffman."
In that fateful tiki bar, she says, "It came up that his life's dream was to be Buster Keaton, but he thought he was too old."
She determined to prove him wrong. "I didn't know anything about that time or those people, but I love history, so it was a pleasure to order books and documentaries. And to me, the interesting part of Keaton's life was actually this part, where French is. I'd see him at the Geffen doing flips, and then he'd limp to his car. Like Keaton, he was giving everything he had to entertain these people."
Writing the script in secret as their romance blossomed, she hesitated to show him. "Since he held Keaton in such a reverent way, I didn't want to ruin it for him. But when I felt I could tell the story correctly, I thought, 'Maybe I'll give it a shot.' Also," she adds dryly, "I didn't have a whole lot of money at the time, and I needed a birthday present."
The surprise resonated with French. "I knew it was good because the more I worked on it, the more I realized, 'Oh!' And then the things I originally wanted changed, I was like, 'Put it back. Sorry.'"
Vanessa nods, with a smile of vindication — although as a writer, she encourages collaboration. She hoped all along, she said, that director Jaime Robledo and the "Stoneface" cast, including Joe Fria, who plays the younger Keaton, would make the physical bits their own.
"The original idea was that Joe would do all the tricks and I'd waddle around and be drunk," says French. "But now it appears that I'm doing all the tricks."
"You're good at them," Vanessa points out.
"But my question to you is: Did you take out an insurance policy on me?"
No, French is not always "on," Vanessa says, but he is "always amusing. That's why I have such great abs, because I'm laughing all the time."
"At home, I get quiet," he insists. "I used to look at my dad and wonder, 'How can a grown man fall asleep in a chair?' Now, that's one of my moves."
Although Vanessa mostly plays the straight man in their shtick, she has her own gift for the well-placed zinger. They've been toying with the idea of a Sonny and Cher-style act, and he guest stars in the jazz sets she sings around town to stay in voice for "Louis & Keely," which, she says, "is still in the picture. We're working on moving it to the next thing."
(Asked by email for details of "Louis & Keely's" future, Vanessa replied, "I haven't been green lit to formally announce what's officially happening. Jake [Broder] and I have been opening up the script a bit to make it fit a bigger venue. It's moved a bit slower than I would like, but we're still on track to get it up and going at a theater not in Los Angeles very soon. How's that for vague?")
Although she considered taking a role in "Stoneface," she ultimately decided against it.
"I felt like this was his show. I wanted to be in the audience opening night seeing him get his due. When I imagined it in my brain, it was much more exciting to be in the audience. I cried when The Times called him a 'revelation.' I wanted French to be seen as something other than what people knew him as. That was my inspiration for doing the play and why I stuck with it."
It almost sounds as if he's her muse.
"You're very much my muse," she tells him.
"Your wrinkled muse," he rejoins.
After selling out its initial run, "Stoneface" has been extended through July 15, with Thursday night performances added.
Now the biggest challenge for the couple is "What's next?"
"My dream is that both our shows will be in New York at the same time," says Vanessa. "'Stoneface' is opening, 'Louis & Keely' is there. We do our shows…"
French finishes the thought: "Go to Elaine's, smoke a cigarette, punch a cop."
Vanessa notices that she is indeed pretending to hold a cigarette. "I don't even smoke."
French nods sympathetically. "You're gonna have to start, honey. Gotta try."
---
Get our daily Entertainment newsletter
Get the day's top stories on Hollywood, film, television, music, arts, culture and more.
You may occasionally receive promotional content from the Los Angeles Times.