10 Images
Best of 2012: Classical music | Mark Swed
With the combined Los Angeles Philharmonic and Simon Bolivar Symphony, along with 1,200 (!) singers from every state in Venezuela onstage in Caracas, Gustavo Dudamel climaxed his unprecedented Mahler Project with what has to have been the most extravagant performance of Mahler's Eighth Symphony ever. For the monthlong Mahler Project, an indefatigable Dudamel had conducted complete cycles of Mahler's nine symphonies first in Los Angeles and then in Caracas. By the end he reached this blockbuster of wonder. Deutsche Grammophon captured it on disc , making it the video of the year.
(Lawrence K. Ho / Los Angeles Times)
For its celebration of the John Cage centenary, Jacaranda actually came up with a premiere. This was the first simultaneous performance of all five of the composer's curiously indeterminate pieces from the 1950s, collectively known as "Ten Thousand Things." The exceptionally convincing performance was presented at the Santa Monica Bay Woman's Club, the venue where Cage gave his earliest concerts 80 years ago. Meanwhile, 6,000 miles away, in obscure Bochum, Germany, the theater artist Robert Wilson premiered a personal one-man show based on Cage's "Lecture on Nothing" that felt like a revelation of 10,000 feelings.
(Hulton Archive / Getty Images)
For the first performance of the late German composer Karlheinz Stockhausen's cosmic five-hour opera "Mittwoch" (Wednesday), in Birmingham, as part of Britain's Cultural Olympiad, musicians swung over the heads of the audiences. Four helicopters ferried the members of a nervous string quartet in the stormy skies and piped their playing back to the audience electronically. Graham Vick's staging in an abandoned chemical factory was sensationally epic yet startlingly intimate.
(Helen Maybanks)
Philip Glass' birthday brought a touring revival of his first opera, "Einstein on the Beach," a historic 1976 collaboration with Wilson that changed the direction of American opera and left the world with a new collection of utterly cool imagery. But the four-hour show has never looked or sounded better than it did when it reached Berkeley this fall. As part of his 75th celebration, Glass unveiled his Ninth Symphony, for which the L.A. Phil was one of the commissioners, and it proved an effusively expressive late work.
(Cristina Taccone)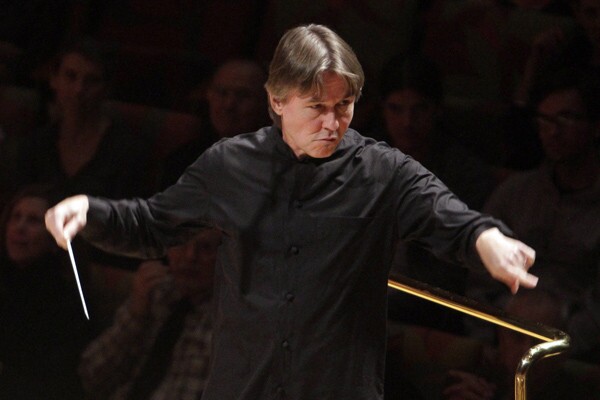 Esa-Pekka Salonen brought a semi-staged performance of Berg's "Wozzeck" with the Philharmonia Orchestra and a near-perfect cast to Disney Hall for 90 minutes of profoundly meaningful dramatic intensity. In addition, a Salonen-led performance of Janacek's "Makropulos Case," in a wondrously wacky production by Christoph Marthaler at the 2011 Salzburg Festival, has been released on a Unitel Classica video. A mouse happened to run across the stage near the end of the performance, acting as if it belonged. This is the opera video of the year.
(Lawrence K. Ho / Los Angeles Times)
John Adams' opera/oratorio "The Gospel According to the Other Mary," with a libretto by Peter Sellars, was given its premiere in a concert by Dudamel and the L.A. Phil. It offers words and music we need for addressing some of the deepest spiritual and most troubling social issues of our time. And for moving forward, which is what will happen to this work, when Sellars fully stages a revised version at Disney Hall early next year.
(Lawrence K. Ho / Los Angeles Times)
Jake Heggie's trivial "Moby-Dick" proved popular when it reached San Diego Opera and San Francisco Opera this year. But there were other operatic Mobys. At REDCAT, Rinde Eckert revived his poignant one-man music theater piece, "And God Created Great Whales," about a composer's loss of memory. In Mannheim, Germany, the provocative Austrian composer Olga Neuwirth premiered her startlingly feminist "The Outcast," inspired by Melville, David Lynch and "Colombo," and with a libretto by the noir writer Barry Gifford. Call me Ishmaela.
(Genaro Molina / Los Angeles Times)
Baritone Matthias Goerne and pianist Christoph Eschenbach began their weeklong "Sublime Schubert" festival at Disney with a haunting performance the song cycle, "Die Schone Mullerin." As truly sublime song followed song, all that is solid in Schubert melted into transcendent, overpowering air.
(Lawrence K. Ho / Los Angeles Times)
The Warsaw Philharmonic's biggest audience has to be video gamers, since making recordings for games helps keep the ensemble in potato vodka and other Polish delicacies. But despite a program that lacked imagination at Soka Performing Arts Center, the touring Poles, under their longtime music director Antoni Wit, proved to make up one of the world's most distinctive and impressive - and, perhaps, underappreciated - orchestras.
(Lawrence K. Ho / Los Angeles Times)