LACMA's acquisition of Lautner's Sheats-Goldstein house is big, but there's precedent
The Los Angeles County Museum of Art houses all kinds of treasures -- ancient Greek ceramics, West Mexican sculpture, thoroughly contemporary art. But just how unusual is it for the museum to collect a house?
As Los Angeles Times architecture critic Christopher Hawthorne reported on Wednesday, LACMA has received the 1963 John Lautner-designed Sheats-Goldstein house near Beverly Hills. The modern architecture and its surrounding property (which includes a James Turrell skyspace artwork) is the bequest of owner James F. Goldstein, who is allowing the museum to organize limited tours and events while he is living in the house. Later, LACMA envisions using the house for fundraisers, exhibitions and conferences.
The donation realizes a longtime goal for museum Director Michael Govan, who wanted to acquire at least one of Los Angeles' landmarks of residential architecture. The museum's acquisition of a house is far from common but not unheard of.
In Southern California, the Gamble House in Pasadena and the Eames House in Pacific Palisades are open for limited public access. The MAK Center for Art and Architecture in West Hollywood gives tours of three R.M. Schindler properties that it operates.
But an encyclopedic museum of art acquiring a piece of architecture as an object for its permanent collection? That is rare.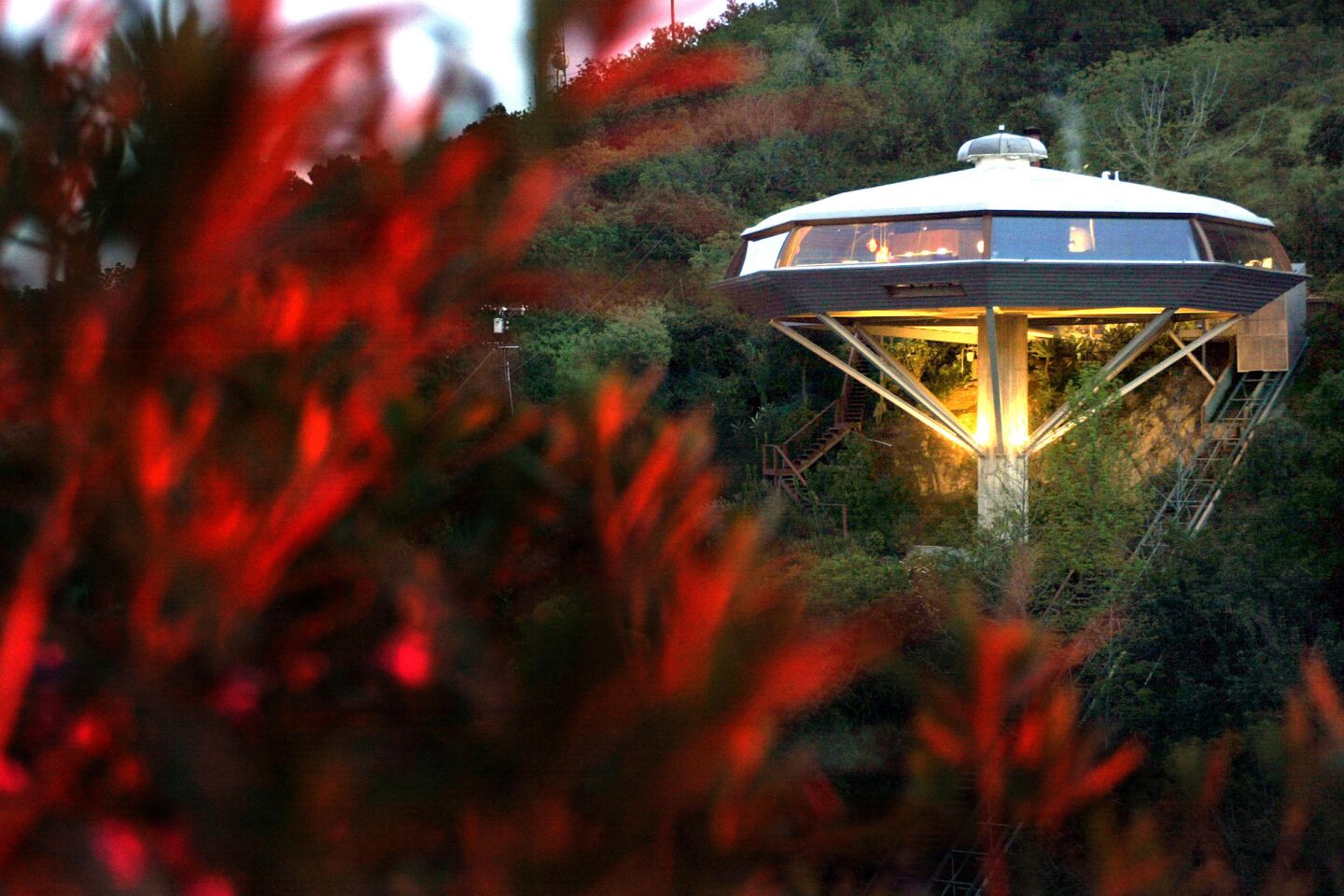 John Lautner's 1960 Chemosphere, shown here, originally derided by some critics as a silly fantasy.
(Ken Hively / Los Angeles Times)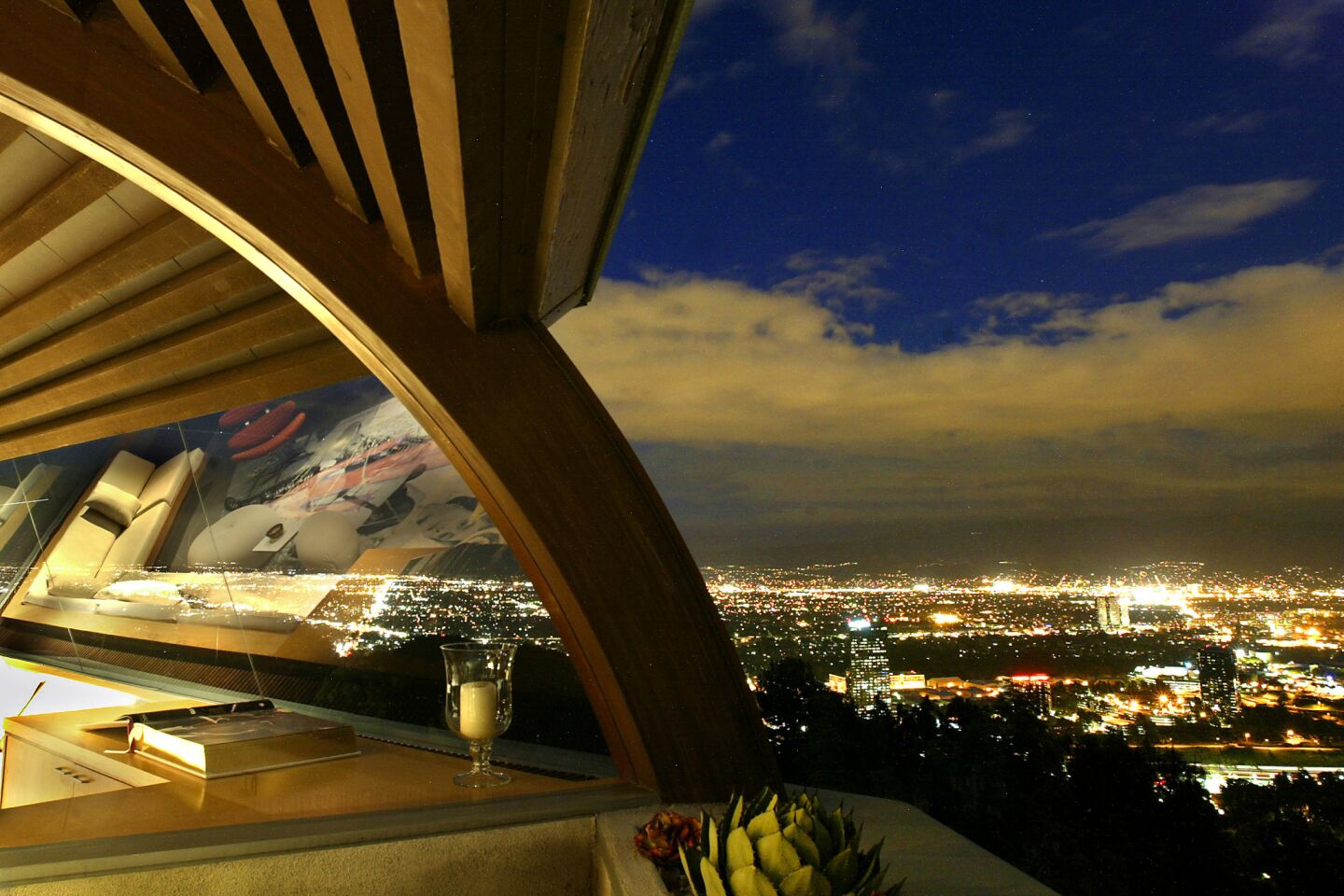 The landmark Chemosphere home in the Hollywood Hills and its owner, publisher Benedikt Taschen, were profiled in a 2005 Home cover story. "What was great about Lautner is that he had this dualism about nature and the city," Taschen said at the time, noting that one side of the house was "pure nature," with skunks, bobcats, coyotes and deer, while the other side was "pure city," the vast San Fernando Valley.
(Ken Hively / Los Angeles Times)
The living room of a 1938 guest house Lautner designed in Echo Park features a built-in sofa, fireplace and vaulted ceilings. Full story here.
(Genaro Molina / Los Angeles Times)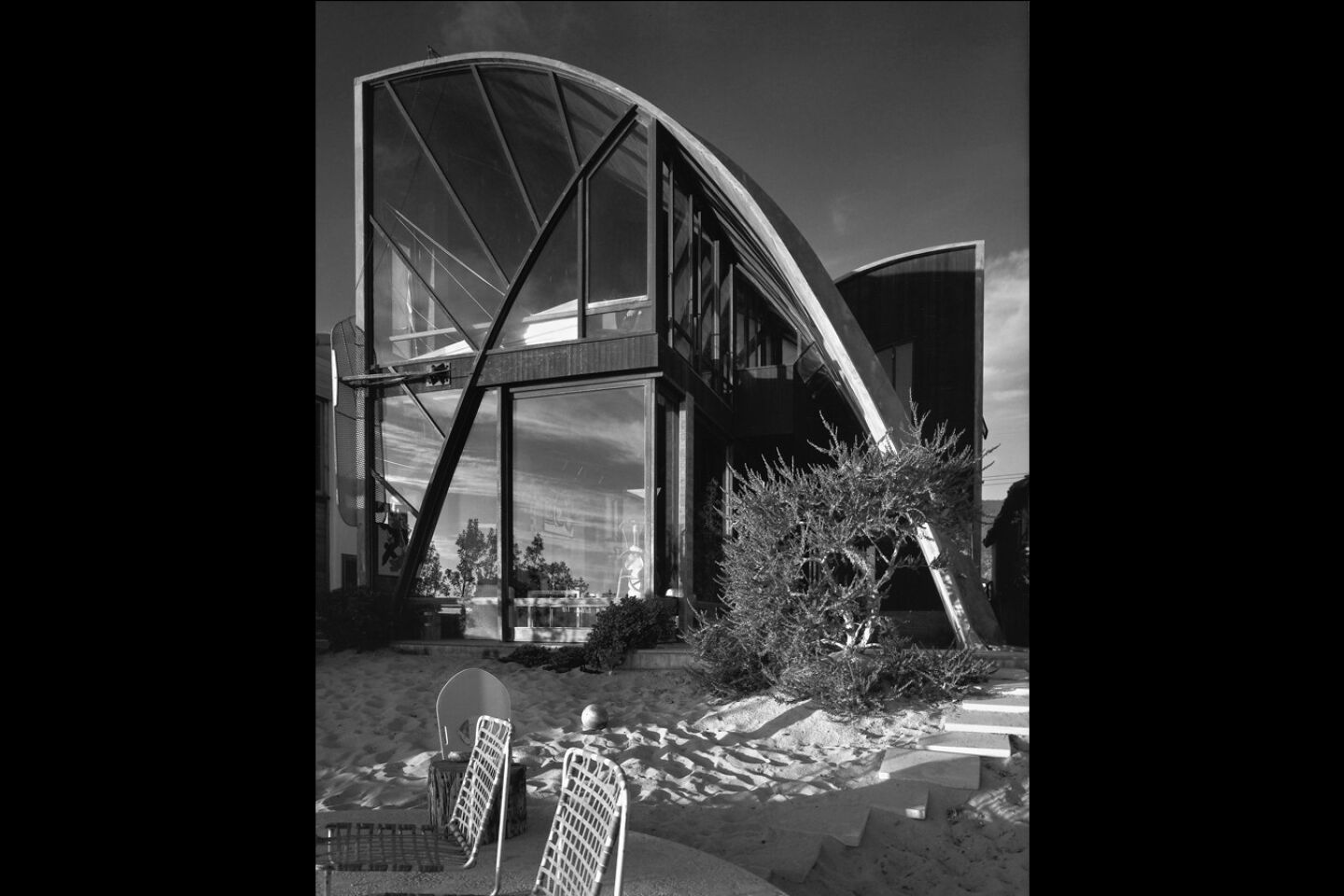 The Stevens house in Malibu is composed of complementary arcs intended to maximize light and air inside. Lautner's goal, Olsberg says, was "to give you a sense of the natural world that you couldn't have any other way than by living in this space every day."
(Julius Shulman / Getty Research Institute)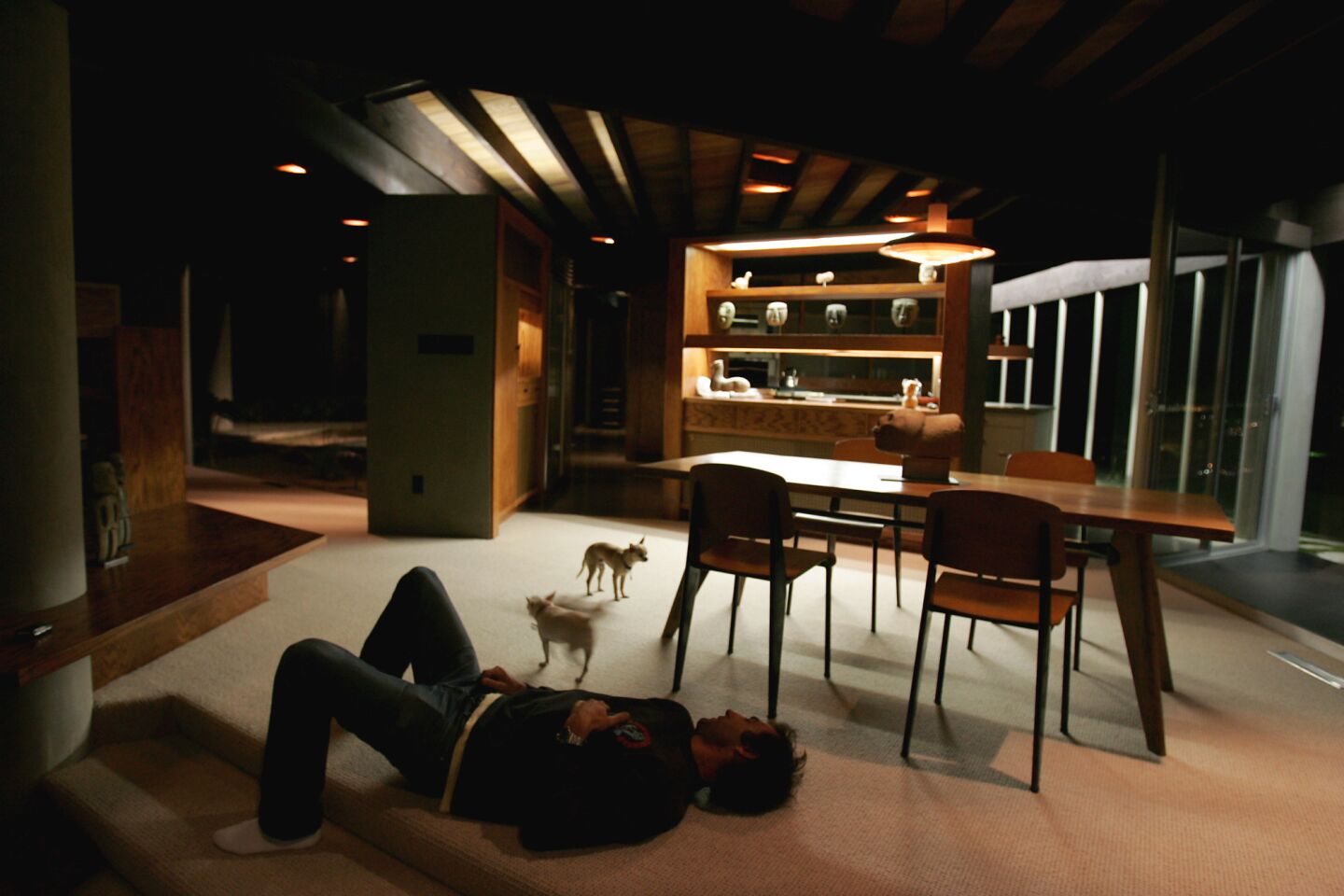 The dining area of John Lautner's Harpel house in the Hollywood Hills. Full gallery here.
(Gary Friedman / Los Angeles Times)
Fixed arcs of concrete frame views that are ever-changing. Original owner Joann Segel, a dance therapist, likened the effect to staying on the ground and flying at the same time.
(Julius Shulman / Getty Research Institute)
A 1998 photo of James Goldstein in his Century City office designed by John Lautner.
(Perry C. Riddle / Los Angeles Times)
In 2013, the Crystal Bridges Museum of American Art in Bentonville, Ark., acquired Frank Lloyd Wright's Bachman-Wilson House in Somerset County, N.J., a 1954 example of Wright's Usonian architecture. Crystal Bridges disassembled the pavilion-style structure, which had suffered floodings over the years, and rebuilt it on the museum's campus. It opened to the public in November 2015.
Another Wright building, the Zimmerman House, is in the hands of the Currier Museum of Art in New Hampshire. The 1950 house is still in its original neighborhood, and the museum shuttles over visitors for tours.
The Indianapolis Museum of Art, an encyclopedic museum on 152 acres, acquired the Miller House and Garden in 2009. The midcentury modern home, commissioned in 1953 in Columbus, Ind., was designed by Eero Saarinen. The house was donated by J. Irwin Miller and his wife, Xenia Simons Miller, and has been kept in its original location, about an hour's drive away. The IMA completed a restoration of the house and opened it to the public in May 2011.
The Palm Springs Art Museum acquired the 1963-64 Albert Frey House, located on a hillside above the museum, after the architect's death in 1998. In 2000, once restoration was completed, the museum began offering periodic tours.
Follow me on Twitter: @debvankin
Get our L.A. Goes Out newsletter, with the week's best events, to help you explore and experience our city.
You may occasionally receive promotional content from the Los Angeles Times.