Review: Tentative signs of progress in Metro's transit network design
In this downtown Los Angeles mural, a young girl swings from the word "PARK," formerly written as "PARKING." Just down the block from this area, a downtown resident group is looking to find a little more than $6 million to transform a parking lot into a community park with a playground.
(Genaro Molina / Los Angeles Times)
"Kissing Coppers," a life-size portrait of two policemen sharing a kiss, is one of Banksy's most famous artworks. The piece was created in 2004 on the walls of a pub in Brighton, England. It was then carved from the wall and sold to an anonymous buyer in Miami for $575,000 in 2014.
(Joe Raedle / Getty Images)
An 8-foot, 1,500-pound section of cinderblock wall painted by Banksy was removed from an ancient Packard automobile manufacturing plant in Detroit and transported to a police station turned gallery in the same area. The piece's removal sparked conversations about proper places for street art.
(Romain Blanquart / Detroit Free Press)
This original painting first sold for $50 at a Manhattan thrift shop that benefits Housing Works, an organization that fights homelessness and AIDS. Banksy added a Nazi soldier to the landscape scene and Housing Works then sold the new work for $615,000 in an online auction.
(Associated Press)
A visitor to Paris' Drouot auction house looks at Banksy's "Very Little Helps" prior to an October auction. The piece sold for about $7,200.
(Thiabult Camus / Associated Press)
After a daylong hiatus "due to police activity," Banksy stenciled an image of a man leaning on a wall, holding a batch of falling flowers. The creation went up on the side of the Hustler Club in Hell's Kitchen, Manhattan.
(John Moore / Getty Images)
Banksy's "Ghetto 4 Life" popped up in south Bronx. It pleased some, and ticked off others, particularly Bronx Borough President Ruben Diaz Jr. He said, "We are not "Ghetto 4 Life," we are a vibrant borough of diverse communities. We are a place where people are living the American Dream."
(Banksyny.com)
The words "Better LA Than NYC" went up on what looks like Banksy's "Flower Girl." It's been confirmed that the artist is not headed west.
(Banksylax.com)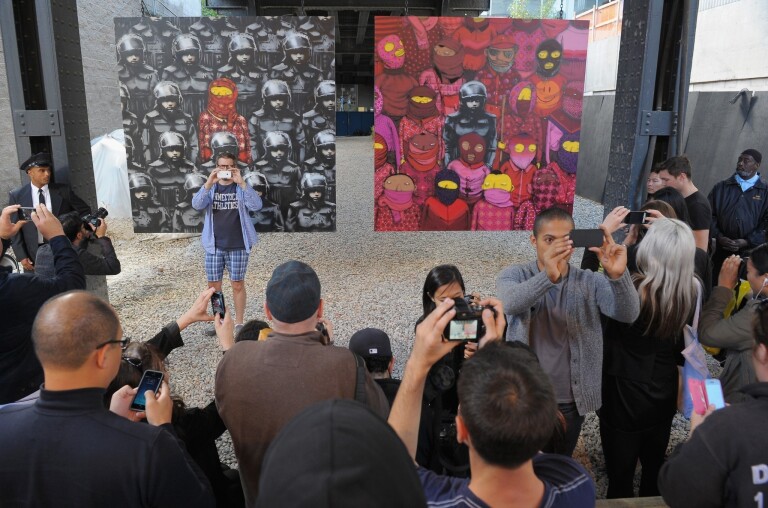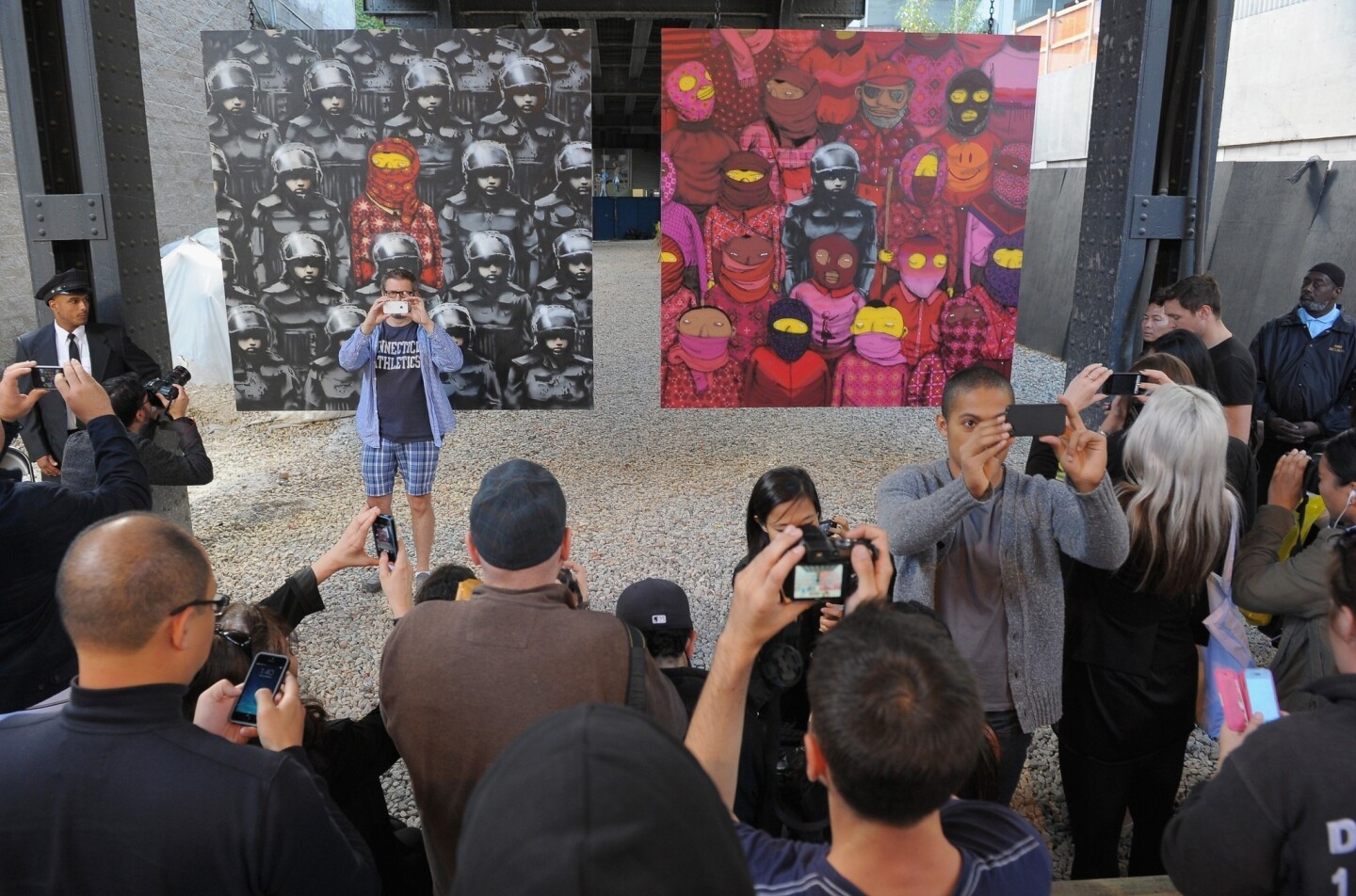 This pop-up exhibition depicting the Occupy movement was a collaboration between Banksy and Brazilian twin street artists Os Gemeos. A Fox news report claimed Banksy paid $50,000 to hang his work from this property in New York, but Banksy said the space was donated by the owner.
(Michael Loccisano / Getty Images)
As part of Banksy's monthlong residency in New York, Banksy found clever use of a privately owned Brooklyn street scape. The artist drew the silhouettes of two kimono-clad women on a circular-like object, as if the pair were sitting on a bridge carrying parasols near a cherry blossom tree.
(Justin Lane / EPA)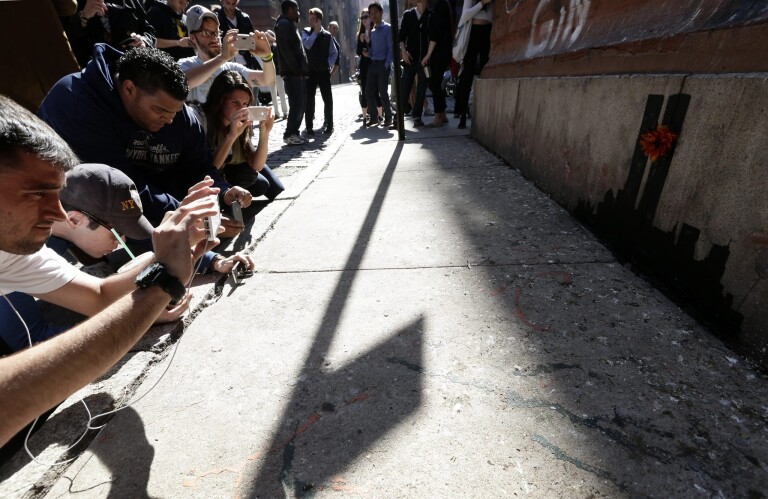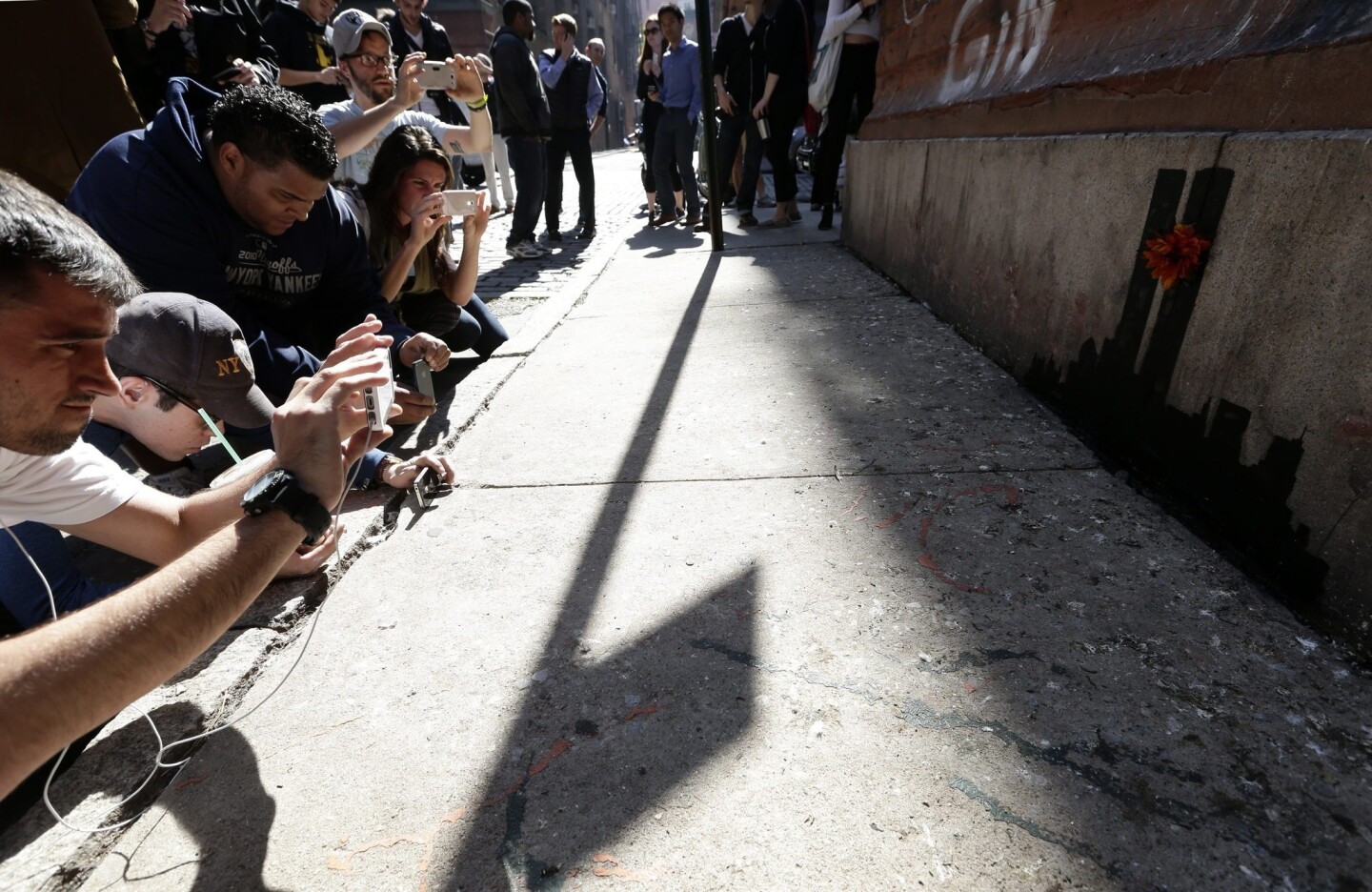 Banksy created a mini-tribute to the Twin Towers on the streets of Tribeca. The image portrays two buildings against the New York skyline, one accented with an orange chrysanthemum.
(Jason Szenes / EPA )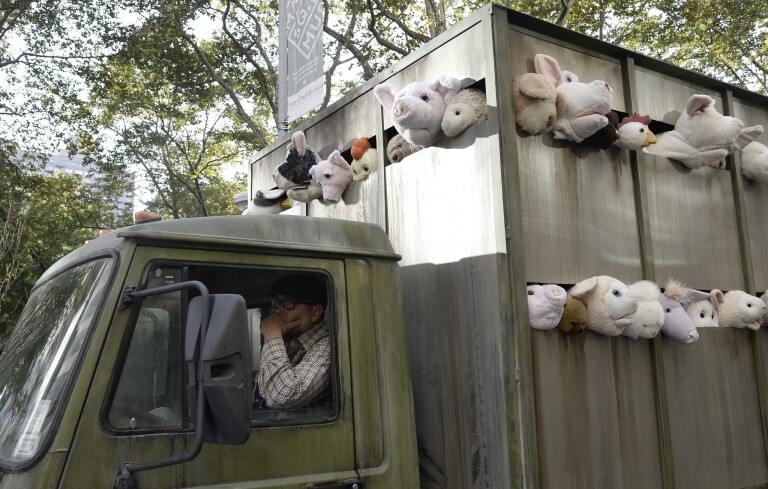 Trying art in motion, Banksy conceived a slaughterhouse delivery truck replete with squealing stuffed animals. The farmyard pigs and sheeps are on their way to death.
(Andrew Gombert / EPA )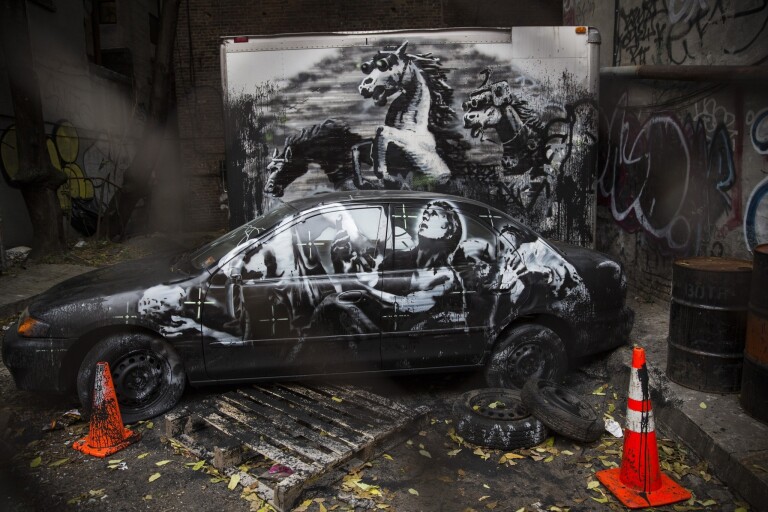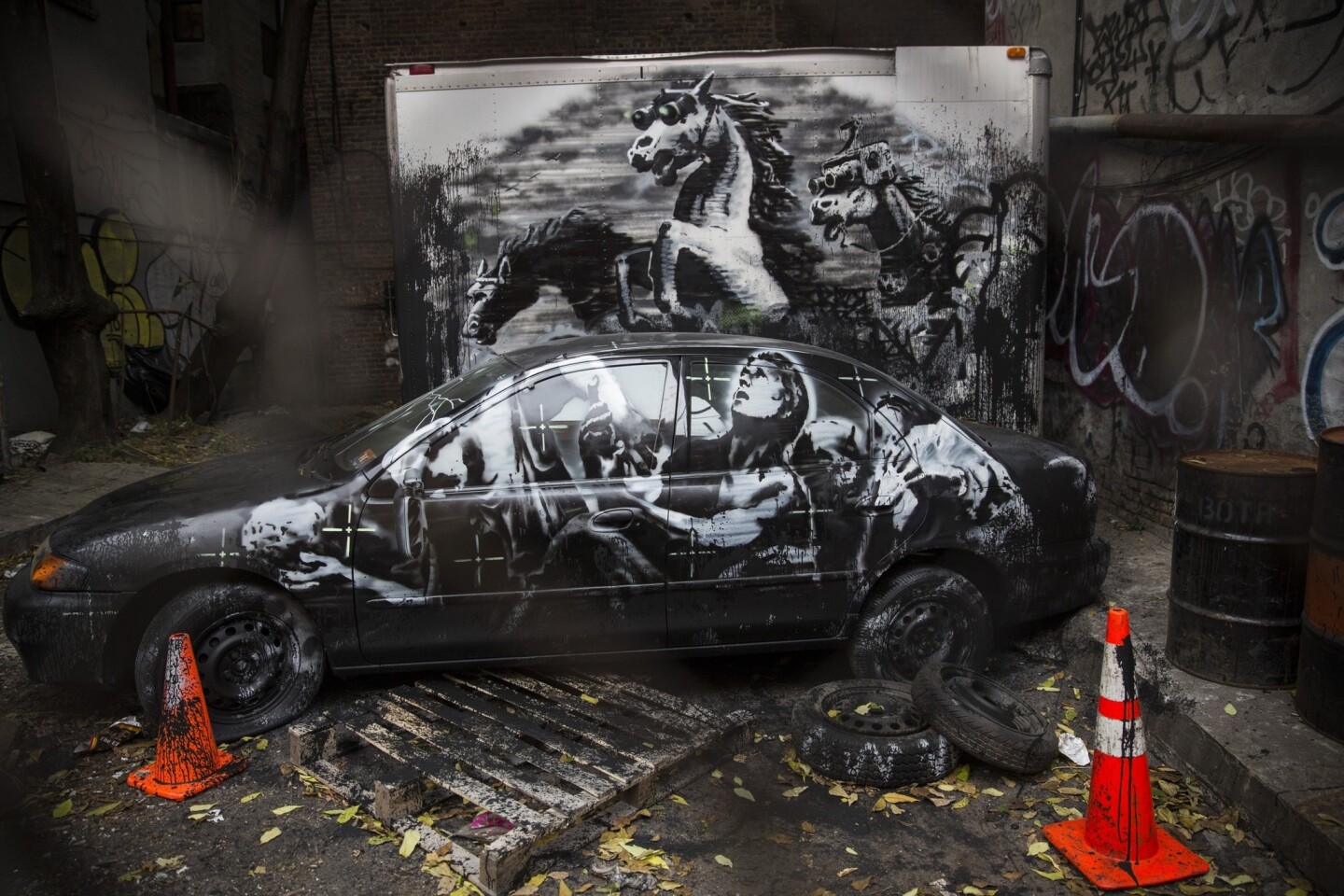 Seen through a fence in New York City, Banksy's trio of stampeding horses wear night-vision goggles while a group of men kneel before them. A tape recording of a 2007 U.S. airstrike plays in the background, revealing the killing of two children and a Reuters journalist.
(Andrew Burton / Getty Images)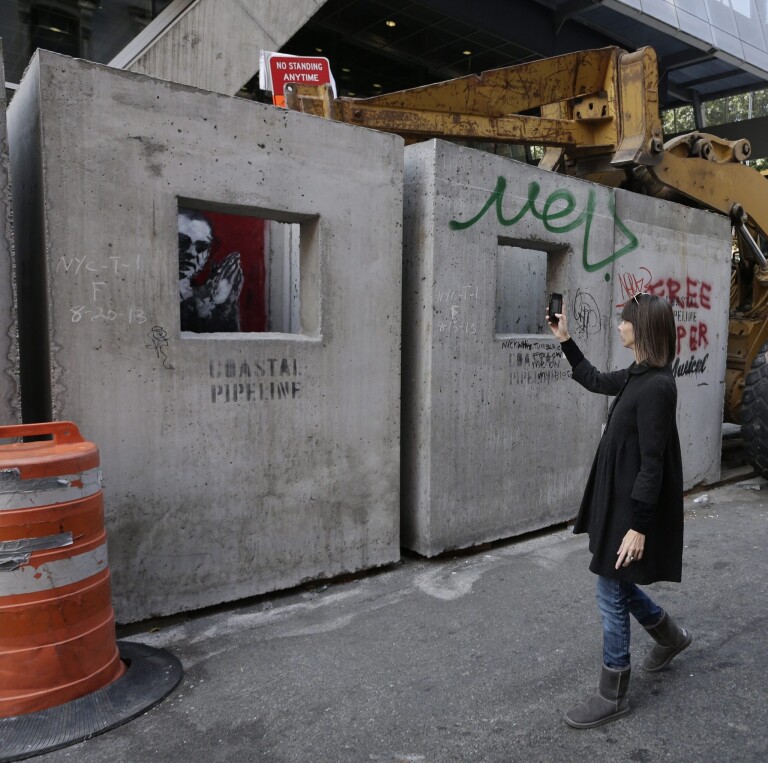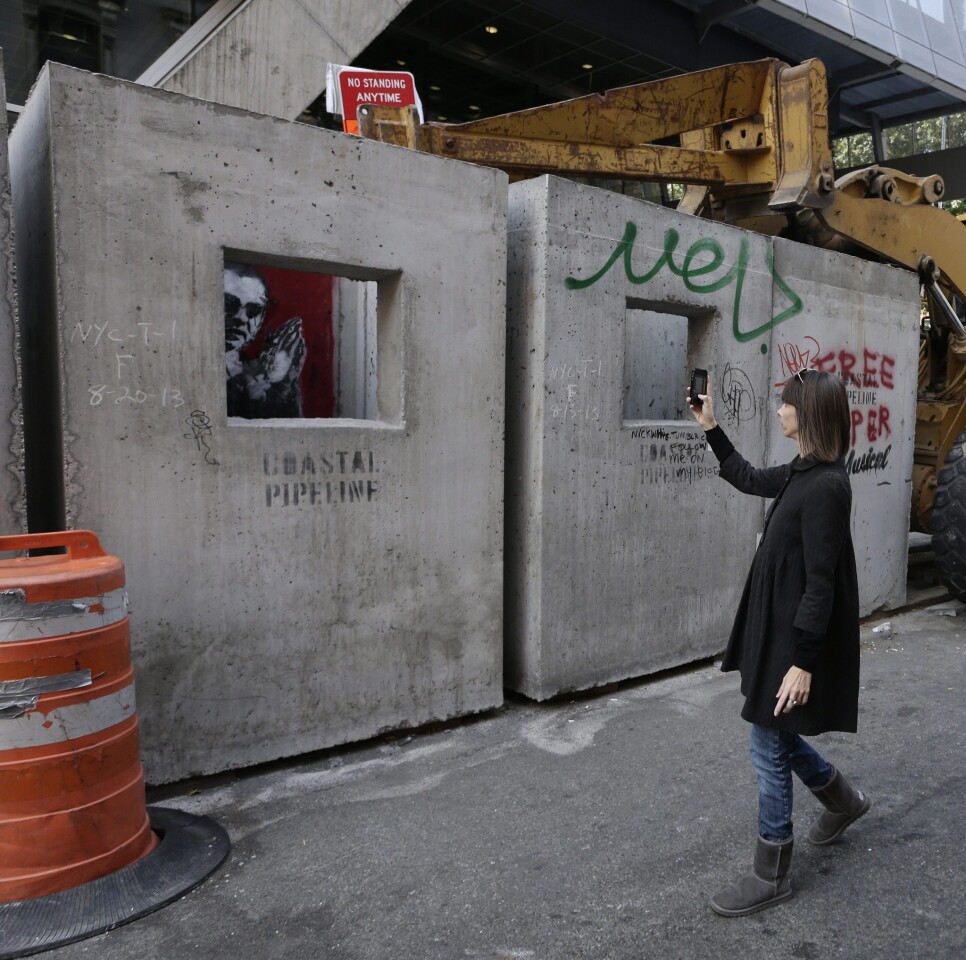 Located across the street from the First Ukrainian Assembly of God, this piece is based on a 1950s image by photographer Berni Schoenfield, depicting a Jesuit priest at a Martyr's Shrine. A portion of the original piece has been defaced by vandals.
(Jason Szenes / EPA )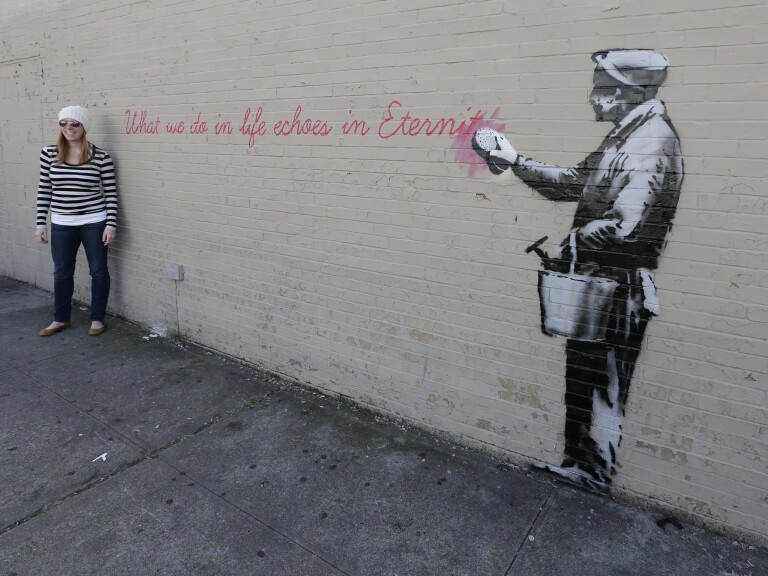 In this aerosol artwork spotted in Queens, New York, a man begins to scrub away the phrase "What we do in life echoes in Eternity" -- a quote picked up from the film "Gladiator."
(Jason Szenes / EPA)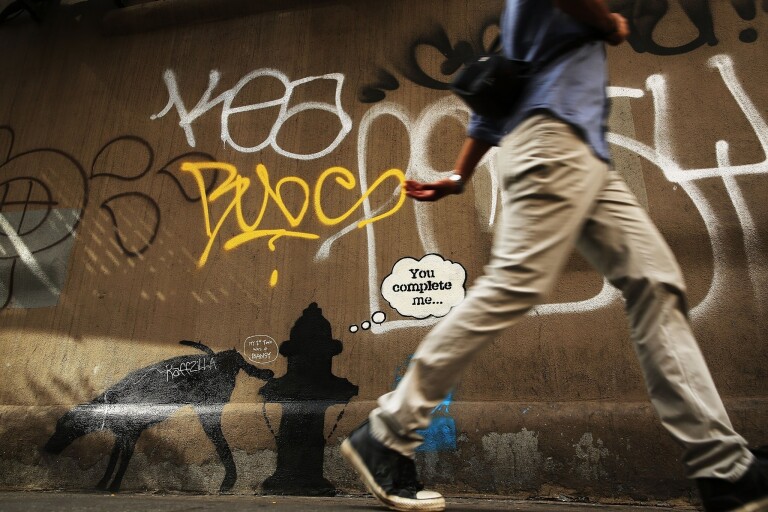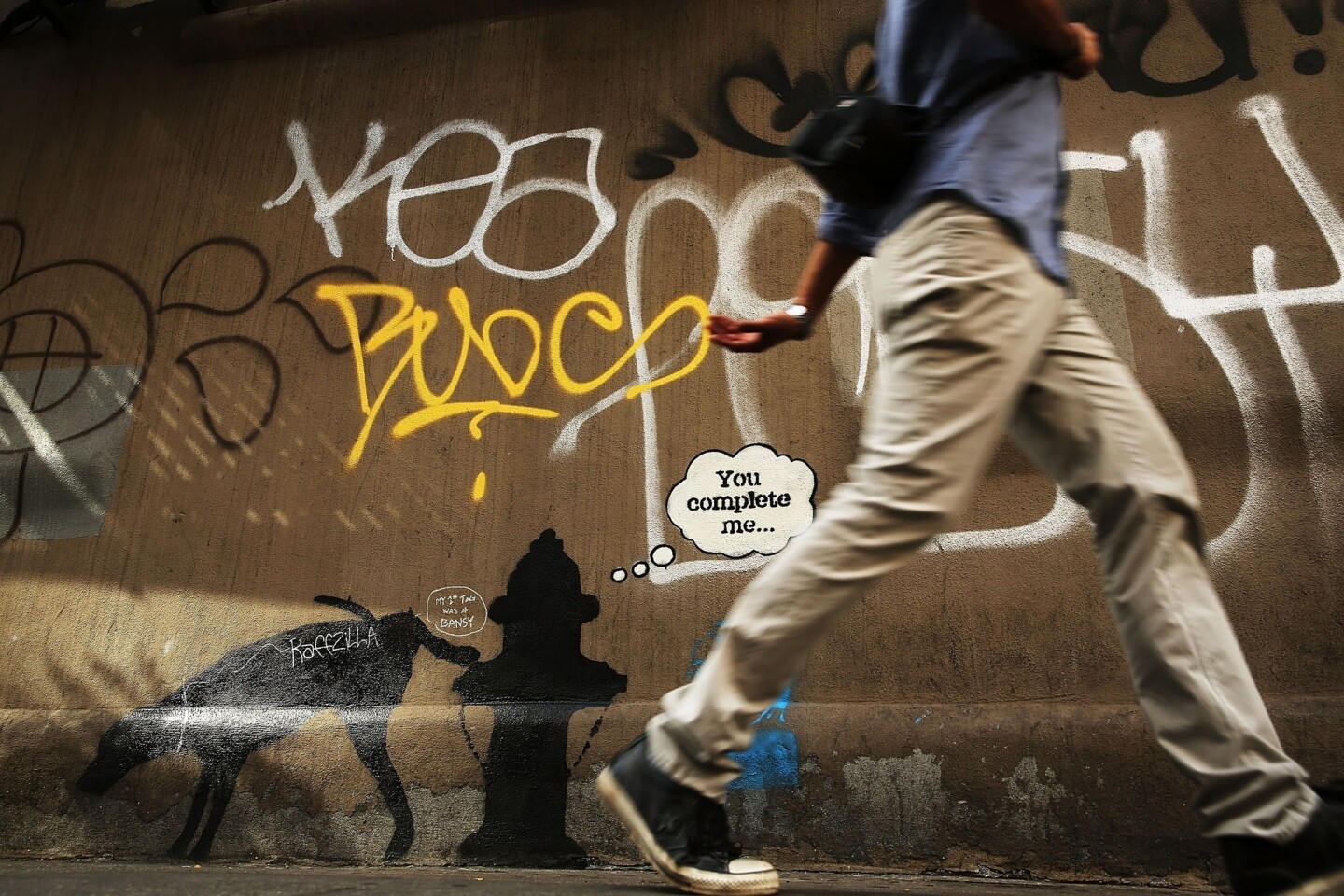 Stenciled on the streets of New York, a dog is seen urinating on a fire hydrant, with a thought bubble reading "You Complete Me..."
(Spencer Platt / Getty Images)
In the the Red Hook neighborhood of Brooklyn, a heart-shaped helium balloon is covered in bandages. The piece was defaced with red spray paint shortly after being completed. Banksy has painted a famous heart-shaped balloon before in his 2012 London piece "Girl With a Balloon."
(Andrew Burton / Getty Images)
In this New York Lower East Side piece, Banksy added the words "The Musical" to existing graffiti that read "Playground Mob."
(Andrew Burton / Getty Images)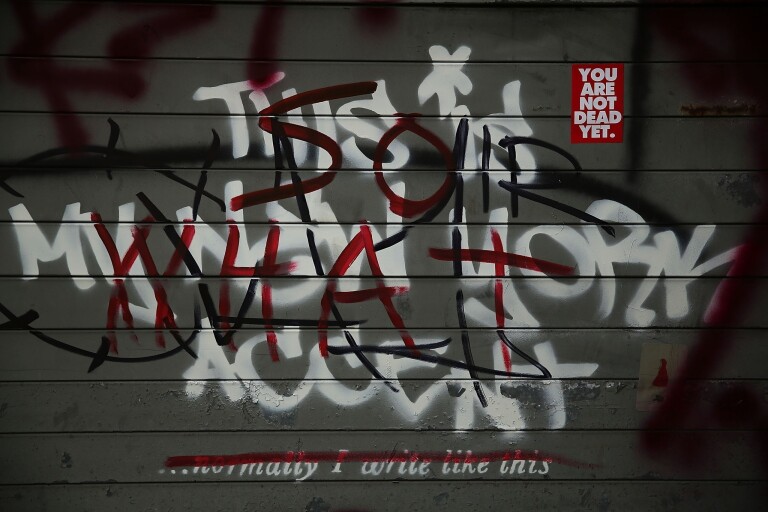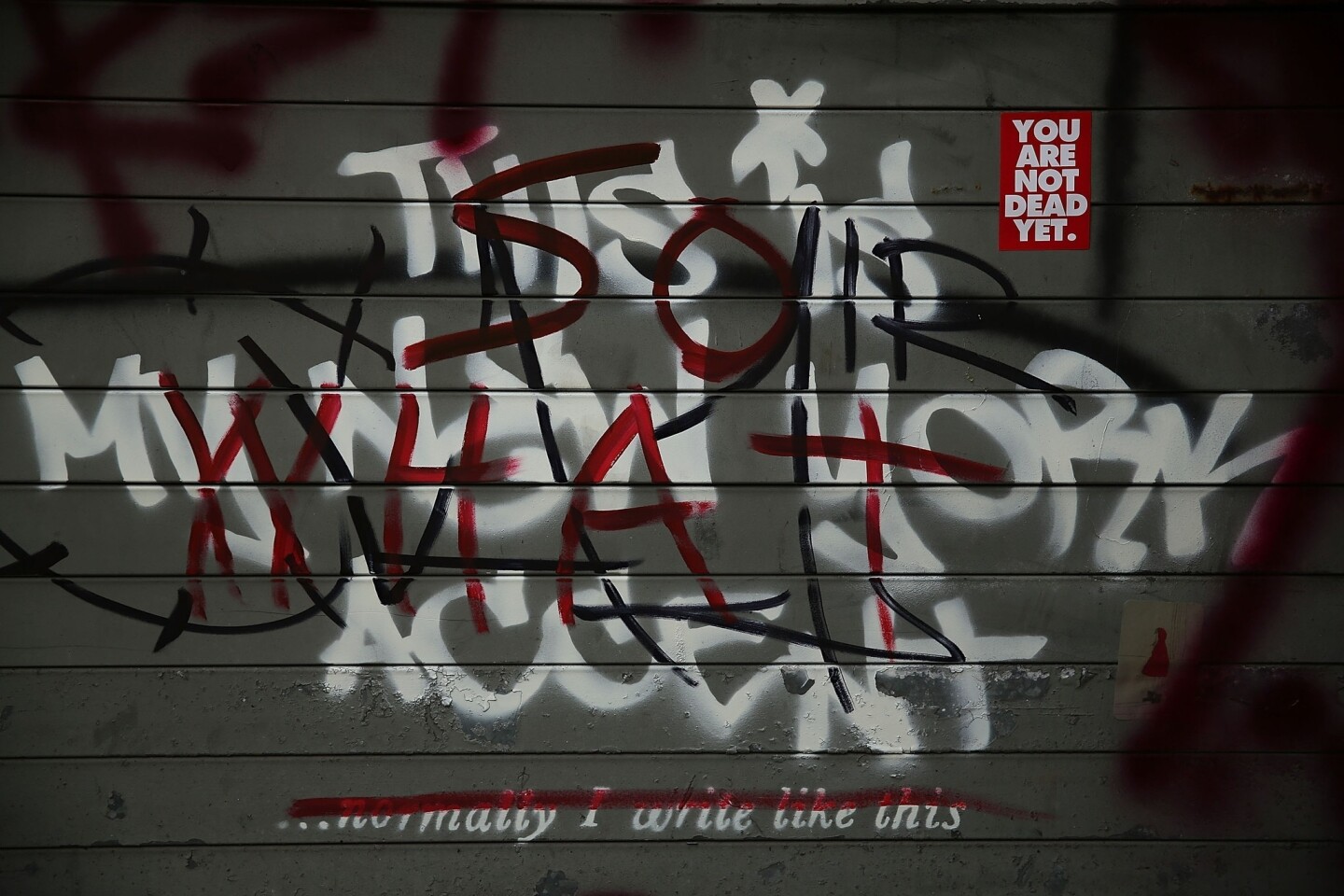 Banksy wrote the words "This is my New York accent" beneath a highly stylized "...normally I write like this." Like several other pieces, this one was later vandalized by graffiti.
(Spencer Platt / Getty Images)
Dubbed "Slave Labour," this piece depicts a young boy stiching Union Jack flags. The clear board was placed to protect the art from vandals. Ultimately, the artwork sold at a private auction for $1.1 million, despite protests from residents and the art community.
(AFP Getty Images)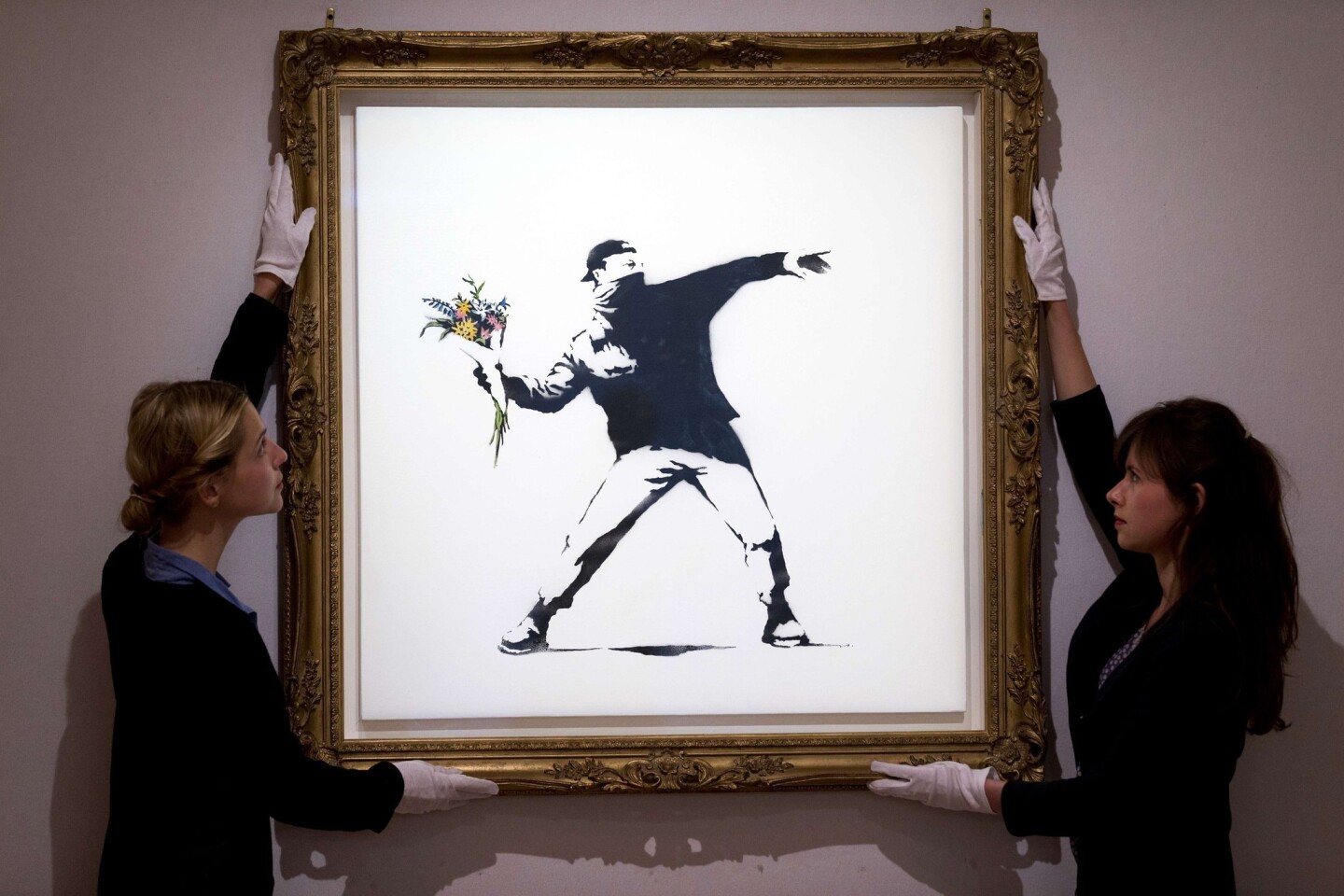 Banksy's graffiti mural "Love Is in the Air" illustrates a black and white masked protester about to throw a bouquet of colorful flowers. The piece was up for auction at Bonhams in London.
(Justin Tallis / AFP / Getty Images)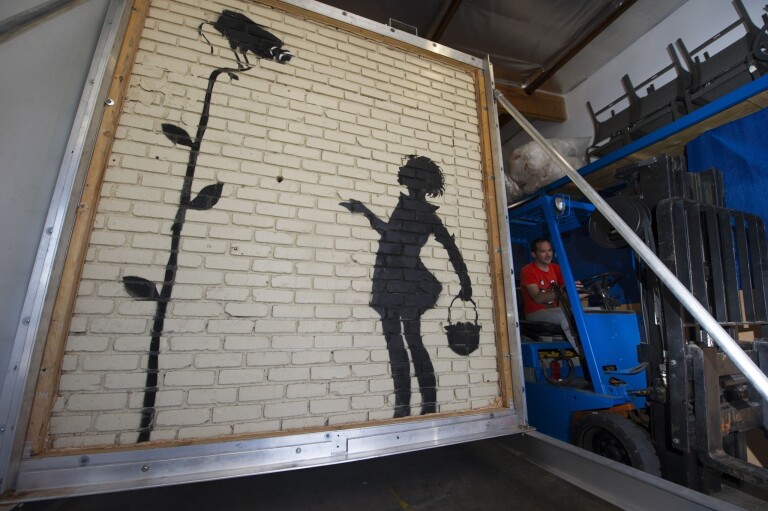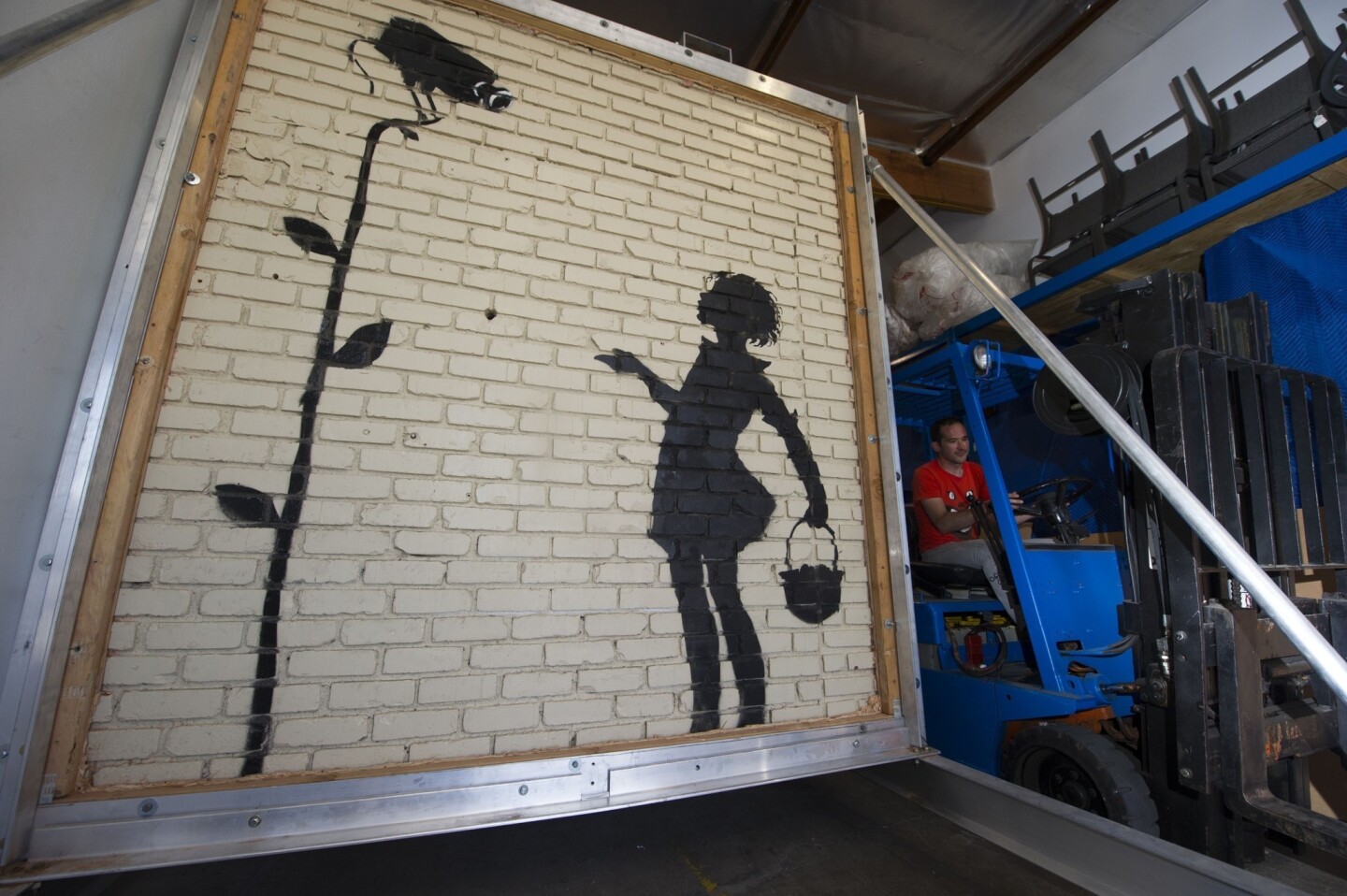 "Flower Girl" is a 9-by-8 foot mural on brick, originally located at an LA gas station. The owner of that gas station cut out that section of the wall and brought it to an auction. The mural depicts a girl holding a basket of flowers as a security camera blossoms on top of its stem.
( Robyn Beck / AFP / Getty Images )
Seen in Bristol, England, this large piece portrays three police men approaching a teddy bear with a lit cocktail in his hand. For about nine years, the piece remained untouched but was then defaced with red paint.
(Matt Cardy / Getty Images)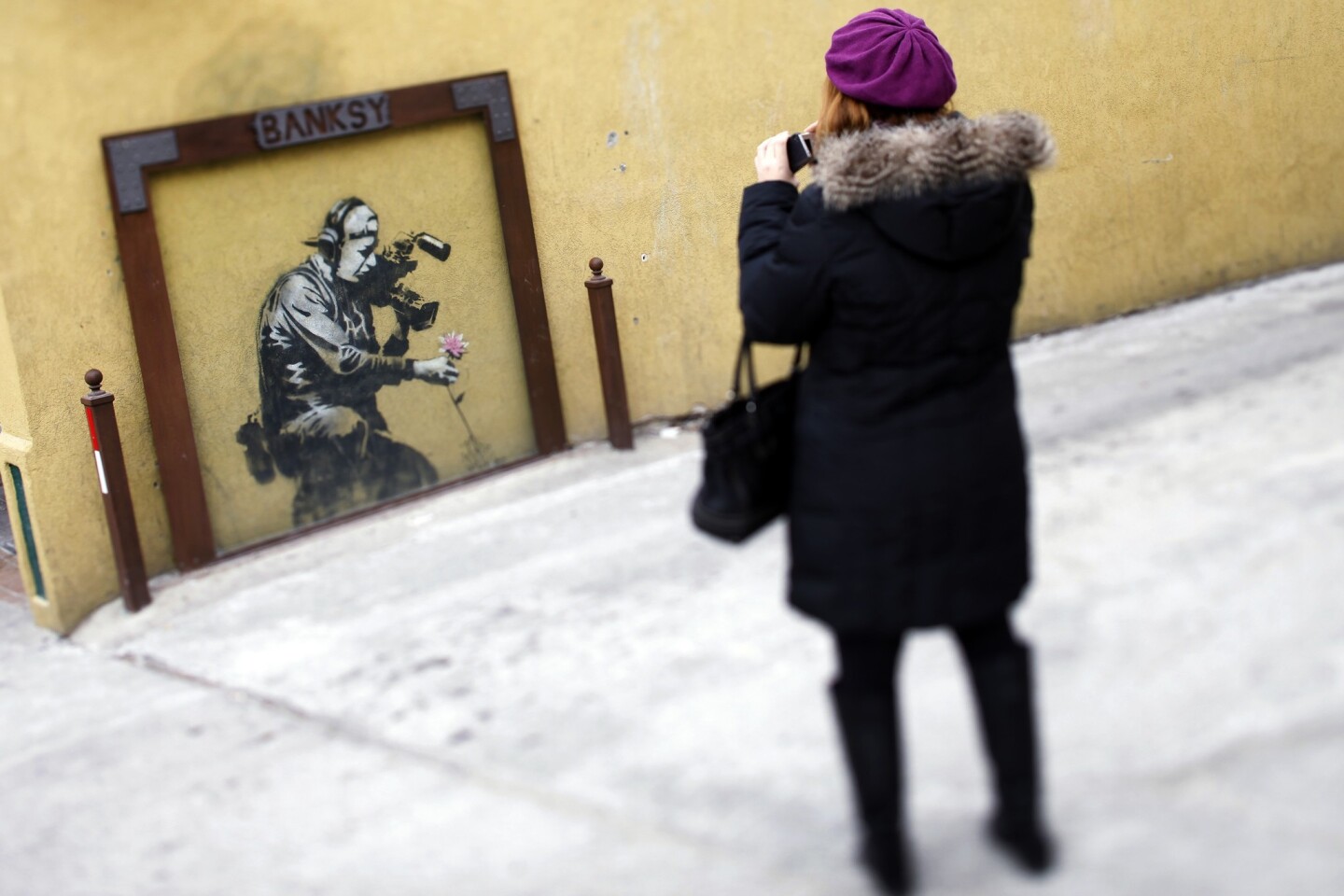 At the 2012 Sundance Film Festival, Banksy premiered his film "Exit Through the Gift Shop," about a man who desperately wanted to create a documentary on Banksy. During the fest in Park City, Utah, Banksy created an image of a filmmaker zooming in on a pink flower.
(Jay L. Clendenin / Los Angeles Times)
For two decades, and especially since voters approved a $40-billion transit tax in 2008, the L.A. County Metropolitan Transportation Authority has ranked among the most important patrons of public architecture in Southern California.
It has often seemed remarkably ill-suited for the role, burying architects and planners near the bottom of its bureaucratic hierarchy and turning out an uninspired collection of subway and light-rail stations.
But there are signs of a new respect for architecture at Metro: With the Los Angeles firm Johnson Fain, the agency is putting the finishing touches on a comprehensive design template for future routes, including the Crenshaw Line, Regional Connector and Wilshire Boulevard subway.
CRITICS' PICKS: What to watch, where to go, what to eat
The "kit of parts," as it's known inside Metro, will dictate everything from the architecture of new stations to the design of ticket kiosks, benches, lighting, stairs and turnstiles.
Although the spare and modern design marks a clear improvement over Metro's wildly uneven status quo, it is also overly restrained, even bloodless. What it's lacking more than anything is the colorful, informal exuberance that has always animated the most significant L.A. architecture and design.
And the way the new template will be rolled out suggests some of the practical obstacles that continue to dog Metro. Even in the best-case scenario it will be at least a decade before the inconsistencies in station architecture across the transit network are significantly ironed out.
The initiative is largely the brainchild of Martha Welborne, an architect who was named Metro's executive director of Countywide Planning in 2010. The approach to designing and building stations that she inherited somehow managed to promote both wasteful spending and sub-par architecture; it was more kit of pork than kit of parts.
Some routes, such as the Expo Line to Culver City, used a consistent station design but didn't match earlier lines. Others, like the Red and Gold lines, used different architecture for each station, often in an effort to drum up community support for new transit routes. That gave us a parade of clichés: film reels on the ceiling in Hollywood, neo-pagoda architecture in Chinatown.
PHOTOS: Arts and culture in pictures by The Times
Not only were many of the stations disappointing architecturally in their own right, they didn't coalesce into a meaningful larger whole or help symbolize the dramatic expansion of mass transit in Los Angeles. (With more than 75 stations in the planning pipeline, Metro is essentially doubling the size of the rail network in less than 20 years.) And when every station on a given rail line is different, upkeep can be a major headache.
The solution was as obvious architecturally as it would prove to be difficult politically inside Metro, where the ability to dole out elaborate design packages for new stations had become a valuable bureaucratic chip: Make the stations uniform.
Once Metro had selected Johnson Fain, Welborne and the firm's architects, led by Scott Johnson and Brian Knight, studied the best examples of subway and light-rail architecture around the world. They came away particularly impressed with the stations in Zurich, Copenhagen, Singapore and Washington, D.C., among a handful of other cities where the transit architecture is both ambitious and consistent.
The architects also took on the slippery task of defining and even categorizing L.A.'s sense of place. They collected and analyzed some of the quintessential images of the city and its architecture: David Hockney's paintings of the Pacific Design Center and Mulholland Drive; museum installations by Robert Irwin; photographs by Julius Shulman of houses by Richard Neutra; John Van Hamersveld's poster for the movie "Endless Summer."
Next Johnson Fain got to work designing a standardized version of pretty much every element that goes into a new Metro station, including signage, lighting and furniture. The architects brought in graphic design firm Sussman/Prejza and landscape architecture and planning firm Melendrez as consultants.
INTERACTIVE: Tour Los Angeles' boulevards
Complicating the task has been the diversity of the station types Metro is now in the business of building. The Crenshaw light-rail line alone will include elevated, ground-level and below-ground stations.
For the elevated and ground-level stations, Johnson Fain has produced a linear design in which a series of gates or portals are topped by a glass canopy that operates as a kind of spine.
It's here that the architects' minimal approach pays the most obvious dividends, with a design that is simple and open to the city around it. At the same time, happily, sun and rain protection should be better than in many of the existing open-air stations. Maintenance should be easier too.
Portals leading to below-ground stations, including stops on the forthcoming Wilshire subway, would stretch a wide glass roof above a transparent pavilion held up by stainless steel columns.
The rollout of the new station design will be uneven. Extensions to both the Expo Line and Gold Line are being built by outside contractors and won't use the template.
Metro has also been adding huge new canopies to the entrances to various Red Line subway stations. Their design, by the firm STV, predates the kit of parts too.
PHOTOS: Operas by Philip Glass
It's possible that over time existing stations — on the Blue Line, say, which opened in 1990 — will be rebuilt to match the Johnson Fain design.
A separate issue, as Metro begins to consolidate the design and construction of new lines in-house, is the general restraint of the new template. Welborne is fighting the good fight, to be sure.
But the Johnson Fain design is more Apple Store neo-Modern than suggestive of contemporary Los Angeles. The architects have settled on a sleek, passive transparency to underscore Metro's new architectural message of consistency and efficiency. All that work analyzing L.A.'s sense of place has had a faint effect on the ultimate design.
It would be a pity if the new stations, in an effort to avoid some of the architectural missteps that have plagued Metro in recent years, were content to recede entirely into the background.
Public art in the new stations may also help, though I would hate to see architecture let off the hook quite that easily. Quintessentially L.A. design elements should be incorporated into the kit of parts from the start, rather than being treated as something to be tacked on.
ART: Can you guess the high price?
A budget-conscious architectural approach doesn't have to mean a placeless or sterile one, as L.A. architects past (Charles and Ray Eames, Cliff May, Rudolph Schindler) and present (Barbara Bestor, Hank Koning and Julie Eizenberg, Frank Gehry) have made clear.
An irony here is that the efficient, mostly black-clad Zurich stations by architect Kai Flender, a clear inspiration for the kit of parts, are noticeably less neutral, despite their Swiss pedigree, than the Johnson Fain design.
Meanwhile, the kit of parts has already faced enough challenges inside Metro to suggest how politically complicated it can be to pursue bold design at an agency of its size. To pick just one example, Sussman/Prejza suggested giant Ms, appearing to be partially sunk into the pavement, to mark the entrance to every station.
The letter would have been split into two parts, allowing it to operate as a sort of alphabetical gate. But some Metro officials balked, according to Welborne, fearing exiting passengers might have their view of cars and moving trains blocked by the giant signs.
The loss of the oversized M is emblematic of the various ways in which the kit-of-parts design risks being diluted before we see it in built form. The new stations, after all, don't need less color or verve. They need a good deal more.
It also suggests the importance of baking a stronger L.A. flavor into the station design from the start. What's native to the architecture, rather than what's added around its edges, will be much harder to trim from the final product.
christopher.hawthorne@latimes.com
---
Inside the business of entertainment
The Wide Shot brings you news, analysis and insights on everything from streaming wars to production — and what it all means for the future.
You may occasionally receive promotional content from the Los Angeles Times.