Review: Gloria Cheng opens Piano Spheres with film composers' fancy
The company's inaugural production starred tenor Plácido Domingo in the role of Verdi's tragic hero. Its opening night has become the stuff of local legend -- the curtain failed to rise completely, resulting in a delay of several minutes.
(Robert Cahen )
Above: A 2008 dress rehearsal of "Tristan and Isolde" by LA Opera with John Treleaven, right, as Tristan and Linda Wilson as Isolde in Act 3.
Designed by David Hockney, the colorful staging of Wagner's masterpiece became a signature production of the young company. Other memorable productions created by the company include this season's "Il Foscari"; "Grendel," directed by Julie Taymor; and Herbert Ross' traditional "La Boheme."
(Lawrence K. Ho / Los Angeles Times)
The dual leadership of Domingo, right, and Baitzel helped turn L.A. Opera into an internationally recognized force in classical music. Baitzel joined the company in 2001 and died in 2007; Domingo began in 2000 and currently serves as general director.
(Los Angeles Times)
Appointed in 2003 as the company's first music director, Nagano brought a consistent orchestral excellence to the company. He left L.A. Opera in 2006 and was succeeded by James Conlon, who has led the Paris National Opera among other European companies and who continues as music director.
(Johannes Simon / Getty Images)
The company staged its first-ever production of Wagner's "Ring" cycle operas starting in 2009. The productions, directed by Achim Freyer, came with a price tag of $31 million and proved to be critically divisive and controversial.
(Lawrence K. Ho / Los Angeles Times)
In 2009, L.A. Opera received an emergency loan of $14 million from the county to address financial difficulties that stemmed from the weak economy and the expensive "Ring" cycle production. L.A. Opera repaid the loan in full in December 2012.
(Irfan Khan / Los Angeles Times)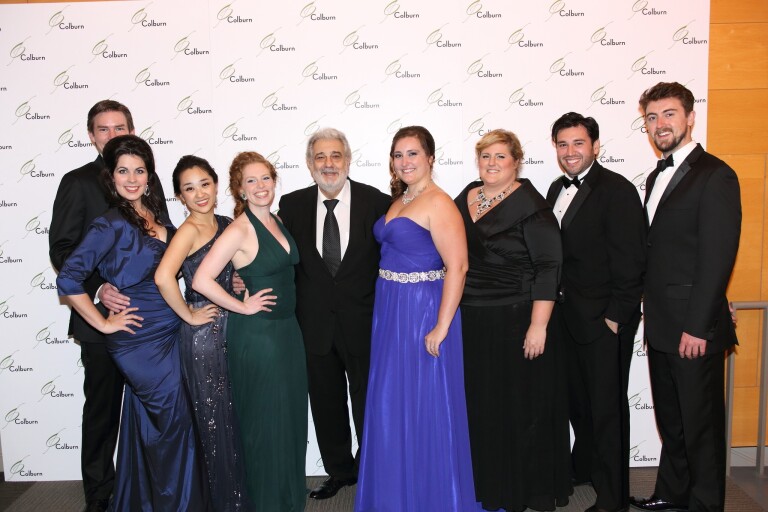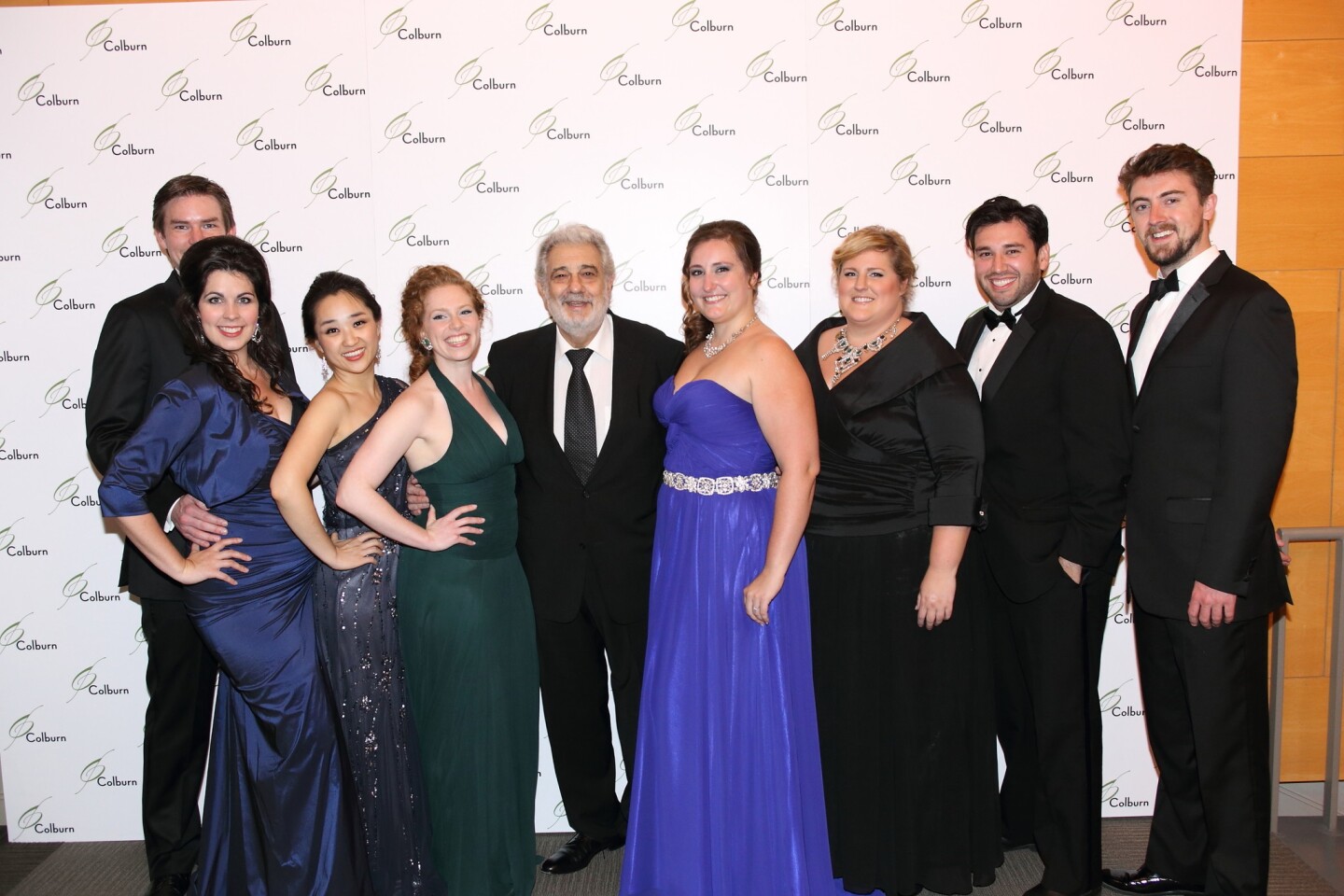 The Los Angeles Opera
received $4.3 million in new gifts
from the Colburn Foundation and Eugene and Marilyn Stein for its young-artists program.
The program, which began in 2006, offers a paid residency for young opera singers at the beginning of their professional careers. Placido Domingo, the company's general director, helped to found the program and continues to oversee it.
(Robert Millard / LA Opera )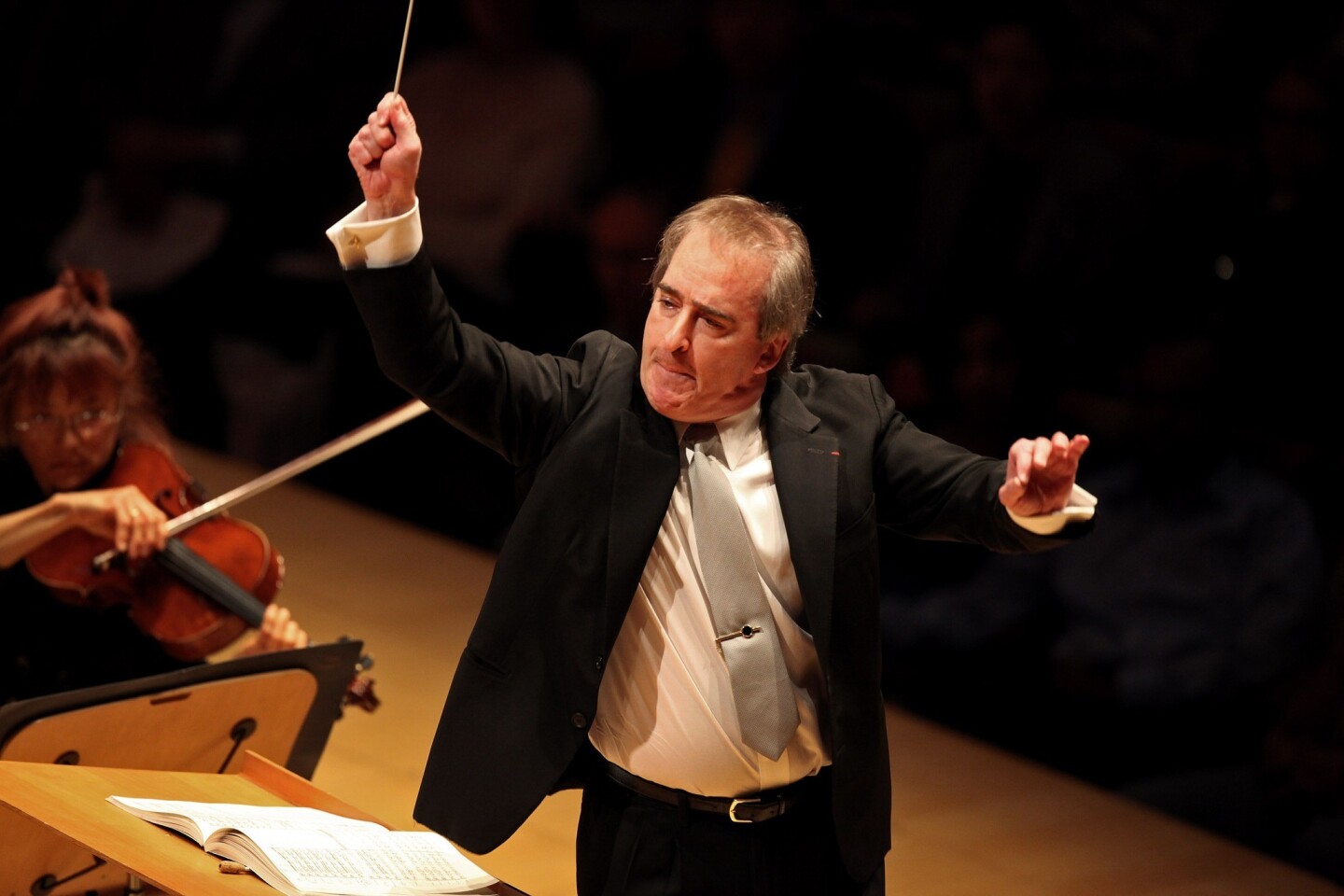 New York-born conductor James Conlon
signed on
to stay at the Los Angeles Opera through 2018.
"If you had told me that I would love California and L.A., I would never have believed it," said Conlon.
The conductor's accomplishments at the L.A. Opera include conducting the company's first stagings of Wagner's "Ring" cycle operas as well as championing its "Recovered Voices" series, dedicated to presenting the works of composers whose careers were cut short during the Holocaust.
(Katie Falkenberg, For the Times)
Los Angeles Opera announced in June 2013 it would be $7 million richer thanks to a new gift from billionaire Eli Broad and his wife, Edythe.
The gift, being made through the couple's charitable organization, the Broad Foundation, represents the
largest sum they have given to L.A. Opera.
( Jay L. Clendenin / Los Angeles Times)
Even with traffic, the drive from the film studios to the concert halls of downtown L.A. or elsewhere across the city is easily doable. Hollywood composers have always known the way. Still, pianist Gloria Cheng opened the 20th anniversary season of Piano Spheres at the Colburn School's Zipper Concert Hall on Tuesday night with what might have seemed like a fling with odd musical bedfellows. She is a pianist with a well-known flair for difficult abstraction and a favorite of such modernist composers as Pierre Boulez and Esa-Pekka Salonen.
But for a program titled "Montage," Cheng turned to the likes of John Williams and Randy Newman and four other noted film composers. She has a sidelight playing film score gigs, and she managed to momentarily wrench them away from their various postproduction obligations and get them thinking about their own compositional inner lives. And it wasn't always easy.
"I had always wanted to write something for Gloria Cheng," Williams wrote in the notes to his just-completed "Conversations," "but I got distracted." Newman, in explaining why he struggled with the style and didn't attempt something more in the manner of Boulez or Ligeti for his "Family Album," offered the following explanation: "As Richard Nixon said, we could get the money, but it would be wrong."
CRITICS' PICKS: What to watch, where to go, what to eat
All the composers — the others being Bruce Broughton, Michael Giacchino, Don Davis and Alexandre Desplat (the only one not present Tuesday) — are experienced in writing under all kinds of circumstances.
Collectively they've won countless Oscars, Grammys, Emmys and other awards. They're expert at giving directors what they want at the exact length they want and when they want it (which is almost always, now). They get to put something of themselves into their scores, but they are also expected to conform to a standardized Hollywood sound.
Tuesday night the chains came off. But that also meant that they had nowhere to hide. Williams and Newman, Cheng told the audience, came through at the last minute, spending the most time revising. Their pieces were also fascinating because they are the best-known of the composers, with easily recognizable styles. Both wrote autobiographically.
PHOTOS: Arts and culture in pictures by The Times
"Family Album" was unmistakably Newman. He comes from film music royalty, and here he fondly evokes his uncles Alfred, Emil and Lionel. The five movements are nostalgic, songlike and often funny. One is "Lionel Teaches Marilyn Monroe How to Sing." Another is "Carmen Miranda: 'How Many Times Do I Have to Tell You I'm Not Mexican.'" The sweet scores live up to the titles.
Williams imagined conversations among jazz musicians he admired over the years, several of whom he'd known and worked with. Thelonious Monk did peek through in a Debussyan "conversation" with Claude Thornhill, a mentor of Gill Evans. Two former slaves — Mum Bett (aka, Elizabeth Freeman) and Blind Tom were among the ghosts. So, too, Duke Ellington, Billy Strayhorn, Chet Baker and Miles Davis. The tone was wistful Williams not epic Williams, the composer creating the mood for imagining music history rather than re-creating it cinematically.
The most modern piece was Davis' "Surface Tension." The composer for the "Matrix" films and a regular on the L.A. new music scene, Davis produced an impressive pianistic matrix, with percussive shards turning into rhythmically imaginative clusters of chords. Giacchino, who scored "Ratatouille" and "Up," recalls his childhood in "Composition 430." He presents the New Jersey of the 1970s as a friendly place.
PHOTOS: Operas by Philip Glass
These four works were world premieres. Desplat's "Trois Etudes" had its first performance by Lang Lang in Paris a year ago, and this was its U.S. premiere. There are a lot of notes in it. The style is not much beyond Debussy and Ravel. Film composers are often attracted to Impressionism as a way of creating atmosphere, Desplat in these movements is derivative, but his virtuosic keyboard writing has a dazzling natural flow and an easy likability.
Broughton's Five Pieces for Piano was the one work not having a premiere. It was written for Cheng three years ago. The composer of a number of westerns and adventure films, Broughton's piano writing has a late Coplandesque quality, with open chords and, at the end, a couple of sharp attacks like gunshots.
Cheng, who also included two early Messiaen preludes (the full set of which are on her exquisite latest CD on Harmonia Mundi), had her hands full in every sense Tuesday. And there wasn't anything, no matter how difficult or curious, that she didn't make sparkle and sing.
---
Inside the business of entertainment
The Wide Shot brings you news, analysis and insights on everything from streaming wars to production — and what it all means for the future.
You may occasionally receive promotional content from the Los Angeles Times.