Sheldon Epps to step down as artistic director at Pasadena Playhouse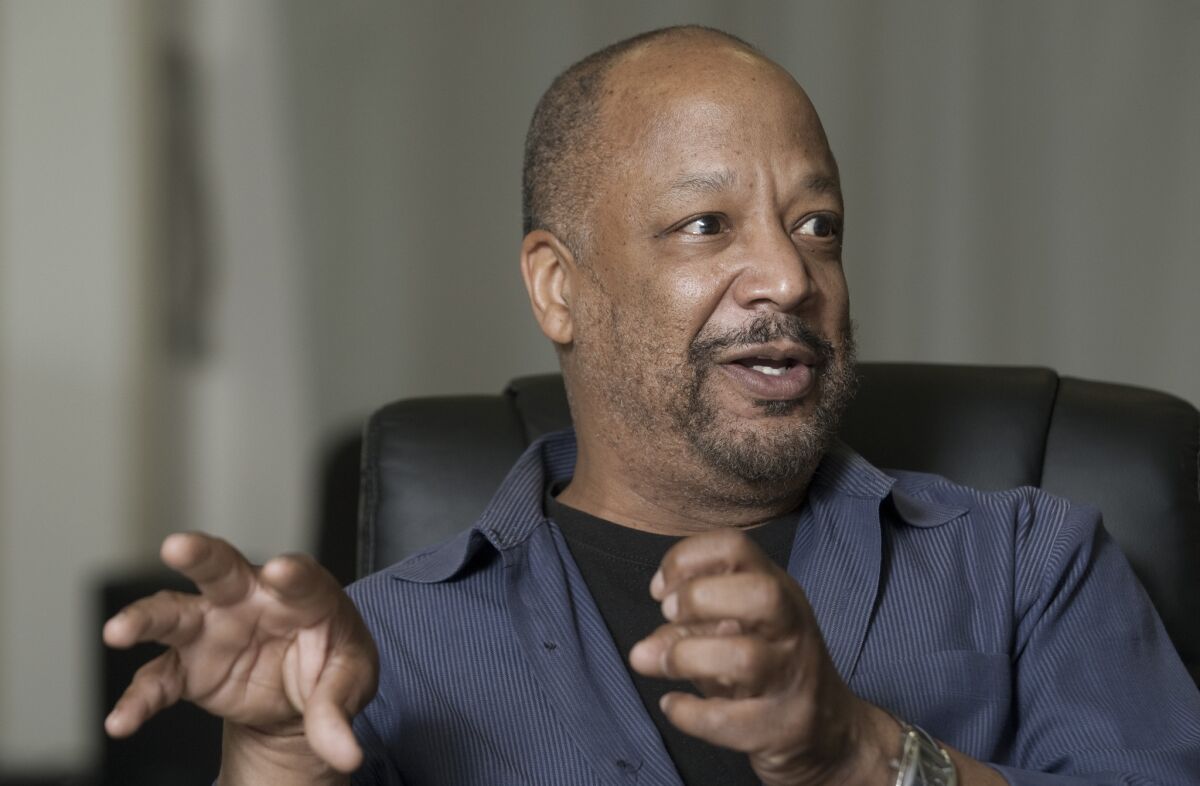 Sheldon Epps has long said that all too often he was the lone person of color in the audience of a theater and that, just as often, he saw only white actors onstage.
So when Epps, artistic director of Pasadena Playhouse, staged "12 Angry Men" a couple of years ago, he provocatively cast the jury so half was white and half was black, turning a 1950s piece into a new conversation about race relations in America.
Now that voice for diversity, onstage and in the audience, said Thursday he's stepping down from his post at the end of the 2016-17 season.
Theater officials announced that they will begin a national search to replace Epps, who has led Pasadena Playhouse for nearly two decades and will take the title "artistic director emeritus."
Epps helped the playhouse to become one of the most prominent regional theaters while trying to diversify the shows it mounted.
As one of the few people of color to serve as artistic director for a major theater, Epps embodied the idea of diversity behind the scenes as well.
"There comes a time when change is good both for the theater and me as an artist," Epps said by phone from the East Coast, where he was vacationing.
"And 20 years felt like a significant time to make the choice and move on," he added.
Pasadena Playhouse Chairman David DiCristofaro said Epps informed the board of his intentions shortly before the holidays.
"When he first got here, the theater was coming out of a dark period, and he's done an amazing job and taken the theater to new heights of success that we couldn't have imagined," DiCristofaro said.
The playhouse's search for a replacement comes as it looks for a new executive director too. Elizabeth Doran left that post at the end of April to become president and chief executive of San Diego Theatres.
Epps said this period of transition, which comes as Pasadena Playhouse readies for its centennial in 2017, will be exciting for the theater's future.
He said he would play an advisory role in the search for his successor, and DiCristofaro said the right candidate will be able to balance a strong artistic vision with business interests.
When asked if the playhouse's associate artistic director, Seema Sueko, might play a larger role, DiCristofaro said he had not spoken with her. "We'll be happy to talk to any and all folks qualified and interested, and certainly Seema would be considered that if she applies," he said.
When Sueko arrived at the playhouse from Mo'olelo Performing Arts Company in San Diego in 2014, she joined Epps in furthering his campaign for diversity.
Epps has been eager to prove that the approach can be financially feasible.
"I think it's a significant achievement in the American theater, and I really do think the [playhouse] has become a model for what is possible in this area, both in sustaining an existing audience and in building new audiences," he said.
Tom McCoy, executive producer of McCoy Rigby Entertainment at La Mirada Theatre and a longtime friend and fan, said Epps' leadership has had a broad effect.
"It's not just Pasadena and it's not just the L.A. area," McCoy said. "I think Sheldon inspired lots of folks to think creatively about how they're staging their shows. He has inspired other producers to become more diverse themselves and to see the benefits of diversity."
Epps also is credited with helping to rescue the playhouse from the financial brink in 2010, in part by helping to secure grants from individuals and major groups such as the Wallace, Doris Duke Charitable and James Irvine foundations.
DiCristofaro said the quality of Epps' productions was among his most significant accomplishments. Critical praise for many shows was accompanied by Tony nominations for playhouse productions that moved on to Broadway, including "Sister Act: The Musical," "Baby It's You" and "Looped."
Before coming to Pasadena, Epps served as associate artistic director of the Old Globe Theatre in San Diego. He also co-founded the Production Company, an off-Broadway theater.
In addition to directing productions at some of the nation's leading theaters, Epps worked as a TV director for shows, including, "Frasier" and "Friends."
For his next act, Epps said he hopes to slow down a bit. "I think I have an interesting book in me," he said. "Perhaps about my experiences in the worlds of theater and television — and some interesting things to say as a black man in America who has had success in those fields and also faced significant challenges. I also love teaching, and then whatever else is around the corner."
As artistic director emeritus, Epps may direct a show from time to time, DiCristofaro said.
"If they let me," Epps joked, adding, "I want to be connected and useful and of service to the theater, but only in ways that enable it to move forward and not keep it back."
FROM THE ARCHIVES:
2011: Sheldon Epps directs Pasadena Playhouse back from the brink
2013: Difficult truths as theater directors talk about diversity
2013: "12 Angry Men" and race in modern America
Twitter: @jessicagelt
Get our L.A. Goes Out newsletter, with the week's best events, to help you explore and experience our city.
You may occasionally receive promotional content from the Los Angeles Times.