Review: Provocative moments unfold in smart drama 'The Interview'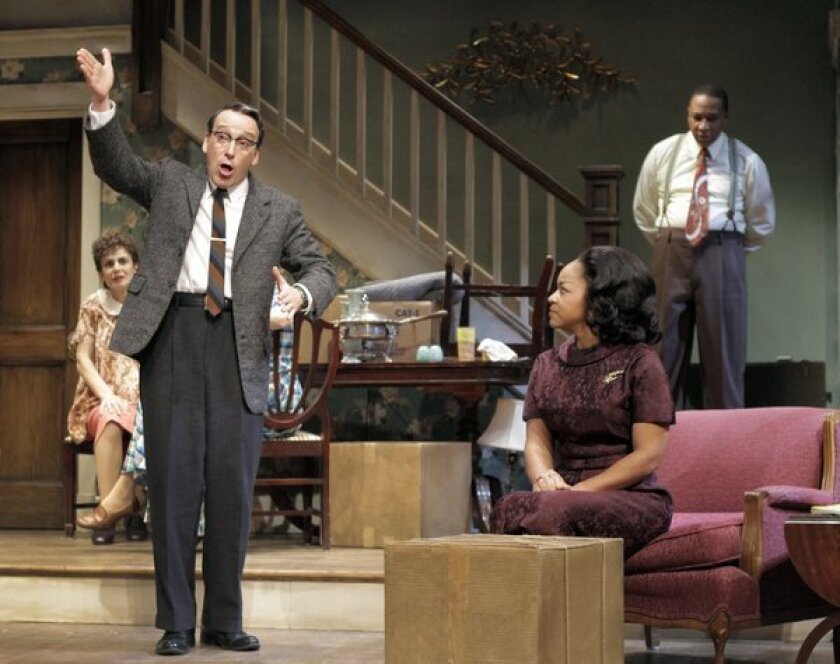 Bruce Norris constructed a provocative history of the house that the African American Younger family is heading to at the end of Lorraine Hansberry's "A Raisin in the Sun." An impeccable ensemble, under the direction of Pam MacKinnon, helped this Pulitzer Prize-winning drama capture the Tony Award for best play after the production went on to Broadway.
(Lawrence K. Ho / Los Angeles Times)
Mike Nichols' Tony-winning revival of Arthur Miller's classic was wobbly in spots, but Philip Seymour Hoffman's Willy and Andrew Garfield's Biff found the emotional combustion when it mattered most.
(Brigitte Lacombe for New York Magazine)
Sheer ecstasy for musical theater aficionados of a Sondheim bent. The side dishes alone (Elaine Paige singing "I'm Still Here," Jayne Houdyshell belting "Broadway Baby") are pièces de résistance by any showbiz standard.
(Glenn Koenig / Los Angeles Times)
Part of Tarell Alvin McCraney's acclaimed "Brother/Sister Plays," this still-running poetic drama introduces L.A. audiences to an adventurously lyrical talent in a production directed by Shirley Jo Finney that is a marvel of ensemble acting.
(Ed Krieger)
Anton Chekhov's first major dramatic offering was played more comically than usual in an insouciant production by Bart DeLorenzo that still somehow managed to zero in on the tragic pathos of a decent man who cannot make sense of a life that to others seems reprehensible.
(Odyssey Theatre)
Set in the 1970s, August Wilson's drama was brought to life in all its funky, recessionary, keep-on-trucking glory in a South Coast Rep production, directed by Ron OJ Parson and starring the dependably wonderful Charlie Robinson as the demandingly upright boss of a down-and-out Pittsburgh taxi depot.
(Henry DiRocco / SCR)
John Hurt's performance in this two-character piece (the aged Krapp and his recorded younger voice on tape) was a tour de force of Beckettian acting in which slapstick and poetry united to scale our common abyss.
(Anne Cusack / Los Angeles Times)
David Cromer's stark revival, starring Helen Hunt as the Stage Manager, wiped away the bittersweet sentimentality of Thornton Wilder's classic to expose the savage beauty lying beneath the years of accumulated theatrical clichés.
(Iris Schneider)
Alan Mandell and Barry McGovern made a Beckettian dream team in this reinvestigation of the absurdist classic incisively directed by Michael Arabian. It's been a long time since existential anguish felt so good.
(Craig Schwartz / Center Theatre Group)
In Pam MacKinnon's justly celebrated revival of Edward Albee's masterpiece, Tracy Letts (author of "August: Osage County" and a first-rate acting talent) and Amy Morton bandy the acerbic zingers with drunken relish but never at the expense of the play's realism.
(Michael Brosilow / Booth Theatre)
In Susan Josephs' new play, "The Interview," premiering at Studio/Stage, couples must apply to the "U.S. Department of Parenting and Child Welfare" for permission to have children.
Like so many nightmares of government control such as "1984" and "Logan's Run," this one is arresting, dramatically fruitful and not entirely implausible.
Josephs fleshes out her dystopia -- which, it is implied, arose from a movement among mommy bloggers -- with deft details: Eating junk food while pregnant is now against the law; every baby must be "Ferberized" (using the sleep-training method of Dr. Richard Ferber, the real author of a popular book on childcare).
CRITICS' PICKS: What to watch, where to go, what to eat
We first meet Jenna (Jacqueline King) and Steven (Marshall McCabe) before their final interview, mutually affectionate and perfectly dressed (in costumes by Lauren Wyenn).
Director Diana Wyenn boldly positions the waiting room upstage, behind a low wall, so that the actors start with their backs to the audience; even so, their anxiety is palpable, even infectious, as they fill the time with banal, upbeat remarks.
Their interviewer, Veronica (Melissa Sullivan), finally invites them downstage, into her office. Sullivan, a mesmerizing performer, has the smug chilliness of a gatekeeper down perfectly, and the couple dutifully recites the right answers. But something isn't quite right. Veronica makes a provocative remark; Jenna reveals a stubborn streak; Steven alone remains weirdly committed to playing out what seems increasingly like a farce.
CHEAT SHEET: Fall arts preview
The psychodrama that follows not only hinges on an involved back story but is also a bit talky: With each twist, characters are shown exhaustively arguing themselves and each other into previously inconceivable choices.
A weak subplot involving bulimia is introduced and then dismissed when it would impede a neat resolution. Set changes are entertaining — Vincent Richards' modular pieces fit together cleverly in a variety of arrangements, and a TV screen showing Hind Bin Demaithan's video design concisely locates each new scenario — but whenever two characters are left on a darkened stage together as the lights come up elsewhere they pace, glaring at each other, in distracting circles.
Overall the smart drama entertains: Wyenn fosters an understated style that softens the spikier plot developments, and the performances, particularly Sullivan's, engage even when they don't entirely convince.
"The Interview," Studio/Stage, 520 N. Western Ave., Los Angeles. 8 p.m. Fridays and Saturdays, 5 p.m. Sundays. Ends October 27. $20 online; $25 at the door. www.theinterviewplay.com. Running time: 1 hour, 40 minutes.
---
Inside the business of entertainment
The Wide Shot brings you news, analysis and insights on everything from streaming wars to production — and what it all means for the future.
You may occasionally receive promotional content from the Los Angeles Times.