Tonys 2013: Broadway fans are all atwitter
"Birdman" actress Emma Stone (center), took on Roundabout Theatre Company's "Cabaret." Pictured with Gayle Rankin, left, Andrea Goss, Kristin Olness, Stacey Sipowicz, Kaleigh Cronin and Jessica Pariseau.
(Joan Marcus / Roundabout Theatre)
Oscar winner Helen Mirren once again portrays Queen Elizabeth II in Peter Morgan's play "The Audience," directed by two-time Tony Award winner Stephen Daldry.
(Johan Persson / Associated Press)
Actress Carly Hughes and Sugarland singer Jennifer Nettles perform during a rehearsal for Broadway's "Chicago."
(Astrid Stawiarz / Getty Images)
Sienna Miller, center, and Alan Cumming, right, appear at the curtain call following her debut performance in Broadway's "Cabaret."
(Greg Allen / Invision / Associated Press)
"Nightcrawler" actor Jake Gyllenhaal, left, and Ruth Wilson stand onstage at the opening night curtain call of "Constellations" at the Samuel J. Friedman Theatre.
(Greg Allen / Invision / Associated Press)
Bradley Cooper, left, Alessandro Nivola and Patricia Clarkson perform in "The Elephant Man" at the Booth Theatre in New York.
(Joan Marcus / Associated Press)
"Wolverine" actor Hugh Jackman played The Man in "The River," a play by Jez Butterworth, directed by Ian Rickson, at Circle in the Square Theatre in New York.
(Richard Termine / Associated Press)
Film actors Ewan McGregor and Maggie Gyllenhaal made their Broadway debuts Oct. 30 in Tom Stoppard's "The Real Thing" in New York.
( Joan Marcus / Associated Press)
Four-time Oscar nominee Annette Bening is no stranger to the stage having started her acting career in theater. Above, Bening performs a compilation of four Ruth Draper vignettes in "Ruth Draper's Monologues," scheduled to run through May 18 at the Geffen Playhouse.
REVIEW: Annette Bening pays fine tribute in 'Ruth Draper's Monologues'
(Allen J. Schaben / Los Angeles Times)
"CSI" alum William Petersen made his
Los Angeles stage debut
in this year's "Slowgirl" at the Geffen Playhouse.
(Katie Falkenberg / Los Angeles Times)
Tom Hiddleston
returned to the stage
as the title character in Shakespeare's "Coriolanus" after playing Loki in "Thor," "The Avengers" and "Thor: The Dark World." The production opened at the Donmar Warehouse in London on Dec. 17 to glowing reviews and continues through Feb. 13.
(Johan Persson / Associated Press)
Ethan Hawke took on the
title role
in the Lincoln Center Theater's production of "Macbeth" that opened on Nov. 21, 2013, and closed Jan. 12.
(T Charles Erickson / Associated Press)
Daniel Radcliffe went from boy wizard in "Harry Potter" to baring all in a Broadway revival of Peter Shaffer's 1973 Tony-winning play "Equus."
The casting of the "Harry Potter" frontman as the psychologically disturbed stable boy caused a stir as the then 17-year-old would appear nude in one scene.
Radcliffe
wowed critics
and earned a Drama Desk nomination for his role.
(Uli Weber / Associated Press)
Jude Law, who played the title role in 2009, and most of the British cast transported the Donmar Warehouse production from the Wyndham's Theatre in London to Broadway's Broadhurst Theatre after a successful run.
(Johan Persson / Associated Press)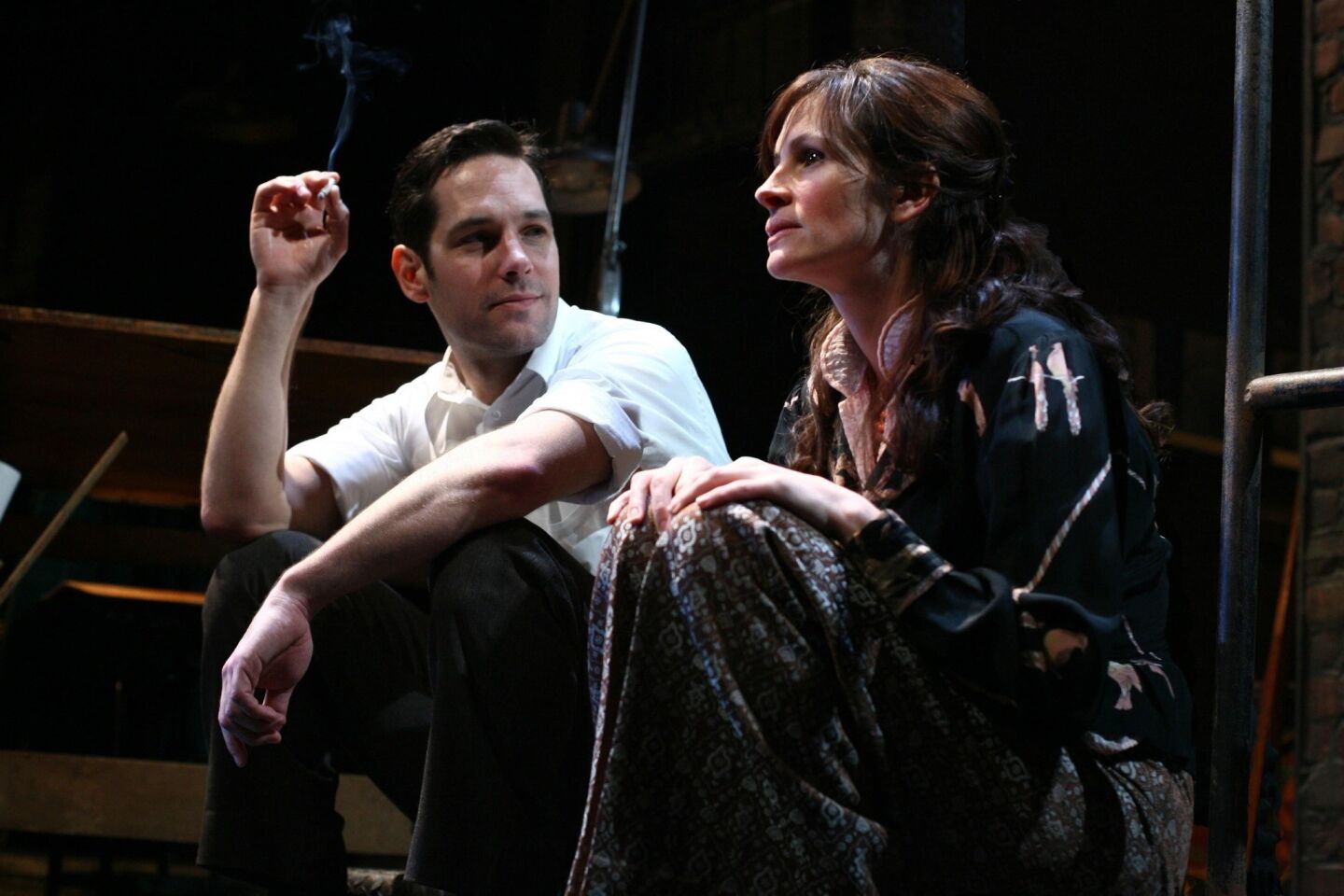 Julia Roberts made her Broadway debut in the revival of Richard Greenberg's "Three Days of Rain," which opened April 12, 2006. Paul Rudd, above, and Bradley Cooper also starred in the play that called for actors to play roles from two generations of family members.
(Joan Marcus / Associated Press)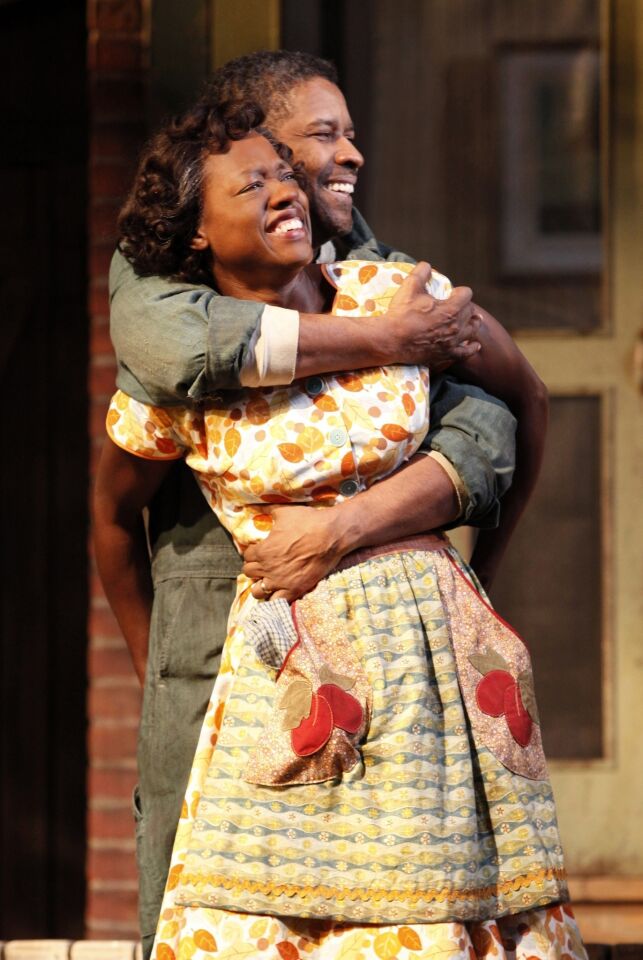 Oscar winner Denzel Washington and Oscar-nominated actress Viola Davis portrayed Troy Maxson and Troy's wife, Rose in the 2010 version of "Fences." Their portrayals in the August Wilson play netted the pair lead actor Tony Awards.
(Joan Marcus / Associated Press)
Daniel Craig and Hugh Jackman, both with impressive stage and screen credits, starred in Keith Huff's "A Steady Rain."
The two-person play, which cast the duo as a pair of cops, opened Sept. 29, 2009.
(Joan Marcus / AP)
Oscar-winner Al Pacino got to recite the famous "Hath not a Jew eyes" speech multiple times as Shylock in both the 2004 film and the 2010 Broadway production of "The Merchant of Venice."
(Joan Marcus / Associated Press)
Getting up close to a Broadway star can cost you more than $300 a seat for the most popular shows running in New York. But a front row seat on Twitter or Facebook is always free.
The current Broadway season, which comes to a close Sunday at the Tony Awards, featured a robust contingent of stars who used social media to provide fans with a peek behind the curtains. At a time when nearly every musical or play has its own Twitter feed, Facebook page, YouTube channel and Instagram account, many performers brought a personal touch to Broadway's digital clutter.
Holland Taylor, who is appearing in "Ann," her solo show at the Vivian Beaumont Theatre about former Texas Gov. Ann Richards, has tweeted backstage photos of herself with visitors including Bill and Hillary Clinton, and Meryl Streep.
PHOTOS: Hollywood stars on stage
Taylor, an outspoken liberal who has often tweeted her opinions with great passion, said she has toned down the political rhetoric on Twitter for the duration of "Ann" on Broadway.
"I don't want to paint 'Ann' with my emotions. I'm not like her at all. … She was a smart woman and I'm an opinionated loudmouth," Taylor said in a recent phone interview from New York.
Taylor, who starred in ABC's "The Practice" and CBS' "Two and a Half Men," is nominated in the category of lead actress in a play, her first Tony nod after more that four decades of theater work.
The actress said she tweets mostly for the pleasure of other people's virtual company. "I really love it. … I spend most of my time responding directly to other people on Twitter. I've met people that way and I've even brought some of them backstage," she said.
Laura Osnes, nominated for the title role in the revival of "Rodgers & Hammerstein's Cinderella," said she began tweeting a year ago after being encouraged by actor Jeremy Jordan, who recently appeared in the musical "Newsies" and NBC's "Smash."
"People would say it's a good thing to do during Tony season, to expand your fan base. I was hesitant to join. I have a private life and I do value that," Osnes said in a separate interview.
The actress said she mostly limits herself to tweets about "Cinderella," including backstage photos and images from pre-Tony events.
"I recently pulled back on responding [to other people on Twitter] because it makes them feel like they know you," the actress said. "You want to be able to support the people who support you, but it's a fine line. So many people have come to take social media as their meaning in life. Sometimes my encouraging that wasn't the best thing for anybody."
Boosting the social-media celebrity factor this season have been Tom Hanks and Bette Midler, both of whom have tweeted from backstage at their respective plays, "Lucky Guy" and "I'll Eat You Last."
Midler has tweeted about a variety of topics including politics and the diet she is maintaining for her role as Hollywood agent Sue Mengers.
"It's ironic that I'm starving myself doing a show called, 'I'll Eat You Last.' My next show's just going to be called 'I'll Eat'."
PHOTOS: Arts and culture in pictures by The Times
Alan Cumming, appearing in an offbeat "Macbeth," is a prolific tweeter with few online inhibitions. He doesn't shy from expressing his political views and has also tweeted about his offstage time, including a humorous post about what he saw in a gym locker room.
Having a star tweet about his or her Broadway experience can be a major marketing boon. But social media can also expose problems that theater publicists would rather keep hidden.
The season's biggest Twitter event involved Shia LaBeouf's hasty exit from the revival of "Orphans" in February during rehearsals. The actor broke with protocol by taking to Twitter to discuss his backstage feud with co-star Alec Baldwin.
"Alec, I'm sorry for my part of a disagreeable situation," LaBeouf wrote. He also posted email exchanges between himself, Baldwin and director Daniel Sullivan. The production (with Ben Foster replacing LaBeouf) was a box-office flop, closing a month after its official opening.
Actors are a crucial aspect of a Broadway show's social media presence, said Damian Bazadona, president of Situation Interactive, an entertainment marketing agency that has worked with a number of New York stage productions.
CHEAT SHEET: Spring Arts Preview
At the same time, actors "don't want to feel exposed. We have some moments where we sit with the cast and say, here are ways we will use social media and here's how you can help," he said.
"If there's an actor that active on Twitter, we try to piggyback off their content, rather than trying to get them to do stuff. It's all about being authentic."
A nascent social media trend on Broadway is Vine, the mobile application that allows users to record and upload short video clips with a maximum duration of six seconds.
This season, "Matilda" has used Vine as part of its social media campaign. The British musical, based on the book by Roald Dahl, is nominated for 12 Tonys, including new musical.
"I'm actually surprised that more shows aren't using Vine," said Ryan Greer of AKA NYC, the marketing firm hired by the producers of "Matilda."
The show's Vine content includes a series of animated clips starring the "Matilda" newt, the four-legged amphibian that the young heroine finds and puts in the school headmistress' water jug.
Audience members who take their own surreptitious video of performances and post them online can be a problem for a show.
"We do policing, including Vine and YouTube. People have been posting and we have an effort to take [those videos] down," said Sarah Borenstein, also of AKA NYC.
"We'd rather put out content we create."
---
Get our L.A. Goes Out newsletter, with the week's best events, to help you explore and experience our city.
You may occasionally receive promotional content from the Los Angeles Times.