Themed entertainment designers from Disney, Knott's, Efteling and more preach the importance of play over technology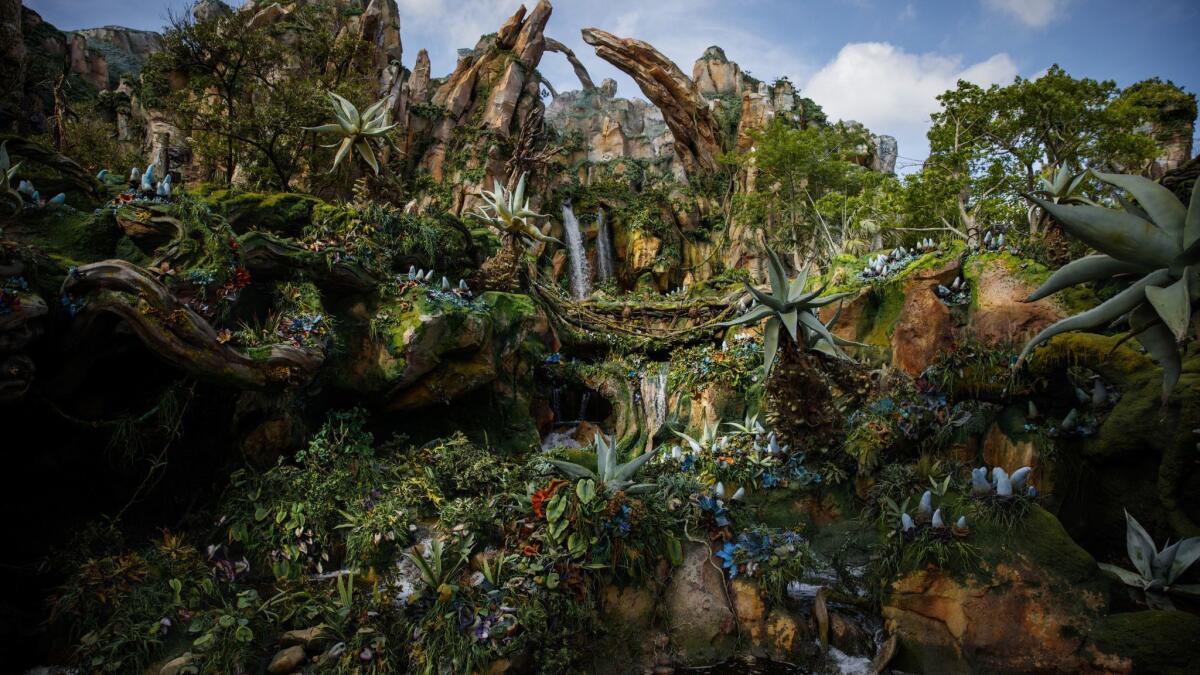 The Disneyland Resort played host to the usual tuneful pirates and hitchhiking ghosts this past weekend, but what visitors may not have noticed among all those carelessly pushed strollers were the 800 or so artists gathered for one of the most respected awards ceremonies of the themed entertainment industry.
The honorees were announced months ago, so there was no envelope-opening suspense when attractions and creations such as Pandora — The World of Avatar at Disney's Animal Kingdom in Florida or Guardians of the Galaxy: Mission Breakout! in Anaheim's Disney California Adventure were saluted at the industry gathering, presented by the Themed Entertainment Assn.
Ultimately, TEA's Thea Awards, named primarily after the Greek goddess, sought to make the case that, while the tenants of theme park creation may be particularly well-suited to crafting a Marvel-themed thrill ride, narrative-driven experiences today are regularly penetrating more and more aspects of society, be it an out-of-the-way visitor center on a tiny Mediterranean island, an unassuming cultural site in Latvia or a war museum in New Zealand.
The story line developing among the participants of the two-day business expo and Saturday evening awards gala at the Disneyland Hotel: Technology, said one awards recipient after another, should no longer be the driving force of an experience. In an era when most everyone carries a high-powered computer in their pockets via a smartphone, immersion isn't just about wowing visitors with the latest razzle-dazzle.
Play, discovery and person-to-person interaction are increasingly placed on par with special effects. While creations from Walt Disney Imagineering — the company's highly secretive arm devoted to theme park experiences — may have dominated the award winners and the weekend, the event also made it clear that industry giants are shifting their thinking when it comes to entertaining guests.
"Through technology, we continue to become more powerful in our way to create illusions, in our way to capture the attention of the audience, and it's easy to become seduced by the power of technology," said Joe Rohde, a creative executive with Imagineering.
Rohde's teams received multiple honors from the Thea Awards. Two were devoted to Pandora and one honored Guardians of the Galaxy: Mission Breakout!
While Pandora in particular features a marvel of deception — the appearance of floating mountains — Rohde said after the ceremony that such large concepts only truly connect if one can sense a personal touch. (Indeed, the alien-like plant life of Pandora is all hand-crafted, and the entire land tells a story of conservation that only truly unfolds if the guests actively seek it out.)
"This form of storytelling … is really ancient and really grounded, and it's grounded in these really human things," Rohde said. "I still believe in the art, in the artists, and in this sincerity of reaching through the medium from one person, the artist, to another, the audience.
"All of this other stuff," he continued, alluding to technology, "it can distract."
One can't get any more low-tech that Knott's Berry Farm's Ghost Town Alive! A hybrid live-action role-playing game and work of interactive theater that enters its third year this summer, it enables guests to live out mini-Wild West adventures while interacting with more than two-dozen actors. They follow a loose story centered on the drama in the fictional town of Calico, which is situated in the park's Ghost Town area.
There are shootouts and card games, of course, and even a donkey, but guests can also become makeshift journalists and see their stories and names printed in Calico's daily newspaper. Knott's doesn't pass out rules or story lines, or even guarantee what sort of activities visitors may encounter. It's solely about "connecting with other people," said Ken Parks, a VP of entertainment for Knott's.
Ghost Town Alive! is rooted in centuries-old activities, but it's success is something of a response — or a rebuttal — to the high-tech grind of our daily lives.
"Immersion and interactivity has come full circle," said Eric Nix, a producer at Knott's. "We've gone through this digitization of interactivity where a lot of folks are sitting behind the phones, computers or video games. I think we're seeing people want to have an effect on what they do like they do in video games, but they want to do it in real life. It's up to us to unlock that, to reintroduce them to one-on-one interactivity."
When Holgers Elers was tasked with developing a museum devoted to the life of Latvian poet, playwright and politician Rainis in the country's town of Tadenava, he said his 17-year-old daughter provided these marching orders: "Whatever you do, don't do anything digital."
Instead, guests at the start of their journey receive a small wooden ball. Only by placing the ball in installations throughout the museum will the exhibits reveal themselves, turning the Rainis Museum into a place of play. Although digital solutions could have been easier and more direct, the use of the wooden ball necessitates guests become active explorers.
The museum, Elers said, does the precise thing Disney has long touted as a benefit of its theme parks: It returns us to childhood. "If we don't lose the ability to be open to the world," said Elers, "then the world is open to us and everything has meaning."
Many tools of the themed entertainment industry are cropping up in sometimes unexpected places, such as a the Citadella Visitors Centre on the Malta island of Gozo or Montreal's historic Notre Dame Basilica. Both places use projection mapping techniques but could also be described at times as "architectural narratives" — that is, they use imagery and sound to inspire guests to engage in majestic buildings, be it a treasured place of worship or Gozo's enrapturing stone reservoirs.
"Storytelling," said Olaf Vugts, a top executive the Netherlands' fantastical park Efteling, "is everywhere." The park last year opened Symbolica: The Palace of Fantasy, a magical yet old-fashioned slow-moving dark ride that emphasizes intimacy between guests and the settings.
"We have to bring back the fantasy," Vugts said. "In the hectic nature of our days, and our work and all that, we don't have time for each other anymore."
But don't consider themed entertainment as largely a field of whimsy.
New Zealand's Gallipoli: The Scale of Our War tells the story of the country's tragic foray into World War I not by using artifacts but via eight larger-than-life sculptures of real soldiers and their diaries. The layout, too, seeks to displace visitors, winding them through halls that toy with their sense of place. The goal: to get lost.
"Modern life is blitzing through people's heads," said Richard Taylor, whose Weta Workshop designed the space. "How do you distance them from modern life?"
With so many aspects of our lives now consumed by technology, themed designers are working to make tech appear invisible and to encourage more play among guests. A significant portion of Disneyland, for instance, is under construction to prepare for next year's Star Wars: Galaxy's Edge, a land that designers have hinted will feature a heavy role-plaiyng component. How guests fare flying the Millennium Falcon will impact how Disney employees — cast members, in park parlance — interact with them.
Disney's Pandora also asks visitors to be participants. The land is laid out like a national park, thereby encouraging guests to explore and discover its stories by talking to cast members and learning about Pandora's plant and animal life.
Its two main attractions don't come with clichéd, save-the-day theme park plots and instead feel more like nature excursions. To walk through it in a passive manner and expect a story to unfold is to miss out on much of what Pandora offers.
"What you are saying about Pandora would be true of the world," Rohde said. "It would be true of Cuzco (Peru). It would be true of the rain forest. It would be true of going to Tahiti. You can always approach an experience in a superficial, material way, but the experience is there for you in deeper and richer ways.
"That's in the real world, which possesses infinite depth," he said. "The worlds we create, if we expect that kind of attention, we need to create that kind of depth."
Such thinking cuts to a philosophy that many a theme park aficionado has long believed. If an artificial world is created by designers and storytellers with a specific intent, it is no less real than anywhere else.
"Our industry has often been accused of creating fake worlds — and we seem to be living in a world of too many fake stories and alternative facts — but when we tell our stories with quality and integrity they are powerful and can change lives," said Phil Hettema of the Hettema group, who over his decades in the theme park industry has worked with Disney, Universal and others.
A lifetime achievement recipient at the Thea Awards, Hettema later spoke of the power of telling stories that enable strangers to connect in public spaces.
"Stories move people, for better or ill, and that comes with a responsibility. You used to go to a theme park to see cool technology, but I can get all of that right here," he said. "The reason people go to theme parks is to connect with each other. We experience stories that move us, and we can see them and experience them in different ways, and that is profound."
Follow me on Twitter: @toddmartens
Get our L.A. Goes Out newsletter, with the week's best events, to help you explore and experience our city.
You may occasionally receive promotional content from the Los Angeles Times.