Alan Cumming explains why he loves singing sappy songs, from Sondheim to Miley Cyrus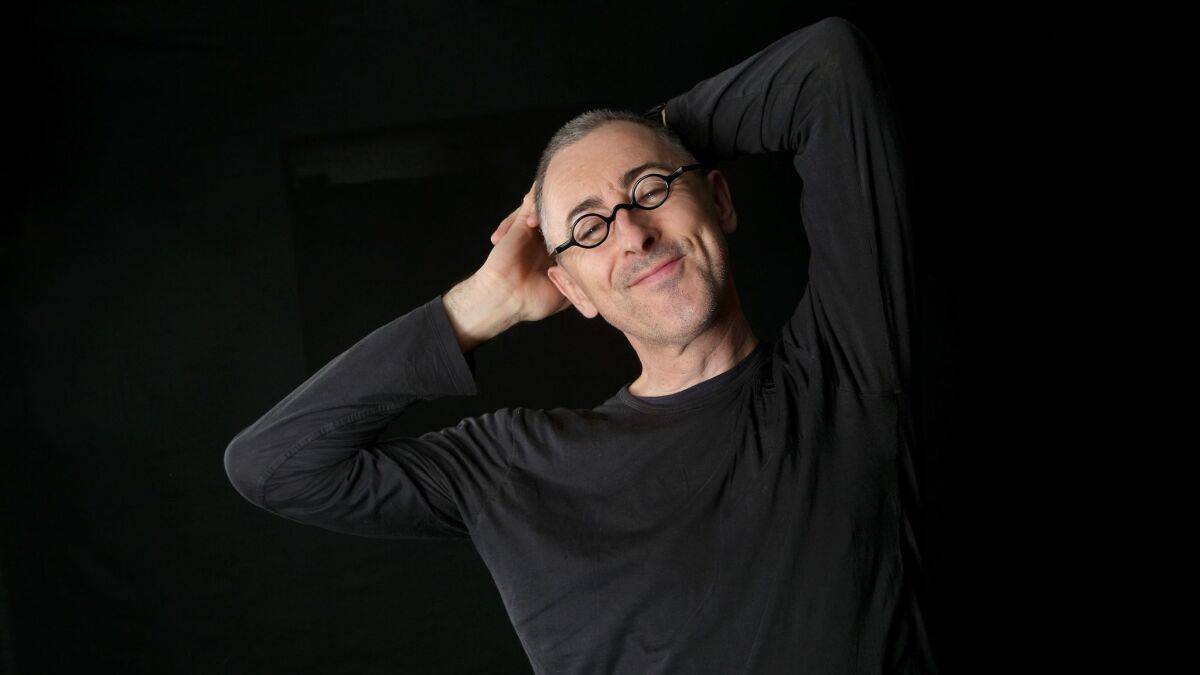 Few actors have so eclectic a resumé as Alan Cumming. Perhaps best known as political operative Eli Gold on CBS' "The Good Wife," the 51-year-old actor won a Tony Award for his portrayal of the seductive master of ceremonies in "Cabaret," performed a one-man "Macbeth" on Broadway, hosted PBS' "Masterpiece Mystery" and appeared in such movies as "Spy Kids," "Romy and Michele's High School Reunion" and "Eyes Wide Shut."
He is just as busy offstage. The Scottish-born Cumming often uses his daily tweets and Instagram posts, his newspaper columns or his interviews to support LGBT rights, advocate for Scottish self-determination or draw attention to a refugee crisis. "Not My Father's Son," his bestselling 2014 memoir about growing up with a violent and abusive father, was followed by last year's "You Gotta Get Bigger Dreams," which proffers selfies, photos of his husband, the illustrator Grant Shaffer, and their dogs, plus anecdotes about dishing with Elizabeth Taylor and others.
SIGN UP for the free Essential Arts & Culture newsletter »
Now comes Alan Cumming, cabaret singer. His touring show, "Alan Cumming Sings Sappy Songs," arrives at Walt Disney Concert Hall on Jan. 29. In a recent phone interview, he suggests that audience members "have a hanky at the ready."
How did your cabaret career get started?
Since I had to do eight shows of "Cabaret" and "Good Wife" at the same time [in 2014], I thought I would not have any fun at all. So I had the party come to me, and I made my dressing room into a club, Club Cumming. We had a bar, and everyone came — the cast, my friends. My dressing room was quite big, and you could get quite a lot of people in there. It was like having a kind of free, post-show club at the theater, and a lot of songs I sing in my show were songs I heard there. I did a Club Cumming after a recent show at the Met, and it was hilarious seeing all those Metropolitan Museum of Art donors rocking it.
Was it difficult to make the transition from theater performer to cabaret performer?
There's a big difference between singing as a character and being yourself. I've done things as a character I would never have done in my own name. I always wanted to do a show as myself because I realize the great connection you get between an artist and audience when they see someone be vulnerable. But it's a huge leap to make, and now I'm better than I was. The first time I sung as myself in a big public way was at the Hollywood Bowl several years ago. I didn't do much, and I was feeling a fraud with my singing ability. I feel I don't have that great a voice, but what I'm good at is acting and interpreting a song and connecting with people.
What you do as a cabaret artist is connect with people by being raw and accessing raw things. I've been very vulnerable, sharing information and singing a song about my father. That's a huge leap and what I want to do as an artist in general.
In your show, you sing everything from a Miley Cyrus song to Stephen Sondheim and Noël Coward. How do you define a sappy song?
For me, it means a nice sentimental song, something that connects with me emotionally. It can be the melody, the lyrics, or something about it just gets you in a sentimental area. I have such fun doing sappy songs, and it's a great band.
What kept you playing Eli Gold on "The Good Wife" for so long?
It was a combination of things. I got a little tired of flying all over the world. I wanted stability and more of a life in New York and at home, and I was actively seeking a serious shot in TV. I realized it was a great part — it was about something intelligent — and it was my dream job. I could be there committed for nine months, but I didn't have to be there all the time. I did "Macbeth" one summer, wrote my memoir, did movies. It was a show I am very proud of, and I loved the character. I'm in my 50s and never played a man in a suit, a real person. It was a great thing for me to explore, and with all the crazy people I've played, the world could see me playing this together, ruthless political man in a suit.
How do you choose what roles to accept?
I really go with my gut. I want to work with someone, or my friend asked me or it's a place I want to go to or for the money. All those circumstances come into it. Especially in the theater, it has to be something I care about, that will engage me for a time, be challenging artistically or emotionally and important to communicate with the world. Theater is not for me a safe place.
Your TV and film work also seems quite varied.
I have a very wide range. I'm doing a show for CBS based on a new James Patterson novel about a professor who was formerly with the CIA and gets involved with the NYPD. This spring, I play [the tennis fashion designer] Ted Tinling in the film "Battle of the Sexes" about the tennis match between Billie Jean King [played by Emma Stone] and Bobby Riggs [played by Steve Carell]. There's "After Louie," an independent film about the schism between generations of gay men, and I'm voicing a dog in a new film, "Show Dogs."
Are you working on another book?
Yes. It's about coming to America. One of the themes is about being an outsider and what that means. It is still forming in my head, and it's kind of an exciting time. There are lots of ideas swirling around, and you know the ideas are going to coalesce.
Follow The Times' arts team @culturemonster.
ALSO
What the Greatest Show on Earth meant to a man raised in the circus
'I Will Not Remain Silent': Music gives voice to the fight for equality
The love of her life, and the lies that came with him: Singing '13 Things About Ed Carpolotti'
Get our L.A. Goes Out newsletter, with the week's best events, to help you explore and experience our city.
You may occasionally receive promotional content from the Los Angeles Times.