The love of her life, and the lies that came with him: Singing '13 Things About Ed Carpolotti'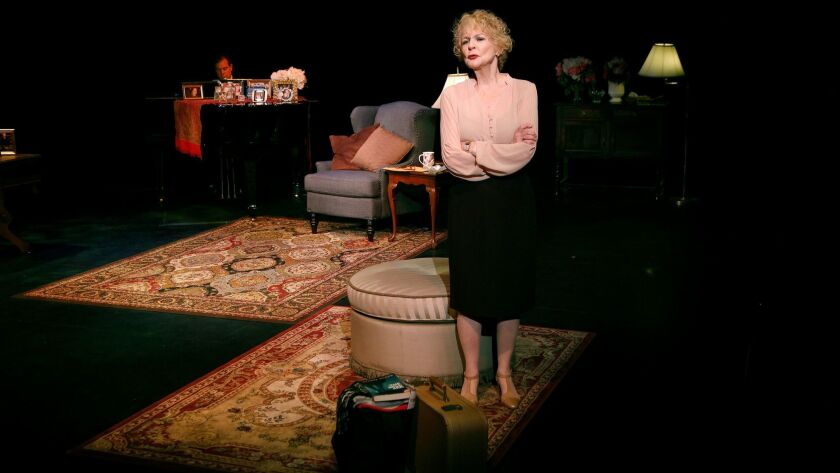 Theater Critic
Penny Fuller plays a well-coiffed widow in "13 Things About Ed Carpolotti," a charming cabaret-scale one-act musical in which her character finds out that the husband she's mourning had been keeping a few secrets.
What kind of secrets? Imagine waking up to discover that your assets have all been frozen and your brother-in-law wants you to hand over your house.
Virginia can hardly believe what's happening to her when, one by one, strangers and friends start demanding the money Ed borrowed from them. The exorbitant interest rates alone suggest that "Ed Carpolotti, Inc." wasn't entirely on the up and up.
Barry Kleinbort, who wrote the book, music and lyrics, adapted the show from the play by Jeffrey Hatcher. It's a perfect vehicle for Fuller, the Emmy-winning actress ("The Elephant Man") and Tony-nominated Broadway trouper ("Applause," "The Dinner Party"), who shares the stage with her talented musical director and pianist, Paul Greenwood. But make no mistake: The production belongs entirely to her.
Well-off though not rich, Fuller's Virginia has an amiable air of suburban dottiness. She's one of those women who doesn't mind coming across as naïve, though she seems to take in more than she lets on. Turning a blind eye has been generationally ingrained.
Were it not for the piano accompaniment and the presence of the audience at the Edye, the intimate venue at the Broad Stage in Santa Monica, where the show opened Thursday, it would be easy to believe that we had been personally invited into Virginia's tastefully appointed home for a tête-à-tête. Fuller is so convincing as the character that even the one or two minor instances when she bungled a line seemed like just the kind of hiccup a woman distracted by grief would have.
Fuller's slightly scratchy voice, still tuneful and able to summon thrilling power when necessary, makes the pleasant piano-bar-style songs only more characterful. The lyrics, much like the monologues, paint a portrait of a woman who married the love of her life, though that love also happened to be not exactly everything she once dreamed of. Fuller's Virginia shows how such contradictory feelings, rather than canceling each other out, can intensify a bond.
Sitting by herself in her living room surrounded by family pictures, Virginia reminisces in speech and song about the early days when Ed started courting her. She loved him even though he wasn't much of a talker and didn't really appreciate the way she'd prattle on.
As married people do, she made adjustments. She learned to hum instead of chatter when she felt nervous. She signed papers without reading what she was signing. She trusted Ed implicitly, and called her friend Tootie Vaughn when she needed a confidant.
The story has the compact delight of an engaging short story. The surprises are easy enough to go along with because the focus is really on Virginia — how she balances fantasy and reality, memory and actual history. It's probably best not to dig too deeply into the musical. Seen from a certain angle, the show could be accused of endorsing a certain ostrich-like behavior — don't ask about the nature of love or the origin of money; simply enjoy what you have. But Fuller's portrayal delivers a more humane truth.
♦ ♦ ♦ ♦ ♦ ♦ ♦ ♦ ♦ ♦ ♦ ♦
'13 Things About Ed Carpolotti'
Where: The Edye at the Broad Stage, 1310 11th St., Santa Monica
When: 8 p.m. Tuesdays-Fridays, 2 and 8 p.m. Saturdays, 2 p.m. Sundays; ends Jan. 29
Tickets: Start at $45
Contact: (310) 434-3200, www.thebroadstage.com
Running time: 1 hour, 10 minutes
SIGN UP for the free Essential Arts & Culture newsletter »
Follow me @charlesmcnulty
ALSO
Gordon Davidson tribute recalls the humane heart of Los Angeles theater
'I Will Not Remain Silent': Music gives voice to the fight for equality
A race-themed work not performed in L.A. for 67 years is back for a Black Lives Matter era
---
From the Oscars to the Emmys.
Get the Envelope newsletter for exclusive awards season coverage, behind-the-scenes stories from the Envelope podcast and columnist Glenn Whipp's must-read analysis.
You may occasionally receive promotional content from the Los Angeles Times.