Arts Preview: Amy Freed helps Shakespeare with a rewrite. The result: 'Shrew!'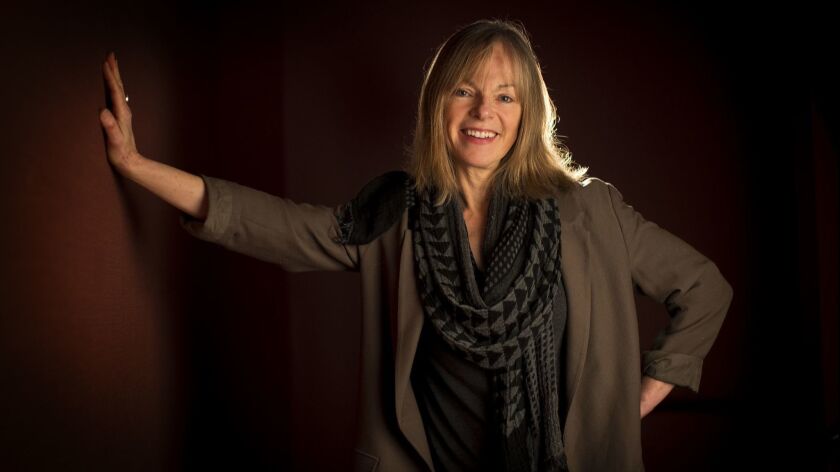 Amy Freed sensed the guy could use some help.
He'd written a knockabout comedy but got sloppy with details and seemed to have run short of ideas, especially in segments involving the rough wooing of a brainy, independent woman. To laugh would only make an audience feel guilty.
Freed, a San Francisco-based playwright who's been a finalist for the Pulitzer Prize in drama, could see a love story at the play's core and felt she could excavate it while freeing the story's humor.
As she undertook a top-to-bottom rewrite, she was careful to retain the original writer's poetic flow and unique syntax. With the following words, she laid out her intentions early in the script:
"My best shot I'll take and make a play of this. / Real Love I'll find in it — for that it needs, / But with enough of Bad Behavior left / That all shall find it true."
And so Shakespeare's "The Taming of the Shrew" became Freed's compactly titled "Shrew!" Preview performances are about to begin at South Coast Repertory in Costa Mesa; the opening follows next weekend.
Intervening in such a hallowed canon is a "scary thing," Freed admits, but, "I'm saying, OK, it's my turn to take a crack at this material" to find out if it's possible to view this play "and still respect ourselves in the morning."
Freed is best known for another Shakespeare incursion, "The Beard of Avon," in which she imagines which nobles of the day might have used him as a front — gleefully leaping into the scholarly controversy about whether the Bard wrote all of the plays attributed to him.
Her work — all of it comic and almost all of it steeped in history — has been staged coast to coast by such theaters as Chicago's Goodman, Washington, D.C.'s Arena Stage and the New York Theatre Workshop, but Southern California has had a front-row seat for her career because of a long and nurturing relationship with South Coast Repertory. "Shrew!" is the sixth of Freed's plays staged there since 1997. SCR commissioned four of them, including 1998 Pulitzer finalist "Freedomland" and "The Beard of Avon," and another is in process.
"Shrew!" is the 10th full-length play she's written. While in Costa Mesa for an extended stay during rehearsals, Freed meets at the theater to talk.
A onetime actress, she is trim and elegant, with blond, shoulder-length hair. She is married to San Francisco Chronicle movie critic Mick LaSalle, her chief sounding board. As an artist in residence at Stanford University she teaches acting and playwriting.
"The Taming of the Shrew," one of Shakespeare's early plays, draws on a lineage of comedies in which talkative women are dealt a comeuppance — a series of slap-downs that dates to Medieval English mystery plays and, even further, to comedies in ancient Rome. Kate, the title character, is treated in the roughly comic manner that audiences of Shakespeare's day would have expected, but the Bard somewhat softened the circumstances by making her roughhousing suitor, Petruchio, a perceptive man who seems drawn to Kate precisely for her mind and spirit.
That can be hard to discern, though, when we see him starving her and contradicting her every notion, right down to insisting that the sun is really the moon.
The early-1590s play has long fascinated and troubled Freed. "I have acted in it. And my students still want to do it — I think it's the opportunity for a full-throttle woman onstage." Plus, "there's something really sexy about this setup of unstoppable force meets immovable object that anyone who's been in a long-term relationship has to acknowledge has truth to it."
Freed studied the play still more intimately when the Oregon Shakespeare Festival in 2015 commissioned her to "translate" it for contemporary audiences, part of that theater's initiative to create a library of such translations of all 39 plays attributed to Shakespeare. "I got to know every word of it and every problem," Freed says. But she tried to be invisible, fixing only those sections truly lost to understanding and matching the original style exactly.
That fed an idea she'd already been mulling: a freer, more thorough transformation of the play, which became "Shrew!" She writes it as though by a woman of Shakespeare's era who takes over after earning his confidence, sorting out the original's logic problems and introducing new scenes. "You sense in the original comedy real modern promise of a tale of two outsiders full of fire and wit trying to tear their way out of the confines of their time," Freed says.
She helps them break through.
"Shrew!" is directed by L.A.-based Art Manke, who also directed Freed's "The Monster Builder" at SCR a year ago and has known her since the mid-1980s, when they were classmates in the graduate acting program at American Conservatory Theater in San Francisco. He appreciates her wicked sense of humor and warmth, which he sees reflected in her writing. "She looks at humanity with tremendous compassion and empathy," he says, "and that gives her an ability to write characters grounded in the truth."
Freed is the daughter of Richard Freed, a field architect who worked for such firms as Skidmore, Owings and Merrill, and Margaret Loft, a former actress who taught voice and speech, most notably as a founding faculty member at the Juilliard School. Freed set out to be an actor but around age 30, by the time she was finishing a master of fine arts at American Conservatory Theatre, "I was having a hard time with my casting bracket." She began her first play as her thesis project and self-produced it in San Francisco — and a career change took hold.
That play, inspired by the late television newswoman Jessica Savitch, and "Freedomland," about a hedonistically self-absorbed American family, are set in the present day, but most of the other plays have traveled back in history, to which she is drawn for its lessons about human behavior. History "is just full of strangeness," she says, "and the more you read of it, the more you realize how little has changed."
"Shrew!" most resembles 2005's "Restoration Comedy," in which Freed reworks two 17th century British plays into a libidinous lark more attuned to 21st century tastes. And "Shrew!" shares the fascination with Shakespeare displayed in 2001's "The Beard of Avon," in which Freed imagines how an S&M-besotted Queen Elizabeth might have written "The Taming of the Shrew," using Shakespeare as her cover.
Freed's interest in history also has extended to such periods as imperial Rome ("You, Nero") and the Salem trials of the 1690s ("Safe in Hell"). Though set in the past, the stories crackle with present-day perspectives.
Her plays have achieved limited visibility in reputation-making New York, but David Emmes, South Coast Repertory's founding artistic director, who was prominent among those bringing her into the theater's fold, says: "For me she ranks as one of the foremost playwrights in the American theater." Her plays are filled with engaging ideas, he says, "carried on a marvelous theatrical energy."
Having directed three of her plays for SCR, he knows her work from the inside out. She is "very aware of the world and sees the kinetic absurdity of what's going on in our society," he says. "I can't think of any other playwright who is writing now for the American theater who has such a distinctive voice combining intellect and absurd comedy.
"She's a combination of Tom Stoppard and Mel Brooks."
Freed revels in this duality.
"I think theater wants to be big enough to contain all elements, high and low, in what it sets out to do," she says.
Besides, she says with a laugh: "I can't write a serious play — I've tried it. I think seriously, but I cannot write seriously.
"Theater is a really big animal, and you just have to keep trying to tickle that beast on its belly. It's scary as hell; it's gladiatorial to write for theater."
SIGN UP for the free Essential Arts & Culture newsletter »
♦ ♦ ♦ ♦ ♦ ♦ ♦ ♦ ♦ ♦
'Shrew!'
Where: South Coast Repertory, Segerstrom main stage, 655 Town Center Drive, Costa Mesa
When: In previews Saturday through Thursday; opens March 31. Performances 7:30 p.m. Tuesdays-Thursdays, 8 p.m. Fridays; 2:30 and 8 p.m. Saturdays, 2:30 and 7:30 p.m. Sundays. Ends April 21.
Tickets: $30-$83 ($23 and up during previews), with $20 tickets for students and $5 discounts for seniors
Info: (714) 708-5555, www.scr.org
Twitter: @darylhmiller
---
The complete guide to home viewing
Get Screen Gab for weekly recommendations, analysis, interviews and irreverent discussion of the TV and streaming movies everyone's talking about.
You may occasionally receive promotional content from the Los Angeles Times.