Q&A: Carmen, the Wonder Woman of opera? A soprano on playing the poster girl for freedom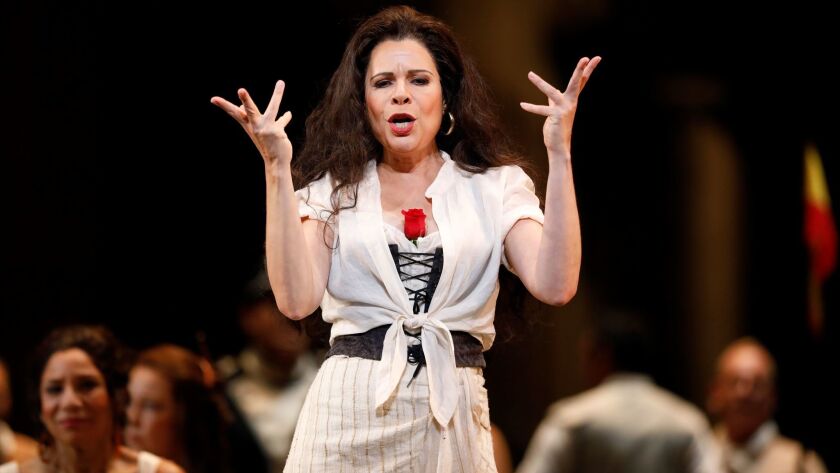 Ana María Martínez has returned to Los Angeles Opera, opening the company's season as the fierce, independent Carmen. Martínez had her L.A. Opera debut in 1997 as Mimi in "La Bohème" and appeared most recently in 2016 as Cio-Cio-San in "Madama Butterfly." The soprano also has dabbled in Hollywood fare, lending her singing voice to the character of Alessandra on the third season of Amazon's "Mozart in the Jungle." For this edited conversation, Martínez spoke about revisiting a familiar role and preparing for the run while her hometown coped with hurricane flooding.
---
You make your home in Houston. How did you handle Hurricane Harvey?
Miraculously my home was not affected. My family and all my loved ones are safe. I know so many others who weren't as fortunate. I have friends who had to evacuate. It's just horrible. At the same time, what I see is the goodwill that everyone is demonstrating toward each other in this crisis.
I remember Mr. Rogers on "Mister Rogers' Neighborhood." He said that as a child, whenever he saw something scary in the world, his mother would say, "Whenever you see a tragedy, look to the people that are helping. Focus on that." I think that's what we need to try to focus on at this time.
Has it been difficult to be in L.A. rehearsing for "Carmen" during this disaster?
Yes. It's surreal and it also brings a certain sense of guilt. It's hard not being there while all of this is happening. I just want to embrace the city and give it a hug. I have been in daily contact with my loved ones there, and I will go home for a few days in between performances.
She is the poster girl for freedom, for liberation, for speaking your truth, and for being comfortable in your own skin,

— Ana María Martínez on the character of Carmen
SIGN UP for the free Essential Arts & Culture newsletter » »
You grew up in New York. Why live in Houston?
I have a beautiful history with Houston Grand Opera. I was a young artist with that company and I ended up falling in love with the feel of the city.
The people are what makes Houston so special. I just felt so at home there. So I bought a place in December 2002. And since then it's been my home base. My 10-year-old son loves it there.
Let's talk Carmen. What do you enjoy most about playing this role?
I think that she is the poster girl for freedom, for liberation, for speaking your truth, and for being comfortable in your own skin. To portray her is truly to feel liberated, and I really do like that. Her reason for being — her raison d'être — is freedom. She is a very powerful woman. I felt intimidated the first time I studied this role from the perspective of interpreting her. There's a power that comes from within her. When she enters a room, you must notice her. But as an actress you can't force that through trying, which is the tricky thing.
People want to be just like her, want to be with her, want to dominate her, or are terrified of her. All those feelings are justified. She is like the light that shines and destroys. What does light destroy? Darkness. What do we equate with darkness? Fear. So if you're afraid of yourself or your own power, you'll be very frightened being around her, but if you just let go and embrace all of that, you will feel so liberated.
Does inhabiting this role change how you navigate the world offstage?
I think so. For example, throughout most of my career I have played the ingenue, the sweet girl. It's hard to play those roles because you have to be so gentle and kind and without reproach. When I get to play someone as delicious as Carmen, it starts bleeding over into my own life. There are so many times I just bite my tongue in real life. As Carmen, I don't bite my tongue anymore.
You're the daughter of a Puerto Rican mother and Cuban father. Do you find that you have a lot of Latin American fans?
I love to reach out to my Latin American fans because sometimes opera has this image of being elitist and out of their grasp unless they grew up aware of classical music. I want to tell them it's not like that at all. At the time of the birth of this art form, opera was the popular music of its day. It was for everybody. And I still stick to that. It is for everybody.
In many ways operas are dramatic stories that are very similar to telenovelas. So I always hope that if Latin American people are curious about opera but don't feel like they can identify with it, they might give it a try because of me.
And I bet you anything that once people come into the opera house, they will be hooked for life. We are not miked on stage. So it is sheer physical power and ability to make it work. We train just like an athlete. It reminds us of what we're capable of without technology. We as instruments and actors, what we're doing on stage is just sheer human ability. It's very much like being a gymnast or a dancer.
Speaking of technology, on Sept. 23 "Carmen" will be simulcast live to audiences on Santa Monica Beach and at Exposition Park. Will you alter your performance that night to connect with those audiences?
No, I will do it just the same. Because the storytelling has to be honest. Whether it's for one person or for thousands and thousands, you still have to feel that I'm telling the story just to you.
This is your fifth performance at L.A. Opera. Do you feel a connection to California?
I joke with my friends that I should be the human equivalent of L.A.'s patron saint. My name on my birth certificate is Ana María de los Angeles Martínez Colón. I don't think there is a Colón city here in California, but you do have Santa Ana, Santa Maria, Martinez and of course Los Angeles. That's me! I've got all those names in my name. So I've always thought I should live here for part of my life. But at the very least I'm very fortunate and thrilled to work here as many times I have, and I look forward to more opportunities down the road.
Already a subscriber? Thank you for your support. If you are not, please consider subscribing today. Get full access to our signature journalism for just 99 cents for the first four weeks.
---
From the Oscars to the Emmys.
Get the Envelope newsletter for exclusive awards season coverage, behind-the-scenes stories from the Envelope podcast and columnist Glenn Whipp's must-read analysis.
You may occasionally receive promotional content from the Los Angeles Times.