Sister act: Abby Mueller has star turn in national tour of 'Beautiful — The Carole King Musical'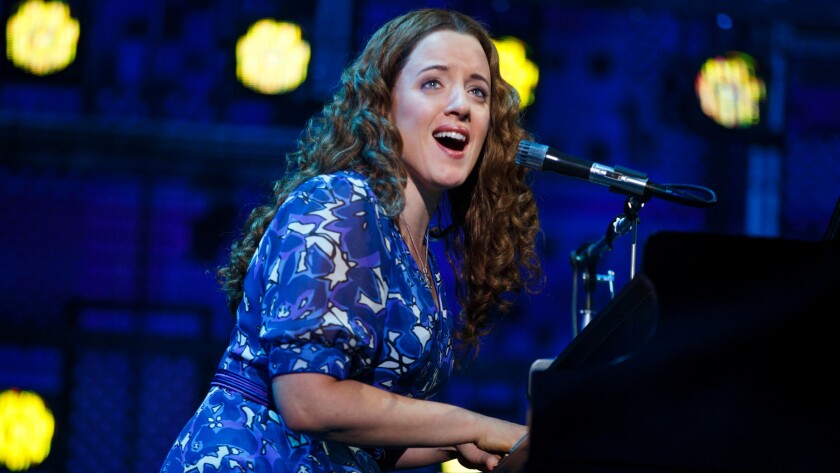 To star in a national tour of the Broadway hit "Beautiful — The Carole King Musical," which opens this weekend at the Hollywood Pantages Theatre, is to brave comparisons not only to King herself but also to the actress who originated the role. Especially when that actress, Jessie Mueller, won a Tony for her performance. And even more so if you're Abby Mueller, Jessie's sister.
But any Shakespearean psychodramas evoked by the scenario — Goneril or Regan versus Cordelia in "King Lear," perhaps — will have to play out exclusively in the reader's imagination. Abby, speaking by phone between shows in Dallas a few weeks before heading to Los Angeles, said she understands people's curiosity but insisted the story behind this sister casting is "pretty boring."
Jessie already had moved on from "Beautiful" to the Sara Bareilles musical "Waitress," and Chilina Kennedy had taken over the role of King in the Broadway production when Abby's agent got her an audition for the tour.
Initially, Abby said, she was taken aback. "I did ask my agent, 'Are you crazy? Is this a joke?'"
Abby had seen Jessie in "Beautiful," first at its out-of-town tryout in San Francisco — where Abby happened to be working next door at the American Conservatory Theater — and then in New York.
Yes, Jess and I are related ... but we're actually really different, and that's been reflected even in casting.
Abby Mueller on her sister, Jessie Mueller
"She just nailed it," Abby said. "And it honestly never crossed my mind that I would have the opportunity to do the same show."
When the "Beautiful" audition came up, Abby's agent and her parents encouraged her to do it. "You never know what life's going to hand you," she said. "I'm really grateful the producers saw something in me, because this experience has been a huge blessing and an honor. The really lovely thing is that Marc Bruni, the director, and the entire artistic team really allowed us, the touring cast, so much creative freedom," she said. "There was a set, and blocking that we had to approximate from the original, but beyond that they made us feel that we were making our own version."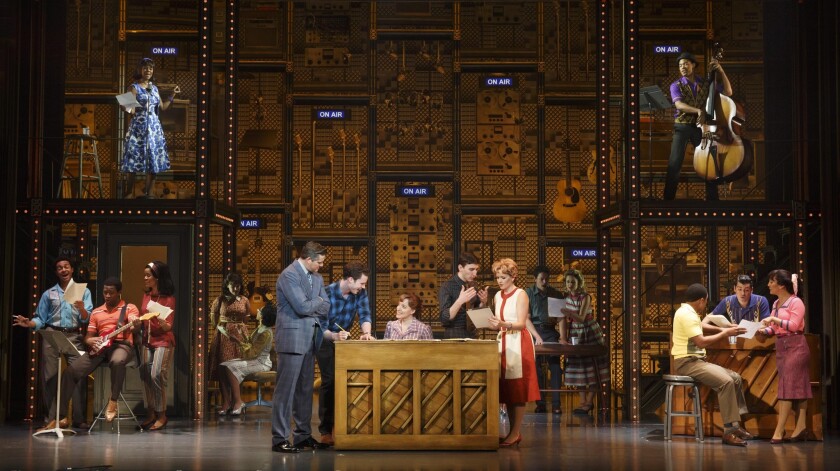 Despite sharing a last name and a notoriously cut-throat industry, the sisters never had been rivals, Abby said.
"Yes, Jess and I are related, and we look a little bit alike, and there are obviously some similarities genetically, but we're actually really different, and that's been reflected even in casting," Abby said.
They both started acting in Chicago, where they grew up, but they tried out for the same role only once.
"And neither of us got it. Incidentally it was in a show where our dad got cast as the father," Abby said. "I guess neither of us was convincing enough to play his daughter."
Abby and Jessie's parents, Roger Mueller and Jill Shellabarger, are longtime veterans of the Chicago theater scene, and their two brothers, Matt (Abby's twin) and Andrew, are rising stars as well.
At Christmas in 2013, three Muellers were on Broadway at the same time: Jessie in "Beautiful," Abby in "Kinky Boots" and Andrew in "Peter and the Starcatcher." (Matt was doing Shakespeare in Chicago.) The New York Post called them "the closest thing we have to the Von Trapp family."
It's hard not to imagine some very dramatic dinners, but Abby describes her family as "pretty normal — maybe a little louder. We're kind of the most boring actor people. We're not that actor-y. Our parents are very not actor-y, and they wouldn't allow us to be.
"We didn't get into theater until we were in high school, or later, because they kind of encouraged us to try out other things, and then we were all silly enough to choose it as a career."
Abby has been on tour with "Beautiful" since September. She enjoys visiting different cities, playing five-show weekends, traveling on her day off — even the struggle to get enough sleep and eat right.
An upbeat attitude, she suggested, is one of the benefits of playing King every night.
"It's been so valuable to me to experience her view of life," Abby said. "She's able to put this positive tilt on everything, even if things are going wrong. The lyrics of the title song, 'Beautiful,' are, 'You've got to get up every morning with a smile on your face, and show the world all the love in your heart.' That's actually the last song I get to sing. In spite of all that has just transpired, to end the show on that note is a really great reminder for me as a person."
Abby acknowledged that following her sister in a role could have increased the pressure of starring in her first national tour.
It also helps that "it's not about me," she said. "It's about portraying this woman, Carole King. And so I can kind of channel my focus in that direction."
It's been so valuable to me to experience her view of life. She's able to put this positive tilt on everything, even if things are going wrong.
Abby Mueller on Carole King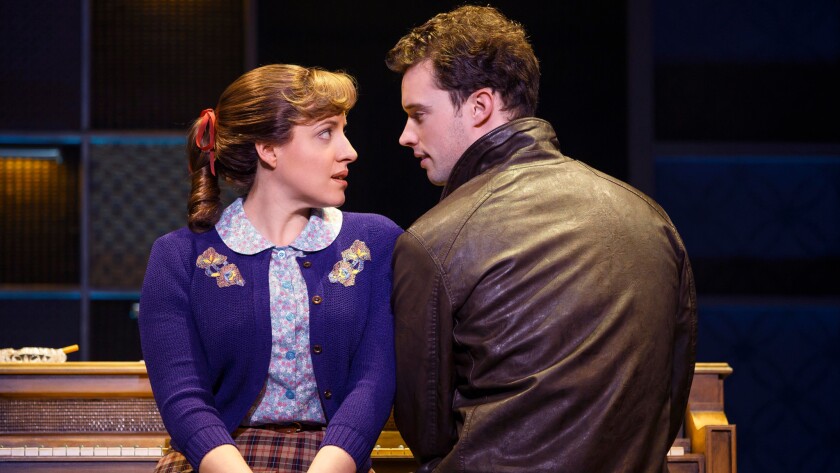 Then again, playing one of the most beloved singer-songwriters in history might carry its own stresses — particularly when that singer-songwriter could possibly be in the audience. "Beautiful" tells the story of King's early career: In the 1950s and 1960s, she and her husband and songwriting partner, Gerry Goffin, worked for Don Kirshner's publishing company, turning out hits for top artists — "Will You Love Me Tomorrow," "One Fine Day," "The Loco-Motion," "(You Make Me Feel Like) A Natural Woman" and others that are performed in "Beautiful."
"She was writing all these hits for other people even before she became the Carole King that we know," Abby said. "You get to discover all these songs in the show, and it's really fun to hear, because the audience is so responsive. You hear these gasps of recognition."
The book, by Douglas McGrath, focuses on King and Goffin's close friendship and creative rivalry with the married songwriting team of Barry Mann and Cynthia Weil (whose hit songs "On Broadway" and "You've Lost That Lovin' Feeling," among others, are also part of the show). This fruitful idyll ended when King and Goffin divorced, and King moved to California and found her own voice on her legendary 1971 solo album, "Tapestry."
Although King didn't see "Beautiful" right away when it opened on Broadway, reportedly reluctant to relive some of her more painful memories, as soon as she did, she embraced the show with enthusiasm.
She performed "I Feel the Earth Move" live on the "Today" show in a trio with Abby and Chilina Kennedy before the tour hit the road last August.
"That was a trip and a half," Abby recalled. "We were still in rehearsal. I was like, 'Wait a minute, I don't even know what I'm doing!'" And when the national tour opened in Boston, King surprised the cast onstage at the curtain call.
So Abby has earned King's stamp of approval, as well as a string of thumbs-ups in reviews across the country. But here's the real question: What does Jessie think?
"She came to see me in it in Chicago," Abby said. "We had this awesome sit-down over the holidays. All my siblings were home for the first time in years for Christmas, and they all came and saw 'Beautiful' at the Oriental."
And? Any notes?
Abby laughed. "I remember Jess saying, 'It's really fun! It's a fun show. I've never seen it! I finally understand what people are talking about."
'Beautiful — The Carole King Musical'
Where: Hollywood Pantages Theatre, 6233 Hollywood Blvd, L.A.
When: 8 p.m. Tuesdays through Fridays, 2 and 8 p.m. Saturdays, 1 and 6:30 p.m. Sundays (call for exceptions). Ends July 17.
Tickets: $29 and up (subject to change)
Info: (800) 982-2787, HollywoodPantages.com
Running time: 2 hours, 45 minutes (including intermission)
---
Your essential guide to the arts in L.A.
Get Carolina A. Miranda's weekly newsletter for what's happening, plus openings, critics' picks and more.
You may occasionally receive promotional content from the Los Angeles Times.