Column: Rich history, new anxieties inside MacArthur Park building where Berggruen Institute plans satellite
Gary Wolin was worried.
The longtime owner of McManus & Morgan Inc., an art-supply store founded in 1923 and known for a particular expertise in paper, a shop whose clients have included, according to Wolin, Ansel Adams, Ed Ruscha, Self Help Graphics, Kent Twitchell, Thomas Demand and most of the Hollywood studios, was anchored in his usual spot behind the counter. Painted across a wide set of dark cabinets nearby (in large white script by the calligrapher Bruce Bishop, as if to remind everybody of first principles) was the word "Paper."
It was a different kind of paper — a newspaper, The Times — that had left him feeling anxious. He'd seen a story I'd written reporting that the billionaire investor and philanthropist Nicolas Berggruen had purchased the building in MacArthur Park where McManus & Morgan has been located, in a ground-floor storefront, since the early 1940s. Berggruen plans to use the building as a satellite location for the Berggruen Institute, a public policy think tank that has a large main campus in the works in the hills north of the Getty Center.
The story made official what Wolin had suspected was coming. He'd seen the real-estate people and Berggruen staffers milling around, knew a sale was in the works.
Sure, new ownership might mean some long-delayed repairs to the beautiful but crumbling 1924 Spanish Revival building at the corner of West 7th and Carondelet streets, designed by the canonical Los Angeles firm Morgan, Walls & Clements. But that would mean something to him and his customers only if he's allowed to stay. He told me he'd gotten the sense from brief interactions with various people involved in the deal that Berggruen wanted him out. Some of his clients and friends had launched a Facebook campaign: "6 Ways to Save the Oldest Art Store in Los Angeles."
The atmosphere was similarly tense next door at Aardvark Letterpress, which occupies the sunny storefront at the corner of the building. Aardvark is a printing business in the literal sense: The shop is filled with large and beautiful equipment — including a hand-operated Chandler & Price press and three Heidelberg windmill presses — and the smell of ink I remember from my days editing my high school newspaper. Aardvark and McManus & Morgan share not only many customers but physical space: The shops are connected across the back.
The scene inside the MacArthur Park building suggests the intensity of development pressure that has begun to squeeze the neighborhood. It was only four months ago that the website Curbed LA published a long essay with the headline "Why doesn't MacArthur Park gentrify?"
Yet with investment dollars (one more kind of paper, and the most powerful) continuing to pour into the neighborhoods on either side of MacArthur Park — Koreatown to the west and downtown to the east — it was probably only a matter of time. The look on Wolin's face suggested that the time was now.
There is history in every corner of his shop. He pulled out a framed autograph from Lloyd Wright, the architect son of Frank Lloyd Wright, explaining that the younger Wright used to have his Christmas card made here every year. He showed me how each of the storefronts along the 7th Street side of the building has its own original hand-painted pattern on the wooden ceiling.
We talked at length about how this section of Los Angeles was once the center of arts education in Southern California. Otis College of Art and Design was located one block north. The Chouinard Art Institute (which counted Ruscha among its students and Millard Sheets, John Altoon, Richard Neutra and R.M. Schindler among its faculty) was a short walk to the east. The original home of the Art Center College of Design was a half-block west.
McManus & Morgan set up shop at 7th and Carondelet to serve the students and faculty of those schools, only to see each of them move away in turn. Art Center decamped to Hancock Park and then Pasadena. Chouinard merged with the Los Angeles Conservatory of Music and became the California Institute of the Arts, with a brand-new campus in Valencia. Otis relocated to Westchester, near LAX.
Yet McManus & Morgan stayed on, buoyed a bit by the arrival of Aardvark, a natural ally and complementary business, in 1988.
SIGN UP for the free Essential Arts & Culture newsletter »
I told Wolin that things could be much worse. It wasn't as if Berggruen planned to build a condo tower. The history of the structure, Berggruen had stressed in a conversation with me, was a major part of its appeal.
And if his Institute wants to establish itself as a center for programming related to arts and culture — if not a place for artists themselves to gather — it would be shooting itself in the foot by sending two businesses of this kind packing as one of its first moves.
When Diego Cano-Lasso, one of the architects Berggruen has enlisted to redesign the building, arrived a bit later, he picked up the same thread. He is naturally upbeat and diplomatic, which helped. A discussion that had begun with all the enthusiasm of a dirge was quickly moving in a more optimistic direction.
Cano-Lasso, a partner in the increasingly sought-after Madrid firm SelgasCano, poked around inside McManus & Morgan and Aardvark and came to a fairly swift conclusion: It was imperative to the success of the Berggruen enterprise — "fundamental" was the word he used — that the two shops be able to stay. There was plenty of square footage to go around, he felt.
Maybe they'd have to compromise a bit, he added. The central bay that shops now share might make more sense as an expanded lobby, maybe with a coffee bar attached, leading to the garden he envisions at the back. But if each store opened onto that lobby — and more important, if there was substantial new foot traffic coming in and out of the building — wouldn't that be an improvement over the current setup?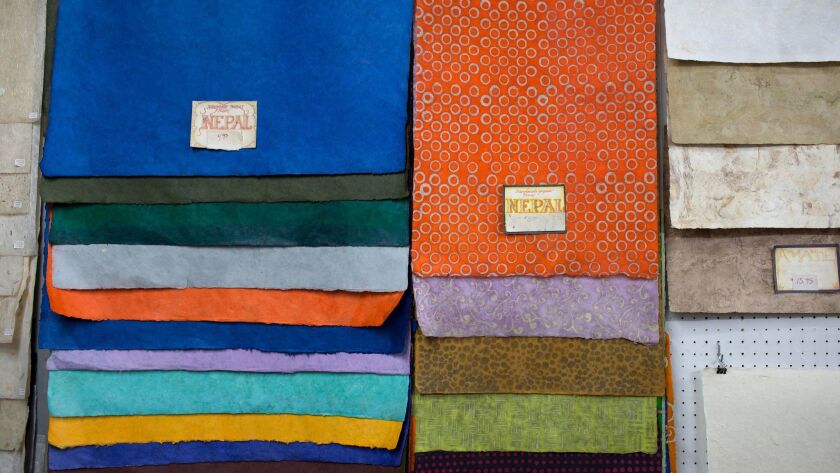 "Look, this is what I'm going to tell the client," he said, referring to Berggruen. "I'm going to say, 'You need to keep these guys here.'"
He looked at Wolin.
"That is, if you want to stay."
Wolin nodded: "Yes."
Cano-Lasso continued, adamant: "I am willing to resign. I can lose a client. I don't care."
There was only one thing left for me to do: call Nicolas Berggruen. I reached him by phone in New York on Wednesday morning. I asked him if he could envision a scenario in which McManus & Morgan and Aardvark might be incorporated into the renovated building.
"The short answer is yes," he said.
The long answer? "The question is whether we can make it all fit together," he replied. "It's like a puzzle. That's where SelgasCano has to work some of their magic, and we have to make sure that the tenants and the Institute can accommodate each other well. To try to do it would be great."
Across MacArthur Park as a whole, he added, "there are going to be some buildings worth preserving. And the one we bought is very much worth preserving and making into something more, something very beautiful. And then there are some buildings that are really the opposite, frankly — maybe they shouldn't exist. So maybe there you want to build something new. … It's going to be case by case."
Building Type is Christopher Hawthorne's weekly column on architecture and cities. Look for future installments every Thursday at latimes.com/arts.
christopher.hawthorne@latimes.com
Twitter: @HawthorneLAT
ALSO
Joining eastward march, Berggruen Institute plans second location in MacArthur Park
Design for Obama library and museum off to surprisingly somber start
Harvard's first (and free) online architecture course: Does it make the grade?
---
From the Oscars to the Emmys.
Get the Envelope newsletter for exclusive awards season coverage, behind-the-scenes stories from the Envelope podcast and columnist Glenn Whipp's must-read analysis.
You may occasionally receive promotional content from the Los Angeles Times.