Column: How New York's rising trend of 'supertall' towers looks from the 92nd floor
Architecture Critic
Sometimes a view is just a view. And sometimes — when you're standing on the 92nd floor of a controversial New York skyscraper with Rafael Viñoly — it's a window onto the architectural arms race that is rapidly reshaping the Manhattan skyline.
For months I'd been trying to get the go-ahead from a small battalion of gatekeepers to visit 432 Park Avenue, a tower designed by Viñoly, the prolific Uruguay-born, New York-based architect, for New York developer Harry Macklowe and L.A.'s CIM Group. It's not only the most conspicuous of the new breed of so-called supertall (also known as "pencil") skyscrapers that have sprung up across Manhattan in recent years but at 1,396 feet and 96 floors the tallest residential building in the city. If you don't count the spire atop One World Trade Center tower downtown — which you really shouldn't, since you can't put a corner office or an apartment inside a spire — 432 Park is the tallest, period.
Its symbolism is similarly impossible to miss. If you're looking for an architectural emblem of rising inequality in New York City and the way the city (like London, Dubai and in recent years Los Angeles) has become an attractive place for the world's wealthiest investors to stash their excess cash, 432 Park is it. Its condos were priced when they first went on the market a couple of years ago from $7 million to $95 million, for an average of nearly $7,000 per square foot. So far a reported 80% have sold.
The building looms over nearby Central Park — and a good chunk of the tri-state area. While visiting the city earlier this month I spotted it from Brooklyn while riding in a cab from JFK as well from Lincoln Center, the rooftop garden at the Metropolitan Museum of Art and the corner of Allen and Delancey streets downtown. It seemed to be following me from neighborhood to neighborhood, much the way the late twin towers once did.
Finally the email came through: How about a tour with Viñoly late on a Thursday afternoon?
I'd met the architect a handful of times before, most recently running into him in March at the opening concert in Frank Gehry's Boulez Hall in Berlin. At 73 he is charming and voluble, his mop of curly hair now gray. Many architects are famous for wearing severely fashionable glasses. Viñoly's trademark is not the design of his frames but how many he wears at the same time: on the bridge of his nose, atop his head or strung around his neck.
432 Park rises from a relatively small site between 56th and 57th streets — the site of the old Drake Hotel, which Macklowe bought in 2006 and razed to make room for a tower that would more efficiently "make the land pay," in Cass Gilbert's famous phrase about skyscraper economics. The building has a perfectly square footprint, 93 feet on each side. Its site includes a peninsula stretching aspirationally to the east, allowing the developers to give it a tony Park Avenue address. There are 106 apartments altogether, on floors 35 through 96; the lower floors are used for services and retail.
Before heading into the lobby to begin the tour, I stood on the sidewalk along 56th Street and craned my neck to take in the tower in full. Viñoly's design is ruthlessly simple. That square base is extruded nearly 1,400 feet into the air and clad in a Cartesian grid of glass and exposed concrete. (Pulling the tower in from the street at ground level allowed Viñoly to avoid setback requirements altogether.) The six large picture windows that march across each side of the tower are also square. The roof is flat.
The combination of the building's extreme height and its disciplined, minimalist form makes it a peculiar symbol. It is concentrated wealth rendered in Spartan terms, a Sol LeWitt sculpture holding stacked condos for billionaires. What the building says about inequality and the privileges of the one-tenth-of-the-one-percent shouldn't be ignored. But neither should its significant appeal in purely architectural terms.
I readjusted my neck and walked into the lobby, where Viñoly was waiting with a publicist and a Macklowe Properties marketing executive. The three of them were seated around an Yves Klein coffee table filled with crumpled gold leaf. Greeting Viñoly I noted that the pair-of-glasses count on this day was four: one atop his head, one perched on his nose and two more around his neck.
After chatting briefly about the price of gold leaf, we stood up and entered a smaller interior lobby. (The "inner sanctum," Viñoly called it.) We then ascended smoothly into the sky inside one of the building's four passenger elevators, each of which is outfitted with bronze doors and marble floors, with wall panels and a bench wrapped in pebbled leather.
Our destination was a model apartment on the 92nd floor designed by the decorator Kelly Behun. Once we entered I found myself making a beeline toward one of the large picture windows facing south, where we took in a staggering view that included nearly every important tall building in New York, a sort of architectural encyclopedia come to life: Mies van der Rohe's Seagram Building and Gordon Bunshaft's Lever House just below us; William Lamb's Empire State Building, a full 150 feet shorter than 432 Park; to the right French architect Christian de Portzamparc's 90-story One57 tower, the first of the midtown supertalls and a Vegas-style disaster of a design; the United Nations tower by Oscar Niemeyer, Wallace Harrison and Le Corbusier to the left; Renzo Piano's New York Times tower; and all the way south the stolid One World Trade, architect David Childs' monument to the political and architectural mess that is the rebuilt World Trade Center site.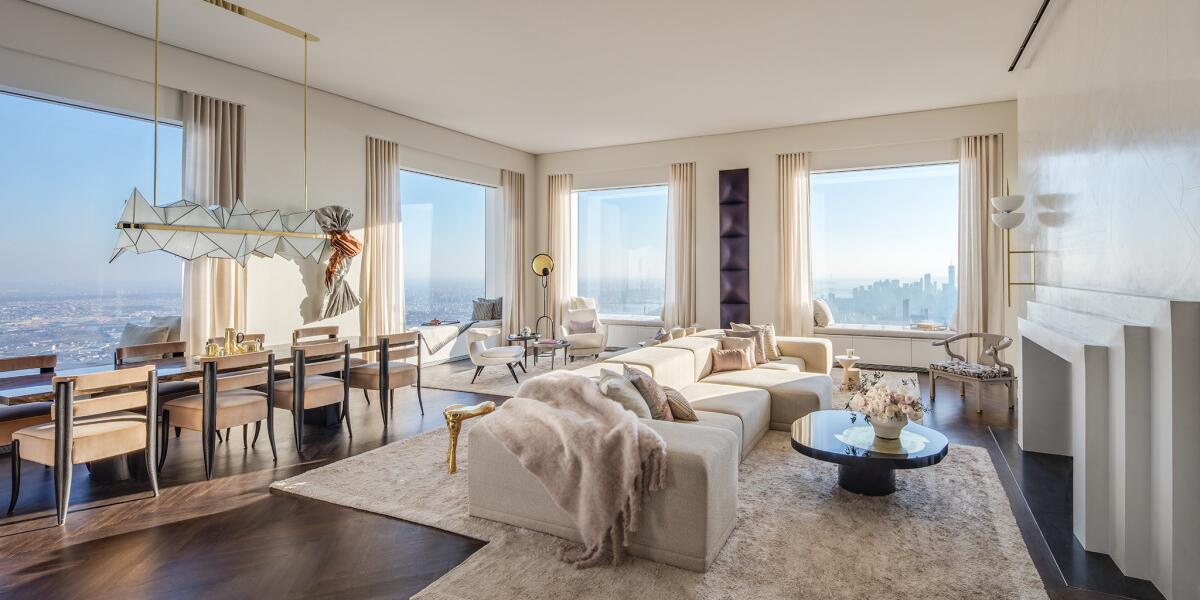 It was also possible to see the degree to which 432 Park will soon face a crowded Midtown skyline. Visible from our perch were three towers in various stages of construction: Jean Nouvel's 53 West 53rd (1,050 feet) above the Museum of Modern Art, Robert A.M. Stern's 220 Central Park South (950 feet) and, finally, the building that will snatch the highest-residential-building crown from Viñoly: SHoP Architects' 111 West 57th, which will rise 1,428 feet above Steinway Hall. SHoP's reign may be brief: The planned Central Park Tower at 217 W. 57th St., by Burj Khalifa designer Adrian Smith + Gordon Gill Architecture, is set to reach 1,550 feet.
Aside from the views, what immediately stood out was how solid — paradoxically enough, how grounded — the concrete frame and relatively low window-to-wall ratio made the interior of 432 Park seem. It felt almost like a prewar apartment. Unlike a curtain-wall tower sheathed entirely in glass, with floor-to-ceiling windows, Viñoly's design gives you a ready sense of the massive structure that is holding you aloft. This is the kind of high-rise even an acrophobe could love.
Ah, but what kind of acrophobe? The kind who made his money in murky circumstances in Doha, Baku, Beijing or Moscow — or on Wall Street — and is now looking to park it somewhere safe? The kind who might own four or five other pricey apartments around the world and visit New York a couple of times a year?
Aside from the concern that they will increasingly press shadows on neighboring streets and Central Park and blot out the sky (though the skinniness of the new crop will lessen this problem), this is the main charge against the supertalls: that they symbolize a city that is setting out the welcome mat for a new class of nomadic billionaires, a New York whose landmarks are not thrumming with people and energy but vacant, full of nothing but equity.
This a legitimate worry. Even after it sells out, 432 Park is expected to rarely if ever be even half full. A tower that has come to dominate the Midtown skyline will typically hold — and this is a generous estimate — maybe 100 residents at a time.
Building Type is Christopher Hawthorne's weekly column on architecture and cities. Look for future installments every Thursday at latimes.com/arts.
christopher.hawthorne@latimes.com
Twitter: @HawthorneLAT
MORE BUILDING TYPE:
Why 'unpacking' is a perfect — and perfectly overused — metaphor for our cultural moment
The architecture of moviegoing: Can the multiplex stay in the picture?
Get our L.A. Goes Out newsletter, with the week's best events, to help you explore and experience our city.
You may occasionally receive promotional content from the Los Angeles Times.