Sunday Conversation: Melanie Griffith, from 'Working Girl' to Mrs. Robinson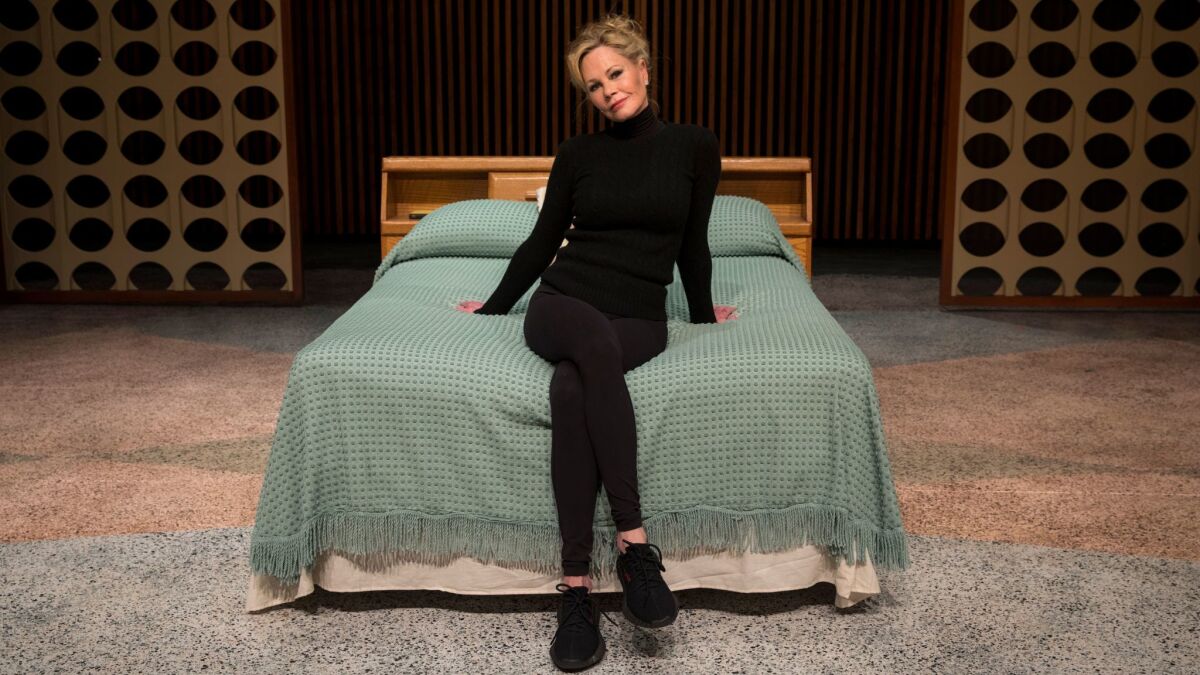 Melanie Griffith is 60, single and free to do whatever she wants.
Play Mrs. Robinson in a stage production of "The Graduate?"
She jumped at the chance when the Laguna Playhouse approached her with the offer.
A quick trip to Austria to attend the Vienna Opera Ball?
"I can do [stuff] like that now," says the actress, who's quick to laugh and peppers her sentences with expletives. "It's an extraordinary thing to see. I just thought, why not?"
Just back from Vienna, where she was a guest of Austrian billionaire Richard Lugner, the Golden Globe winner and Oscar nominee (for "Working Girl") chatted with The Times by phone during rehearsals in Laguna Beach, where "The Graduate" runs through March 25. Griffith was candid, vulnerable and easygoing in the conversation, which has been edited for length.
How are you feeling leading up to opening night?
It's pretty scary for me.
Your performance as Roxie Hart in the musical "Chicago" on Broadway received rave reviews.
I know. But that was 15 years ago. And this is a whole different thing. It's really exciting. But you know when you get into the middle of the rehearsal process and it's like "Oh … what if I don't know it?" I'm sort of right there at this point.
What made you decide to take on playing Mrs. Robinson?
My son Jesse [Johnson] had done a couple of plays at the Laguna Playhouse that were really great. One of them was "The Roger Miller Story." So Annie Wareham, who runs the playhouse, asked me if I wanted to do "The Graduate." I said, "Why not?" I'm old enough to be Mrs. Robinson.
What's the most fun thing about playing Mrs. Robinson?
The way Michael Matthews is directing it is going to be so cool. All of the other actors are spectacular. I'm just trying to keep up with them. Hopefully, I'll be as good as they are.
You're a single, mature woman. Have you had any flings with younger men?
You know what? I have not. I probably shouldn't say that. I probably should say, "Yeah, I have three young lovers right now." [Laughs]
The late Mike Nichols, who directed the film version of "The Graduate," also directed "Working Girl."
I know. That's why I thought this would be cool. I could do a little homage, send a little prayer up to Mike thanking him for letting me be Working Girl.
Speaking of "Working Girl," there's a Broadway show of the movie in the works. What are your thoughts on that?
I think Cyndi Lauper is doing [the music], so it should be awesome.
This year is the 30th anniversary of "Working Girl." Where do you think Tess McGill would be today?
What are you thoughts on the current conversation surrounding the Time's Up and #MeToo movements?
I think it's a wonderful, strong conversation. I think that it's not just Hollywood, though. It's everywhere. But I do think that by [having the conversation] in Hollywood, it's getting a lot of attention.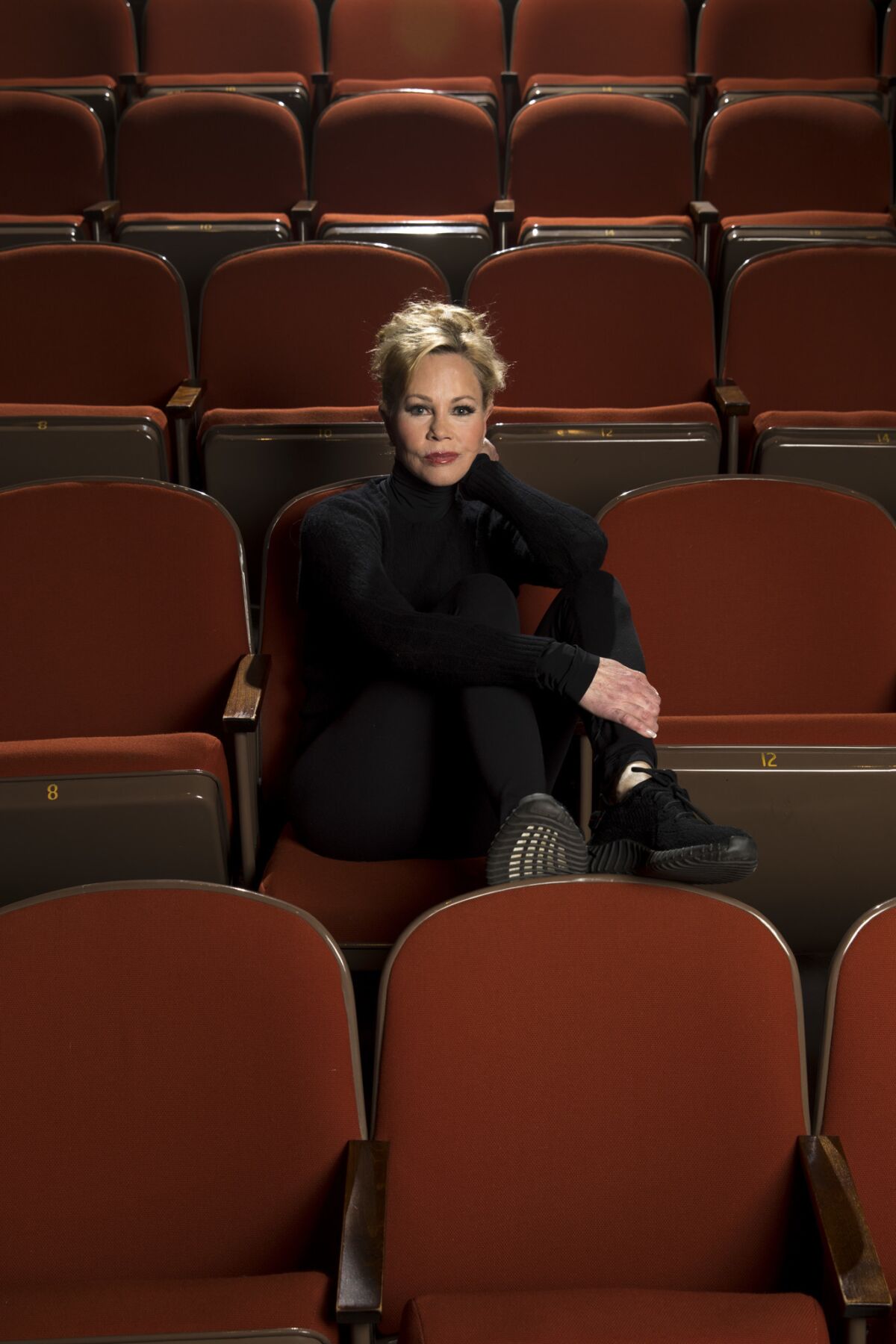 I don't think it's right that men or women sexually harass people. It's just got to stop. But I also think that parents should be teaching their girls and boys that it's not OK.
It's been going on forever. In the past, what I've observed, is that you've had to deal with it yourself. I was lucky in a way because my mother [worked] with Hitchcock, so I knew. [Griffith's mother, Tippi Hedren, accused director Alfred Hitchcock of sexual harassment.] So that didn't happen to me very often. Sometimes people tried, but I was very strong.
How is your mom? Will she come see you in "The Graduate?"
Of course. She's amazing. She just turned 88 and she is a trip. She lives on her own with her 35 lions and tigers.
Since your divorce from Antonio Banderas in 2015, you're living on your own now too. Would you and your mom ever consider being roommates?
[Laughs] No. Her place is full.
Your daughter Dakota Johnson is experiencing success with the "Fifty Shades" film franchise. Have you offered her any advice?
She's so powerful. I haven't watched the "Fifty Shades" movies, but I just watch her. I give her advice when she asks me. She doesn't really ask me advice about acting. She knows what she's doing. And she worked hard to get there. And my other kids are amazing too. They're all different. That's what's so beautiful.
Last year, you appeared in movies ("The Disaster Artist," "The Pirates of Somalia") and on TV ("The Path") and now you're working in theater. Looking forward, do you see yourself doing more theater, film or TV?
I'm not really sure. I'm at a crossroads in my life. I really like the theater thing.
It's so alive and it's so different from movies. It's a bigger job. And I think it's kind of nice, being an older woman. I hate saying that, but it's just more of a challenge. It's harder. It's more time you get to give to the audience right there. Acting is a giving thing, you're making people feel something. So I'm excited, and maybe this is the way that I'll go now. Maybe I'll just do theater, I don't know.
What are you watching right now?
I'm not watching anything right now because I'm studying for this play all the time. But I did just see this great show called "The Halcyon" on Netflix that I loved. It was so good.
See all of our latest arts news and reviews at latimes.com/arts.
MORE THEATER
Meredith Baxter and Sharon Lawrence in 'The City of Conversation'
Tim Robbins' Actors' Gang and the immigrant story of America
Jeff Daniels to star in Aaron Sorkin's 'Mockingbird' on Broadway
---
Get our daily Entertainment newsletter
Get the day's top stories on Hollywood, film, television, music, arts, culture and more.
You may occasionally receive promotional content from the Los Angeles Times.