For Meredith Baxter and Sharon Lawrence, paths cross in 'The City of Conversation'
Pretending to be sisters for several hours a day can build a quick friendship. For proof, just listen to Sharon Lawrence and Meredith Baxter, who didn't actually meet until a few weeks ago, when rehearsals began for the Ensemble Theatre Company's production of "The City of Conversation."
"Our paths never crossed," Baxter says with a shrug.
The actresses may still be best known for their TV roles — Lawrence as Sylvia Costas Sipowicz on "NYPD Blue," Baxter as Elyse Keaton on "Family Ties." But they're here at the New Vic in Santa Barbara, where "Conversation" is running through this weekend. After a long afternoon in tech rehearsal, they pause for dinner before heading back onstage for another run-through.
"Do you want some of this soup?" Baxter murmurs to Lawrence at a folding table in the theater lobby, takeout containers in front of them.
"Maybe later," says Lawrence, who is eating tuna salad.
The women seem so at ease with each other, their rapport prompts the question: Are they sure they didn't know each other before? They seem to get along so well.
"We're actors," replies Lawrence, deadpan.
"If you take the right action, the feelings follow," Baxter adds.
"All kidding aside, this is an incredibly generous, heart-centered, fully integrated person," Lawrence says.
"Oh. Me?" asks Baxter.
"Yes, you!" Lawrence says. "Whenever I talk about doing this play with you, the response is so universal — just how much people admire you. You are just a really open soul."
"I think I just get a lot of points for coming out on the 'Today' show, which is like setting yourself on fire on national television," says Baxter, who had three husbands before marrying her partner Nancy Locke in 2013.
"And she has one of the greatest boot collections I've ever seen in my life," says Lawrence, peeking under the table.
Then it's Baxter's turn again, addressing her costar: "I watch you on the stage, and the actor in me says, 'I think I could do that. How would I do that?' And I come up with some things, but the truth is, I can't do that. It's really amazing how you hold the stage in a way that — I don't mean to compare everything to me. Sorry, I just realized I was doing that."
"See what I mean?" Lawrence asks the reporter. "She's hilarious."
Mutual admiration aside, the actresses' latest project is a serious piece of political theater in a pointedly political time. Anthony Giardina's play traces the partisan split in America across three decades, from 1979 to 2009, as it's played out in one family in Washington, D.C.
Lawrence is Hester Ferris, a socialite (inspired by real-life movers and shakers Pamela Harriman and Perle Mesta) whose legendary Georgetown dinner parties help lubricate congressional impasses. Baxter plays Hester's older sister, Jean, who always has taken care of everything Hester is too busy to handle, including her son, Colin.
The play begins during the Carter era. Hester and Jean, both passionate Democrats, are stunned when the grownup Colin comes home with a pro-Reagan fiancée and a new conservative outlook. As the generations' political differences deepen over the following decades, they struggle to stay together as a family.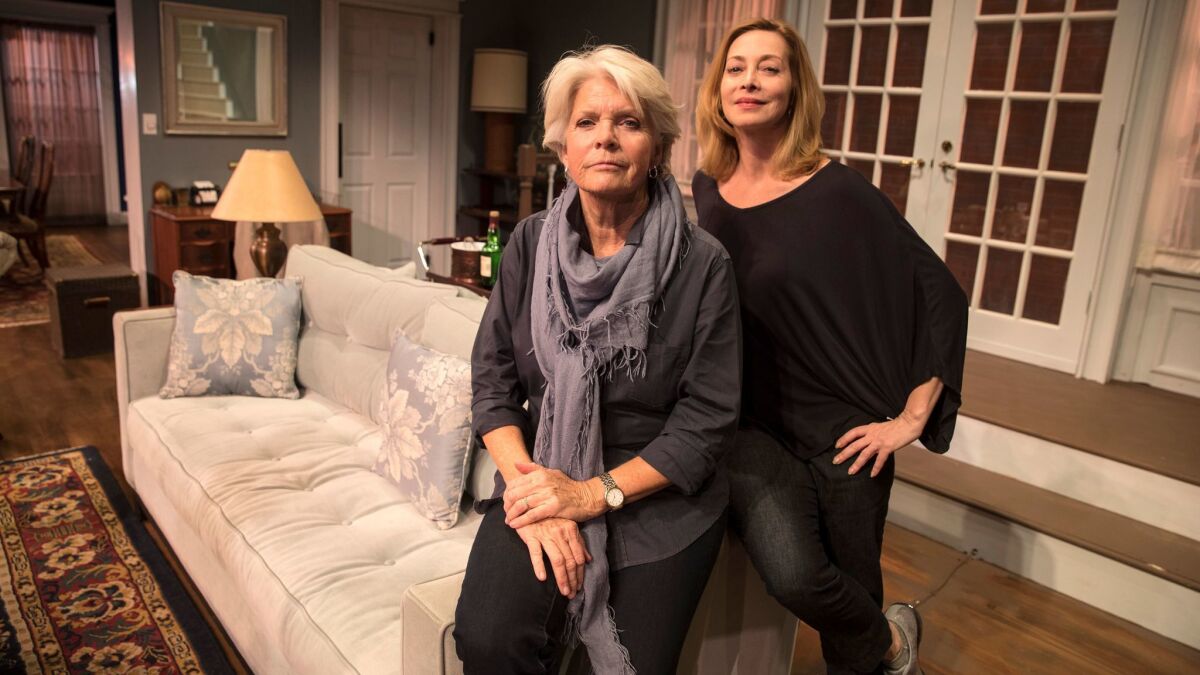 Like the characters they play, Baxter and Lawrence are liberal. Baxter canvassed for Hilary Clinton and found the political ennui of younger women surprising.
"Clinton was saying, 'Go out there and get political. Run for office,'" she recalls. "But they didn't see the need."
Back in the 1970s, Lawrence notes, women weren't welcomed into politics.
"They very seldom had the agency of elected office, so they had to use their power in different ways," she says. "Hester would have made a great congressperson, but she came along too early. It burns her up that her daughter-in-law has so much more access, just because the doors were open that she helped open but didn't necessarily get to walk through herself.
"I've been part of women's advocacy groups in the business for a long time, but the women who were there before me, they need to get credit for all that they did to begin speaking up and to risk the retaliation. Your mother was part of Women in Hollywood, wasn't she?" she asks Baxter.
"Well, yeah," Baxter says. "My mother [actress and producer Whitney Blake] spoke at the March on Washington. My first stepfather worked for the Hollywood Nine, or the Hollywood Seven, or the Hollywood 10, however many there were. Both my stepfathers were very liberal and active. They taught me all my politics, and they really adhered."
As a family drama, "The City of Conversation" will likely resonate with anybody from a mixed-party clan.
"The people that you have DNA in common with don't necessarily have the same heart or mind," Lawrence says. "It's a very human reaction to be not just sad but to have a sense of betrayal. It takes a lot to be willing to bridge those gaps."
"The City of Conversation" premiered at Lincoln Center in 2014 and had a 2016 run in Beverly Hills at the Wallis Annenberg Center for the Performing Arts — just before the presidential election. The play ends on a note of Democratic victory, Obama's 2009 inauguration, but as subsequent events have proved, that wasn't the end of the story.
Giardina's examination of the roots of the conflict remains pertinent, says Jonathan Fox, Ensemble Theatre Company's artistic director.
"I've been wanting to do this play since November 2016," he says in the New Vic's posh 300-seat house. As someone whose own family has experienced anger and hurt feelings over political differences, he says, "I felt our theater needed to examine the seemingly insurmountable political divide."
Fox often directs the productions at the New Vic, including his own stage adaptation of Woody Allen's "Husbands and Wives" last fall. But this time, he invited the highly regarded L.A. director Cameron Watson to take the helm.
Baxter was already on board when the director saw Lawrence during intermission at a show at the Pasadena Playhouse. It seemed to be fate.
"I grabbed her and said, 'Sharon, we need to talk.'"
Lawrence, Watson says by email, "possesses a real elegance and magisterial presence, but at the same time has great moxie and earthiness. I thought that was the ideal combination for Hester."
For her part, Lawrence says theater is a church for her. ("I go to anything and everything.") Both she and Baxter, who recently moved to Santa Barbara, wish more Angelenos knew about the New Vic. Between bites of lunch, political observations and the mutual compliments, they drop in remarks about the affordability of tickets and the conveniences of Santa Barbara.
"There's no parking meters," Baxter says in amazement. "That alone encouraged me to move here. In Los Angeles, I used to have to drive around with bags and bags of quarters in my car."
"And it's beautiful," Lawrence adds. "Maybe Meredith will eventually write 'My Santa Barbara,' because she knows stuff. She just knows everything."
"That's right. People are dying to read my version of Santa Barbara," Baxter says dryly.
Lawrence laughs. "Well, I am. Meredith's the concierge. She knows the best tomato soup: Lazy Acres."
"It is good," concedes Baxter, patting the soup container. "Nice and chunky and flavorful."
♦ ♦ ♦ ♦ ♦ ♦ ♦ ♦ ♦ ♦
'The City of Conversation'
Where: New Vic, 33 W. Victoria St., Santa Barbara
Where: 8 p.m. Wednesday-Saturday, 2 and 7 p.m. Sunday; ends Sunday
Tickets: $20-$70 (subject to change)
Information: (805) 965-5400, etcsb.org
See all of our latest arts news and reviews at latimes.com/arts.
MORE THEATER
'New Colossus': The tired, the poor, the huddled masses who bind us all
Dreamers turn out for a mariachi opera whose story sings with familiar sorrow
Jeanine Tesori's musical miracle 'Violet' at the Chance Theater
---
Get our L.A. Goes Out newsletter, with the week's best events, to help you explore and experience our city.
You may occasionally receive promotional content from the Los Angeles Times.