David Hockney, a portrait of the portrait artist at 80: 'I'm still curious'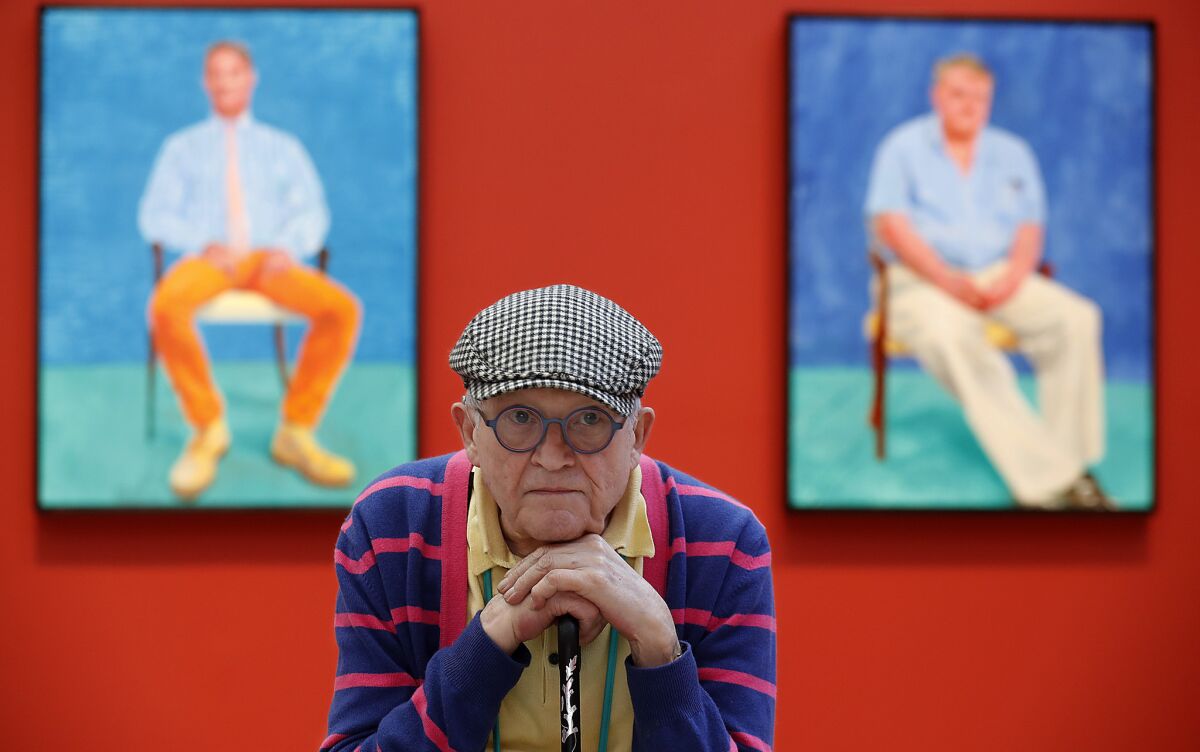 When David Hockney called to ask about painting his portrait, the architect Frank Gehry was immediately intrigued. Hockney said it would be fine to bring Gehry's artist son Alejandro to watch, and once they arrived at the studio, both Gehrys paid close attention to Hockney as he painted.
"He was concentrating and didn't talk," recalls Gehry. "So as I sat there, I speculated about what was in his mind as he worked. I felt I was watching a moving sculpture of somebody thinking."
Painted in 2016, Gehry's portrait is among 81 others in what became "David Hockney: 82 Portraits and 1 Still-life," an ambitious multipart artwork on view through July 29 at the Los Angeles County Museum of Art.
From 2013 on, prominent cultural figures joined Hockney friends and family as portrait sitters at the artist's brightly colored Hollywood Hills home and studio.
Hockney, who turned 80 last summer, readily admits he enjoyed the company. He doesn't like to go where he can't smoke, and his hearing has grown so poor he has trouble following a conversation if more than one or two people are in the room.
"I quite like visitors because I don't go out much," Hockney says. "I don't go to concerts or opera anymore. I can't hear much. It's isolating, it is."
Each of the portrait sitters sat in the same butter-yellow upholstered chair for two or three days — what the painter and photographer refers to as "a 20-hour exposure." His subjects took breaks every 45 minutes or so, and each day they enjoyed a family-style hot lunch in the artist's dining room.
People could select their own clothes, and their choices ranged from the suit and tie of investment banker Jacob Rothschild to the green "just do it" T-shirt and sneakers of Israeli artist Avner Chaim.
There are portraits of his studio assistants, massage therapist, housekeeper and cook. Others depict Hockney's siblings, the children and grandchildren of his friends, and art dealers such as London-based David Juda, New York-based Larry Gagosian, L.A. Louver's Peter Goulds and the Ferus Gallery's Irving Blum.
Blum called sitting for Hockney "a great privilege," while the artist John Baldessari says he considered his sitting "an honor." They, like the others, were invited to participate and essentially were volunteers. Each was given a smaller reproduction of his or her portrait to take home, but all the paintings remain in Hockney's collection.
So how did the pictures turn out? Very few sitters are smiling — it's hard to smile for 20 hours — and Hockney says he has no idea of how they felt about their portraits.
"I never asked anybody what they thought of the paintings," he says. "It was what I wanted to get down. These aren't commissioned portraits. I commissioned them."
When you're drawing someone else, he adds, "it's their mood and your mood together that creates whatever's there."
Hockney asked Ayn Grinstein — daughter of longtime friends Elyse and Stanley Grinstein, co-founders of the noted L.A. art studio and publisher Gemini G.E.L. — to sit for him the day after her father's funeral.
"He was very interested in getting me there as fast as possible after my father passed away," Grinstein recalls, "and I knew it was about sadness and mourning. He knew the mood of what he wanted to paint even before I got to his studio."
Hockney, who calls himself "an English Los Angeleno," has long been thought of first for his colorful pictures of California swimming pools or English landscapes, his photo collages and, more recently, his iPad and iPhone drawings. But he has been drawing and painting portraits throughout his career. LACMA exhibited Hockney portraits in June 2006, its first exhibition devoted exclusively to the artist's portraiture.
His first portrait was of his father in 1955. He has so often featured family and friends in paintings, photo collages, drawings and prints that they have become a de facto acting company, familiar to museum-goers and art patrons as the subjects grow older.
After eight years of living and working mainly in Bridlington, England, 60 miles from where he was born, Hockney moved back to Los Angeles in summer 2013. The move followed a stroke and the death of a 23-year-old studio assistant. For months, Hockney drew only with charcoal.
"We came back here after the tragedy," Hockney says, and just a few months later, he came upon his equally sad studio manager Jean-Pierre Gonçalves de Lima. "He was like this," explains Hockney, burying his head in his hands. "So I said, 'Stay like that. I'll paint you.' I was feeling like that as well. It could have been a self-portrait."
So, inadvertently, began his portrait series.
"By the time he came back to Los Angeles, he was absolutely depleted and emotionally exhausted," recalls Edith Devaney, of London's Royal Academy of Arts, who curated Hockney's popular landscape show there in 2012. "I always enjoyed getting images of what he was thinking about and working on, and nothing was coming through. After weeks, there was this wonderful portrait of JP, followed by a few more. When he got to 10 or 15, I said, 'I am coming to see you,' and I did. I thought there was an exhibition there. This was portraiture of a different order."
Organized by the Royal Academy in conjunction with LACMA, the exhibition opened in London in 2016, then traveled to Venice, Italy; Bilboa, Spain; and Melbourne, Australia. The only U.S. stop is L.A., the city where the portraits were painted and where most of his subjects live.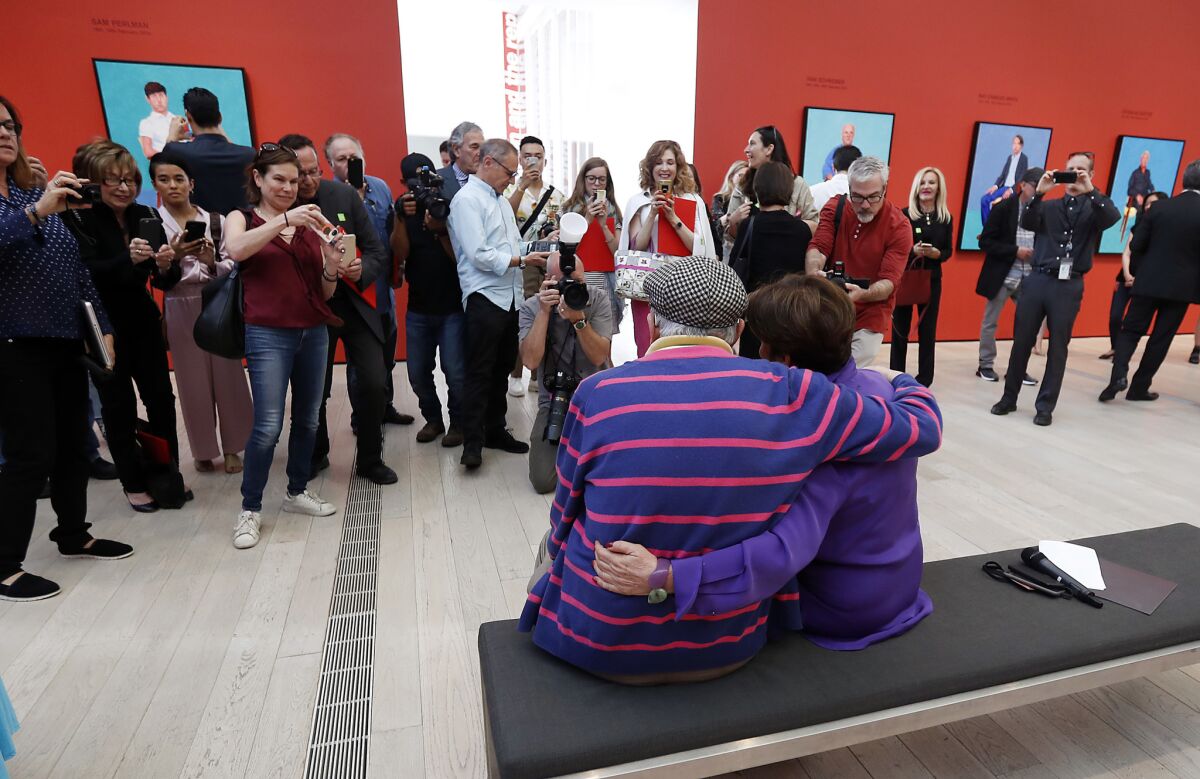 The light in the LACMA gallery housing the show replicates the combination of daylight and artificial light in Hockney's studio, says LACMA senior curator Stephanie Barron, who, like Devaney, has her portrait in the exhibition.
Hockney considers the 82 portraits a single unit, and Barron curated the show that way. The portraits are all the same size — 4 feet by 3 feet — and are displayed in a continuous line that extends around all four walls of the gallery as well as both sides of a dividing wall that runs down the middle of the room. They are arranged chronologically, according to when they were painted.
The chronological layout includes "Fruit on a Bench," the still-life in the show's title, which hangs next to the portrait of Grinstein. When Grinstein's session was postponed because of her father's funeral, wrote Hockney in the show's London catalog, "I thought, well, I'll just paint something. So I set the bench up on the same place, so the light is similar, and I just painted it. And then I just kept it with the portraits."
"It's a photograph that makes us rethink photography."

— Stephanie Barron, LACMA senior curator
While smaller reproductions of the portraits are mounted on a wall of Hockney's studio, he's already moved on. On exhibit at Pace Gallery in New York, for instance, are new paintings with different perspectives on earlier work and hexagonally shaped canvases.
"Engaging with perspective has been a lifelong pursuit for him," Barron says, "and he's been taking such earlier images as the Grand Canyon and the Yorkshire landscape and looking at them through the new lens of what he calls reverse perspective."
Even more recently, he's been exploring large-scale photomurals that combine drawing, painting and photography to create what the artist calls "3D without the glasses."
In conjunction with LACMA's portrait show, Barron used an adjoining gallery to exhibit Hockney's wall-sized, seven-panel photomural from December, "In the Studio," which consists of 3,000 photographs stitched together digitally. Featuring what Hockney calls "reverse perspective," the artwork depicts Hockney's studio with several of the new paintings on its walls, plus the addition of shadows and highlights that Hockney digitally painted.
"It's a photograph that makes us rethink photography," Barron says.
Most people die of boredom, Hockney says, but "I'm not bored yet. I'm still curious. I'm still excited by pictures. I say that when I'm in the studio, I feel like I'm 30. But when I leave it, I know I'm 80. So, naturally, I stay in here. Wouldn't you rather be 30?"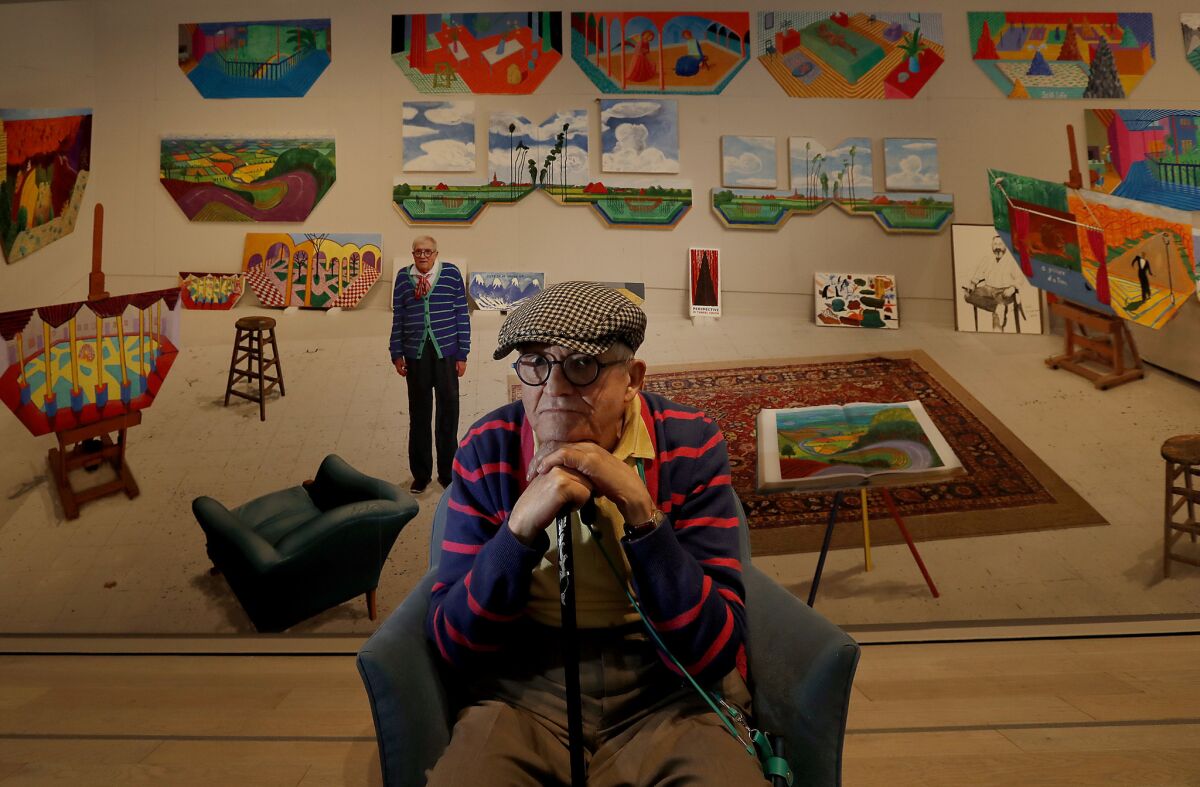 'David Hockney: 82 Portraits and 1 Still-life'
Where: Los Angeles County Museum of Art, 5905 Wilshire Blvd., L.A.
When: Through July 29; closed Wednesdays
Admission: $16-$25; children 17 and younger free
See all of our latest arts news and reviews at latimes.com/arts.
MORE ART:
Photographer Laura Aguilar, chronicler of the body and Chicano identity, dies at 58
Ceramic art wins a brighter spotlight in the L.A. scene
Something's missing from the antiquities display at the Getty Villa
Get our L.A. Goes Out newsletter, with the week's best events, to help you explore and experience our city.
You may occasionally receive promotional content from the Los Angeles Times.