'That '70s Show's' Debra Jo Rupp on her new 'Cake' and breaking the rules — in baking and in life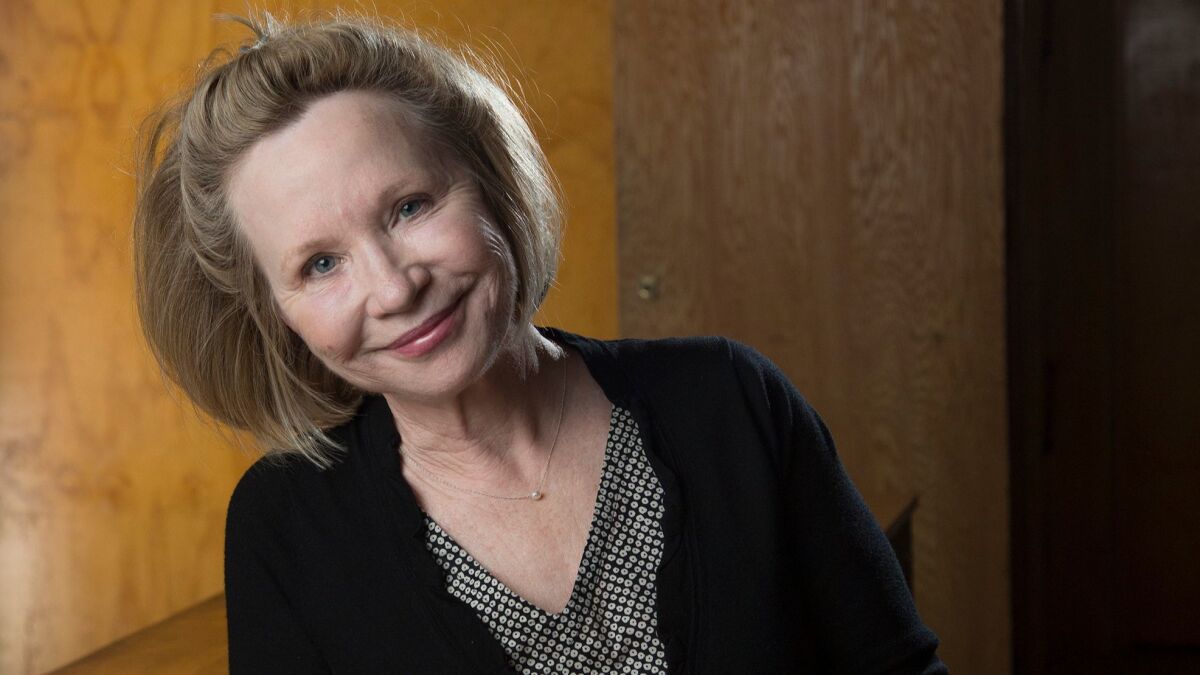 Debra Jo Rupp has had more than 300 TV and film roles, and she's still best known as doting mom Kitty Forman in "That '70s Show." But the actress is most at home onstage, she says, where she's appeared on and off Broadway for nearly four decades. Rupp stars in Bekah Brunstetter's play "The Cake," which opens its world premiere at the Atwater Village Theatre on July 1.
Produced by the Echo Theater Company as part of its 20th anniversary season, "The Cake" is about Della, a Southern Baptist baker in North Carolina who must put her skills to work for her surrogate niece's wedding — unexpectedly, to another woman. What might seem a nonissue for many people is a struggle for the conservative Della, who must come to terms with detonating the strict and confining rules she's lived with all her life.
"When a play like this comes up, even though it's a lot of work, I don't want to say no because I don't know when something like this will ever come again," Rupp said as part of this edited conversation. "I had to do it. I couldn't let 'The Cake' go. I loved the script. I love this play. I love the part. I just love Della."
In the play, Della must think for herself for the first time. Do you see this as a feminist story?
It is. Della has just sort of gone with the flow. She belongs to her church, she's very liked and funny. She doesn't quite understand things and her husband might explain them to her. There are all these rules in church, and she follows them because everyone else does. And they've worked so far — that's what a lot of people do. But then she gets presented with this thing she never thought would be a part of her life: gay marriage. It intrudes Della's life, and she has to figure it out. If she doesn't agree with it, she has to figure out why.
You were raised, for a while, as a Southern Baptist, like Della. Did that help you connect with the character?
It helps a lot with the character. What Della is feeling is what we dealt with: That there are an awful lot of rules and things you have to do and things you have to believe. Having come from that, and knowing that, helps me a lot with Della — to feel it, to feel what the pull is, what the struggle is.
Do you bake?
I'm not a good baker. I'm a cook, but I'm not a sugar person; I'm a salt person. Like, if there's a cupcake and a Frito, I will go for the Frito. My best friend is a baker, and what annoys me about baking is how you have to completely and totally follow the directions. It's too rigid for me, and it makes me crazy. It never turns out for me.
Which is where you and Della depart. She bakes by the rules.
I find that playing parts that are really close to who I am are really hard for me. The further they are away from me, the easier they are to play. This is a mixture for me. There's the Southern Baptist thing, I get the Southern aspect. But I don't bake. I'm a really good griller. I can make a really good steak. And salmon. The thing I am known for is this clam dip that's my mother's recipe. It's like clam-dip crack. It's addictive. I can't give you that recipe. I've only given it to one person — on their wedding.
You've appeared in hundreds of TV and film roles since the '80s. Do you get recognized on the streets a lot?
I do. Not as much as I used to when I was on "That '70s Show" [which ended in 2006]. But it's still doing reruns, each generation seems to find it. I can tell when a waiter in a restaurant recognizes me. They hear me talk and it's the voice. There was a time when it happened all the time, and now it's once in a while. And it's kind of great and lovely, but I don't look like Kitty Forman anymore. I'm older, and I don't have that wig on. But I'm awfully glad that she was a loved character. Because I can't even imagine what it would be like to be recognized as the villain of a show. I'd cry all the time.
You had a dramatic career breakthrough moment. Take us back to that time.
When I was coming up in New York City, I was trying to do theater, trying to do anything, and I couldn't even get arrested. I didn't know anybody, nobody cared. I took so many acting classes, I crashed every audition I could crash. It was just so hard. Then, when I was 36 years old, I had an acting teacher who had a theater that gave me a part that turned everything around in one show. It was called "A Girl's Guide to Chaos." It was a huge hit, and it was my show, and it was great. I never looked back. Then I started getting hired for theater, then Broadway, and after Broadway I came to Hollywood. In Hollywood I didn't have the struggles I had in New York. I started working right away. And when "That '70s Show" came, that gave me enough money to do what I wanted to do. It gave me freedom. I was on a roll, it was my time. It made me really appreciate it.
You've said, in no uncertain terms, that the stage is your preferred medium. Why?
When I came to L.A., I came with one mission, and that was to make enough money to earn my car and home and to come back with some kind of name so that I would get hired in theater. That was always the plan. I just didn't count on a job ["That '70s Show"] that would last eight years. Even though "That '70s Show" was a live audience, it's still the same character week after week after week. And theater is different characters, it's 90 minutes to 2½ hours [of acting] as opposed to 20 minutes a week. I think of myself as a storyteller, that's what I like to do, and maybe I just like the stories in theater better. And I just like the live audience. There is that in sitcoms, it's just different in theater. You can hear the breathing. You're all in it together.
You've embodied so many personalities in your acting career. Is there anything you haven't done, that you're yearning to do?
After "That '70s Show," all of the sudden I had freedom. Now I get to do what I want, to do the lead in a play. I do remember taking my mother to see "Sweeney Todd" with Angela Lansbury on Broadway and that was when my mother said to me, "I get it, I get why you want to do this now." That was always a big marker for me, it was a big deal. That's a part I would love to play sometime. But I don't think I could sing it, which is a big problem.
Comedy or drama?
Both. I think I kind of like the audible part of comedy. It's like instant gratification. It's like why I don't bake — there's not a lot of rules.
What's life like outside of work in western Massachusetts, where you live?
I live in the Berkshires, in a house I built and designed. It's very New Englandy. I love it. I plan to grow old in that house. I'm a really big gardener, I have my two dogs, and my family is also a few hours away in either direction. Most of my good friends here are foodies, so there's a lot of eating. There's a lot of cooking. When I'm not working — though I usually am working, I'm fortunate — but when I'm not working, I get to lay on the couch and read a book and have fires in the winter. My favorite days are getting snowed in and it's kind of really ideal. It's just a really nice life.
What are you watching on TV these days?
Rachel Maddow when I wanna feel smart. "This Is Us" when I wanna get involved. Any reality housewives show when I wanna escape.
Follow me on Twitter: @debvankin
ALSO:
Review: 'Constellations' at the Geffen
Review: 'The Pride' at the Wallis
---
Get our L.A. Goes Out newsletter, with the week's best events, to help you explore and experience our city.
You may occasionally receive promotional content from the Los Angeles Times.