They wrote the 'Frozen' musical for Broadway, but can they make it sing?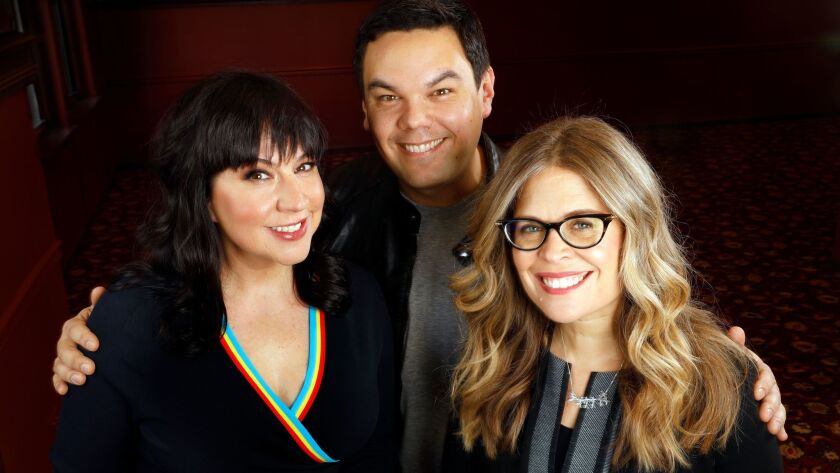 Reporting from New York —
Jennifer Lee hustles down 8th Avenue at a breakneck pace, her eyes clear and sharp behind fashionable frames. Time is elusive, she says — it leaps away just when she thinks she's caught up to it.
As companions Robert Lopez and Kristen Anderson-Lopez nod in sympathy, Lee adds, "Every day I'm thinking, 'Where am I going? What am I doing? Don't let me mess up.'"
"Don't mess up" is an apt mantra for this trio behind the live-action version of "Frozen," scheduled to open at the historic St. James Theatre on Broadway on March 22. Jennifer wrote the book for the new show, and Robert and Kristen wrote the music and lyrics.
All three are fully aware of the burden of expectations that comes with "Frozen." The musical is Disney Theatrical Productions' biggest potential hit since "The Lion King," which after more than 20 years is Broadway's third longest-running show in history. It's also the highest-grossing show of all time, having earned $8.2 billion worldwide.
"I'm keeping my expectations low and my hopes high," Kristen says as the group bundles into the basement-level dining room inside Joe Allen Restaurant a few days before previews.
I'm keeping my expectations low and my hopes high.
— Kristen Anderson-Lopez
The room is dim and cozy, with brick walls and white tablecloths. The rhythmic clacking of ice on metal as the occasional martini is shaken at the old-school bar is the soundtrack for the giddy banter around a circular table.
If the three writers went back in time and presented their younger selves a notecard containing the time-stealing word they would say the most in their lives, never in a million years would they have believed it would be "Frozen."
But that word has shaped their lives since 2012, when they first joined forces on the animated film, which Lee wrote and co-directed and for which Robert and Kristen penned the music. The project became a colossal blockbuster of unexpected proportions for Disney, winning an Oscar for animated feature, selling nearly $1.3 billion in tickets worldwide and becoming the domestic market's highest-grossing movie with a female director at the helm — a distinction Lee held until Patty Jenkins' "Wonder Woman" eclipsed her record.
Turning a bona-fide Disney franchise into a more nuanced Broadway musical proved a fresh challenge that the writers embraced with gusto.
Kristen makes a series of exaggerated emotional faces as she mimes typing furiously on a keyboard, pretending she's the show's lead characters.
"I'm writing down what I would say, and I'm pretending and I'm feeling it and I'm writing it down," she says breathlessly of her work ritual.
"I just think she's gotten a really horrifying email," jokes Robert, who is also her husband.
Lee bursts out laughing, plopping her spoon back in a bowl of split pea soup. Soon, everybody at the table is giggling like children, seemingly unable to control their mad excitement.
Even within the context of their current nerve-wracking existence, this is no ordinary day.
A week after sitting down at Joe Allen, Robert and Kristen will fly to Los Angeles to vie for their second Oscar, for the song "Remember Me" in Disney's "Coco." (They win.)
The pair won their first Oscar for the earworm anthem "Let it Go," from the film "Frozen." The song — played with feverish repetition in minivans around the world — has since earned a place in the timeless-show tune canon, having gone double-platinum and selling more than 10.9 million copies in 2014 alone.
Lee is on her own roller coaster of an adventure as co-writer of her first live-action film, "A Wrinkle in Time," Disney's $100 million-plus bet on director Ava DuVernay and star Oprah Winfrey.
With the premiere of "Frozen," the musical, this high-profile dream team is on the cusp of launching their Next Big Thing, and freezing up is not an option. So, no pressure, right?
They say they are striving to stay present in each moment to savor their mounting accomplishments. They know what it's like when things go wrong and they know this perfect storm of professional achievement could veer south at any moment.
Part of the challenge of this is that the songs people know, they know really well, and then there's the vast majority of the score that they don't know yet.
— Robert Lopez
"Part of the challenge of this is that the songs people know, they know really well, and then there's the vast majority of the score that they don't know yet," says Robert.
The "Frozen" movie soundtrack has what only can be described as a rabid fan base, with children, tweens, teens and adults belting out numbers in the shower and putting up countless — often crushingly cute — covers on YouTube. There were seven songs in the film. The musical boasts almost three times as many, and because songs are the cornerstone of any successful musical, the execution of these numbers is of crucial importance. Their reception will make or break the show.
The writing process began in September 2015, and a first-draft of the musical was due nine months later.
"Bobby and I had a studio in our basement, and we went down there and didn't come out until May," Kristen recalls.
"We moved offices during that time, I don't know how we did that," Robert says.
"We had to move offices because we were gonna kill each other," shoots back Kristen.
"We had one room that we were working in and we were starting to get a little bit…" Robert hesitates, staring playfully at his wife. "Stir crazy."
Lee laughs at their tête-à-tête. She is in the unusual position of being the third wheel, and she handles it well. The three share a symbiotic working relationship honed over the six years they have been collaborating intimately on all things "Frozen."
They talk daily through every step of development, with bits and pieces of stream-of-consciousness monologues that Lee writes for the show's two princesses, Elsa and Anna, inspiring lyrics for Kristen, and the music seeding ideas for dialogue in Lee.
"I'll say to Bobby, 'Remember that little thing you played, can you just play it for two or three minutes and send it because I'm writing and I can hear her and feel her when you do that," Lee says. "Or I'll play something Kristen sings on a loop, so it's a lot of back and forth."
As much as children love "Frozen," with Elsa and Anna princess dresses littering countless playroom closets like so much blue-silk flotsam, the process of bringing the story to the stage required heavy-duty work boots.
"Those nine months that Bobby and I were in the basement expanding this into a big, emotional, lush musical, we took it as seriously as if we were adapting 'War and Peace,'" says Kristen. "This was not looked as, 'OK, now let's just fluff it up.'"
"Adding, not padding. Deepening, not cheapening," says Robert, repeating a phrase that Kristen coined during the process.
The idea was to plumb the depths of the story — about an ice queen who mistakenly casts her kingdom into perpetual winter, and the plucky little sister who saves the day — for the messy, beating human heart within.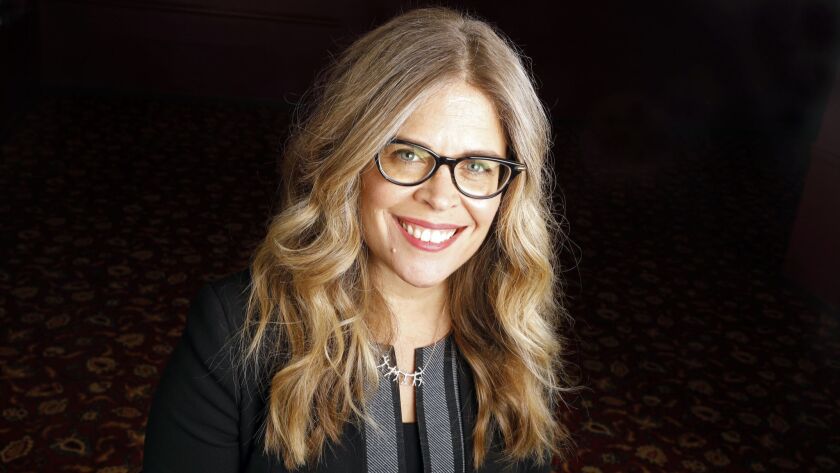 We're approaching the stage show as a singular piece of art, For me, 'Frozen' wasn't fully realized until this show. This is what it was made to be.
— Jennifer Lee
"We're approaching the stage show as a singular piece of art," says Lee. "For me, 'Frozen' wasn't fully realized until this show. This is what it was made to be."
Lee is also in development as writer and co-director for "Frozen 2," the animated sequel to the original film, and she says her work for both that and the musical got a huge boost when the movie's head of stories brought in his psychologist wife, who basically psychoanalyzed her as both Elsa and Anna for what amounted to three-hour sessions for each character.
"She pushed me to a place of revealing all these things about them," Lee says. "I was shocked how easy it was to distinguish Elsa's issues from Anna's, and that's really a testament to these guys and the work we did every day."
As creators, the three are remarkably amenable to making changes and are not opposed to killing darlings when necessary, says director Michael Grandage. The renowned British director is known for his cunning adaptations of Shakespearean classics starring the likes of Chiwetel Ejiofor and Jude Law, and as such he is particularly enthralled to be working with live writers.
"It's wonderful to turn to somebody and say, 'What am I missing? Can you make that a bit more clear?' and they say, 'Yes,' and then they run off and the next day something arrives and you put it in," says Grandage. "That's one of the greatest things that can happen for a director."
In this case, that "something" included a brand new beginning and ending.
The collaboration among Grandage, Lee, Robert, Kristen, production designer Christopher Oram and choreographer Rob Ashford is distinctly darker than the film's fare. Even the set is somewhat somber, framed by a hulking Nordic-wood arch and populated by gloomy rooms and dim hallways. Jagged ice shoots out of the wings and the stage floor like an existential threat, and icicles hang from just about everything.
Elsa is a brooding figure, often appearing alone onstage and struggling with a gift she has been made to feel deeply ashamed of by an ingrained patriarchal order.
There are hints of themes mined by the Time's Up movement as well. In one telling scene, Elsa, played by seasoned Broadway actress Caissie Levy, is being chased by men wielding weapons. She is distraught, and her pursuers are menacing and chanting ominously.
The scene is the gateway to the new song "Monster," in which Elsa contemplates suicide with lyrics like "All this pain, all this fear began because of me / Is the thing they see, the thing I have to be? / A monster, were they right? Has the dark in me finally come to light? / Am I a monster full of rage, nowhere to go but on a rampage."
Whether or not "Monster" proves to be a tour de force on par with "Let It Go" remains to be seen. ("How many anthems do you need in one musical?" Robert asks with mock plaintiveness.) But the new song certainly helps achieve the depth of character that the creators hoped to bring to the stage.
The goal, says Kristen, is to inspire audiences to say, "This isn't for little girls buying costumes, this is for me. This will help me look at my own life and adult choices and how they resonate with early childhood trauma and why I'm choosing the partners I'm choosing."
Elsa's journey, after all, is marked by "fear and shame," she says. The young snow queen has a completely secret life, and she wishes for something else — to be free from judgment and the oppressive expectations of others.
"With the musical, we were able to stop time and go into her head and unpack what the song would be for a girl who's not allowed to want something," Kristen says.
Lee relished this process, which went far beyond a toe-dip and amounted to an icy plunge into her characters' psyches.
"We could go deeper to have a woman confront the idea of having caused a storm, and wondering if she is bad and wrong and whether she deserves to be here," she says.
Musical theater just might be the ideal vehicle for that kind of exploration, because as the old industry adage goes: When you can no longer say something, sing.
ALSO:
Zooey, Taye, Rebel: Cast for Hollywood Bowl's 'Beauty and the Beast'
Lucas Museum of Narrative Art: New renderings released
Taylor Mac on gay history, 'Hamilton' and his 24-hour shows at the Ace
---
UPDATES:
4:40 p.m. March 15: This article was updated with a more specific earnings estimate for "The Lion King."
---
Get our daily Entertainment newsletter
Get the day's top stories on Hollywood, film, television, music, arts, culture and more.
You may occasionally receive promotional content from the Los Angeles Times.