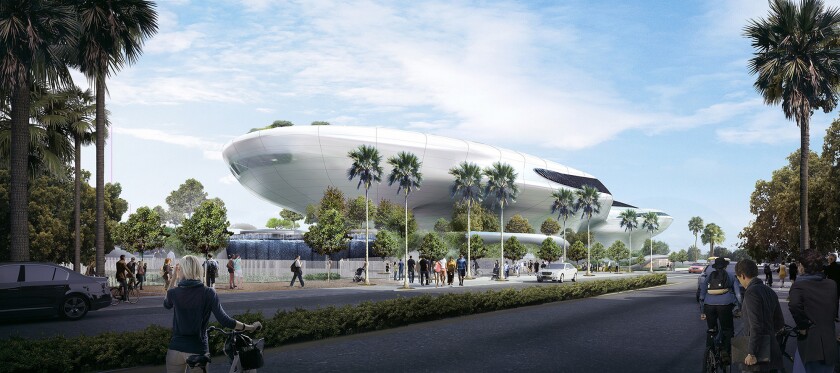 When the Lucas Museum of Narrative Art officially breaks ground Wednesday in Los Angeles' Exposition Park, the photo op will include not only filmmaker George Lucas but also the newest model of his forthcoming building.
The museum also is releasing new renderings of the design, shown here, by Ma Yansong of MAD Architects.
Among those scheduled to be on hand with ceremonial shovels at the groundbreaking: Lucas; his wife, Ariel Investments President Mellody Hobson, a guiding force in museum planning; Mayor Eric Garcetti; and L.A. County Supervisor Mark Ridley-Thomas.
Video: Filmmaker George Lucas at the groundbreaking for Lucas Museum of Narrative Art »
"There's been some pre-construction, soil samples, things like that," the museum's founding president, Don Bacigalupi, said in an interview. "But this is the big, monumental moment."
It's a moment that's been more than a decade in the making, as Lucas considered sites in San Francisco and Chicago but wrestled with community opposition.
"So this is a milestone in the life of the museum," Bacigalupi said. "We're very excited to be breaking ground in South L.A. And I think George is very energized to get to this point and begin to make the museum real."
The museum's backers have touted the thousands of jobs that Lucas' $1-billion museum will create, directly and indirectly, in Los Angeles. Bacigalupi didn't offer a tally to date, but he said the museum is focusiong on "inclusion and diversity" as it awards contracts.
"We're focused on making sure that contracts for pre-construction and construction get equitably distributed," he said, "with a lot of focus on women-owned, minority-owned and veteran-owned businesses."
The new model will show landscaping for the museum's 11 acres, formerly asphalt parking lots. Museum officials envision park space for family-friendly festivals, outdoor film screenings and educational activities.
"Undoubtedly, like many urban environments, L.A. is lacking in green space," Bacigalupi said. "So to have that amenity, particularly in South L.A., it's a tremendous gathering space for enjoyment and all kinds of other experiences."
The new museum's target for completing construction is 2021. It will house Lucas' personal collection of fine and popular art, a mix that includes the original Darth Vader mask and other "Star Wars" ephemera as well as Norman Rockwell paintings.
The museum has been expanding its collection, Bacigalupi said, "diversifying and broadening," though he declined to reveal specifics about acquisitions.
"The building itself will certainly be an icon of 21st century design," Bacigalupi said. "And as we operate the museum, we're looking at 21st century technologies and also, how the museum views art."
The museum will showcase, in addition to paintings, sculpture and photography, "realms of art that most art museums don't pay attention to," Bacigalupi said. "Movies, illustration, comic art, all kinds of popular forms that tend to be overlooked because they're popular in nature or published and disseminated broadly. We're interested in art that tells a story."
Follow me on Twitter: @debvankin
ALSO
Los Angeles will be home to George Lucas' $1-billion museum
Mellody Hobson, public voice of the Lucas Museum, talks about creating 'something that doesn't quite exist yet'
The critic's take: Lucas Museum is a bad idea
What's new in SoCal museums? A Cranach 'Nymph,' Darwin photos and more
---