Sex! Savagery! Singing! It's 'Game of Thrones' as musical parody
"Thrones! The Musical Parody" producer Emily Dorezas talks about the easiest Thrones character to parody.
The beginning of "Thrones! The Musical Parody" comes with a warning, a cheerfully dramatic song promising "lots and lots of spoilers" as cast members reveal not one secret but a litany of plot twists and betrayals from six seasons of HBO's "Game of Thrones."
Six actors onstage at the Hudson Theatre in Hollywood sing: "If you like plot lines that end in disaster, though the blond girl in the desert could move a little faster / If you get your kicks at a public beheading, and if you get scared when you go to a wedding ... it's 'Thrones'!"
The 99-seat Hudson has been a full house most nights ever since this musical parody of the swords-and-dragons TV drama opened in November. The production has been officially extended through March and will likely continue into May.
The rabid fandom for the fantasy world created in the original books by George R.R. Martin is reflected in the musical's framing device: The actors onstage are not in a castle or on a battlefield, but friends gathered in a living room where one woman has just admitted to having never watched "Game of Thrones." The responses are gasps of disbelief, bordering on disgust.
"What?" one replies. "No wonder your husband left you! What's wrong with you?"
The gathered fanatics then bring varying aspects of the show and its characters to life: Jon Snow singing about his hair, Tyrion on his addiction to prostitutes and drinking. The uninitiated friend watches with increasing horror as the scenes of treachery, sex and brutality gleefully pile up.
Midway into the show, young King Joffrey sings: "If you're staring at the clock, and you got a case of writer's block ..."
Lord Ramsay Bolton continues: "The way to break the si-o-lence, is add some sexual violence!"
Writer and actor Chris Grace says distilling every season of the weekly TV series into a night of musical comedy can feel overwhelming. "We have to play so many parts," he says. "But once we're in front of actual people, it always feels good."
The cast consists of three women and three men. Each plays up to nine characters. They are part of the improv ensemble Baby Wants Candy, whose recent shows include the "Hamilton"-inspired "Shamilton," a fully improvised musical comedy now running in Chicago.
Writer-actor Albert Samuels, who initiated the L.A. project, says "Thrones!" results from the group's growing interest in scripted shows. Before "Thrones!" the company tackled another pop cultural phenomenon in "50 Shades! The Musical Parody!" which ran for a month at the Kirk Douglas Theatre in Culver City and continues in other cities.
The creators behind "Thrones!" are all hardcore fans of the TV series.
"It's a challenge because 'Game of Thrones' is multi-protagonist," Samuels says. "The bare minimum that must be done is be smart, clever and loving, but still at times pointed and brutal."
That keeps cast members busy as they explore a complex web of events and characters, sometimes with costumes and props (including one fire-breathing dragon) fashioned from household items. "It's crazy backstage," executive producer Emily Dorezas says. "Beyond just being a parody, we tried to showcase all the people we know that watch 'Game of Thrones'" — actual fans and fan archetypes, she says, "so they can see themselves in the show."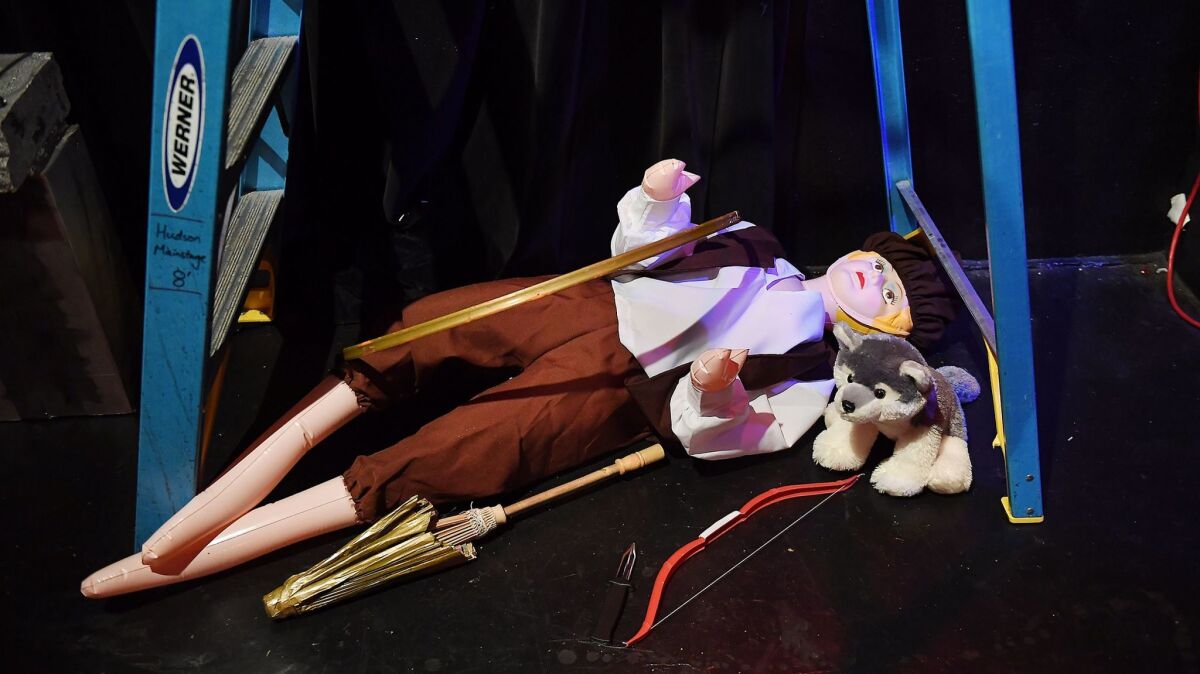 The musical comedy began as a staged reading at the Upright Citizens Brigade Theatre on Sunset Boulevard in 2015 with a 13-person cast. It sold out without heavy promotion. Creators knew they had something when the opening song got a big laugh with the line about heroine Daenerys Targaryen's long journey: "the girl in the desert could move a little faster."
"That was like, 'Oh, there's definitely potential here,'" Grace says.
The company workshopped the piece at the 2015 Edinburgh Fringe Festival in Scotland, then played at the Apollo Theater in Chicago (where another incarnation of "Thrones!" is still playing) before opening in Los Angeles. As long as the TV series continues, the writing of "Thrones!" remains unfinished, with the group updating the stage show to events unfolding on TV.
"Knowing that the show isn't finished until the TV show is finished has been a great and interesting challenge," Grace says. "It's extremely time consuming to rewrite the show after every season, but it's also healthy to be less precious about each iteration."
Meanwhile the "Game of Thrones" phenomenon roles onward, spawning not only an official live concert tour led by the show's composer, Ramin Djawadi, landing March 23 at the Forum in Inglewood, but also some new theater competition. "Game of Thrones: The Musical," with a dozen original songs, is playing at the Macha Theatre in West Hollywood through April 16.
SIGN UP for the free Essential Arts & Culture newsletter »
"I absolutely think the world is big enough for multiple parodies," Samuels says. "If our experience with '50 Shades' is any example, ours hopefully will stand out. We try to tell a very good story, whether or not you're a 'Game of Thrones' fan."
The ensemble expects to be back at Edinburgh with "Thrones!" this summer, and it would be the first time the show would be performed while new TV episodes are airing from what has been announced as the penultimate season. Spoilers are ahead.
"Our hope is we're going to update it each week," Samuels says. If you haven't seen the latest episodes, "you might not want to be here."
♦ ♦ ♦ ♦ ♦ ♦ ♦ ♦ ♦ ♦
'Thrones! The Musical Parody'
Where: Hudson Theatre, 6539 Santa Monica Blvd., L.A.
When: 8 p.m. Fridays and Saturdays, 3 p.m. Sundays
Tickets: $35-$40
Information: (323) 960-5770, thronesmusical.com/losangeles/
Running time: 1 hour, 30 minutes
'Game of Thrones: The Musical'
Where: Macha Theater, 1107 N. Kings Road, West Hollywood
When: 8 p.m. Fridays, 4 and 8 p.m. Saturdays, 7 p.m. Sundays; ends April 16
Tickets: $30 and up
Information: (818) 314-0947, www.gotthemusical.com
Running time: 1 hour, 45 minutes (with one intermission)
Follow The Times' arts team @culturemonster.
ALSO
'Fun Home' weaves tragedy and comedy into a wholly original American musical
'The Humans' and David Henry Hwang musical to lead Ahmanson's 2017-18 season
Prove humans are worth salvation? In 'Liana and Ben,' that's not so easy
Demian Bichir plays it cool in 'Zoot Suit'
---
Get our L.A. Goes Out newsletter, with the week's best events, to help you explore and experience our city.
You may occasionally receive promotional content from the Los Angeles Times.