Q&A: The timely new play 'Vicuña' is, and isn't, about Donald Trump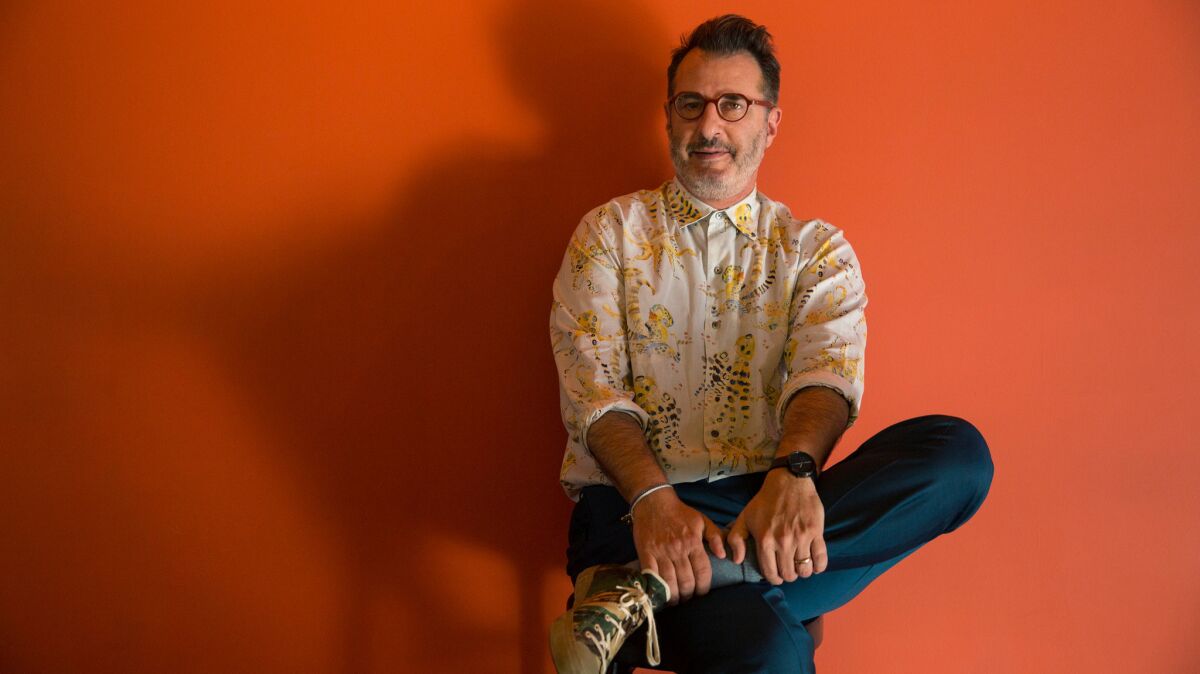 Playwright Jon Robin Baitz looked happy but tired. Rehearsals had just started for his new play, "Vicuña," at the Kirk Douglas Theatre, and he had been going back and forth between the rehearsal hall and an office across town where he's working on a TV project. After 30 years in New York, one of Los Angeles' favorite sons was home again, at least for a while.
Baitz was in his 20s when his first play, "Mizlansky/Zilinsky," was produced in Los Angeles. A tough but affectionate look at life on the fringes of moviemaking, "Mizlansky/Zilinsky" drew on his job as a gofer for two Hollywood wannabes, much as his play, "The Film Society," drew on his childhood years in South Africa. His last produced play, "Other Desert Cities," was a 2012 finalist for the Pulitzer Prize, a best play nominee at the Tony Awards and among the country's 10 most produced plays in 2012-2013.
SIGN UP for the free Essential Arts & Culture newsletter »
In "Vicuña," Baitz's fourth world premiere for Center Theatre Group, the 54-year-old playwright channels his anger about the election into the tale of an unlikable businessman-turned-presidential candidate, a tailor and a talismanic vicuña suit. With opening night set for Sunday, Baitz spoke with The Times about his new play.
Tell me about "Vicuña."
On the face of it, "Vicuña" is about an unlikely man running for the highest office in the country who decides that for his last debate he needs a magical, bespoke suit made for him by a great tailor who has made suits for presidents. The underlying life of the play is about a climate of fear and rage that has engulfed America. I tried to bring that climate into the atelier, so that the outside world, with all its current dangers and threats to freedom and people's rights, is conjured up within the fittings for this perfect suit.
What led you to write it?
I felt a need to make some sort of response to the madness of the presidential election. I wondered if there was such a thing as political theater that isn't a lecture and isn't preaching to the choir. Could the theater be a place that actually has a response to what we're living in this exact moment, and could it be immediate, electric and contemporary without being a screed? I thought to myself, "If you can't write about the now right now, if everything has to be done from a distance of time and contemplation, you're not using all the faculties you have as a playwright."
Audiences can guess who inspired Kurt Seaman, the presidential candidate. Did you have an inspiration for Anselm Kassar, the tailor?
There was in fact this great character named Georges de Paris, who died last year. He was a Washington, D.C., fixture, a Greek immigrant who at one time slept on a park bench, then remade himself as Georges de Paris and built suits for nearly every president from Lyndon Johnson through Barack Obama. I had kept a file on him in my mental file cabinet, and I always wanted to use him in some way.
Did you ever meet Georges de Paris?
I never met him. There are some similarities, but Anselm Kassar is not Georges de Paris. By the same token, Kurt Seaman is not Donald Trump. The more I worked on the play, the more it departed from the facts on the ground.
So what happened when you put these two people in the same room?
As in many of my plays, the tailor comes face to face with his own convictions. He has to confront what it means to make a suit for a man that he finds repellent and make him more presentable and attractive. What does it mean to be in service to the powerful? What if you abhor them and what they represent, and yet you love the proximity to power and reflected glory? The tailor also has a young Muslim apprentice, Amir Masoud, and Seaman's world view collides profoundly with this young man's vision of justice and America.
Enter the campaign manager, Seaman's daughter, Srilanka, who you explain got her name from the place where she was conceived.
Srilanka has to confront the gulf between her father the businessman and the presidential candidate, and that becomes harder and harder for her. She chafes under the strain, particularly when seriously questioned by the tailor's apprentice, who has a hypnotic and compelling interrogative effect on her … and then bad stuff happens.
Bad stuff frequently happens to a character or two in your plays.
I feel like there was an anarchic spirit in me when I was writing my early plays, and that anarchic spirit, that bone-deep cynicism, now tempered because I'm about to be 55, has come back, and it's somewhat liberating to me. It's sort of nice to be a disciplined writer who still has access to the chaos that is really funny and dangerous and destabilizing. Of all my plays, this one is the most funny serious play I've ever written. It looks like a comedy, but it's very serious.
You offer up ex-wives named Ephemera and Cornucopia, not to mention the Brotherhood of Republican Conservative Hebrew Teachers (BORCHT). You must have had so much fun writing this.
I did have so much fun. You're supposed to have fun sometimes. I wanted to go to a place where it's not torture all the time. It's also hard to be a playwright who has access to theaters and not to have a play. You want to take advantage of the blessing you've been afforded. I was feeling it had been a few years since "Other Desert Cities," and I wanted to put something up about the now. I also thought how wonderful it would be if I could write a political play that could be done during this season.
So you went to Center Theatre Group, which already has done six of your plays?
Michael Ritchie [CTG's artistic director], God bless him, I gave him 20 pages last March. I said, "I'd like to do it before the election. Is there any way you could fit it in?" I wanted to do it, preferably, for the Douglas. I thought the more intimate the theater, the better. So based on those 20 pages, he committed to doing the play. It may not have a shelf life, but it talks about some serious stuff that's actually going on and isn't going away Nov. 9, no matter what happens.
Is it good to be back in Los Angeles?
I love being back here. My dad died, and my mother is 86. I was only seeing her a few times a year and I was starting to feel the fragility of time — people that we love getting older. You come to cherish what there is. So I really wanted to be closer.
Will you be staying here for a while?
The writer/producer/director Ryan Murphy asked me to come out here as a consulting producer to help write a miniseries about Hurricane Katrina that was a follow up to his mini-series, "The People v. O.J. Simpson." I came out the end of March thinking I would just stay for a few months, but I've had a great time working with him. He's so smart and in many ways visionary about storytelling and television itself. I'm going to stay and work with him for the next some years when not being a playwright. I'm very happy about it.
You've also written films and created the TV series "Brothers & Sisters." How do you see your writing life going forward?
I'm slowly typing a novel commissioned by Farrar, Straus & Giroux, and I have made peace with television. I had to take stock of my own culpability in having to leave "Brothers & Sisters"; it was very hard to go from being a playwright to having a hit network show that had 23 episodes in a season. Then last year I wrote a mini-series called "The Slap," and it was a wonderful experience. It didn't all have to be contentious. I found my way back to being able to balance life as a playwright with working in television, much in the manner of a British playwright who occasionally works in television. That's sort of the ideal model for me.
Follow The Times' arts team @culturemonster.
Get our L.A. Goes Out newsletter, with the week's best events, to help you explore and experience our city.
You may occasionally receive promotional content from the Los Angeles Times.