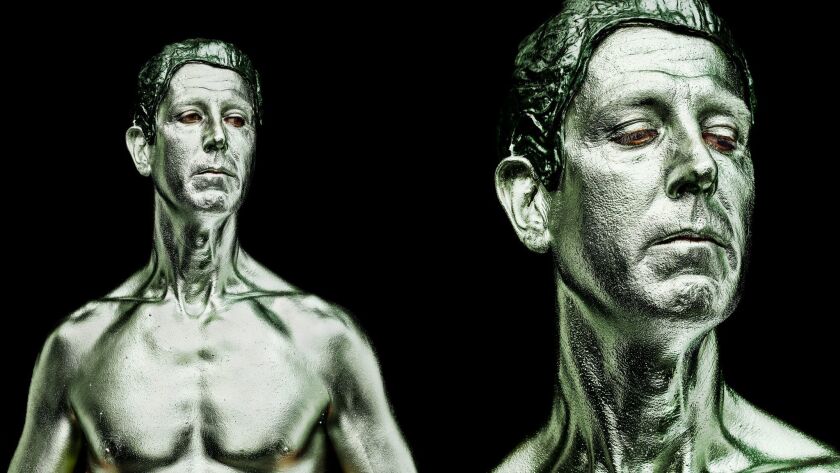 What is art, and why do humans make it?
The questions sit at the core of a new photographic series by Matthew Rolston, "Art People: The Pageant Portraits," on view through Feb. 23 at Ralph Pucci L.A.
Rolston, who made a name for himself in the 1980s celebrity magazine scene alongside photographers like Herb Ritts and Annie Leibovitz, worked tirelessly to gain access to the annual Laguna Beach arts festival called Pageant of the Masters, which features volunteer performers in elaborate body paint and makeup re-creating scenes from famous works of art by Leonardo da Vinci, Henri Matisse, Diego Rivera and more.
Rolston first attended the event at age 6, and he credits it with jump-starting his fascination with the power of imagery. He began photographing the pageant in 2015 for the Wall Street Journal and later took intimate backstage portraits of the performers to better examine the truth within the artifice.
"My intention with all three of the fine art projects that I have created so far is to author an image that will entice the viewer — draw them in — and once I have their attention, to use that platform to raise questions that mean something to me about the nature of humanity and what it means to be human," Rolston wrote in an email from Berlin.
To further bend the boundaries among painting, photography and performance, Rolston used an extremely high-resolution camera system that helped to make the painted surfaces of the subjects resemble actual paintings.
"It's as close to painting with a camera as I've been able to come," he said. "This work is entirely personal and feeds my soul in a completely different way than my entertainment portraiture."
MORE NEWS AND VIEWS:
LACMA's Art + Film Gala honors Mark Bradford and George Lucas
Mike Kelley's Superman moment: 'Kandors' at Hauser & Wirth
Philip Johnson's AT&T Building has always been vain, idiosyncratic and flawed. Let's keep it that way
---