Review: Mike Kelley's Superman moment: 'Kandors' at Hauser & Wirth
Art Critic
Literary inspirations for art are common. Tiepolo, Delacroix and Ingres had the 16th-century epic poem "Orlando furioso." The anonymous sculptors of India's Khajuraho temples had the Kama Sutra. Barnett Newman had Ezra Pound.
In Los Angeles, Mike Kelley (1954-2012) had "Superman," the heroic adventure rolled out by DC Comics in the 1930s, just as the world was shuddering into chaos. What's exceptional about Kelley's large suite of works derived from it, currently on abundant and essential display at Hauser & Wirth, is how he treated what would generally be considered a negligible, throwaway subject with sincerity and discernment.
Other artists, such as Andy Warhol and Llyn Foulkes, have used Superman motifs, but none like this.
The result is an extraordinary body of work, which Kelley began in 1999 and continued to elaborate for the next dozen years. Elements have been seen in gallery and museum shows, but with 45 examples, this is the most nearly complete survey. It includes individual sculptures, ensembles with video, mixed-media works and lenticular panels.
Standouts are two big installations, one having its United States debut, plus a group of 20 spare, Minimalist drawings that have never been shown.
The drawings visualize various shapes of glass bell jars, each in one seemingly continuous, achingly precise pencil line perfectly located on sheets of paper 3 and 4 feet tall. Kandor, the alien city of Superman's birth on the planet Krypton, had escaped annihilation by being shrunken and protected beneath a glass bell jar, filled with artificial atmosphere.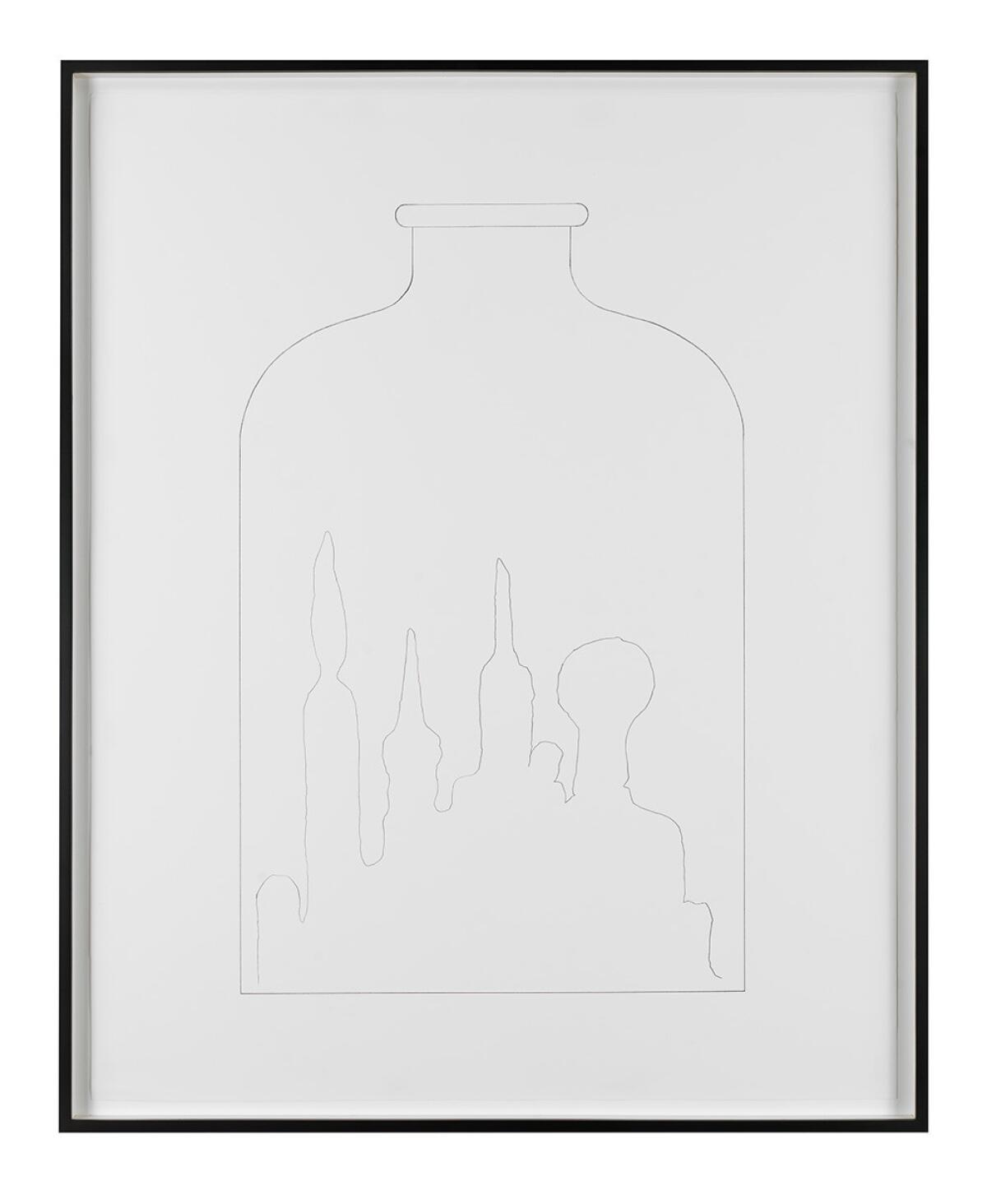 An acute, highly controlled meditation on the parameters of isolation, the ghostly white drawings inevitably put you in mind of Sylvia Plath's semi-autobiographical novel, "The Bell Jar," which chronicles with similarly stripped and poetic precision the emotional and mental labyrinths of memory and depression. Kandor is a place of loss and hope, fragility and grandeur.
Kelley began the series with the installation "Kandor-Con 2000," a wry reworking of fan-displays at Comic-Con International, the venerable San Diego comic-book convention. As the 20th century gave way to the 21st, he turned to a popular midcentury literary vision of the future, written in the vernacular.
One irony: The era's futuristic images of the city typically drew their styles from the immediate past, especially Art Deco design of the 1920s and 1930s, and the comic book images were no different.
Another oddity: The Kandor skyline changes shape throughout the decades of Superman comics' publication. Different artists gave it different configurations. It's a space of individual imagination, which is not fixed in time or place.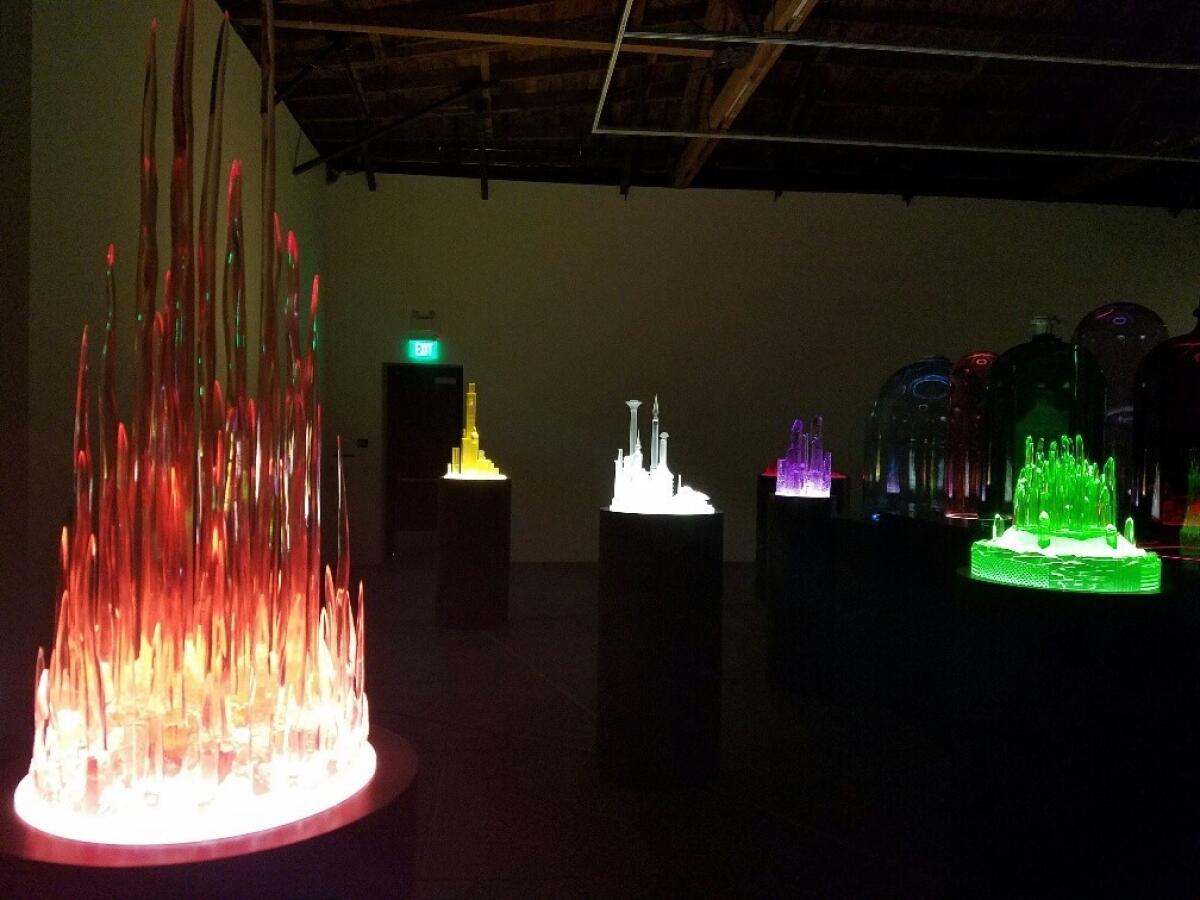 Kelley merged these two peculiarities in his exquisite sculptural iterations of the mythic city. "Kandor Full Set," which is having its American debut, transformed two-dimensional comic-book renderings into three-dimensional objects of jewel-toned cast resin illuminated from within. The glowing, multicolored urban fantasias and their accompanying hand-blown glass bottles read as flat but voluptuous graphics.
They exert a visual pull strong enough to coax you around their sculptural fullness. Kelley has fun with illusionism, which he underscores elsewhere in pictures of individual Kandors made with lenticular technology: The view changes as you walk in front of them.
The brilliant inspiration for achieving these comic-book landscape sculptures was another past art — namely, the contemporaneous, chromatically lush paintings and paper cutouts of Henri Matisse. ("I'm a perverse formalist," Kelley once said.) In these fantastic cityscapes, Palmyra meets Metropolis inside Matisse's "The Red Studio."
He delves into his own past too. Climb the stairway attached to a luminous sculpture placed atop a 6-foot tall pedestal, and hanging up high and spotlighted on an adjacent wall is a rustic bird house. It recalls Kelley's stylistically varied 1978 sculptures of bird houses, which coincided with the then-young artist's CalArts graduation. The pairing makes Kandor into a kid's treehouse hideaway — simple, isolated spaces of protection reverberate against one another.
A day-long symposium on Kelley's Kandor works will be held at REDCAT on Nov. 18.
Hauser & Wirth, 901 E. 3rd St., L.A. Through Jan. 21; closed Mondays. (213) 943-1620, www.hauserwirth.com
christopher.knight@latimes.com
Twitter: @KnightLAT
MORE:
Review: Adrian Villar Rojas at the Geffen Contemporary
Review: Luke Butler at Charlie James Gallery
Review: Kusama at the Broad — lots of mirrors, less reflection
A Baroque masterpiece, missing for more than a century, is hiding in L.A.
Get our L.A. Goes Out newsletter, with the week's best events, to help you explore and experience our city.
You may occasionally receive promotional content from the Los Angeles Times.