The murals of Tibet, with an assist from the Dalai Lama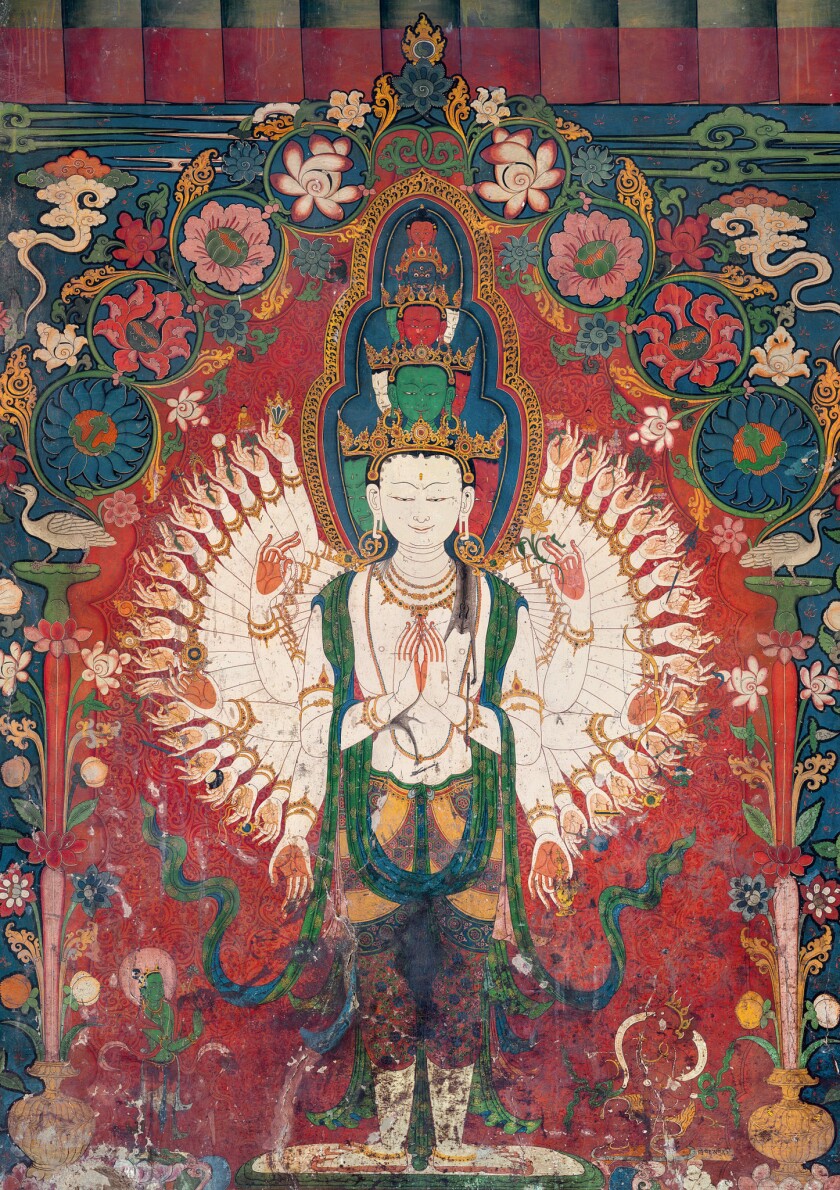 American photographer Thomas Laird spent 50 hours over 10 years with the Dalai Lama, and through all those candid conversations, one point stood out: Before his holiness could read, Tibetan murals were crucial to his early education.
Now Laird has compiled images of 130 centuries-old, life-size artworks into "Murals of Tibet," newly published by Taschen. The sumo-sized tome is the first collection of representative Tibetan art blessed by the Dalai Lama, who signed all 998 copies of the 500-page limited-edition book.
The murals are housed in temples, monasteries, stupas and other sites dating from 633. Because they were in small spaces with no electricity or windows, the murals had long been challenging to view. Traditional photographic techniques couldn't capture the breadth of the paintings.
Armed with new multi-image capture and render techniques, Laird spent 10 years photographing the murals in life-size resolution, some 10 feet by 10 feet. Every mural is laden with copious, intricate details relating purposeful stories.
"They are not just art but motivational tools and philosophical statements," Laird said.
Take, for example, "The Eleven Headed Avalokiteshvara," the Bodhisattva of Infinite Compassion, with more than 40 hands and multiple levels of faces.
"They're a metaphor," Laird said. "He is omniscient, able to see in all directions simultaneously."
In each hand is a unique object indicating the Bodhisattva's power to reach out to different classes of beings.
"The multitude of appendages symbolize his immense ability to see pain and suffering in the world," Laird said.
Dressed in robes of a prince and adorned in gold jewelry, the Bodhisattva expresses transmutation and power. A blue, red and gold aura emanates around the 11 heads. Behind is a red field, an infinite void, symbolized by flames. Beyond is an archway of lotuses, peonies and clouds. A goose on either side symbolizes long life and spiritual attainment.
While objects of majestic beauty, the murals also serve as points of guidance and appreciation for those seeking spiritual mindfulness.
See all of our latest arts news and reviews at latimes.com/arts.
MORE ART:
Glitz and glamour: the dazzling photomontages of Fay Ray
Something's missing from the antiquities collection at the Getty Villa
Cut, folded, pasted: Photography takes a twist and turn in the Getty's 'Paper Play'
---
UPDATES:
9:25 a.m. This article was updated to tighten and refine some language.
---
Inside the business of entertainment
The Wide Shot brings you news, analysis and insights on everything from streaming wars to production — and what it all means for the future.
You may occasionally receive promotional content from the Los Angeles Times.