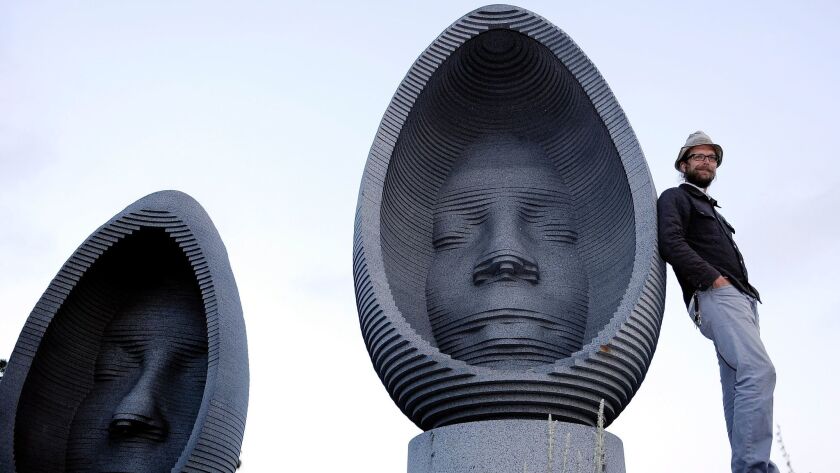 The nine egg-shaped sculptures are the faces of local residents captured in 3-D scans and then water-jet-cut out of granite sourced from a Yosemite-area quarry. There's a different person represented on both sides of each sculpture, so 18 faces in all.
"Faces of Elysian," which debuted in February, is meant to pay homage to the diversity flowing through the site, a bustling roundabout near the intersection of three neighborhoods: Elysian Valley, Cypress Park and Lincoln Heights. For a new Times feature on public art — the story behind the murals, sculpture and other works you may drive past or walk by — we talked with Freyja Bardell and Brian Howe, the artists behind "Faces of Elysian" and the art studio Greenmeme. Their new installation, which took more than seven years to complete, is landscaped with drought-tolerant native plants and used stone left over from the faces to make the surrounding barrier.
Where: In a roundabout at the entrance to the Riverside Drive Bridge over the Los Angeles River at Figueroa Street and San Fernando Road, near where the 110 and 5 freeways meet.
Commissioned by: The Los Angeles Department of Transportation in partnership with the Bureau of Engineering.
The artists say: "We wanted to capture an image or time stamp of this diverse community and celebrate or memorialize it," Bardell says. "We chose to use regular people in the community, inter-generational, people who aren't necessarily elevated to the status of being a statue, but who are all incredibly significant and important in the community. They're sort of guardians watching people come in and out of this intersection of freeways, rivers, railways and three or four neighborhoods."
Adds Howe: "Sustainability was very important from the beginning, so it's also a storm-water retention roundabout. There are three kinds of bioswales that trap the water, keep it there, help irrigate. Part of the design is also things you don't even see."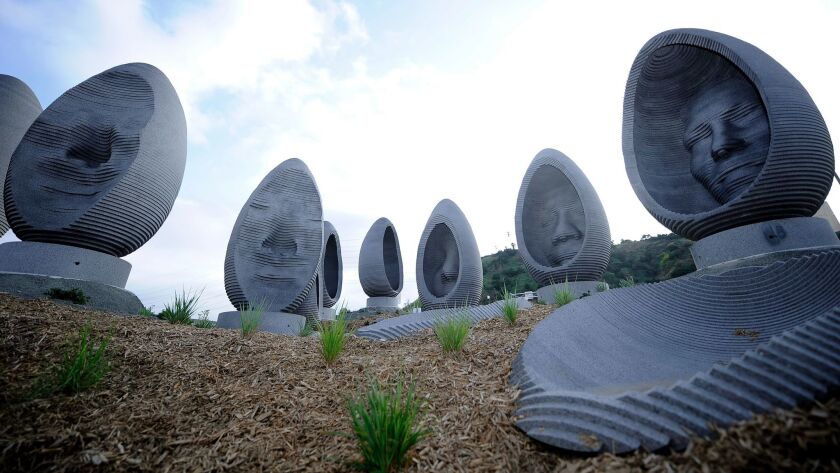 Follow me on Twitter: @debvankin
---