East West Players chief Tim Dang is leaving, but he'll continue leading 'cultural navigation'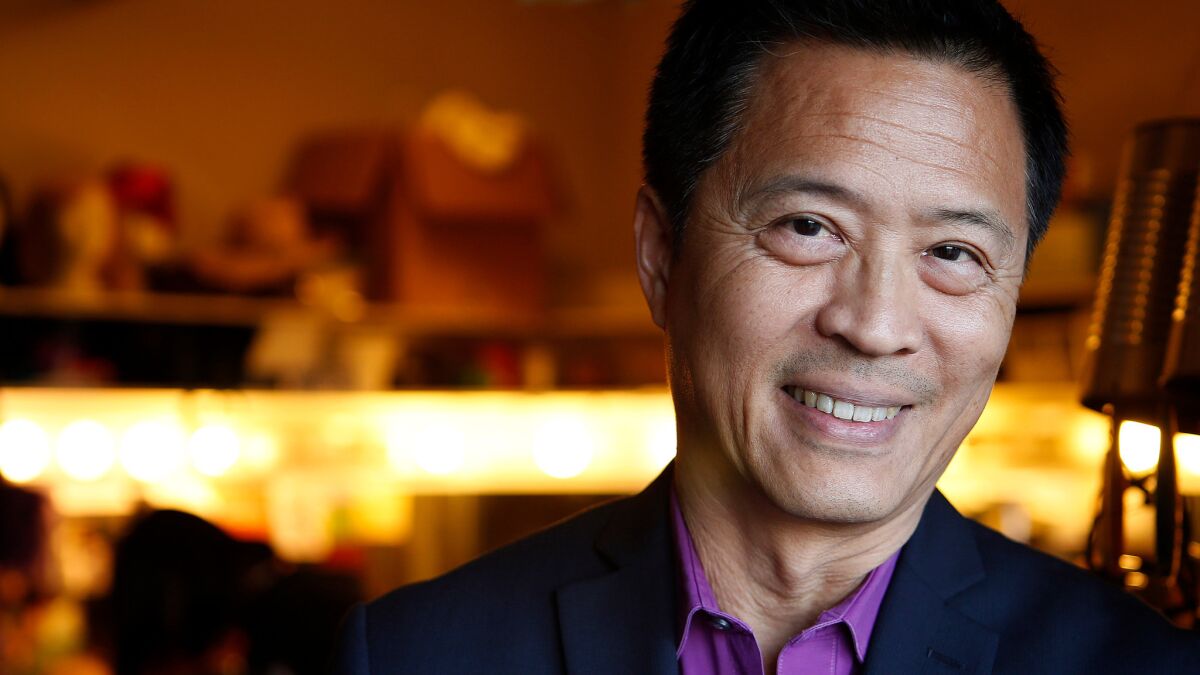 East West Players chief Tim Dang has heard that 12 or 13 years is the average length in a post like his.
He's led East West for 23 years.
"I've overextended my stay," he says with a smile.
He's lingered so long at the nation's oldest Asian American theater, he says, because, "it is really my passion to give opportunity — to raise the visibility, to give voice to the Asian Pacific experience." He has kept East West at the forefront of L.A.'s cultural life and, with a hard-to-resist combination of tenaciousness and warmth, he's advocated for social inclusiveness.
That passion, he says, will continue to motivate him as he moves on to other items on life's to-do list.
As the location for a sort of exit interview, Dang, 57, suggests one of the theater's dressing rooms — an apt choice. He joined East West in 1980 as an actor, having just graduated from USC.
"I love the environment here," he says. "All of this feels like home to me."
Around him, costume racks brim with spangled and boa-trimmed dresses. On a counter a cluster of cotton-candy-pink wigs stands like an exotic bouquet. Shortly, actors will arrive for the evening's performance of the musical "La Cage aux Folles," celebrating family values as practiced at a St. Tropez drag nightclub. Dang directed the show, which closes June 26. His last day as the theater's leader is June 30, though he'll stay on briefly as a contractor to help his yet-to-be-named successor transition into the job.
Dang leaves at the end of a five-year strategic plan and the close of East West's 50th season — "a nice time," he says, "for new blood to come in and take over and have a theater for the next generation."
During his tenure, at least half of each four-show season has been built of new or existing plays about Asia Pacific communities, with some of the scripts emerging from the theater's development lab. The lineup tends to be rounded out with contemporary classics (such as "Equus") and beloved musicals ("Pippin," "Passion").
People of color account for about 85% of East West's artists and production personnel, but Dang's commitment to equitable representation doesn't end there: More than half are women and close to half are younger than 35.
These groups are the future, and in Dang's view, theaters are overlooking them. He lists the statistics: The U.S. Census Bureau projects that people of color will surpass 50% of the U.S. population by 2042. Women constitute slightly more than half of the population, and those younger than 35 are tomorrow's audiences and national leaders.
Yet swaths of these populations see no sign of themselves on America's stages, Dang says. He worries about the message this sends to young people. If they "don't see themselves onstage, what is our community saying? That they are totally invisible."
He's used to resistance along the lines of: "Well, we're doing Shakespeare, and Shakespeare meant to do the show like this." He flips this around. He'll look at a play like "Bent" — about gay Germans imprisoned in a Nazi concentration camp in 1934 — and think, "What if there were people of color? Could this work? It may or may not work, but let's talk about it."
Dang is noticing more multicultural casts these days, and like many others he is heartened by a certain Pulitzer- and Tony-winning musical. "You can look at 'Hamilton' as one of the beacons," he says. It "has proved that the story of our forefathers actually works with artists of today."
But there's a long way to go. "There is a lot of thinking and conversation — it's something that I call cultural navigation — that needs to happen."
Dang plans to continue these conversations after he steps down from East West. The blueprint will be his 51% Preparedness Plan for the American Theatre, which urges theater leaders to commit to at least 51% casting and participation of people of color, women or those younger than 35 within five years.
When he unveiled the plan in 2015, critics including some theaters and lawyers said it sets quotas and would violate state and federal employment laws. It asks, for instance, that funders consider giving only to groups that meet 51% in at least one of the three proposed demographics. But Dang says that the point is not so much getting organizations to hit an actual percent as getting them to think — and 51%, which represents a majority, grabs people's attention and gets them talking. "I don't think we're necessarily telling people that you have to hire 51%," but because the population already tilts toward that number, "it should be a natural process if you are indeed including everyone who is applying for a job."
Bill Rauch, artistic director of Oregon Shakespeare Festival and another believer in equitable representation, says Dang is the right man for this kind of work.
"He's absolutely visionary in terms of his commitment to increasing opportunities for artists of color, absolutely unwavering, and that's made a real impact in L.A. and nationally," Rauch says.
Dang is co-chairman of a committee advising the Los Angeles County Arts Commission and Board of Supervisors in diversifying art-making, audiences and leadership — a commitment made in the county's Cultural Equity and Inclusion Initiative. And in October he'll head to Ashland, Ore., to help lead the fifth National Asian American Theater Conference and Festival, a biennial confab that he was instrumental in founding.
Some downtime also is in order. "A year from now," Dang says, "I'll look and see what the next chapter is."
Dang has held the title of producing artistic director, heading both the business and artistic sides of East West Players, since 2009, having served solely as artistic director since 1993.
His dual role will be divided again. East West board of directors Co-Chairman Daniel Mayeda says, "It's kind of unusual to have someone like Tim, who can operate both sides of his brain – who has a terrific artistic sense; at the same time he can put together a budget."
The board hopes to name a replacement artistic director by the end of the month, Mayeda says, then seek someone to handle business matters.
As his top achievement, Dang lists East West's 1998 move from a 99-seat theater in Silver Lake to its current 230-seat rented home in the city-owned Union Center for the Arts (the former Japanese Union Church) in downtown L.A.'s Little Tokyo. The expansion meant stepped-up union contracts and bigger expectations, but it followed through on one of East West's early hopes: to pay artists a living wage, with access to health insurance and a pension plan. The budget quadrupled from $350,000 a year when Dang assumed leadership to about $1.4 million today.
"Resources have always been a challenge," Dang says, though the theater lives lean. But he's happy that board members currently represent such companies as Disney, Sanrio and Wells Fargo, and he's proud to have an endowment, though admittedly small, of "under half a million dollars."
A patron awaiting the evening's production of "La Cage" is quick to point out another of Dang's signature achievements. Sharon Kamiya, an East West subscriber since the mid-1990s, says that when she began visiting, stories skewed heavily toward the Japanese American experience. More recently, ethnicities have included the Philippines, Korea, Vietnam and India. "It's wonderful to see that diversity," she says.
Fellow theatergoer Maciek Kolodziejczak praises Dang's ability to make theatergoers feel "like a tightknit community." Dang can often be found mingling with theatergoers before performances, creating a sense of togetherness.
"He makes that connection so personable and warm," Kamiya says.
Dang fosters the same feeling backstage, says Gedde Watanabe, an East West veteran who portrays lead drag chanteuse Zaza in "La Cage." East West, he says, is a family. "People love to come here and work."
Twitter: @darylhmiller
---
Get our daily Entertainment newsletter
Get the day's top stories on Hollywood, film, television, music, arts, culture and more.
You may occasionally receive promotional content from the Los Angeles Times.