'Unsettled' explores the terrain — physical and political — of the West
"Unsettled" about sums it up these days. That's the title of a Nevada Museum of Art exhibition, organized in collaboration with Los Angeles artist Ed Ruscha, exploring the vast stretches of land from Alaska to Patagonia and from Australia to the American West.
By the numbers, "Unsettled" is just as vast: 200 works by 80 artists spanning 2,000 years. The paintings, photography, sculpture, prints, multimedia, performance documentations and large-scale installations draw connections among the disparate cultures and artistic practices of the areas.
More broadly, the works — on view in Reno through Jan. 21 before moving to Anchorage in April and Palm Springs in October — are in dialogue with one another, a sort of commentary on the temperature of our times, says the museum's curatorial director, JoAnne Northrup, who organized the exhibition.
"I feel like we're living in a very unsettled time," she says. "And that's not only inclusive of nature, with all these massive fires and earthquakes and natural disasters, but that also extends to sociopolitical movement.
"This exhibition is a way of demonstrating that. The thesis is that here we are, on the edge of the Americas. We're in a very tectonically active region, it's a very mountainous and arid region, and it all has to do with the Earth and the plates, but it also has to to do with culture. And I'm trying to draw that out through the artworks."
About a third of the works in the show are by indigenous artists — "work coming from direct experience rather than being filtered through this lens of colonialism," Northrup says.
Alaskan artist Nicholas Galanin's digital photograph "Things Are Looking Native, Native's Looking Whiter" speaks pointedly to how indigenous culture is mined for pop culture. The piece juxtaposes an early 20th century photograph by Edward S. Curtis of a Southwest Pueblo Indian woman with a squash blossom hairstyle, and an image of Princess Leia from the original "Star Wars" movie, her hair styled similarly.
"It gets our attention through something that looks familiar and delivers content that is about appropriation from indigenous culture," Northrup says. "You first see it and go, 'Oh, I love "Star Wars," and then you go, 'Oh, wow.' You think about the meaning."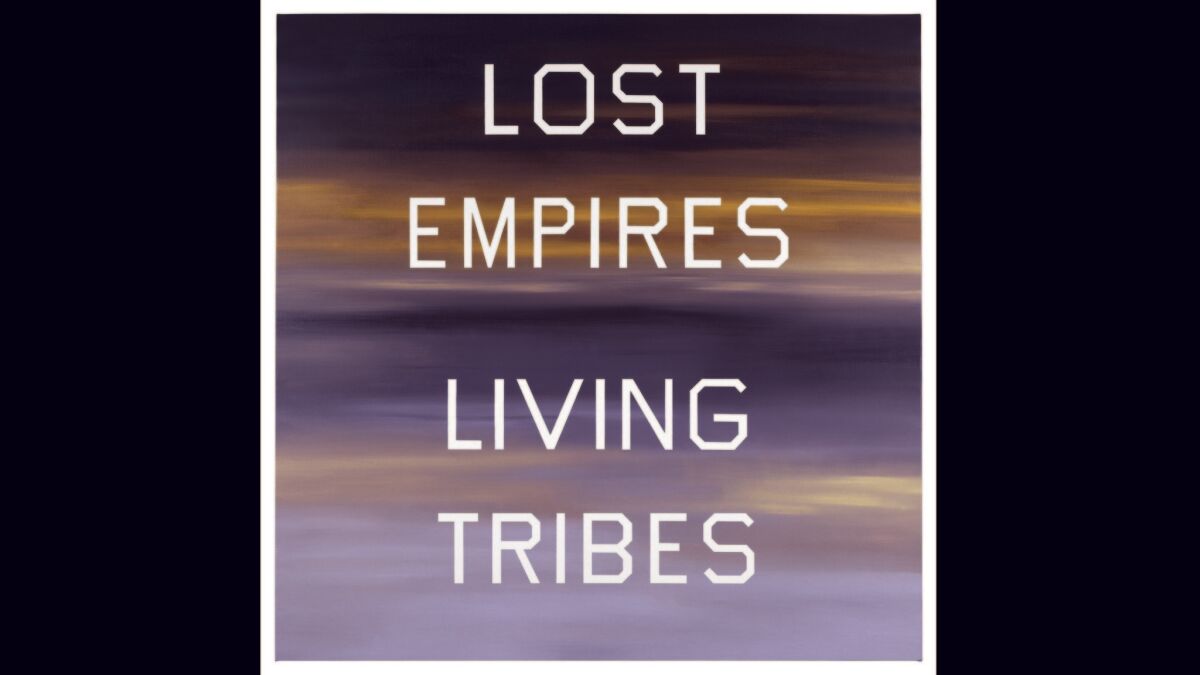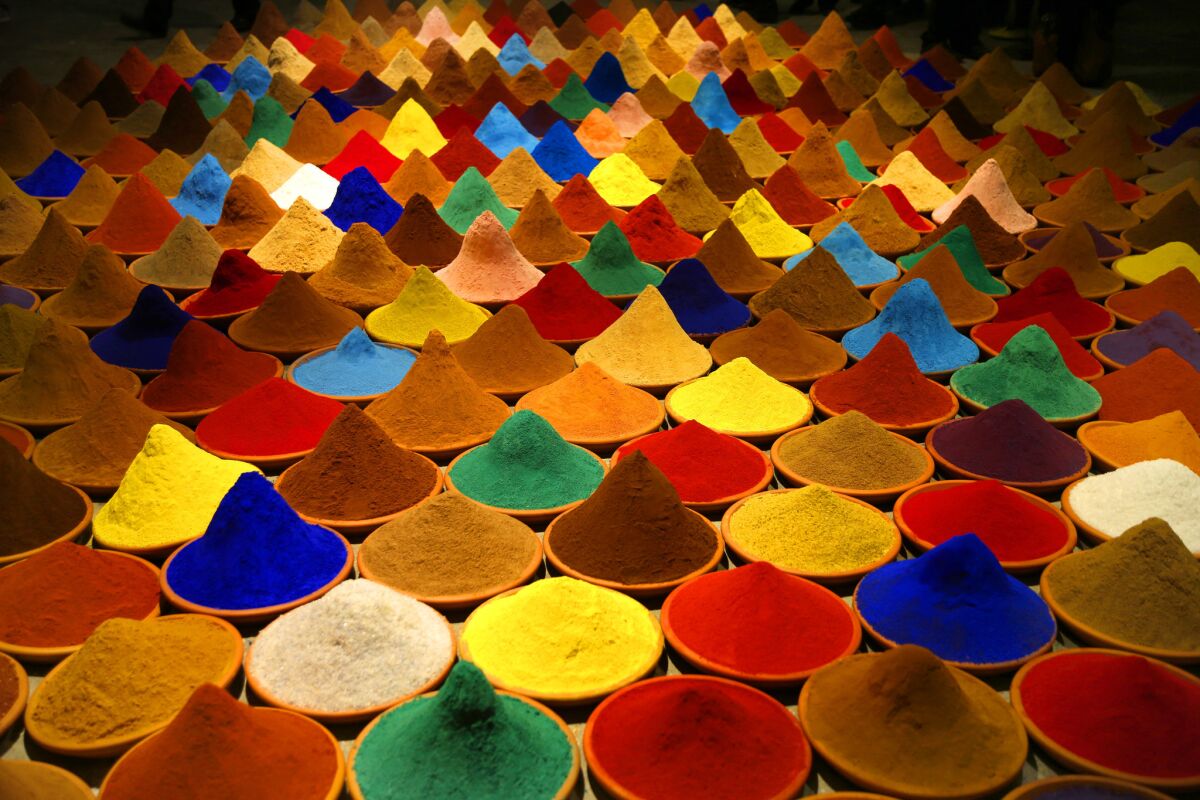 Ruscha's "Lost Empires, Living Tribes," on loan from the Marciano Art Foundation in L.A., is a large-scale painting featuring the titular phrase in bold, white lettering. It's set against a sunset-hued sky at dusk. Northrup says she included the piece because the phrase made her think of the Spanish conquistadors coming to South America in search of gold and the destruction of the established indigenous cultures that followed.
Bolivian artist Sonia Falcone's installation "Campo de Color (Color Field)" is made up of hundreds of terra cotta plates heaped with fragrant spices — cumin, cloves, cinnamon, coffee — or dry pigments in saturated colors such as crimson, indigo and gold. With blending scents that fill the museum's gallery and with its reference to the spice trade, the piece speaks to globalism — a physical manifestation representing the connection between disparate locales.
A few works in the show touch on the military, government or nuclear anxiety. The late Chris Burden's installation "All the Submarines of the United States of America" is a sculptural piece featuring 625 cardboard models of submarines hanging, at different heights, from a suspended plywood ceiling.
The dense, forest-like swath of tiny submarines correlates to a wall graphic in which Burden documented every submarine in the U.S. fleet from the late 19th century until 1987. The piece conjures the power of the U.S. military force — for better or worse — and was of interest to the museum, Northrup says, because the Pacific Ocean so dominates the greater region.
"It spoke to us," she says, "this vast ocean where all these secret things can take place, covert operations and such. He's making something that ordinarily would be hidden from view visible."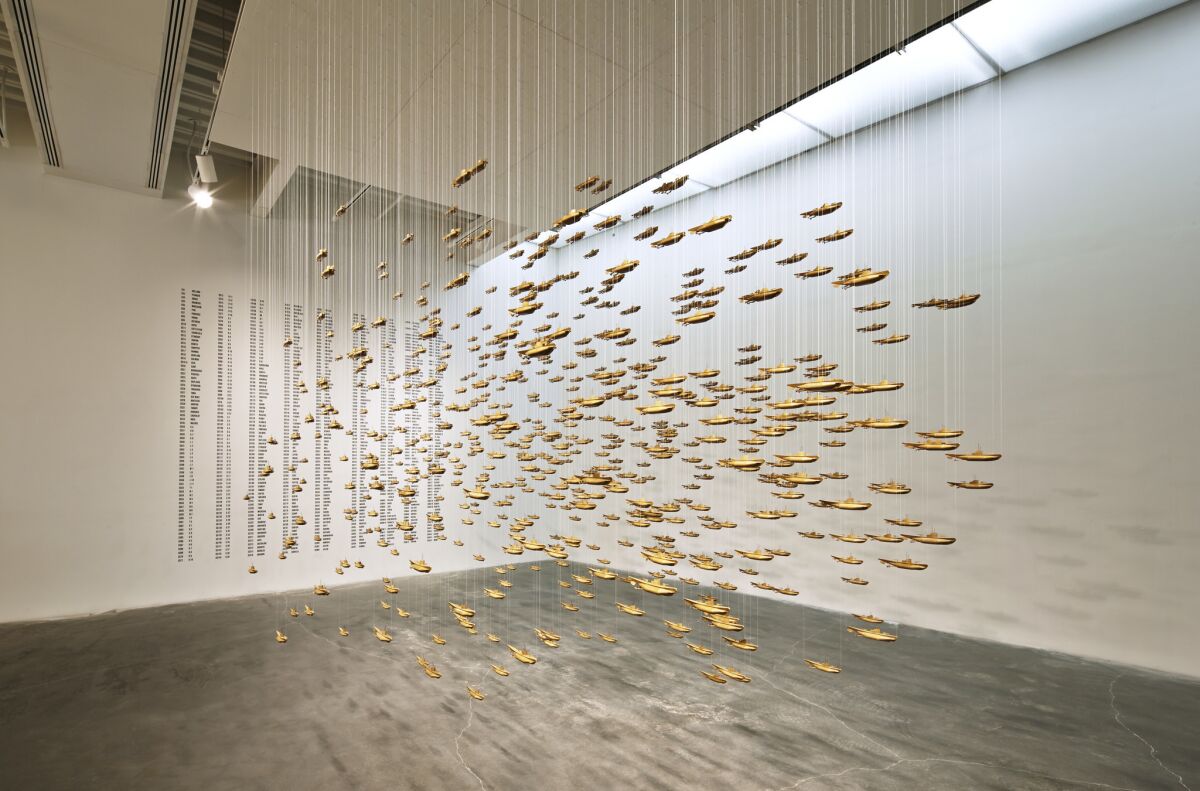 The work in the show is both evocative and terrifying, a rich dialogue that is nothing if not timely.
'Unsettled'
Where and when: Nevada Museum of Art in Reno through Jan. 21. Opens April 6 at the Anchorage Museum in Alaska and Oct. 27 at the Palm Springs Art Museum
Follow me on Twitter: @debvankin
---
Get our L.A. Goes Out newsletter, with the week's best events, to help you explore and experience our city.
You may occasionally receive promotional content from the Los Angeles Times.